Flood of Conor McGregor money pours into sports books
August 26, 2017 - 4:47 pm
Updated August 26, 2017 - 4:53 pm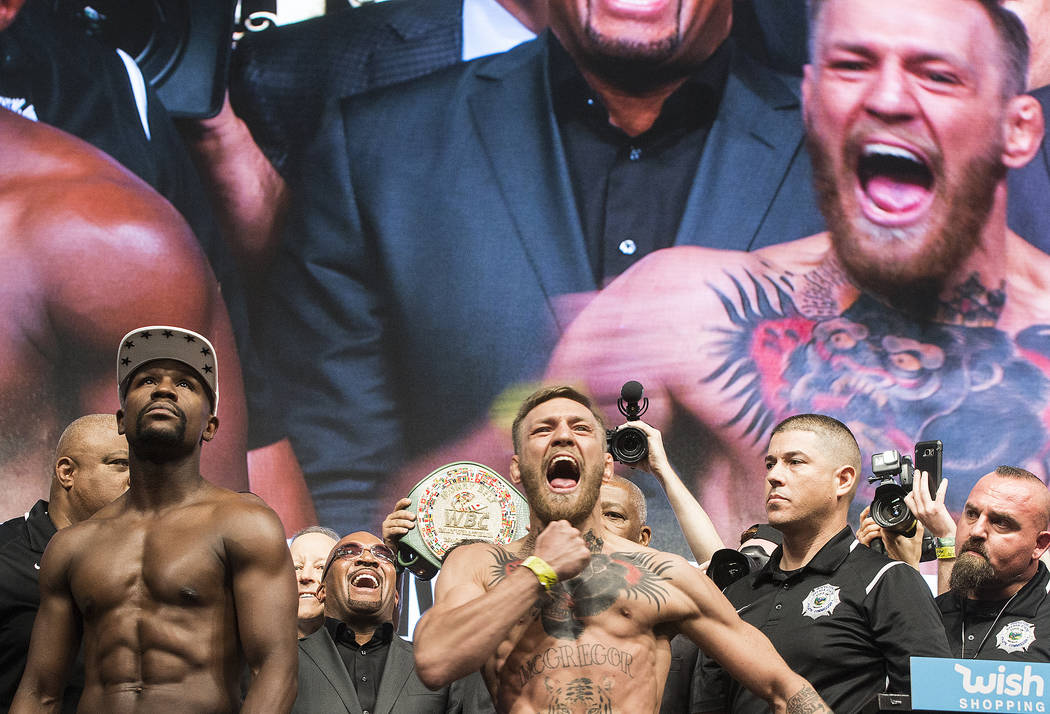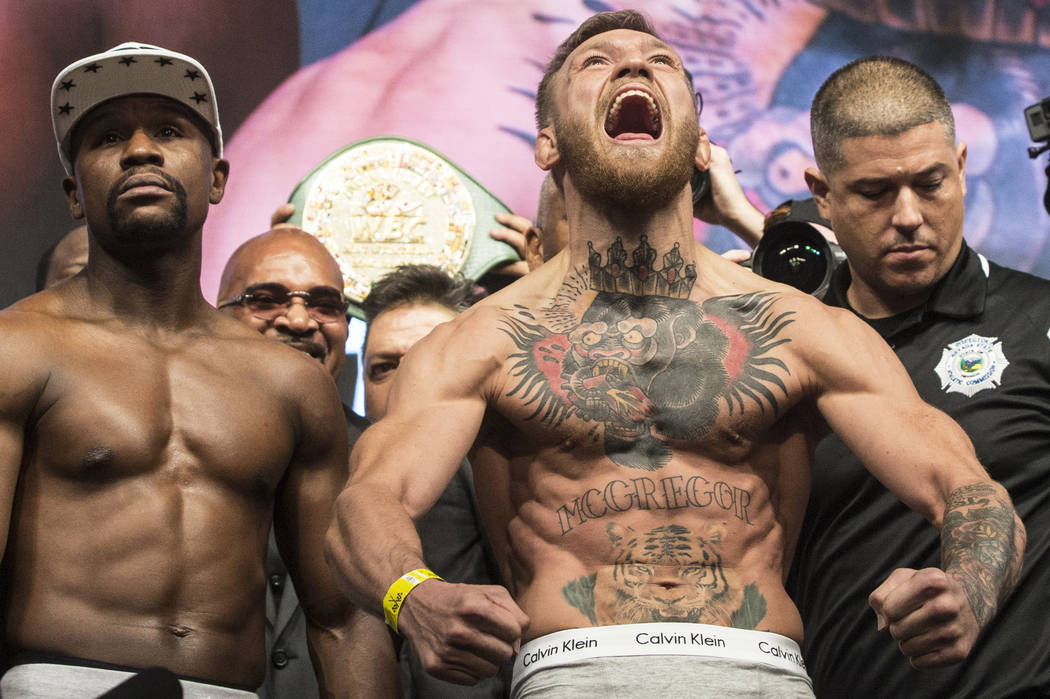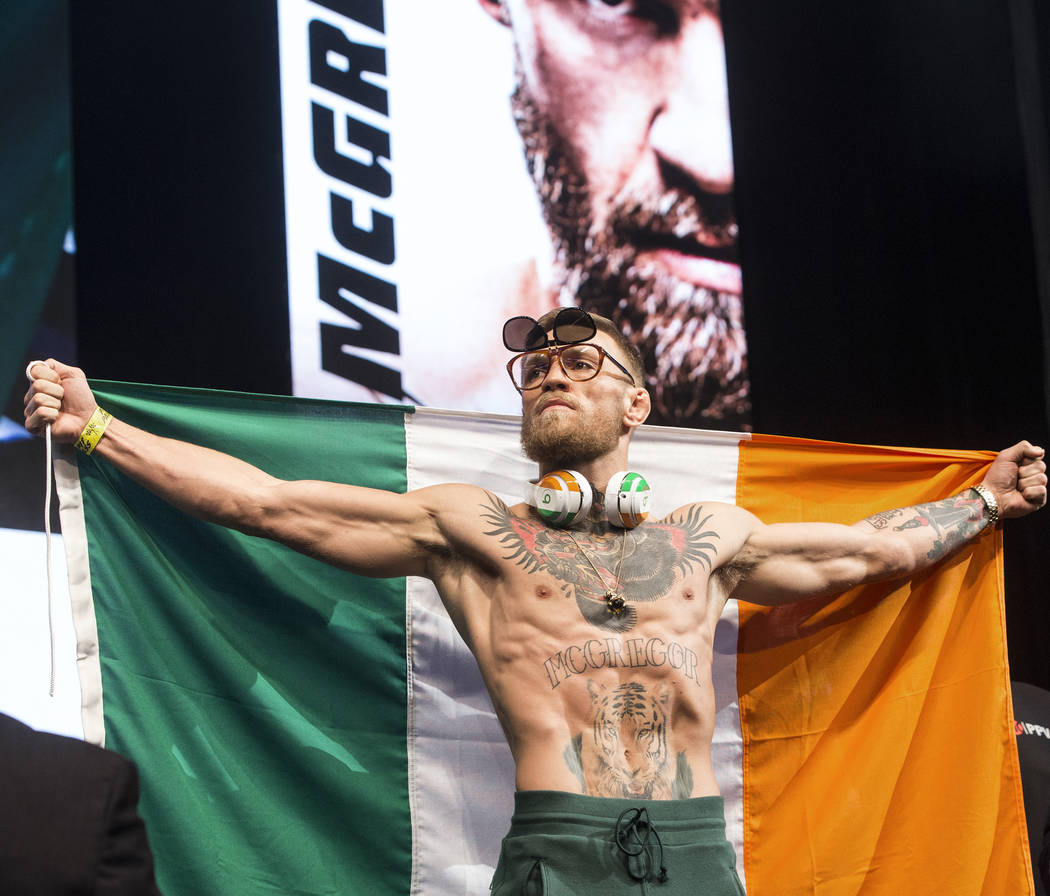 Conor McGregor backers are painting the town green Saturday at Las Vegas sports books.
With a few hours to go before the boxing match between the UFC star from Dublin, Ireland, and Floyd Mayweather at T-Mobile Arena, the vast majority of the late betting action has been on McGregor.
"It is a nonstop parade of McGregor money. It's crazy. It's all McGregor," Caesars Palace sports book director Frank Kunovic said. "If he wins, it'll be a very sizable seven-figure loss. But we're trying to get as much McGregor money as we can. We're rolling the dice, so to say, with McGregor losing."
It's also been all McGregor money at the Westgate sports book, which opened the day with Mayweather as a minus-700 favorite after taking a lot of action on the boxer Friday but has since lowered the line to minus-550/plus-400.
"Today's a different story. I think happy hour is over and the Irish are here. They've been betting McGregor for most of the day," Westgate sports book director Jay Kornegay said. "There's no doubt we need Mayweather. Most of our liability is attached to Conor winning in the first four rounds."
The best-case scenarios for Caesars and the Westgate is Mayweather winning by a knockout.
As of late Saturday afternoon, every sports book, with the exception of the Wynn, needed Mayweather to win. That includes MGM Resorts, which took a $1 million wager on Mayweather at the Mirage on Saturday at minus-600 before moving the line to minus-675/plus-475.
It was the second $1 million wager placed on Mayweather at an MGM Resorts property after one was placed Thursday at the Bellagio.
"We still need Mayweather for a good piece, but our liability on McGregor, we've been able to mitigate most of the damage," MGM Resorts sports book director Jay Rood said. "An early four-round knockout would still be a loss for us but nothing too severe."
The best-case scenario for MGM Resorts and William Hill sports books is Mayweather by decision.
"We need Mayweather pretty good," William Hill sports book director Nick Bogdanovich said. "It's been a steady stream of McGregor money."
William Hill's worst-case scenario, which is a multimillion-dollar liability, also is McGregor winning by a knockout in the first four rounds. The heavy McGregor action Saturday caused William Hill to move the line from minus-600/plus-450 to minus-550/plus-425.
Station Casinos, which also needs Mayweather, moved the line Saturday from minus-600/plus-400 to minus-550/plus-375.
CG Technology sports books faces a liability of almost $1 million on McGregor after taking steady action on him all day Saturday, including a $20,000 wager.
"I'll be watching and rooting for Mr. Floyd Mayweather," CG Technology sports book manager Jason Simbal said. "As I'm sure every other person working in the sports book industry will be."
As of late Saturday afternoon, Wynn sports book director Johnny Avello appeared to be the only oddsmaker who needed McGregor. That's largely due to the Wynn taking two $1 million wagers Friday on Mayweather.
"We're getting to a point where I'm even if Mayweather wins and I win if McGregor wins," Avello said. "But we still have about five hours before the fight. I don't even want to talk about it now."
Contact reporter Todd Dewey at tdewey@reviewjournal.com or 702-383-0354. Follow @tdewey33 on Twitter.