McGregor KOs Mayweather in popularity contest at sports books
Updated June 19, 2017 - 11:09 pm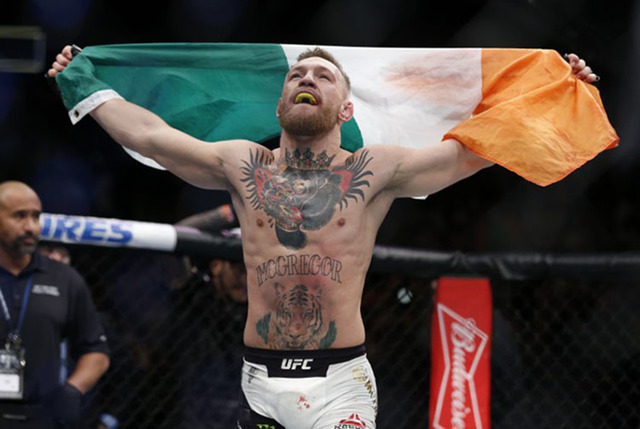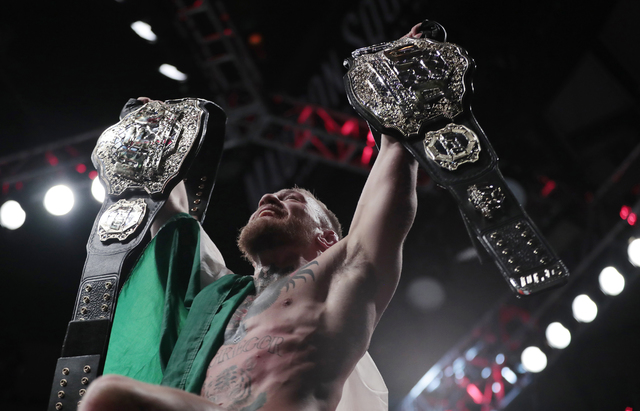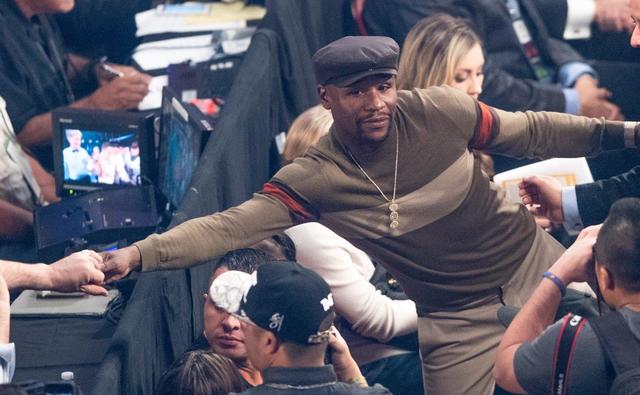 Aside from a pair of $50,000 wagers placed on Floyd Mayweather Jr., virtually all of the action at Las Vegas sports books has been on Conor McGregor for their Aug. 26 boxing match at T-Mobile Arena.
In February, the Westgate sports book opened Mayweather as a minus-2,500 favorite over UFC star McGregor, who opened as a plus-1,100 underdog. Since the fight was officially announced Wednesday, an avalanche of McGregor money has moved the line to Mayweather minus-700 and McGregor plus-500 (meaning you'd have to wager $700 to win $100 on Mayweather and $100 to win $500 on McGregor).
"It wouldn't surprise me if this price goes lower," Westgate sports book manager Jeff Sherman said. "We're still taking bets on McGregor at 5-1."
Sherman said 90 percent of the wagers at the Westgate have been on McGregor while 79 percent of the money has been on Mayweather, including a $50,000 bet to make $6,250.
At Caesars Palace, 288 of the first 297 bets written on the megafight have been on McGregor, and 20 times more money has been wagered on the Irishman.
"It's been all McGregor. It's unbelievable," Caesars Palace sports book director Frank Kunovic said. "All the square action is going on McGregor. That's a big liability for us if he does win.
"This is building up to be just as big, if not bigger, than the Mayweather-(Manny) Pacquiao fight."
An estimated $50 million was wagered in Nevada on Mayweather's win by unanimous decision over Pacquiao in May 2015.
A $50,000 wager to win $5,000 on Mayweather is the biggest bet booked so far at CG Technology, which has still written eight times as much money on McGregor — a plus-575 underdog — and 12 times as many tickets.
"We're still getting hammered on McGregor. Right now, we have a pretty significant six-figure liability to McGregor," CG Technology vice-president Matthew Holt said. "I assume when we get closer to fight week, we'll see six-figure bets and potentially seven-figure bets on Mayweather. What we're starting to see is some bigger bets on the 'dog coming in."
CG Technology has taken two $10,000 wagers on McGregor and one $5,000 bet.
Mayweather-McGregor props
The Westgate has posted a total of 9½ for the Mayweather-McGregor fight. Under is the minus-160 favorite and over is the plus-140 underdog.
The Westgate also posted method of victory props, with Mayweather by knockout a minus-200 favorite. Mayweather by decision is plus-220, McGregor by knockout is 6-1, McGregor by decision is 30-1 and a draw is 40-1.
"We've gotten a little bit of action on Mayweather by knockout. It was minus-180 and it's up to minus-200," Sherman said. "I'm expecting Mayweather by some type of stoppage. I don't think it will go the distance."
Ward-Kovalev action
When the bell rang Saturday night before Andre Ward's eighth-round technical knockout of Sergey Kovalev, CG Technology had taken more action on Mayweather-McGregor than on the light heavyweight title fight at Mandalay Bay.
"The money really did pour in on fight day. We had a $350,000 handle on the (Ward-Kovalev) fight, but we still had more dollars on Mayweather-McGregor," Holt said.
A CG Technology bettor wagered $30,000 on Kovalev to upset Ward, who closed as a minus-130 favorite.
"The public was all over Ward," Sherman said. "The sharps were on the 'dog."
Alvarez-Golovkin action
A Westgate bettor placed a $10,000 wager on Saul "Canelo" Alvarez on Monday morning at plus-140 odds to beat Gennady "Triple G" Golovkin in their Sept. 16 bout at T-Mobile Arena.
"So far, there's been a lot more support on Alvarez," Sherman said.
Golovkin is a minus-150 favorite in the middleweight title bout and the total is 9½, with over a minus-220 favorite and under a plus-190 underdog.
More Betting: See more sports betting coverage online at reviewjournal.com/betting and @RJ_Sports on Twitter.
Contact reporter Todd Dewey at tdewey@reviewjournal.com or 702-383-0354. Follow @tdewey33 on Twitter.