Michael "The Grinder" Mizrachi excels in even-numbered WSOP years
The San Francisco Giants have nothing on Michael Mizrachi when it comes to winning world titles in even-numbered years.
The Giants won the World Series in 2010, 2012 and 2014. Mizrachi, aka "The Grinder," won the World Series of Poker's prestigious $50,000 buy-in Poker Players Championship in 2010, 2012 and 2018.
"I'm better in the even-numbered years," said Mizrachi, 37. "It's kind of crazy and maybe even a little odd."
Mizrachi, who burst onto the poker scene the first few years after the Chris Moneymaker boom, won his second World Poker Tour title in 2006 for $1.1 million. In 2010, he followed up his first PPC win by placing fifth in the WSOP's Main Event. In 2016, he finished fourth in the PPC — one of poker's most coveted titles as participants play eight variations of the game.
"I just play all the games very well," he said. "Some players are not great in every game."
Mizrachi, who lives in Hollywood, Florida, beat 2014 PPC champ John Hennigan heads-up June 19 at the Rio Convention Center to top a field of 87 of the game's greatest players and take home $1,239,126 in prize money.
Lucky lava, java
Poker is a skill game, but Mizrachi said coffee and lava beads also played key roles in him taking the chip lead for good on Day 2.
"I unintentionally spilled coffee on the table. I was losing every hand and there was a seven-minute delay and we changed tables," he said. "After that, everything went my way. I went on a rush and became chip leader and never looked back.
"Also, my girlfriend's brother gave me these lava beads. I'm not superstitious, but since I've been wearing these, I haven't lost at anything."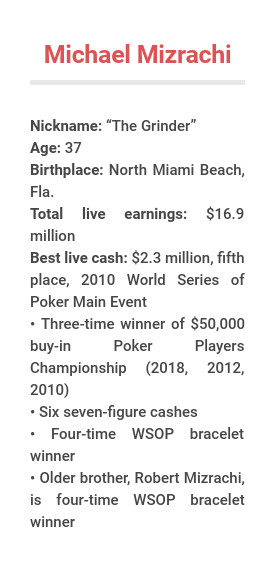 Main attraction
Mizrachi's loose and aggressive style made him a natural to be showcased by ESPN on the featured table during the first two rounds of the Main Event. He was one of the early leaders with almost 300,000 in chips before finishing Day 2 with 62,500.
His hot streak and lava beads finally turned cold Saturday on Day 3, when he was eliminated from the $10,000 buy-in No-limit Hold 'em World Championship on a table that also featured actor/comedian Ray Romano.
Despite his exit, Mizrachi is still the summer's leading money winner. His PPC victory was the sixth seven-figure score of his career and pushed his live poker earnings to $16.9 million.
Family affair
It also was his fourth WSOP bracelet, tying him with his older brother, Robert, for the family lead. Mizrachi's twin brother Eric and younger brother Daniel also play poker.
Daniel was the last surviving Mizrachi brother in the field, which was expected to be down to around the 1,182 players who will finish in the money by late Saturday or early Sunday.
"We're not competitive at all against each other," Mizrachi said. "We always root for each other."
Mizrachi started gambling as a teenager, when he was literally shut off by his older brother.
"Back in the day, my brother used to have slot machines in the house and a roulette table. This is how all the gambling started," he said. "One day, I played Rob's slot machine and I actually hit the jackpot and all the quarters were coming out and he pulled out the plug. He didn't want to pay me out anymore."
All or nothing
Mizrachi always has been an aggressive gambler. During his first trip to a casino when he was 18, his older brother divided $1,000 into seven envelopes — one for each day they'd be at Gila River Casino in Arizona.
A few hours later, all the envelopes had been emptied and the money lost by Mizrachi, who has dealt with huge swings on and off the felt.
Despite $6.9 million in winnings by 2009, he owed $340,000 in federal taxes and was in foreclosure on multiple properties during the housing market crash.
"I put a lot of my money into the market. I bought seven properties and everything just crashed. It was a nightmare," he said. "Then they had the back taxes come out and I had to pay that."
But it was a very good even-numbered year for Mizrachi in 2010, when he evened the score and then some, winning more than $4 million at the WSOP alone.
"It was a nice comeback. It was a lot more breathing room," he said. "But poker is full of ups and downs. That's how it goes."
Don't bet against The Grinder in 2020.
Contact reporter Todd Dewey at tdewey@reviewjournal.com. Follow @tdewey33 on Twitter.