World Series of Poker dealers find career on the felt
Updated July 4, 2017 - 5:32 pm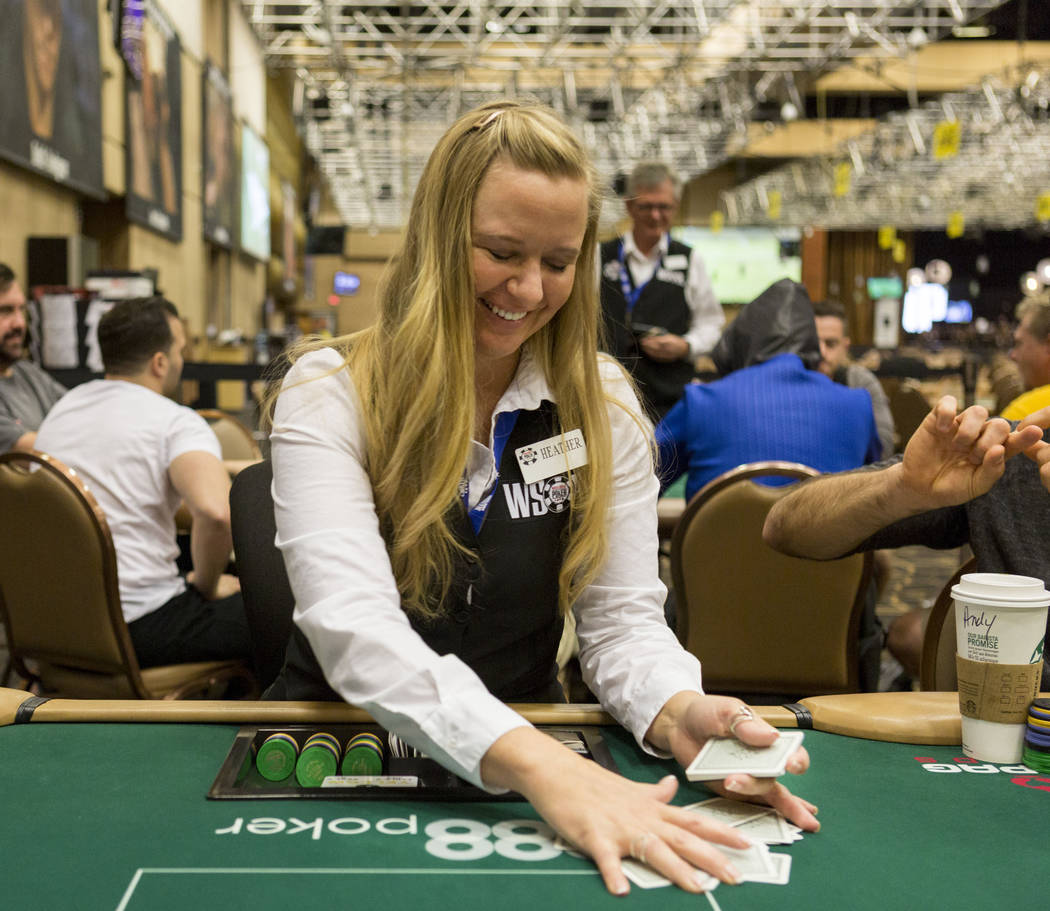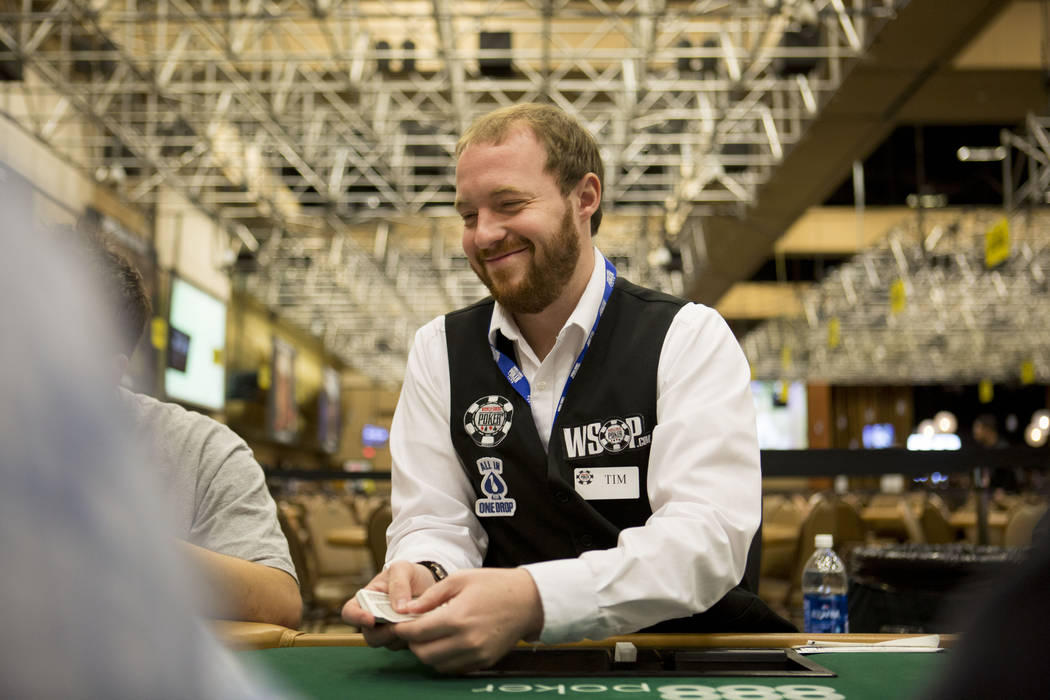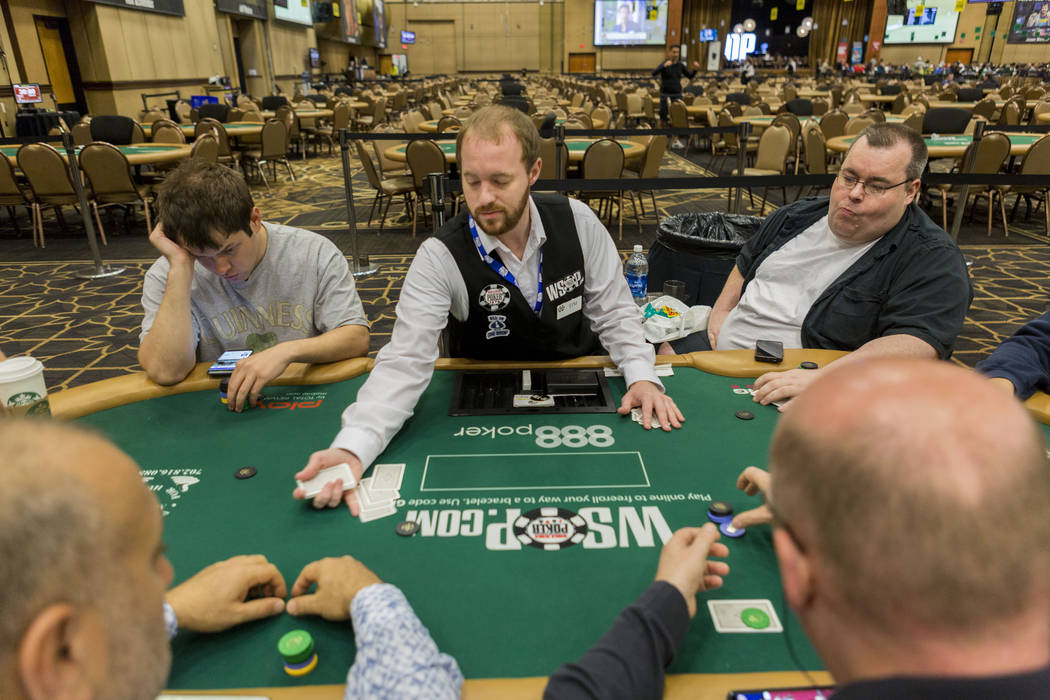 Heather Alcorn is the answer to an obscure piece of World Series of Poker trivia.
The dealer is the only person to appear at the final table of the Main Event each of the past three years.
"I don't mind being in the background," Alcorn said. "I love it."
Alcorn has dealt at the WSOP for the past six years and been at the table for some of poker's most memorable moments.
The resident of Ozark, Missouri, is one of 1,000-plus dealers from across the U.S. who pitch cards in tournaments and cash games each summer at the Rio Convention Center.
"I was trying to take the stress out of my life, and I thought this would be something where I wouldn't have employees, I wouldn't have to make decisions and things like that," Alcorn said.
"I was kind of was doing it just for fun because I got to travel to do it. But it's turned into a career."
Alcorn was a real estate agent for 13 years and owned a spa and salon, but she started dealing poker after a false cancer diagnosis.
The 40-year-old mother of two dealt the final hand of the Main Event in 2014 when Sweden's Martin Jacobson won $10 million with a set of 10s, along with Joe McKeehen's winning hand in 2015.
Last year, Alcorn was at the final table for Qui Nguyen's Main Event victory.
More notably, she was in the box on Day 7 for the most famous hand of the tournament, the "Check your privilege" confrontation between Griffin Benger and William Kassouf.
"When I started, I was dealing to those (famous) people and had no idea who they were, which was probably a good thing for my first year," Alcorn said. "Now, I've gotten to know these players on a personal level, and I'm more excited about the big hands or who I'm crushing and not crushing."
Dealers apply to the WSOP beginning in February and go through an audition process, according to supervisor Kim Smith.
Prospective dealers are required to know all 20 variants spread at the WSOP — not just popular games such as Hold 'em and Omaha — and often work more than 60 hours per week.
"One of the first things I tell poker dealers is it looks a lot easier than it actually is," Smith said. "Unless you've done it, you have no idea what it takes to sit in that box and do what they do."
Tim Schmecht grew up near Chicago and started dealing charity poker games at age 18. In 2013, he enrolled at the WSOP's dealer school, and the 28-year-old now travels the WSOP Circuit year-round.
"A lot of my friends and family, a lot of my friends watch poker on TV, so I'll tell them I dealt to Phil Ivey a few years ago and I dealt to Phil Hellmuth, and they'll think that's really cool," Schmecht said.
Schmecht, a Las Vegas resident, said he enjoys dealing at the WSOP in the summer because it offers seldom-played games such as Badugi and deuce-to-7.
Schmecht was selected to deal at the final table of the WSOP National Championship in 2015 and is hoping to be chosen for his first Main Event final table this year. ESPN producers decide on the dealers for the final table based on evaluations of their work during the summer.
"It would be nice," Schmecht said. "It's one of those things where it's kind of the highest place you could go as a dealer. It would definitely be an honor."
Contact David Schoen at dschoen@reviewjournal.com or 702-387-5203. Follow @DavidSchoenLVRJ on Twitter.