Bishop Gorman beats Servite (Calif.), 31-28, on late field goal
September 30, 2011 - 5:55 pm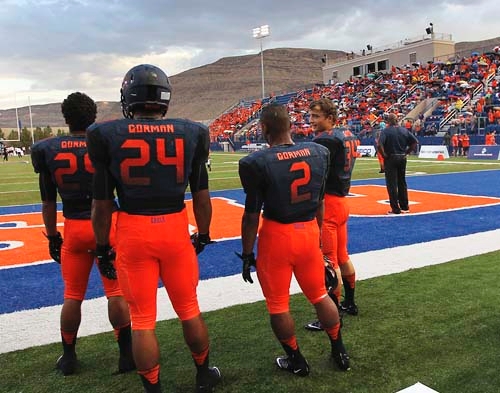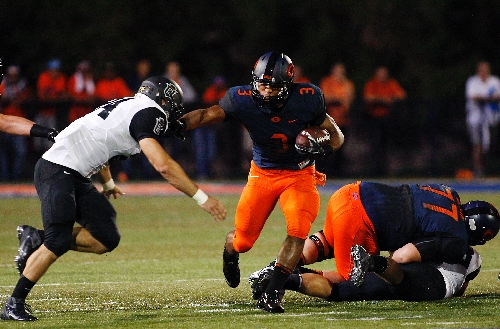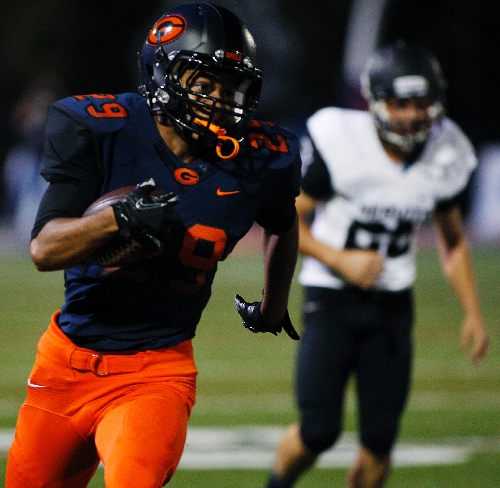 Kline Fielden has been looking for a shot at redemption.
He made the most of his chance on Friday night.
The Bishop Gorman junior kicker drilled a 39-yard field goal with 1:03 remaining to lift the Gaels to a 31-28 home victory over Servite (Calif.) in a game that was televised nationally on ESPNU.
Fielden had missed a 40-yard field goal late in Gorman's 20-17 loss to Armwood (Fla.) in another nationally televised game.
"All this week I thought about it," Fielden said of the Armwood kick. "I remember the pressure I was under, I remember everything of it, how I kicked and everything. This week I wanted to make sure I came out and I just did what I had to do."
With the score tied at 28, Gorman (6-1) got the ball back at its own 29 with 3:51 to play and promptly completed a 35-yard pass from Jarrett Solomon to Ryan Smith to move into Servite territory.
And when the drive stalled at the 22, it set up Fielden's winning kick.
"Isn't life funny?" Gorman coach Tony Sanchez said. "We're on national TV, nerves get a hold of him and he misses it. A (month) later, national TV, this time to win it and he drills it. I tell you what, I couldn't be prouder of a player my whole career."
Gorman jumped on the Friars (4-1) early as Justin Sweet returned the opening kick 89 yards for a touchdown, and Fielden's extra point made it 7-0 just 18 seconds into the game.
Gorman drove 57 yards on six plays on its next drive, capped by a 7-yard TD run by Shaquille Powell, and it looked like the game might be a rout.
But Servite had other ideas, scoring on a 2-yard run by Domain Mora to cut the lead to 14-7 with 3:58 to go in the first quarter. The Friars then got field goals of 30 and 24 yards from Conner Bevans, and a 7-yard TD run by Mora made it 20-14 with 7:01 to go in the first half.
It looked like Gorman might go into halftime trailing as they faced third-and-26 from the Servite 30 with less than two minutes to play in the half.
But Solomon faked a quarterback draw, stepped back and hit a wide-open Smith for a 30-yard TD pass with 1:35 to go, and Fielden's extra point made it 21-20 with 1:35 left in the half.
A 13-yard Servite punt then gave Gorman the ball back in good field position, and Solomon hit Powell with a 34-yard TD pass on a wheel route to give the Gaels a 28-20 lead at the half.
"You get into a game like this, it's really about making plays," Sanchez said.
The Friars scored on a 12-yard run by Manaitovini Pauu on the first play of the fourth quarter and then went for two. Quarterback Cody Pittman was stopped on the try, but Gorman was called for a face-mask penalty that moved the ball inside the 2.
Pauu then scored on the second conversion try to tie the game with 11:53 to play.
The Gaels immediately drove deep into Servite territory, but Jamir Tillman fumbled after catching a pass from Solomon, and Mora recovered at the 2.
"Without that turnover, I think we go down and punch it in and they're trying to play catch up," Sanchez said. "It looked kind of bleak for a minute after that."
Powell finished with 122 yards on 21 carries, and Solomon completed 10 of 18 passes for 162 yards.
"One thing about our team is you've never seen our kids quit," Sanchez said. "That's the No. 1 team in Southern California. That might be the No. 1 team in California, so that's a heck of a win."
Contact prep sports editor Damon Seiters at dseiters@reviewjournal.com or 702-380-4587.
In-depth high school sports coverage