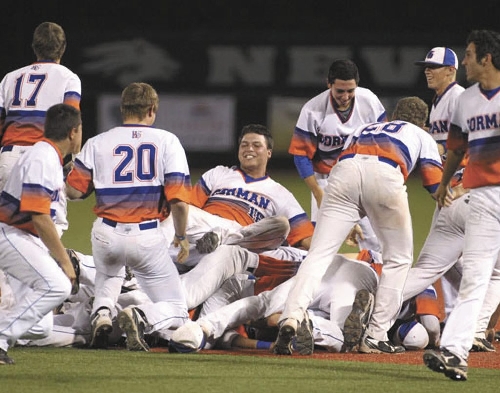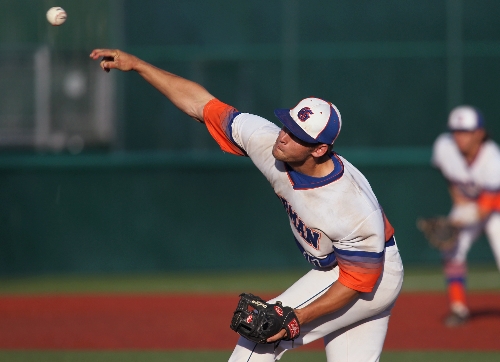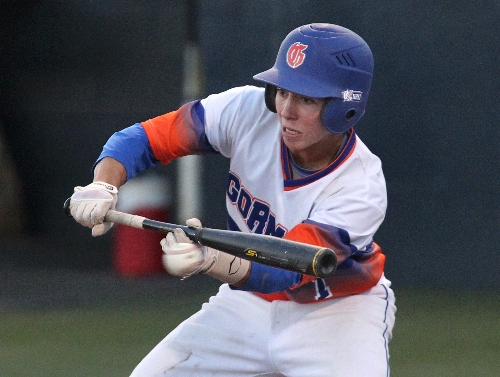 RENO – Bishop Gorman baseball coach Nick Day praised the bottom of his lineup after his team's win over Reno High on Friday.
That group was just as important on Saturday.
The final three batters in Gorman's order combined to go 6-for-7 with five RBIs to help the Gaels to an 11-1 victory over Coronado at UNR's Peccole Park for their seventh straight Class 4A state title.
"The bottom of the order got us going," said senior pitcher Cody Roper, who went the distance to get the win. "They set the tone, started us rolling a little bit, and it felt good."
Jerrel Latham, the No. 8 hitter, singled home the game's first run in the second inning and added a two-run double in the team's six-run fourth.
Michael Blasko, the No. 7 hitter, was 3-for-3 with a double and two RBIs, and No. 9 hitter Tyler Baker went 1-for-2 with a run.
"They did a great job," Roper said. "They picked us up, got us on the board, and it just kind of took off from there."
Blasko was 6-for-6 with two doubles, a triple and four RBIs in the last two state tournament games.
"Blasko had a great tournament," Day said. "We pretty much throw (Johnny) Sewald in the leadoff spot and (Joey) Gallo in the heart of the lineup, and everything else I can kind of toss up the pieces and see where they land."
Blasko and Latham hit back-to-back doubles to key the six-run fourth as Coronado starter Kenny Oakley ran out off gas. Oakley threw a complete game in a 6-5 loss to Reno on Thursday.
"Kenny Oakley looked great," Day said. "He had a lot of heart pitching on one days' rest like that. For those first three innings he looked real sharp, but that's real hard to do with one days' rest."
Coronado coach David Padilla said he figured his starter would hit the wall sooner or later. Oakley allowed one run on one hit and struck out three in the first three innings.
"Oakley threw a great game for us today," Padilla said. "He just ran out of steam. He threw 92 pitches the other day, and we knew the steam was going to run out real soon.
"He was hyped up and was running on adrenaline and trying to get us to Game 2. He gave us everything he had."
Roper struggled a bit early, walking two in the first inning, but finished with a five-hitter. He struck out six and walked four.
"Roper threw a very good game," Padilla said. "He mixed it up on us and kept us off balance. We just couldn't score runs."
Said Day: "He's our guy for a reason, and he was able to make adjustments and make big pitches when we needed him to."
Coronado's run came in the fifth when Julian Burrola singled home Tyler Brown. But Gorman added two runs in the bottom of the inning on an RBI groundout by Sewald and a sacrifice fly by Justin Jones to extend the lead to 9-1.
The Gaels then scored two more in the sixth to end the game via the 10-run rule.
Day turned to some little-used seniors as pinch hitters in the sixth, and Stephen Joseph came through with the big blow, hitting a one-hopper off the left-field fence for a two-run double to end the game.
"It's a really talented group, a lot of seniors, and some haven't gotten as many at-bats as they should because of the senior class that we've had," Day said. "And it was really nice to see a couple of the guys come in and hit the ball hard in the last inning."
With its seventh straight championship, Gorman set a state mark for consecutive titles.
"It's awesome. It feels great," Day said. "We were really tested the last couple weeks in regionals, and the first two games (here) were really close games. We showed a lot of guts and really came out and played."
Roper, one of six senior starters for Gorman, said it was nice to finish his career with a title.
"Four years we've been together, and to come out on top like this, it's just something special," Roper said.
Padilla hopes the appearance in the state title game is just the start for the Cougars, who hadn't played in the state tournament before.
"This is huge for my program," Padilla said. "This is our 11th year, and this is where we want to be. Hopefully next year we can repeat it again."
Contact prep sports editor Damon Seiters at dseiters@reviewjournal.com or 702-380-4587.
In-depth high school sports coverage