'Canelo' Alvarez, Chavez Jr. add to Las Vegas' Mexican boxing history
Updated May 1, 2017 - 12:44 am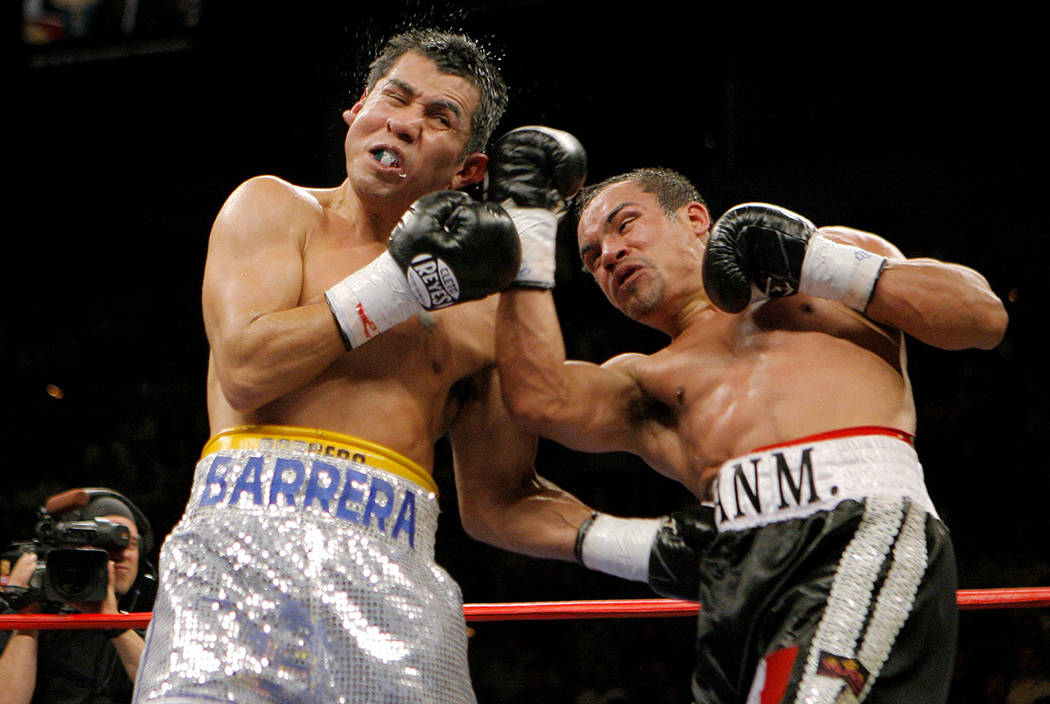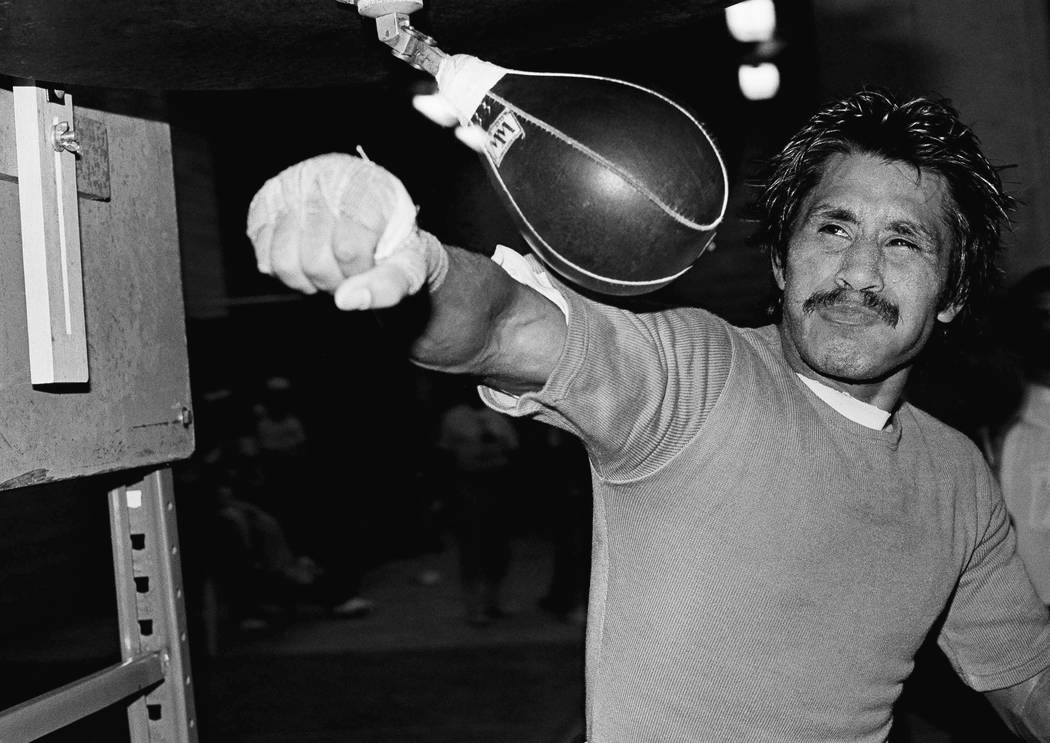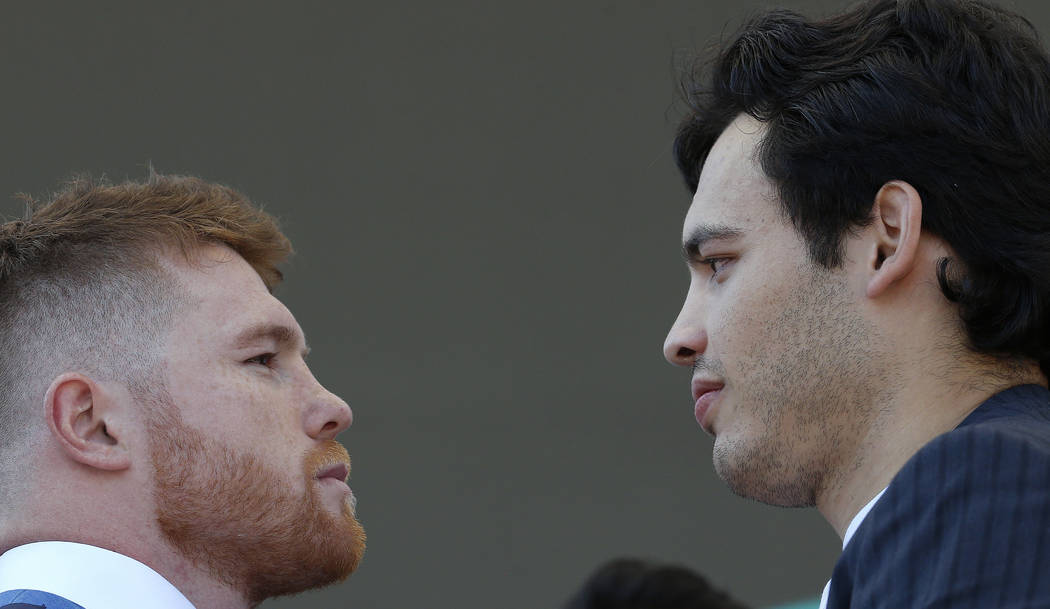 Oscar De La Hoya kept throwing out words like hate and animosity for reasons why the Saul "Canelo" Alvarez-Julio Cesar Chavez Jr. showdown will give Las Vegas an energized fight week starting Monday.
The disdain the two Mexican fighters have for each other has led to a sold out T-Mobile Arena on Saturday, and could draw 20,000-plus spectators. Three Strip hotels will host closed circuit viewings, and many homes are expected to buy the HBO pay-per-view event to give De La Hoya and his Golden Boy Promotions a nice check after the Cinco De Mayo weekend.
"Just like the old days, you feel the electricity in the air," De La Hoya said. "There's animosity toward each other. I can't really explain it. There's a lot of pride at stake. They have many years around each other, and you have to go back.
"Something happened. I don't know if Chavez triggered it or Canelo triggered it, but they don't like each other. They genuinely despise each other."
The hate and hype explains why De La Hoya called Alvarez-Chavez Jr. the most anticipated bout ever between two Mexicans, and there have been some really good ones, especially in Las Vegas.
"I wish I had a crystal ball to see how this will play out, but in terms of how big this event is, and how popular the fighters are, yes, it is the biggest," De La Hoya said. "In terms of action, I can see this fight unfolding like Erik Morales and Marco Antonio Barrera."
Alvarez and Chavez have a long way to go if they want to be mentioned on the same level of the Morales-Barrera trilogy, arguably the best series in boxing history.
However, there are some similarities between the two set of rivals. Here's a look back at some of the greatest all-Mexican fights in Las Vegas history:
Morales-Barrera trilogy
Jessie Vargas doesn't hesitate when asked to name his favorite fights of all time.
"Erik Morales against Barrera 1, 2 and 3. They just went to war and didn't stop punching," said Vargas, a Las Vegas native and former welterweight champion. "They continued when they were tired. They continued when they were hurt. They fought on, and it was for the pride, and no one wanted to back down."
The epic series started with Morales defeating Barrera by split decision at the Mandalay Bay Events Center on Feb. 19, 2000. Barrera took the next two at the MGM Grand Garden with a unanimous decision on June 22, 2002, and a majority decision on Nov. 27, 2004.
Ricardo Jimenez, a longtime publicist for Top Rank, was ringside for the three fights and was on both corners. Jimenez represented Barrera for the first fight and Morales for the last two bouts.
"Barrera was very quiet," Jimenez said. "Morales was opposite and made it personal.
"Chavez Jr. is a lot like Morales. He needs it to be personal to be motivated. It's rare when you find real animosity between fighters. I think that's the case with Canelo and Chavez, just like Barrera and Morales."
Marquez-Barrera
Jimenez said the battle between Juan Manuel Marquez and Barrera doesn't get the credit it deserves.
Marquez defeated Barrera by unanimous decision at the Mandalay Bay Events Center on March 17, 2007.
"I think it's one of the best fights between Mexicans," said Jimenez, who covered numerous fights for La Opinion. "It was high quality. They were both pace fighters and both wanted to be the ones to lead.
"It gets forgotten because of the styles. Fans wanted to see a brawl like what Barrera did with Morales."
Zarate-Pintor
Carlos Zarate ruled the Mexican boxing scene in the 1970s.
Zarate lost in an upset against his former stablemate, Lupe Pintor, with a split decision at the outdoor venue at Caesars Palace on June 3, 1979. Many viewed the decision as a robbery and had Zarate as the winner.
It was a crushing loss for Zarate, who walked away from the ring for seven years before returning in 1986.
Contact Gilbert Manzano at gmanzano@reviewjournal.com or 702-383-0492. Follow @gmanzano24 on Twitter.
Alvarez-Chavez Jr. events
Tuesday: Grand arrivals at MGM Grand lobby. Non-main event fighters begin arriving at noon, with Chavez Jr. following at 12:45 p.m. and Alvarez at 1:15.
Wednesday: Undercard open workouts on MGM Grand casino floor next to sports book. Fighters arrive at 3 p.m.
Friday: Weigh-ins at MGM Grand Garden Arena. Doors open at 1 p.m. Fighters on the scale at 2. "Golden Boy on ESPN" card follows at 4.
Saturday: T-Mobile Arena doors open at 2 p.m. for Alvarez-Chavez Jr. undercard. HBO PPV starts at 6.