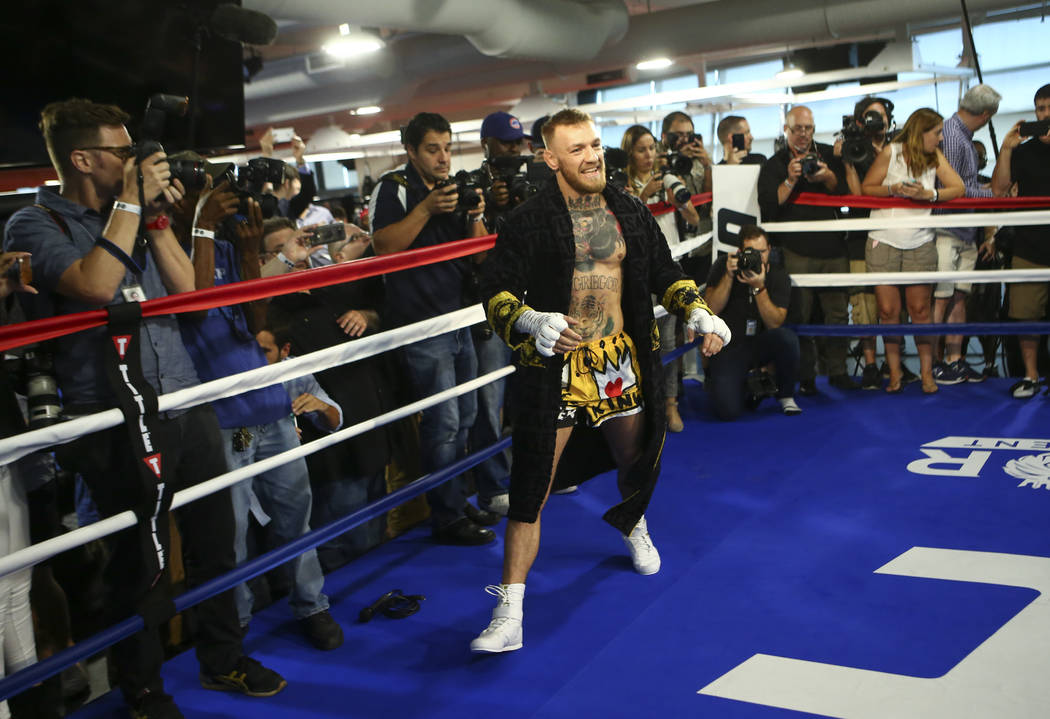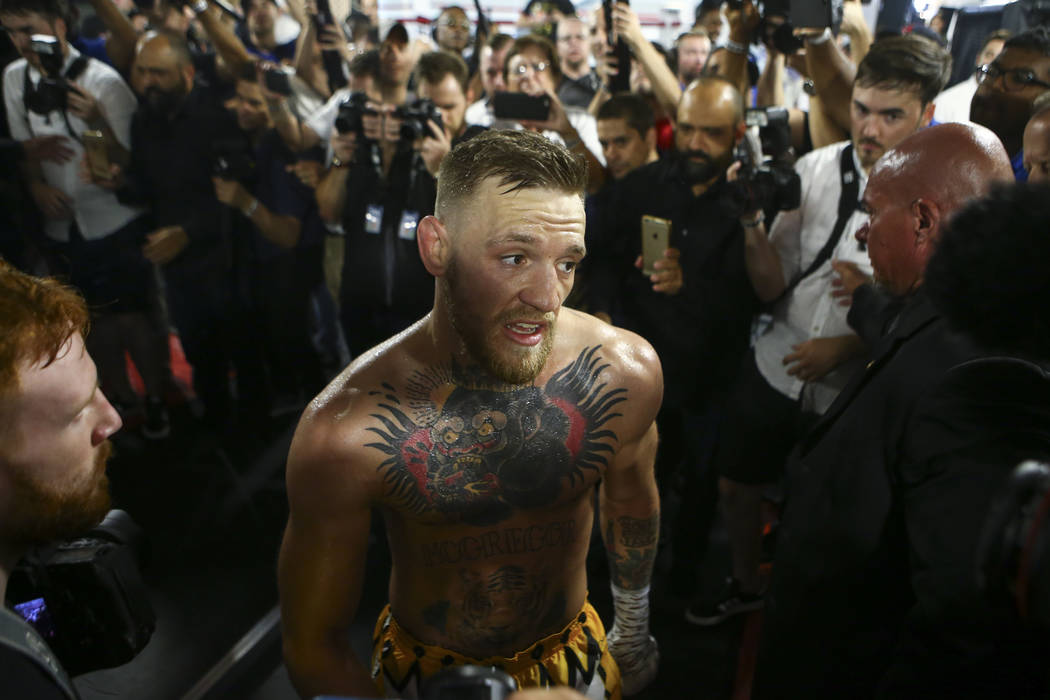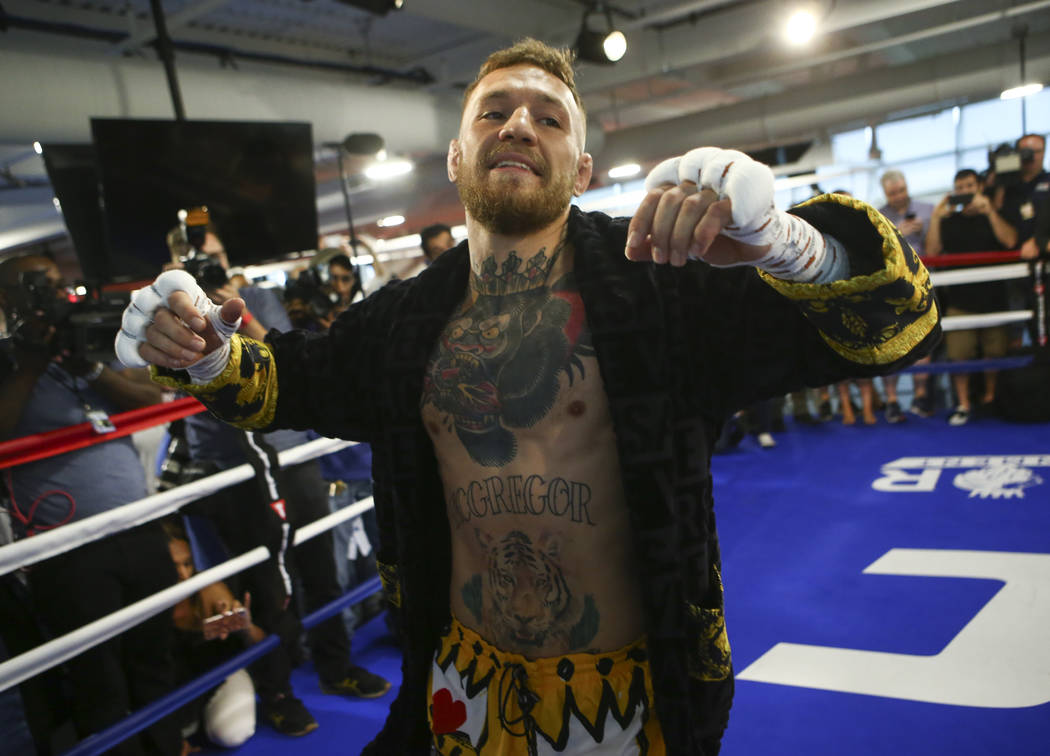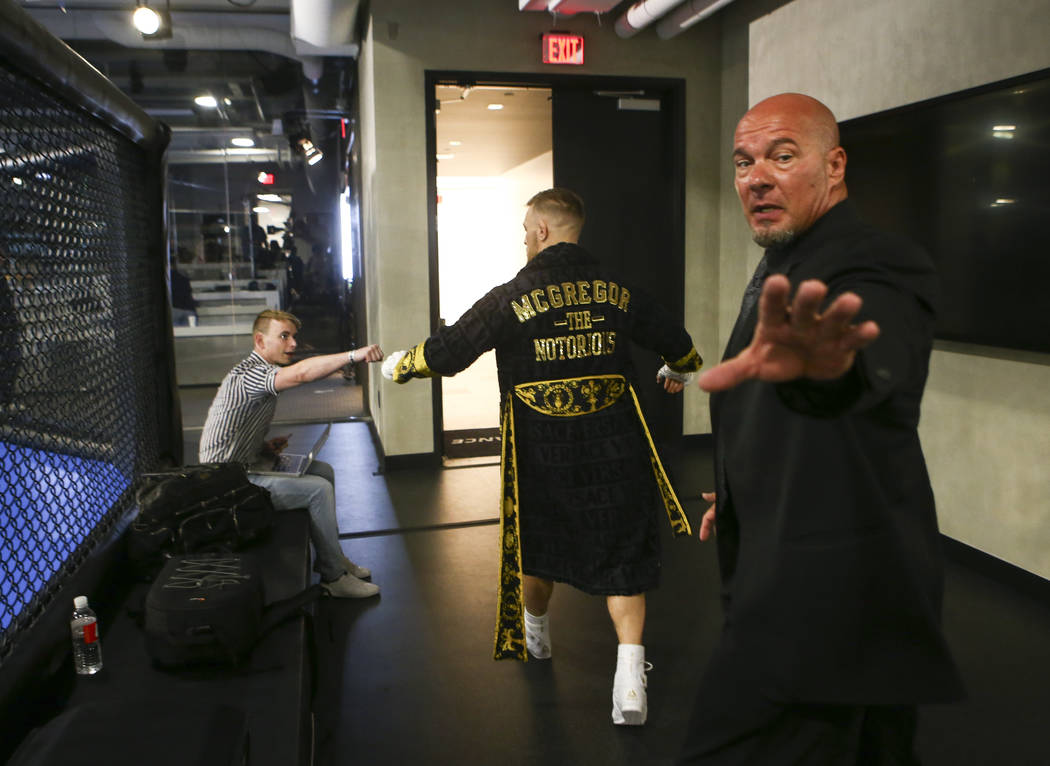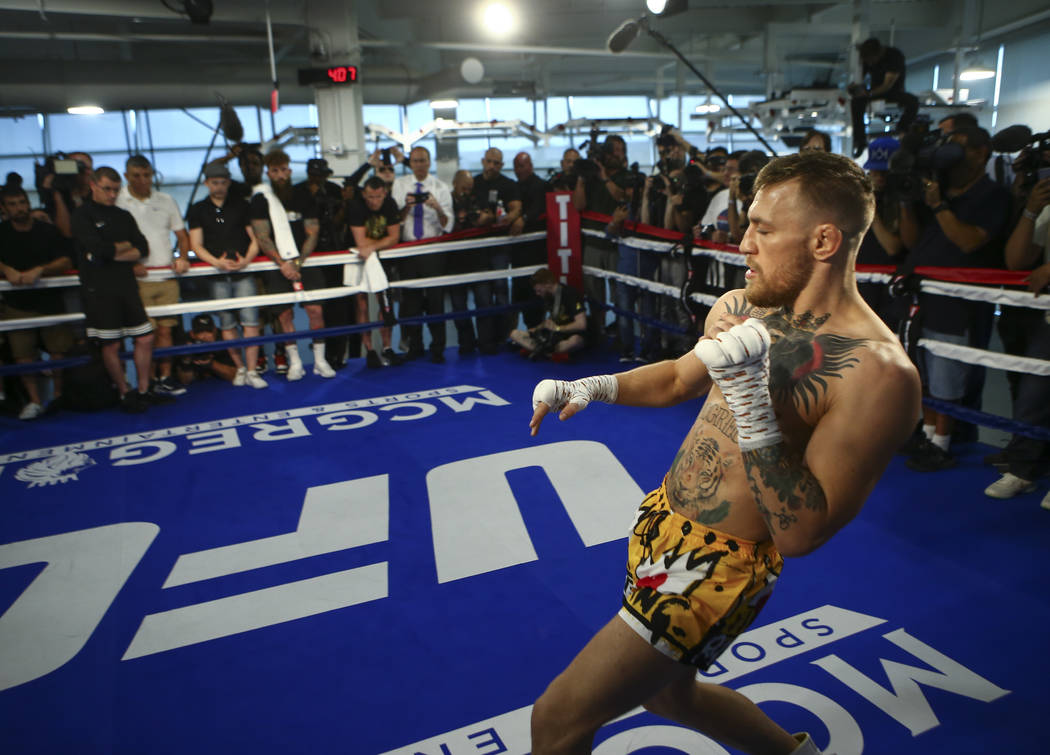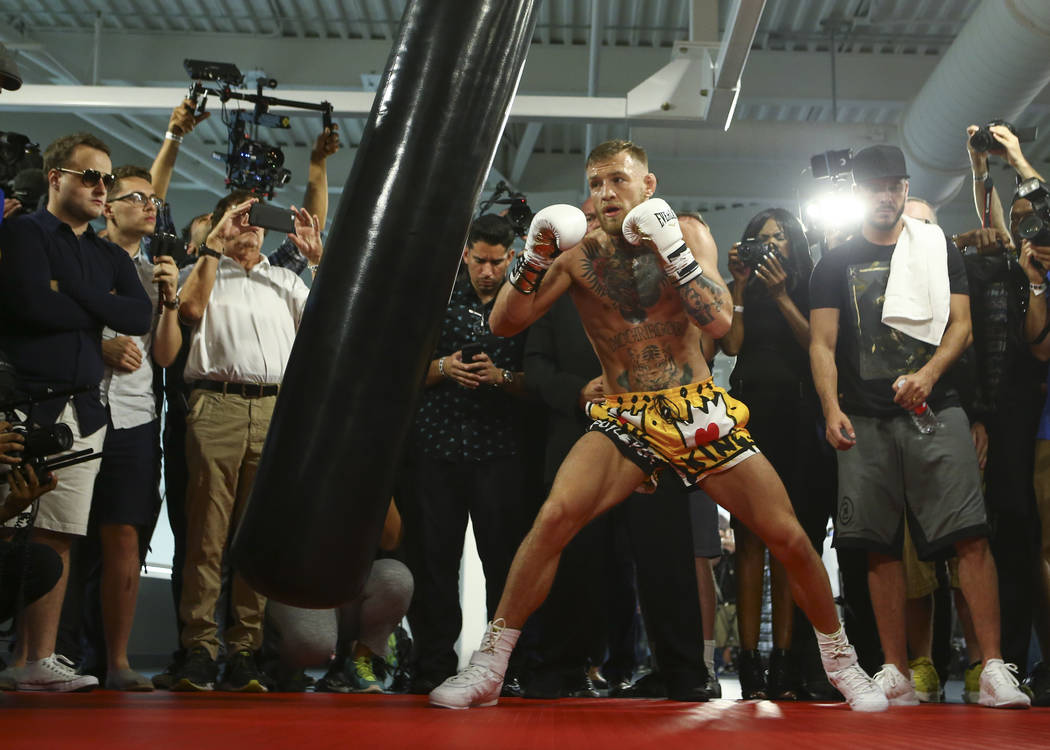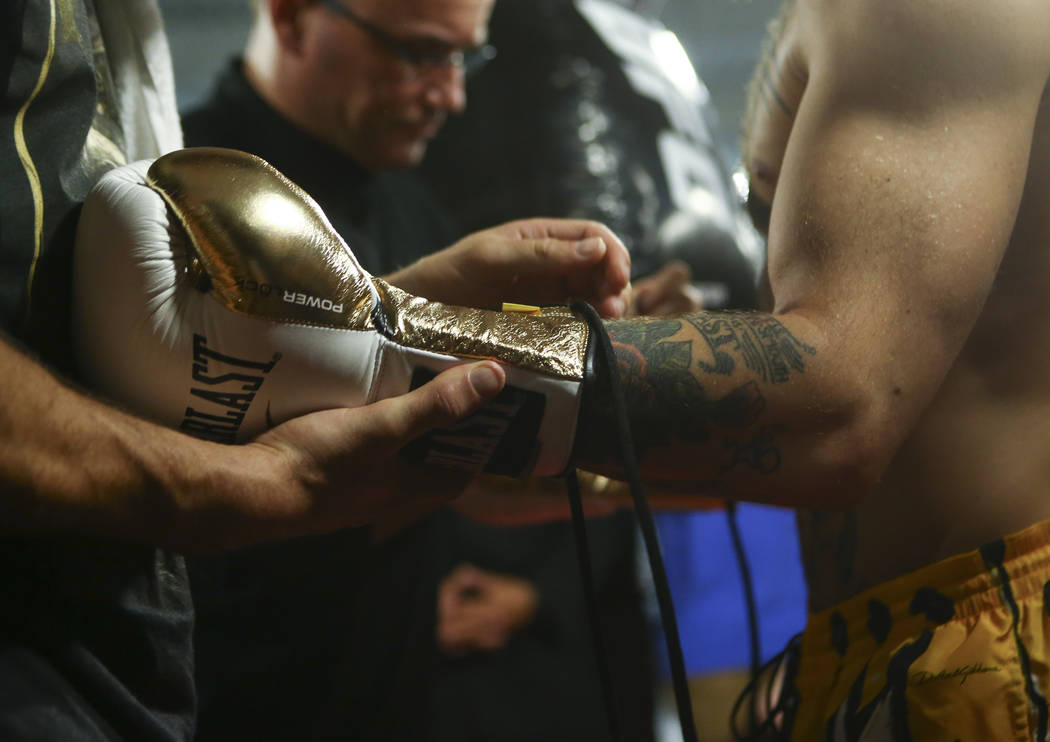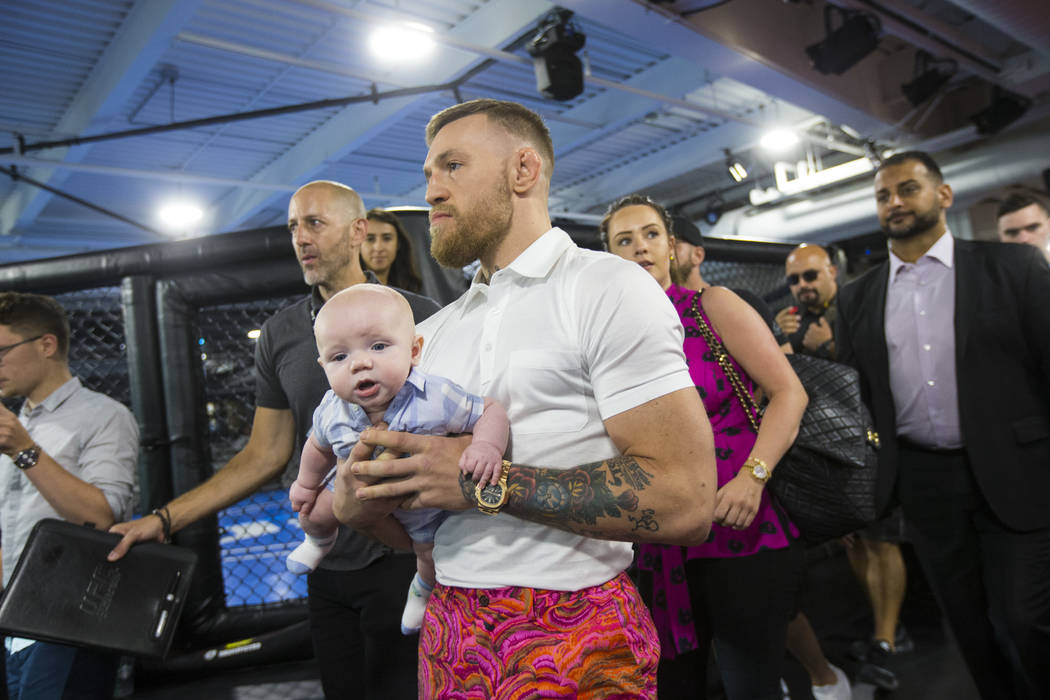 UFC star Conor McGregor has been seeking out the mockery from skeptics who have questioned his viability to step into a boxing ring against undefeated Floyd Mayweather.
It's how he has fueled his fighting career.
"I don't know how many times they've labeled me a joke," he said Friday at the UFC Performance Institute. "What way is he moving? What way is he hitting? He doesn't stand a chance. Then the poor guy facing me is unconscious, and then on to the next and then there's more doubts. This will continue until I call it a day."
McGregor has spent the past month of his training camp in Las Vegas preparing for the Aug. 26 bout at T-Mobile Arena, one that is expected to break records for live gate revenue and pay-per-view buys in combat sports.
McGregor embraces the spotlight. The 29-year-old Irishman has become a global superstar on such a level that demand was created for his boxing debut to come against one of the best of all time.
What McGregor lacks in boxing acumen, he might make up for in experience in major events. He has headlined some of the biggest cards in UFC history, including the organization's first show at New York's Madison Square Garden in 2016.
He said he thinks Mayweather, a five-weight world champion, is under the flawed impression that he will wilt at the magnitude of the spectacle once the bell rings.
"He keeps talking about what happens when we get under the lights," McGregor said. "He keeps saying, 'Conor looks good in the gym.' I look good everywhere. I look good in the gym, and I look good under the lights. In fact, I look better under the lights. I am comfortable in this. This is my life. I have lived under the spotlight for a long, long time in these mega-events also.
"Listen to his words, look at his demeanor and his energy levels. It's a man who has accepted (defeat)."
The reality is McGregor can't lose. He is expected to make an estimated $100 million for stepping into a boxing ring for the first time.
"This is history," McGregor said. "This is never-before-been-done stuff. Two men at the pinnacle of the game in their respective sport. This is historic all the way through from the world tour to everything. I'm just grateful to be a part of it, and there's not a second that goes by that I don't sit back and embrace it all."
He also thinks he's carrying the promotion of the fight. Mayweather essentially has been the only story in most of his fights, particularly since his bout against Oscar De La Hoya in 2007.
McGregor says he has done more than his share for this one.
"If it ain't for me, what's going on?" McGregor said. "If it's not for me scheduling full-on fights in the gym for you guys to talk about and debate or my skillset or my approach, it's just Floyd at a roller disco. Or it's just Floyd at the Gucci store. I'm the one that's bringing this all the way home. On the world tour, who kept going viral? It's been all me."
McGregor said his star power will only grow after he wins. He can return to the UFC and defend the lightweight title or move up in weight to chase an unprecedented third belt. Or he could look for more challenges in the boxing ring.
"I love boxing, and I love mixed martial arts," McGregor said. "I just love fighting. Wherever there is a fight, you'll see me, and if I'm not preparing for a fight, then somewhere on planet earth you'll see me fighting somebody.
"I'm facing the god of boxing right now. He could have remained the god of boxing by staying retired at 49-0, but instead he chose to fight me. Now I am here, and I am the god of boxing. I will rule both with an iron fist, and that's where my mindset is."
More MMA: Follow all of our MMA and UFC coverage online at CoveringTheCage.com and @CoveringTheCage on Twitter.
Contact Adam Hill at ahill@reviewjournal.com or 702-277-8028. Follow @adamhilllvrj on Twitter.
Related
Graney: You have entered the spin zone for Mayweather-McGregor
IBF champ Gervonta Davis headlines Mayweather-McGregor undercard