Police called to another dispute between Floyd Mayweather Jr. and a woman
September 18, 2012 - 5:47 pm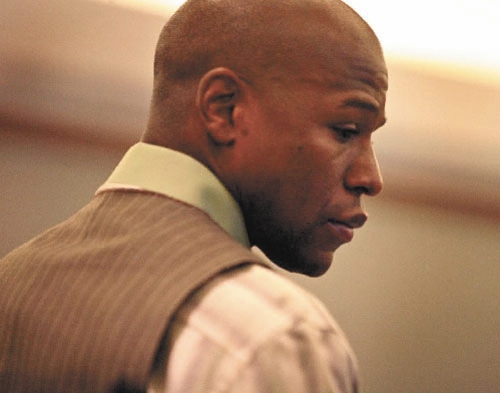 Champion boxer Floyd Mayweather Jr. could be in trouble, again.
Las Vegas police last week responded to a 911 call made by a woman who said she was in a "verbal altercation" with the champion boxer.
After the argument , Mayweather fled with at least one of the unidentified victim's personal possessions.
Police records show the incident happened about 2 a.m. Sept. 9 at 10059 Baystone St., near Southern Highlands, where the boxer lives.
Melissa Brim, the mother of Mayweather's daughter, lives at that address, according to public records.
Brim, 32, has had past violent run-ins with the boxer, including two incidents that resulted in Mayweather pleading guilty to two counts of domestic battery in 2002.
Officers went to the home, which is owned by a Mayweather company, PMG Sinclair LLC, and found no signs of physical violence, police spokeswoman Laura Meltzer said. A Mayweather associate later returned the victim's possessions, and the victim declined to press charges, Meltzer said.
It's unclear whether the incident will affect Mayweather's probation. If he is found to have violated terms of his probation, which includes staying out of trouble, he could go back to jail.
The boxer is serving a year's probation after he pleaded guilty for beating his ex-girlfriend in front of their children in September 2010. Mayweather's attorney, Richard Wright, declined comment. Prosecutors could not be reached for comment.
The boxer pleaded guilty in December to domestic battery and no contest to two counts of harassment, all misdemeanors, for assaulting Josie Harris, the mother of three of his children, and threatening his two sons.
Mayweather was released from the county jail with time off for good behavior on Aug. 3 after serving two months of a three-month jail sentence in the case.
Mayweather must participate in counseling sessions and perform community service as part of his probation. In June, Las Vegas Justice of the Peace Melissa Saragosa lauded Mayweather for his progress, including serving 45 hours of community service at Habitat for Humanity, Three Square food bank and the Las Vegas Rescue Mission.
Mayweather has had two past violent episodes with Brim.
The first came in February 2001 when during an argument he swung open a car door, hitting her jaw, pushed her into the car and punched her several times in the face and body, according to a lawsuit she later filed. After the "brutal and unprovoked attack," Brim drove to a convenience store and called police, the lawsuit said.
Five months later, Brim was at the Boulevard Mall with her daughter when Mayweather asked whether his friend could hold the child. After the friend took the girl, Mayweather hit Brim in the neck, her lawsuit said. Mall security called the police, but Mayweather left before they arrived, the lawsuit said.
Brim dropped the lawsuit in 2003.
Mayweather was charged with two counts of domestic battery. He pleaded guilty in March 2002 to those counts and one count of misdemeanor battery in an unrelated case.
Under the plea agreement with prosecutors, the boxer got a suspended six-month jail sentence, a $3,000 fine, 48 hours of community service and two days of house arrest.
Review-Journal writer Steve Carp contributed to this story. Contact reporter Francis McCabe at fmccabe@reviewjournal.com or 702-380-1039. Contact reporter Brian Haynes at bhaynes@reviewjournal.com or 702-383-0281.