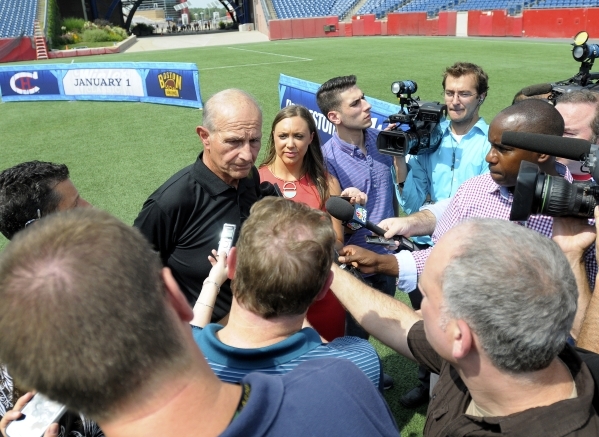 The bid by Las Vegas to join the NHL might have been tripped up Thursday when the chairman of the league's Board of Governors executive committee said the time might not be right for the 30-team league to expand.
Jeremy Jacobs, owner of the Boston Bruins, told reporters Thursday that while he and his fellow committee members were impressed with the presentations made Tuesday in New York by Bill Foley for Las Vegas and the Quebecor group for Quebec City, he wasn't sure if the NHL should ultimately grant both groups franchises.
"I don't know if there's a desire or a will within the board of the existing franchises for expansion yet," Jacobs said. "Both have very legitimate arenas and organizations in place. There's a capacity out there, but I don't know if there's a will from a league standpoint.
"I think it's more important, what is the best thing for the league as a whole, and what's the best thing for Boston. Right now, the 30 teams are pretty good for all of us. Talking where I stand today, I feel good about where we are."
Jacobs did say if the NHL were to expand, Las Vegas might make more sense than Quebec City, even though it is not the traditional hockey market the Canadian city is.
He cited the $375 million MGM-AEG arena under construction and the nearly 14,000 season-ticket deposits Foley's group has secured as pluses for Las Vegas, along with the fact there's a geographic imbalace within the NHL. Sixteen of the 30 teams play in the Eastern Conference.
"Take a look at what's gone up in Nevada," Jacobs said. "It's scary. I mean, it really is. It's a heck of an arena built there, and there's a strong interest there. Balance the fact Quebec has a great hockey interest, but it is an extaordinarily small market."
Reached by phone Thursday, Foley said: "I have a lot of respect for Jeremy Jacobs. He's a brilliant man and a terrific owner. But regarding what he said, I have no comment."
It would take approval of three-quarters of the 30 teams to move forward and award an expansion franchise or franchises. Following one-hour presentations by Foley and the Quebec City group Tuesday, NHL commissioner Gary Bettman said there was no timetable for the league regarding expansion, and that it required more study.
Jacobs agreed.
"There's no clear-cut answer," he said. "But we will continue the process."
Contact reporter Steve Carp at scarp@reviewjournal.com or 702-387-2913. Follow him: @stevecarprj