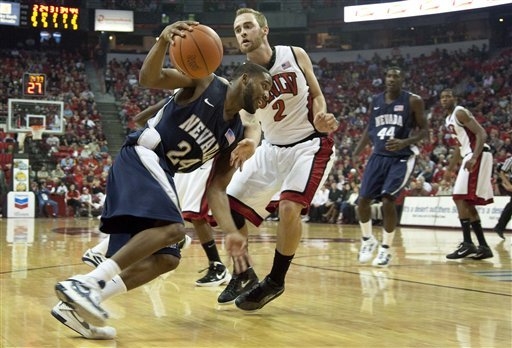 It was mid-March, and Deonte Burton's quest to play in the NCAA Tournament again had been denied.
Frustrating as it might have been, the 6-foot-1-inch UNR point guard spent the rest of the spring and all summer working on his game. He knew the 2013-14 season would be his final chance to help the Wolf Pack reach the NCAAs.
"I tried to get better defensively. I wanted to get more consistent in everything I do," said Burton, whose immense talent will be on display when UNR meets No. 19 UCLA at 4:30 p.m. today at Orleans Arena in the third round of the Las Vegas Invitational.
The Wolf Pack's 12-19 record last season was disappointing on many levels. The team didn't perform well in the step up in competition to the Mountain West from the Western Athletic Conference, finishing last in the league at 3-13. Too often, they played selfishly.
Burton, who averaged 16.3 points as a junior, was one of the few bright spots. He was third-team all-conference, and though he debated whether to declare early for the NBA Draft, he decided to return for his senior season.
"I really wanted to come out and show people we're better than we showed last year," said Burton, who was invited to USA Basketball's training camp for the World University Games last summer but did not make the team. "It hurts not having gone to the (NCAA) Tournament. That's every college player's goal, and I have one more shot."
That goal might be tough to achieve. UNR is 3-3 after losing to Morehead State 63-58 Sunday in the LVI's second round.
But Burton isn't the reason for the .500 record. A preseason first-team All-Mountain West selection, he's averaging 24.5 points and has hit the winning shot in all three victories.
Most of all, he has been the leader UNR was lacking.
"We talked about that after last season," coach David Carter said. "A point guard is like a quarterback. You have to have leadership at the position. Last year, we didn't have any strong seniors. But he understood what we need from him, and he's been a real leader."
Burton said his teammates have boosted his role.
"Guys are buying in more, and we're tougher overall than we were last year," he said. "We're trying to play with more energy."
Carter had hoped Burton would return for his senior season and said he believes his star's NBA stock will rise when scouts notice his maturity.
"He's like a sponge the way he soaks everything up," Carter said. "He's a real student of the game, and to watch him develop every day from when he was a freshman has been a great experience."
Burton, who has not missed a game in his three-plus years with the Wolf Pack, is seventh on the school's career scoring list with 1,606 points and is 40 points from the No. 5 spot. And even if he doesn't get a chance to play in the NCAA Tournament, he'll leave Reno as one of the school's all-time greats.
"I've had a great experience," Burton said. "I've been able to grow as a player and as a person, and I'm glad I chose the program."
Contact reporter Steve Carp at scarp@reviewjournal.com or 702-387-2913. Follow him on Twitter: @stevecarprj.
LAS VEGAS INVITATIONAL
■ WHEN: Today, Friday
■ WHERE: Orleans Arena
■ TODAY'S SCHEDULE: Gardner-Webb (2-4) vs. IUPUI (1-5), 11:30 a.m.; Morehead State (5-2) vs. Chattanooga (2-4), 2 p.m.; UNR (3-3) vs. No. 19 UCLA (5-0), 4:30 p.m.; Missouri (5-0) vs. Northwestern (4-2), 7:30 p.m. (ESPNU Cable 320)
■ TICKETS: $50, $70, $130, $160 (sold as two-day packages only)