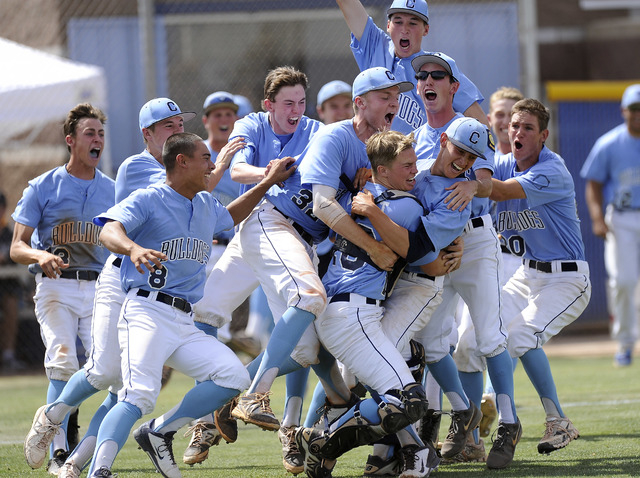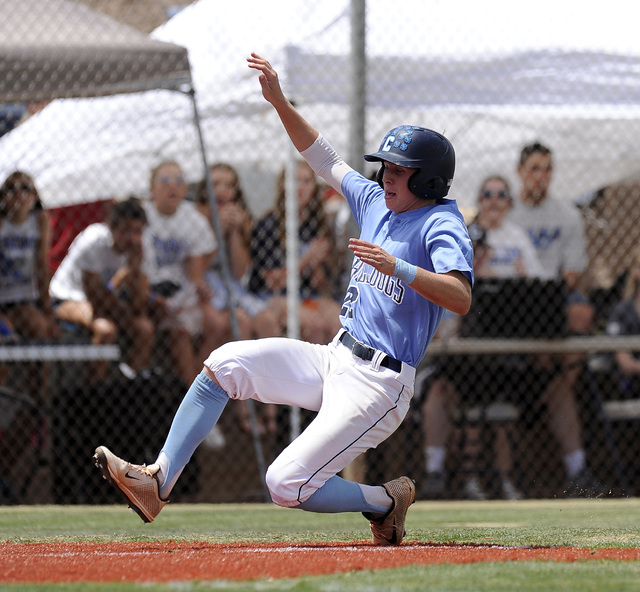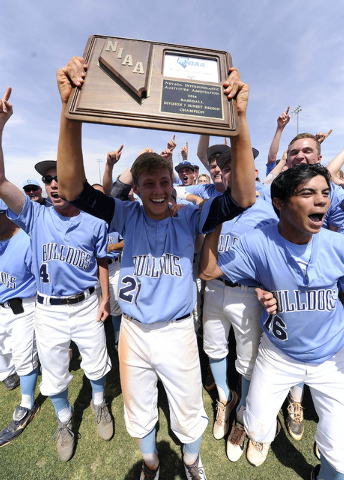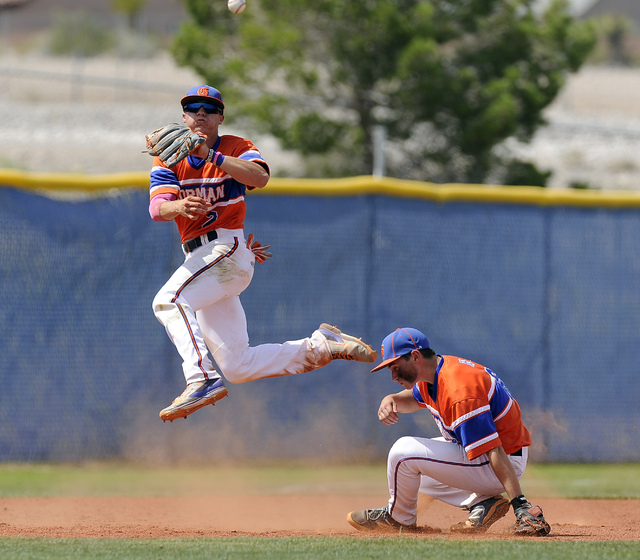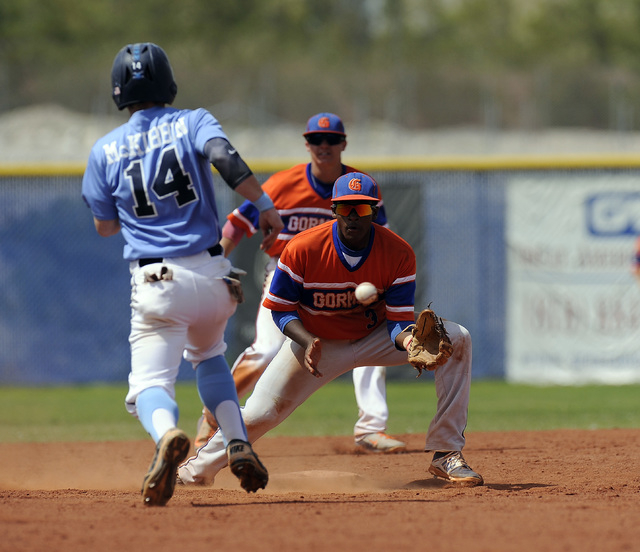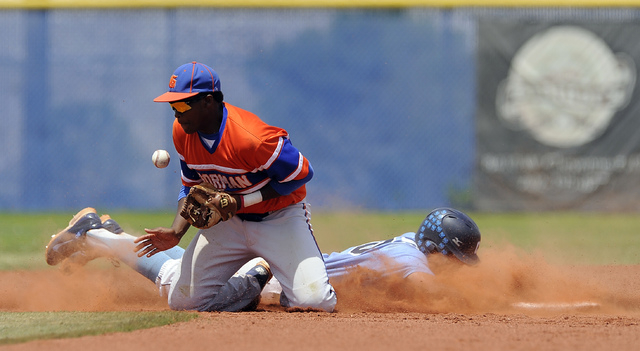 Some pitchers look for maximum velocity on every pitch. Centennial's Cooper Powell certainly isn't one of them.
The senior left-hander seemed to change speeds on every pitch Saturday, firing a five-hitter to lead the host Bulldogs to a 3-1 win over Bishop Gorman for the Sunset Region baseball title.
"I knew they were a fastball-hitting team, and I wanted to get ahead," Powell said. "I think a lot of guys nibble with them, and I wanted to get ahead and change speeds and do what I'm good at."
Centennial earned a berth in this week's state tournament in Reno. The Bulldogs ended Gorman's streak of eight straight state tournament appearances.
Powell beat Gorman for the second time in two weeks. He was on the mound for Centennial's 6-4 win May 7. The Bulldogs also beat the Gaels 6-5 in the winners' bracket final Thursday.
"He's done it to us twice in two weeks," Gorman coach Nick Day said of Powell. "He's pitched his butt off, he really has. And not just him, but they're playing really well. They've had some clutch hits the last couple weeks, they're playing at a high level, and we just couldn't recover from the three runs."
Centennial (25-11) scored all three runs in the first inning. Ricky Koplow led off with a single to right field, and Tanner Wright followed with a liner to center. Both runners moved up on a wild pitch, and Koplow scored on a sacrifice fly by Jake Portaro.
Powell then singled through the right side to score Wright, and Powell scored on an RBI double to left by Travis Stevens. Powell and Stevens came through with two outs.
"We preach all the time first-inning runs, because so many games are won and lost in the first inning," Centennial coach Charlie Cerrone said. "And this was. It's throughout the season, not just in the playoffs. But if you're not ready to play at the start of the game, it can cost you."
Powell, who didn't allow an earned run, remained composed throughout, even when Gorman (27-6) got runners on base. The Bulldogs turned three double plays, and Gorman stranded eight runners, including two in the seventh inning.
The biggest double play came in the sixth when the Gaels had runners on first and second with one out with Centennial still leading 3-0.
Michael Blasko ripped a liner down the first-base line, but Centennial first baseman Travis Stevens made a sprawling catch, then tagged the bag with his glove for an inning-ending double play.
"We were a couple inches from a line drive being two runs," Day said. "I haven't played a lot of games where we couldn't get anything going our way. And a lot of that goes to Powell. He gets the credit for that. But we just couldn't get anything going."
Powell retired the first two batters in the seventh before Grant Robbins singled through the left side of the infield. Robbins moved to second on a balk, and Cadyn Grenier followed with a liner up the middle to put runners at the corners.
Beau Capanna then lifted a fly ball to shallow right field. Wright charged and went for a basket catch, but the ball went off his glove, allowing Robbins to score and Grenier to move to third for Gorman's No. 3 hitter, Cole Krzmarzick, who was 2-for-3 with a double at the time.
Krzmarzick lifted another ball to Wright in right field, and this time the freshman snagged it to end the game.
"I just kept repeating the outs in my head," Powell said of the seventh inning. "We only need three outs, two outs, one out. Tanner missed that ball, and I still had faith in our guys, and we prevailed and it was awesome.
"Baseball's full of second chances, and he got it and he took it."
Gorman was unable to take advantage of second or third chances against Centennial after the regular-season loss.
"They've been cohesive all year long, and I like my guys," Cerrone said. "I'll just keep saying that. They're a good group of guys. Body for body, we probably don't match up with Gorman. But we outplayed them. You can't call it a fluke three games."
SUNRISE REGION
Momentum was against Liberty pitcher Dan Skelly as he took the mound in the second inning of Saturday's Sunrise Region championship at Green Valley.
The Patriots had dropped the day's early game, and Skelly had spotted the Gators to a 2-0 lead in the first inning of the second game.
But the senior starter recovered in convincing fashion, pitching 6 2/3 innings to lead his team to a 6-4 victory over Green Valley for the championship.
The win lifted the Patriots into the state tournament, which begins Thursday in Reno.
"I just wanted to get the call," said Skelly, who struck out six while allowing four walks. "The coaching staff had faith in me, and I knew I had a great defense behind me."
But Green Valley, which needed to win twice to claim the title, stormed to a 2-0 first-inning lead on an RBI fielder's choice off the bat of Keola Paragas and a run-scoring single by Keaton Smith.
"They just hit some good pitches," Skelly said. "But when you have that many guys pulling on the end of the rope, nobody's going to beat you."
"I think Dan just needed to settle down a bit," Liberty coach Nick Didier said. "But he's our guy, and he's a great competitor. I'm glad he's on my team."
The Patriots got a run back in the second inning and took the lead for good in the third when Jay Martz scored on a wild pitch and Ethan Ibarra followed with an RBI double to make it 3-2.
Jesse Keiser's solo homer in the fourth gave Liberty a 4-2 lead before the Gators answered by scoring on a balk in the bottom of the inning.
The Patriots sealed it with a run on an RBI fielder's choice and another on a throwing error in the seventh.
"Those insurance runs are always nice," Didier said. "But the important thing is that it was a total group effort."
Skelly couldn't quite close the deal, as he got into trouble in the seventh and was relieved by Justin Lutes. Jarrett Perns' two-out bounce single up the middle made it 6-4 before Lutes got the final out and the save.
"I told our seniors before the game that we would go as far as they would take us," Didier said. "Lo and behold, we're going to state."
Martz went 3-for-3 to lead the Liberty offense, and Keiser went 3-for-4. Anthony Hatch went 2-for-3 for Green Valley.
The Gators forced a second championship game by defeating Liberty 5-1.
DIVISION I-A SOUTHERN LEAGUE
Faith Lutheran's Brandon Johnson pitched a five-inning perfect game with 10 strikeouts to lead the host Crusaders to a 14-0 win over Chaparral in the final.
The Crusaders (27-6) and the Cowboys (24-11) advance to the state tournament, which begins Thursday in Sparks.
"He's loose; he's a clown off the field, but once he crosses the line, he's a great competitor," Faith Lutheran coach Blair Neagle said.
Johnson started quickly and never let up, striking out the side in the first two innings on just 23 pitches, consistently painting the corners to keep hitters off-balance.
"He was locating real well," Neagle said. "He was in and out, and he threw his breaking pitch for a strike when he needed to. His location and off-speed stuff — everything was working for him."
The last out was the only ground ball Johnson allowed, and he needed stellar defense to keep the perfect game intact.
Chaparral's Matt Ellison hit a sharp grounder to short, forcing Logan Etherington to move to his right, but Etherington planted his foot and made a strong throw to first to end the game. Johnson threw just 47 pitches, 36 for strikes.
"For the most part, it was just my normal routine," Johnson said. "But overall this being my last home game and last time putting on a Faith uniform at home, I think it gave me a little bit more motivation to come out and throw right away and no playing around."
Faith Lutheran's offense made sure Johnson got plenty of run support. Cameron Sepede had a three-run homer in the first, and Chad Jones was 2-for-2 with two runs and three RBIs, including a two-run single in the first. Zach Trageton went 2-for-4 with an RBI, and Greg Sylvester was 2-for-2 with two RBIs.