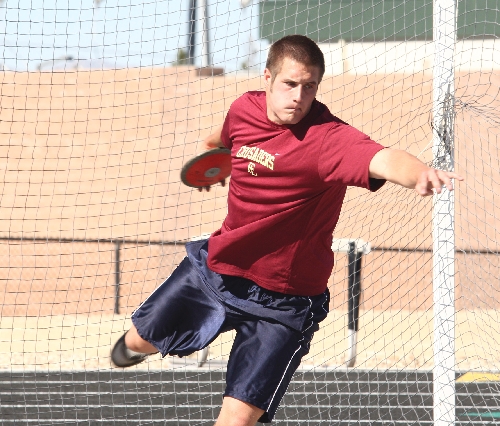 Oxymoron or not, it's close to the truth. Faith Lutheran, with fewer than 700 students in grades 9 to 12, is the smallest Class 4A high school in Southern Nevada. Yet the Crusaders have one of the state's best track programs.
In 2009, Faith Lutheran's boys and girls won the 3A state team championships. Four Crusaders won a total of six individual state titles and are all back this year, this time competing in the Sunset Region of 4A.
The Sunset and Sunrise region meets begin today and continue Friday and May 14 at Del Sol.
"The only downside of moving to 4A is we don't get the opportunity to defend our titles," Faith Lutheran coach Rick Baird said. "I think going up to 4A has made the kids better — not saying they coasted last year at all, but it was much easier last year.
"So this year we competed in meets we did not go to last year, to really get the kids used to a very high level of competition."
If anything, the move has been a motivational factor.
"It has inspired me to do better," said Krystal Onyema, who will compete in the long jump, high jump, shot put and 400-meter relay. "I didn't want to be embarrassed in 4A."
Onyema was the state runner-up in 2009 in the long jump and triple jump, sixth in the high jump and a member of the state-winning 400-meter relay team.
She's part of a core group that led Faith Lutheran last year, along with boys John Cartier (100, 200, 400), Ryan Bartholomew (800) and Paul Morton (shot put, discus) and girls Joi Goynes (100, 200), Renee Vogel (pole vault) and Kiah Mayo (long jump, high jump).
Joining that core is Jack Leavitt, who as a sophomore finished fourth in the pole vault at the 3A regionals in 2009 and failed to qualify for state but is now the No. 1 vaulter in Southern Nevada with a personal best of 14 feet, 4 inches.
Also, freshman Macy Helm is ranked No. 5 in Southern Nevada and No. 3 in the Sunset for the 100 meter hurdles.
Six Faith Lutheran athletes are ranked either No. 1 or No. 2 in at least one of their events in the latest Southern Nevada honor roll. For Baird, the goal is to do well at regionals but primarily to get as many athletes to state as possible.
"We can get third to fifth at regionals, and I would be happy with that finish," he said. "On the boys side, I don't think we can finish that high, but I do think we could get a top-six finish at state."
It appears that most of Faith Lutheran's points will be scored in the field events, which could produce an interesting first week, as all six field events finals will be today and Friday, along with the 3,200 relay and the 3,200 run.
The pole vault is arguably the Crusaders' strongest event. In addition to Leavitt and Vogel, four other Faith Lutheran vaulters have met the qualifying standards for regionals. Among them, Alex Sprouse and Gerald Skelton are ranked joint Nos. 3 and 4 in the region. On the girls side, Jessica Nelson is the No. 5-ranked vaulter in the Sunset.
Vogel, the No. 1 vaulter in the Sunset with a best of 10-6, is nursing a sprained ankle, but Baird calls her "tough as nails."
Teamwork is what the Crusaders are all about. Many of the top athletes got started in track when they were in middle school at Faith Lutheran.
This points out an advantage that Faith Lutheran has despite its small student body. It is not just a high school. Faith Lutheran Junior/Senior High has several hundred middle school students and a comprehensive sports program, including cross country and track.
All of which leads to success.
Success the Crusaders hope carries over to their new 4A home.
In-depth high school sports coverage