December 6, 2008 - 10:00 pm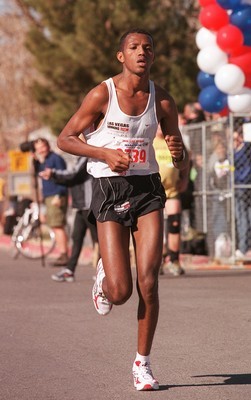 Finally, it's all about the race.
The Las Vegas Marathon has had a trying year, but with the race a day away, all systems are go for the event's fourth running since being dramatically upgraded in 2005.
The course, again featuring the Strip and the Fremont Street Experience, has helped the event double in size the past four years. And despite a down economy this year, organizers are expecting approximately 15,000 participants for the marathon and half-marathon.
"We're not very far off last year at all, and I think that's a great testament to the running community itself," said Chris Devine, chairman of Chicago-based Devine Racing, which purchased the race from Las Vegan Al Boka four years ago.
It's the swan song for Devine, as San Diego-based Competitor Group Inc. — which owns the various Rock 'n' Roll Marathon events — takes over effective Monday, having recently purchased the event from Devine's company.
But that hasn't dampened Devine's enthusiasm for Sunday's 6 a.m. start on the Strip in front of the Mandalay Bay Convention Center, which also serves as the finish line for both races.
"I'm excited," he said. "I see all the runners at the hotel, and as a runner, I am genuinely pumped up about this event."
Race director Terry Collier was surprised by the number of entries, running just behind last year's record of approximately 17,000.
"I'm ecstatic about it, given the way the economy is here and worldwide," Collier said. "Our international partners are key to our success, and this shows that people still want to come to Las Vegas, despite the economy."
And despite Devine Racing's financial woes of the past year, a reasonable amount of prize money still is on the line. Elite and local runners will compete for nearly $42,000.
The top male and female overall finishers will earn $8,000, and the Clark County Challenge — which previously awarded money only to the first-place male and female — has been expanded to pay the top three local finishers.
The top male and female earn $3,000, second place collects $1,500, and third is worth $500.
Ethiopian Abebe Yimer, who has lived in Las Vegas for several years and took eighth overall in last year's race, will be among the top challengers for the men's title.
The event also will continue to showcase a fireworks display prior to the start and the run-thru wedding chapel near downtown, with 47 couples getting married or renewing vows and then continuing on with the marathon or half-marathon. And hundreds of participants are sure to be dressed as Elvis.
It also appears the race will have its best weather since the move to the Strip, with little wind and temperatures in the 40s at start time, warming up to the 50s by 9 a.m. and the 60s by noon.
"My expectation on Sunday is that our customers coming to Las Vegas to have a good time with friends and family will get just that," Collier said. "And they'll be ready to come back in 2009.
"The city, the county and the residents of Las Vegas and Clark County have really pulled together. The entire community has embraced this event, and the expectations are high. We intend to meet those expectations."
Devine echoed that sentiment, stating the race will leave participants and fans satisfied and looking forward to 2009.
"I'd just like for everybody who sets foot on the course, spectators or runners, to have a great experience, so that they feel like they want to return next year," he said.
And as Devine's era closes, he had nothing but praise for all involved.
"This race and this market are just so phenomenal," he said. "I'm so grateful to everybody who has helped us get to know this market. Hopefully, we're able to come back next year as spectators and enjoy the atmosphere created by the Rock 'n' Roll guys."
Contact reporter Patrick Everson at peverson@reviewjournal.com or 702-383-0353.
ON THE WEB Street closure map RACE SCHEDULE TODAY • Quality of Life Expo, Mandalay Bay Convention Center, 9 a.m.-5 p.m. • Las Vegas Kids Marathon, start/finish area, Mandalay Bay Convention Center. 12:15 p.m. opening remarks/warm-up; run begins at 1 p.m. • Running Elvis gathering, Mandalay Bay Convention Center (Shark Reef entrance), 2:15 p.m. • Elvis Pasta and Karaoke Party, Mandalay Bay Convention Center Ballroom (sold out) SUNDAY Las Vegas Marathon/half-marathon, 6 a.m. For more information, go to lvmarathon.com. LAS VEGAS REVIEW-JOURNAL