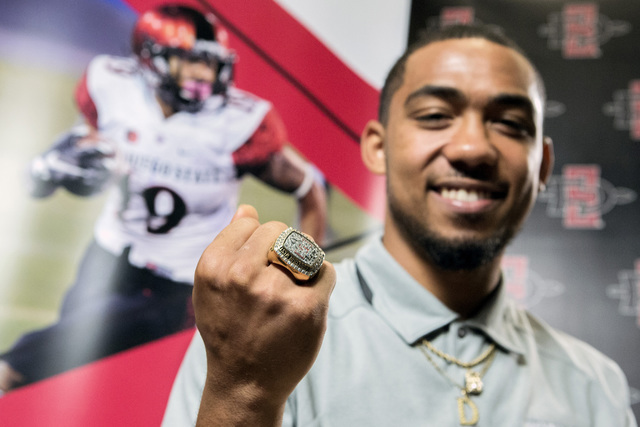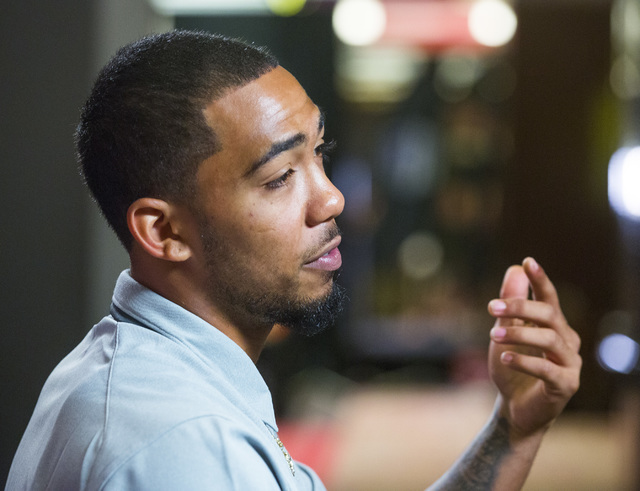 Donnel Pumphrey is part of a unique family tree at San Diego State that has roots in Las Vegas.
Pumphrey, the reigning and preseason Mountain West Offensive Player of the Year, played at Canyon Springs High School for Aztecs assistant coach Hunkie Cooper, whom he considers his father figure. Likewise, Cooper played six positions at
UNLV under San Diego State offensive coordinator Jeff Horton, whom he refers to as "Big Daddy" and who recruited Pumphrey to the Aztecs.
"They're still my father figures," Pumphrey said Wednesday at the MW media days at The Cosmopolitan of Las Vegas. "Whenever I need advice, I tend to go to those two the most, and they tell me what I need to hear."
The senior running back leaned heavily on Cooper for support and guidance on Senior Night at Canyon Springs on Nov. 2, 2012 — the day his daughter, Maliya, was born.
"It changed my life a lot, and coach Cooper helped me and mentored me, because he was in the same situation I was in when he was my age," Pumphrey said. "He told me to be there for her and it's no longer just me, it's the two of us now. That's the biggest thing, that you can't be selfish being a father."
Cooper recalled the night Pumphrey — a stellar student and student council member — became a dad.
"I remember we looked at each other and teared up," Cooper said. "I told him, 'Remember this night. It's something you'll never forget.'"
Pumphrey remembers it vividly.
"I got injured on the first play of the game because I should've been in the hospital," Pumphrey said. "Ever since, I've told myself I'm going to do whatever it takes to be the best player I can for her, and ever since, everything's fell into place for me."
The nation's active leader in rushing yards (4,272), rushing touchdowns (45) and all-purpose yards (5,145), Pumphrey said Maliya has inspired him to heights he never imagined coming out of Canyon Springs, when most schools, including UNLV, thought the 5-foot-9-inch, 180-pound speedster was too small to excel at college football's highest level.
"She's my biggest motivation. She's the one that pushes me," he said. "I just think of her whenever there's a negative moment and try to make it positive."
A plethora of positives appear to be on the horizon for Pumphrey, who is on pace to shatter Pro Football Hall of Famer Marshall Faulk's career records at San Diego State for rushing yards (he needs 318), all-purpose yards (needs 451) and 100-yard rushing games (needs one). He could break Faulk's marks for touchdowns (needs 13) and rushing TDs (needs 13) for a defending MW champion Aztecs squad that was the unanimous pick to win the West Division.
San Diego State owns a 10-game win streak — the nation's second-longest behind Alabama (12) — and returns 14 starters, including reigning and preseason MW Defensive Player of the Year Damontae Kazee and reigning and preseason MW Special Teams Player of the Year Rashaad Penny.
"We want to go undefeated this year and hopefully get to a New Year's Six bowl game," Pumphrey said. "We're just trying to push each other to the limit. We know this could be a special year."
The only player in the country since 2013 to combine for at least 4,000 yards rushing and 800 yards receiving, Pumphrey is on the Walter Camp award watch list as college football's most outstanding player. The Westgate sports book doesn't list him among 34 players it has odds on to win the Heisman Trophy, but his coaches believe he's a deserving candidate.
"If he put those numbers up at a Power Five school, then there's no question," said Cooper, who coached Tennessee Titans running back DeMarco Murray at Bishop Gorman. "D.J. has the same skill set (as Murray). Some skills DeMarco does well, D.J. does even better."
Horton said he would put Pumphrey "against any back in the country," but said playing in a Group of Five league whose games mostly air late at night on the East Coast hurts his chances.
"We kick off at 7:30 on Saturday night. Most East Coast guys are settling in their recliner and have been drinking and are ready to pass out," Horton said. "That doesn't help us. He's a long shot at best, but that's not the reason he came back.
"He came back to help this football team win another championship and hopefully move up in the polls and rankings."
While Pumphrey likely won't strike the Heisman pose this season, he'll gladly settle for striking a more meaningful pose for his daughter each time he reaches the end zone at Qualcomm Stadium.
"I know exactly where she sits," he said. "And I point at her every time I score."
Contact reporter Todd Dewey at tdewey@reviewjournal.com or 702-383-0354. Follow him on Twitter: @tdewey33
RELATED
Here's a look at the energy inside the UNLV weight room