Bonanza flag football eyes first girls state title since 2003
November 28, 2018 - 6:12 pm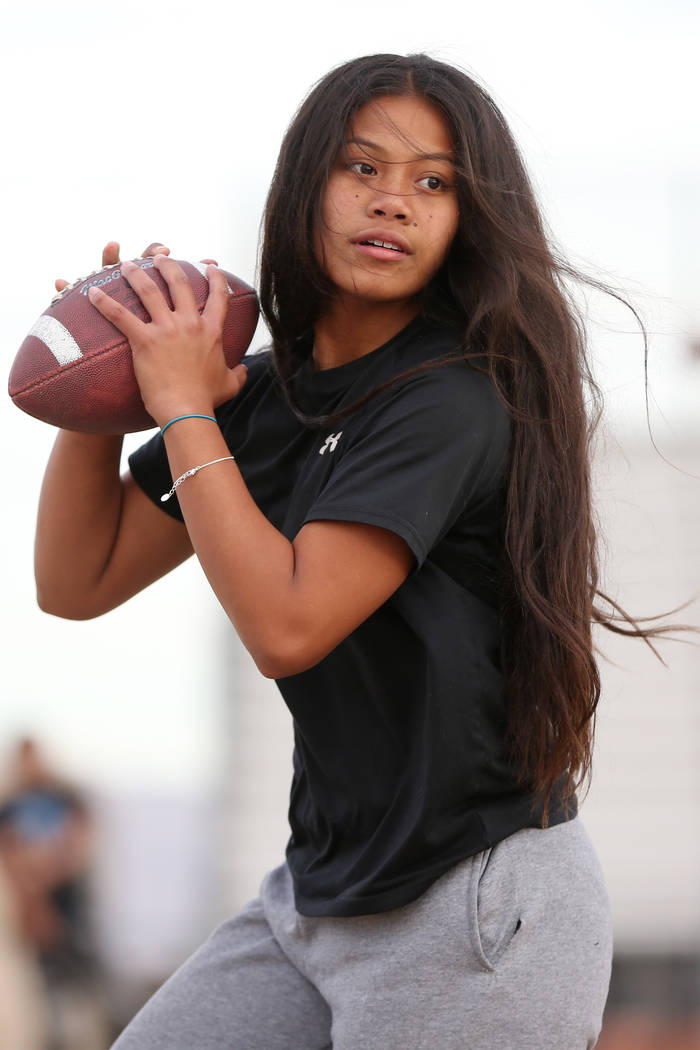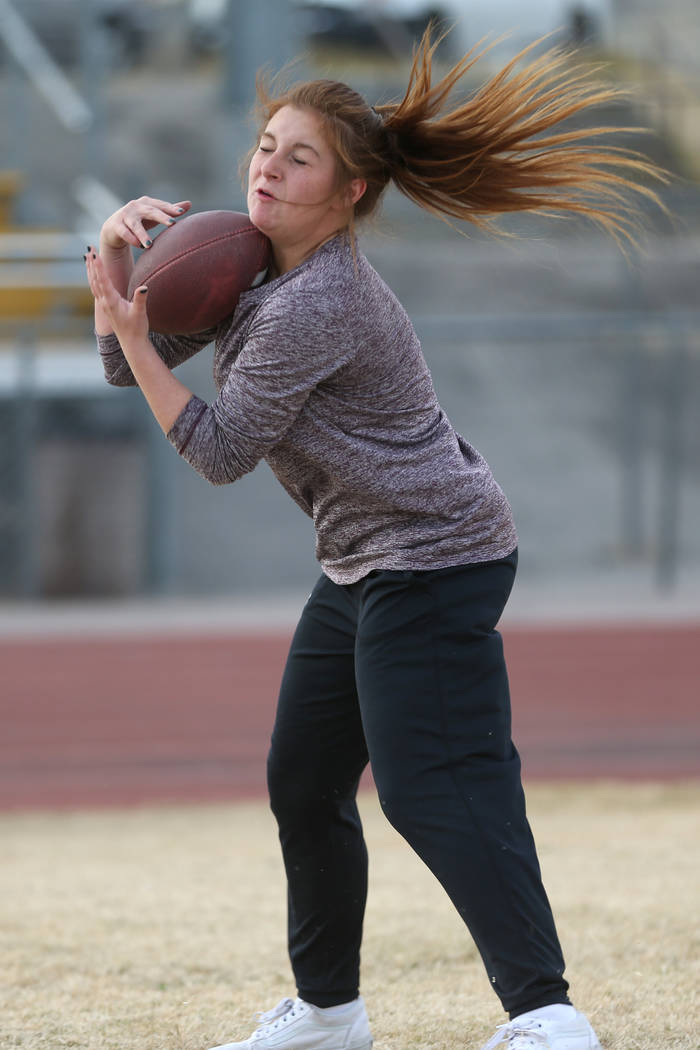 Bonanza's girls programs haven't celebrated a state championship in 15 years.
The tennis team won league titles in 2014 and 2015, but the last girls team to win a state championship was soccer in 2003.
But with 11 starters returning, the Bengals' senior-laden flag football team is determined to bring prominence back to girls sports.
Since 2014, the team has progressed from finishing seventh and fifth in the Northwest Division to third and first the past two seasons in the Southwest.
"The mindset at this school isn't really like other schools; we just want to change the face of Bonanza," quarterback Cindylou Rasiang said. "Winning the (division) championship motivated us to keep going, and (this year) our goal is to win state."
The Bengals, 14-6 last season, lost 40-26 in the Class 4A Sunset Region semifinals to eventual state runner-up Shadow Ridge. This season, Bonanza is one of the favorites to win the Mountain Region.
Rasiang, a sophomore and one of four nonseniors on the team, was a second-team all-state selection after throwing for 4,144 yards and 57 touchdowns last season. She returns a lethal supporting cast, including junior running back Charlene Beck, who rushed for 1,431 yards and six touchdowns, and senior receiver Alicia Kestner, who caught 112 passes for 1,079 yards and 12 touchdowns.
"We're not necessarily super athletic, but we are football high IQ," said Bonanza coach Dion Lee, who also coaches the boys football team. "When you're not an athletic team, then you gotta outsmart teams. These young ladies have been able to pick up our offense. We run the same offense that our boys football team runs."
Lee said several of his boys players assisted with the flag football team last season, teaching the entire system, including routes and quarterback cadences.
Rasiang said she appreciates Lee's approach with the team. He treats everyone like football players, not boys or girls, she said.
But Lee said there's a difference in coaching the two teams.
"The girls will ask, 'how do you do that,' and there's no problem. Boys are scared to ask," Lee said. "The girls are eager and want to learn, they want to do the tough drills, they want to be running, they want to be taught like the boys. No concessions about 'I'm a girl,' and I talk about coaching them like athletes. We talk football, that's what we do."
Lee also will be counting on contributions from seniors Shayne Dunn (53 catches, 1,024 yards, 13 TDs) and Ashley Vasquez (59 catches, 926 yards, 11 TDs).
On defense, the Bengals return senior linebackers Laura Valle (123 tackles) and Kiara Castro (83 tackles, seven sacks, three interceptions), and senior defensive backs Joplyn Merrell (49 tackles, two interceptions) and Briceli Concepcion (52 tackles, two interceptions).
"My receivers have hands, and they can catch," Rasiang said. "We move the ball every down and get touchdowns, and the defensive girls are aggressive. We want to bring the power of girls athletics back to Bonanza."
More preps: Follow at nevadapreps.com and @NevadaPreps on Twitter.