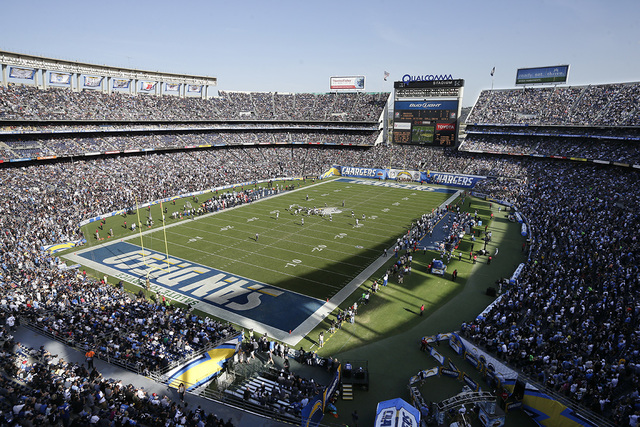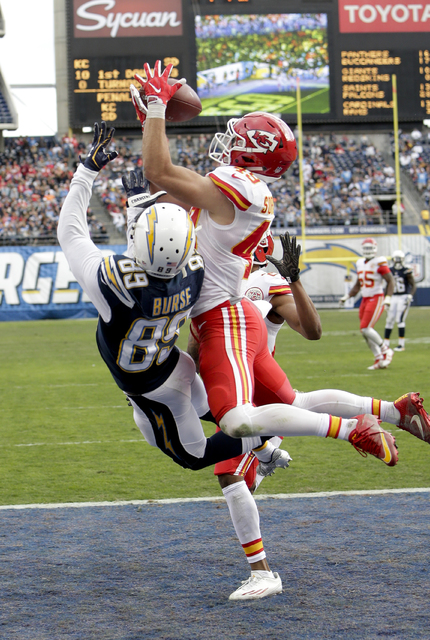 Like a bolt of lightning from the football heavens, the NFL is toast in San Diego after more than five decades following Thursday's somewhat shocking announcement that the Chargers' franchise was moving to Los Angeles.
Starting next season, the San Diego Chargers — oops, the Los Angeles Chargers, complete with a new logo replacing that classic jagged bolt — will share a city with the other NFL team in Los Angeles, the Rams. In 2019, the Chargers and Rams will become co-tenants in a $2.66 billion, 80,000-seat stadium to be constructed by Rams owner Stan Kroenke.
In a collision of the league's business interests and the public sector in San Diego, the Chargers ultimately made a decision that was in the Spanos' family best economic interests.
Owner Dean Spanos, immediately whipsawed in many quarters by fan and media backlash, did not seem interested in entertaining notions of nostalgia after he revealed that it was time to back up the trucks for the trip north along the I-5. The move won't be cheap: The Chargers will pay a $650-million relocation fee.
"I'm looking forward, not backward," Spanos told ESPN. "I spent half my life here. I leave behind a lot of friends and lot of great memories.''
But, he concluded, "Life goes on.''
It is unclear if they permanently will retain the name Chargers but will do so for at least the 2017 season.
At the crux of his decision was the Chargers' 15-year quest to build a new stadium to replace dank, outdated Qualcomm Stadium. Public support — i.e., tax dollars to help fund a new stadium — never matched Spanos' expressed desire to remain in San Diego. Additionally, his fellow NFL owners did not want to pony up more than the $300 million they had promised to defray stadium costs.
The Chargers had until Tuesday to exercise their option to relocate to Los Angeles, where they debuted as a franchise and played for one season in 1960. NFL Commissioner Roger Goodell said in a statement that the Chargers worked exhaustively to find a solution to remain in San Diego but he pointed out that a ballot initiative for a proposed $1.2-billion stadium was defeated by voters last November.
"Relocation is painful for teams and communities,'' Goodell said. "It is especially painful for fans, and the fans in San Diego have given the Chargers strong and loyal support for more than 50 years, which makes it even more disappointing that we could not solve the stadium issue.''
Kristin Allred was more than merely disappointed after hearing the startling news. She has been a Chargers' fan for 38 years, and a season-ticket holder for all but a couple of seasons since 1992.
"Immediate shock'' was her initial reaction, she said.
"It is just heartbreaking,'' Allred told the Review-Journal. "I feel this has been held over us for years; the (Chargers) wanted to move. But I don't think the city gave the (Spanos family) a fair shake, either. (In the end, the Spanos') weren't willing to compromise to keep the team here.''
San Diego Mayor Kevin Faulconer, perhaps sensing his political future might be in jeopardy, was blunt in his assessment of the departing franchise.
"San Diego didn't lose the Chargers," Faulconer said "The Chargers just lost San Diego."
"At the end of the day,'' Faulconer said, "the Chargers wanted a lot more taxpayers money than we could have ever agreed to. We could not support a deal that is not in the best interests of San Diego."
Hank Bauer, who played for the Chargers from 1977 to 1983 and later served as an assistant coach, is upset by the spin-doctoring from both parties. He tweeted: "Now I know how kids feel, watching their parents go thru a divorce. #helpless #blamegame #nocontrol #WHY??????"
Now I know how kids feel, watching their parents go thru a divorce: #helpless. #blamegame. #nocontrol. #WHY??????

— Hank Bauer (@hank_bauer) January 12, 2017
"In the back of everybody's minds, you still held out hope that they would find a way to get something done,'' said Bauer, who served as color analyst on Charger radio broadcasts for 17 seasons. "But the thing I detest most is the immediate finger-pointing by city leaders. I am sure you can make the argument that both sides are culpable. But, right now, peoples' hearts are broken. What good does it do to play the blame game right away?''
What remains to be proven is whether the Los Angeles market, the nation's second largest, can financially support two NFL teams.
After the novelty wore off the Rams' move back to Los Angeles, television ratings noticeably declined as the initial euphoria subsided while losses mounted for since-fired head coach Jeff Fisher. The Rams, who relocated from St. Louis last year, finished with a 4-12 record.
For the next two seasons, the Chargers will play at the StubHub Center, home for the MLS's Los Angeles Galaxy. StubHub Center's listed capacity is only 27,000, but that might be enough given the level of vitriol Chargers fans already are expressing. The Rams will continue to play at Los Angeles Memorial Coliseum until the Inglewood stadium is built.
Allred said emphatically that she would not support the Chargers by attending games in Los Angeles, and for a practical reason.
"The drive from San Diego to Los Angeles is miserable,'' she said. "You don't know if it's going to be two hours or five hours."
Jon Saraceno can be reached at jsaraceno@reviewjournal.com.
RELATED
Here's what people think about the Chargers moving to LA