Colin Kaepernick jersey jumps to No. 1 in sales after national anthem protest
September 6, 2016 - 12:54 pm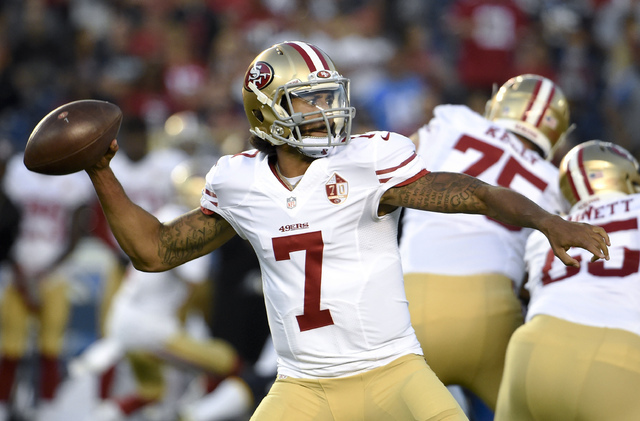 NEW YORK — Colin Kaepernick jerseys were the top-selling jersey on the National Football League's official online store on Tuesday, after he protested racial injustice and police brutality in the United States.
Kaepernick, a San Francisco 49ers quarterback, declined to stand during the playing of the national anthem ahead of a pre-season game on Aug. 26 and a game last week, prompting both outrage and support from NFL players and fans across the country.
On a list of all jerseys available on NFLShop.com, Kaepernick's was first when arranged by "Top Sellers," surpassing the jerseys for high-profile rookie players Carson Wentz of the Philadelphia Eagles and Ezekiel Elliott of the Dallas Cowboys.
Sales of Kaepernick's jersey have soared since he began his protest, according to an ESPN report over the weekend that cited "a source with knowledge of sales numbers."
Kaepernick is the 49er's No. 2 quarterback, behind Blaine Gabbert, who was named the team's starter for its home opener against the Los Angeles Rams on Monday.
Daniel Durbin, the director of the USC Annenberg Institute of Sports, Media and Society, said that strong jersey sales for a second-string NFL player "typically reflect some sort of celebrity that goes beyond accomplishments on the playing field."
"One seldom sees skyrocketing sales due to a social or political stance," said Durbin. "But, it would appear that Kaepernick's stance has touched a nerve and is directly impacting sales."
Prior to the high-profile protest, the jersey bearing Kaepernick's name and number had been the 20th most popular of all those belonging to 49ers players, online sports publication SB Nation reported over the weekend.
The 49ers on Tuesday said they had no immediate comment on the sales of Kaepernick's jerseys. Nike Inc, maker of the NFL's jerseys, said on Tuesday it does not comment on the sales of individual products. The NFL could not immediately be reached for comment.
Since Kaepernick began his protest, many fans have said on social media that they want to purchase his jersey as a sign of solidarity.
"I've never watched a football game but I've just bought a Colin Kaepernick jersey that I will proudly wear," tweeted Twitter user Sean on Friday.
"I need a Colin Kaepernick jersey asap," tweeted Oliver Ellison on Tuesday. "(It's) iconic now."
RELATED
Kaepernick continues protest, kneels during national anthem
Seahawks' Jeremy Lane says he will continue to sit during national anthem
UNR says Colin Kaepernick display at Reno airport to stay despite complaints
Obama says 49ers QB Colin Kaepernick is sincere, understands his protest
49ers' Colin Kaepernick says he'll keep sitting for national anthem until he sees change