Dorian Thompson-Robinson lifts Bishop Gorman to 55th straight win
August 25, 2017 - 10:29 pm
Updated August 25, 2017 - 11:25 pm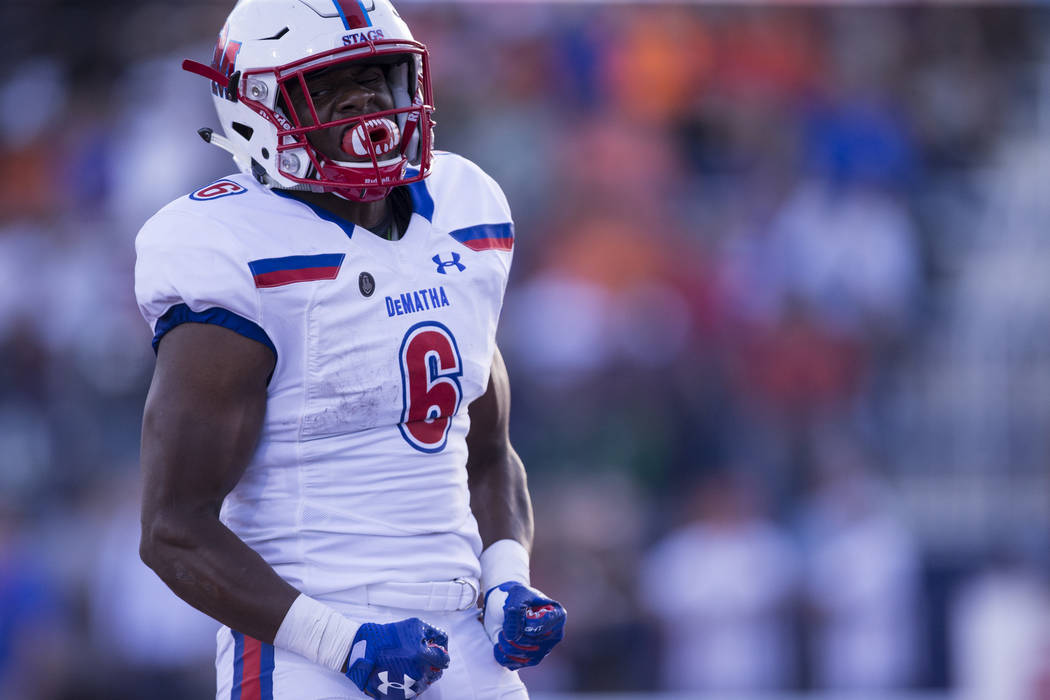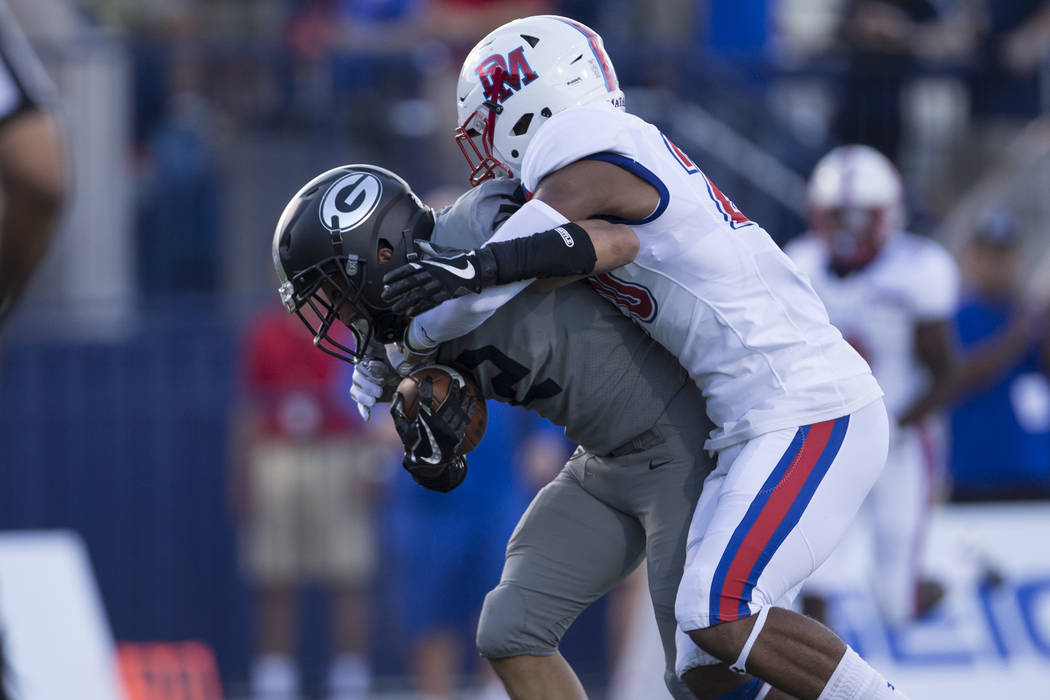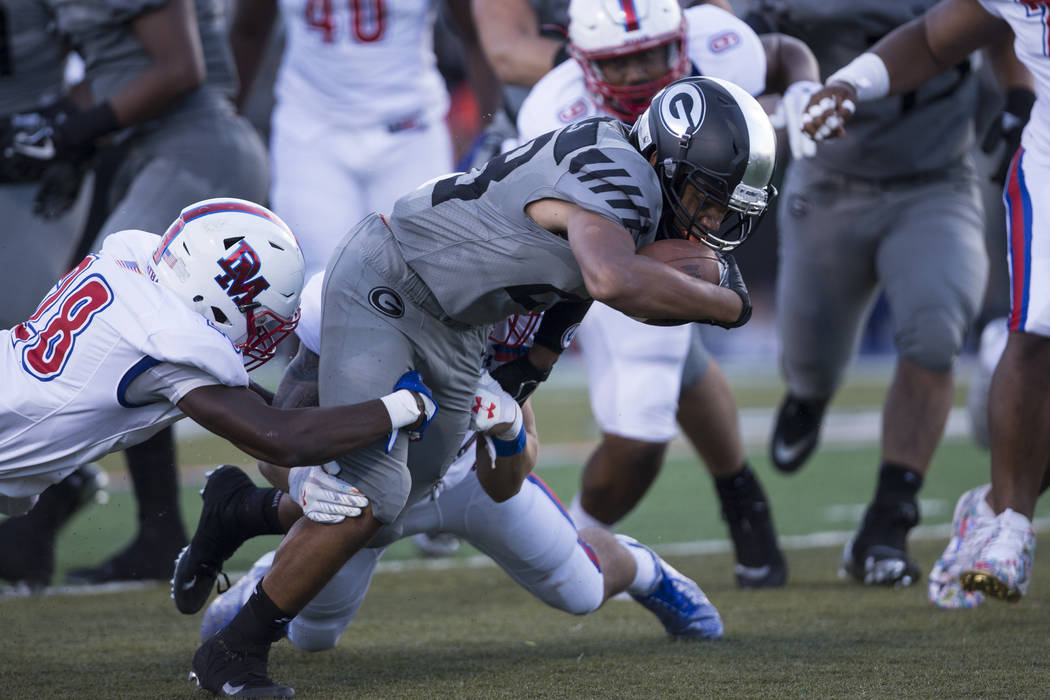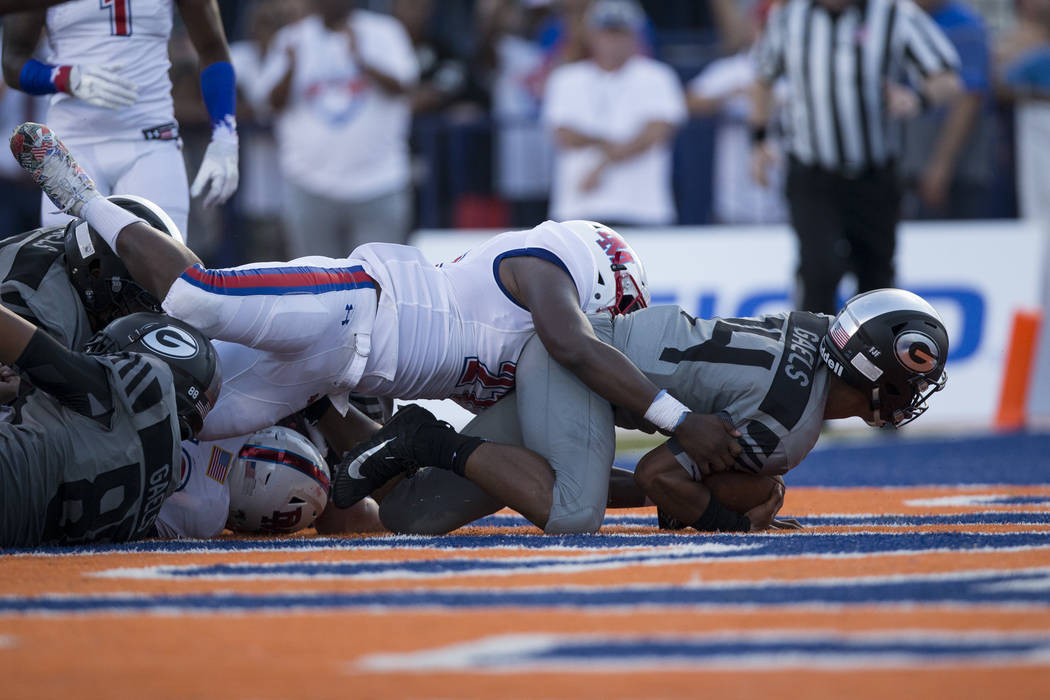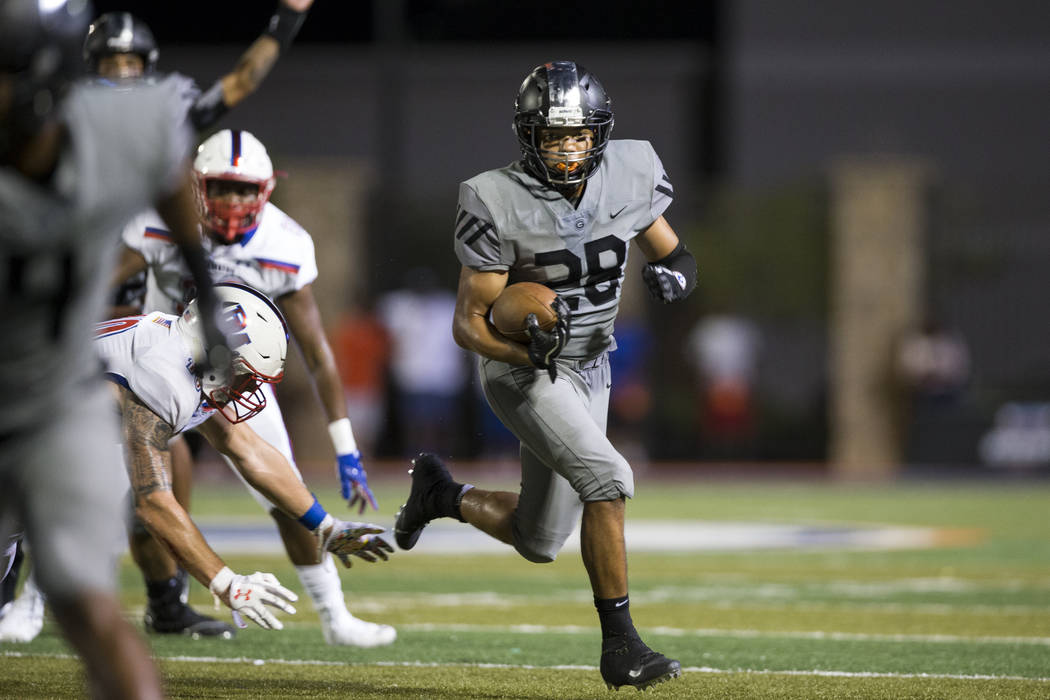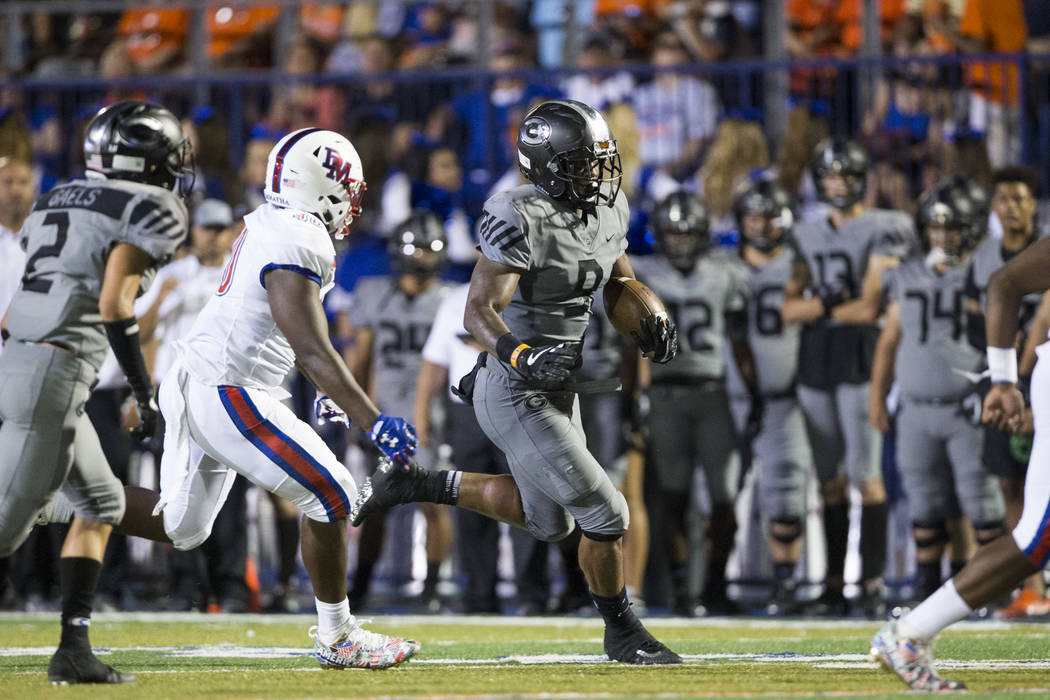 Jitters would have been understandable for Bishop Gorman quarterback Dorian Thompson-Robinson on Friday night.
The senior was making his first varsity start at quarterback with a lengthy winning streak on the line against the No. 6 team in the nation.
But Thompson-Robinson was more than up to the task, as he had a hand in five touchdowns to lead the No. 4 Gaels to a 35-23 home victory over DeMatha Catholic (Maryland), the 55th consecutive victory for Gorman.
"That's always in the back of your head," Thompson-Robinson said of the streak. "You never want to really think about it. You're never going to make the game as big as it is. You just kind of play your game, and that's what I did tonight."
Thompson-Robinson completed 19 of 23 passes for 288 yards and three touchdowns and added two rushing scores.
"I thought he played great," Gorman coach Kenny Sanchez said. "I thought the whole offense played great. If you score 35, you should be able to win the game. This team is really resilient, and they don't waver and they don't worry about things. We try to play one play at at time. He's a special kid."
The Gaels fell behind early after the defense allowed two big plays in the first quarter.
A 43-yard pass play on the Stags' first play from scrimmage helped set up a 36-yard field goal by Joey Hood with 7:46 left in the first quarter.
On DeMatha's next possession, running back Marshawn Lloyd went straight up the gut for a 30-yard scoring run that made it 10-0 with 3:48 left in the first quarter.
"I thought the first half we played really great except for two plays," Sanchez said. "We gave up a long pass, and we gave up a long run. The run is uncharacteristic of us. We're going to have to fix the thing in the pass game because we have a team that throws the heck out of the ball (next week)."
From there, the defense was more than up to the task, especially against the run. Gorman limited the Stags to 69 rushing yards on 27 carries.
"We played the run (well)," Sanchez said. "That's a pretty good football team we beat. That's a big, physical team."
Gorman finally got its offense going, driving 55 yards on seven plays, capped by a 2-yard keeper by Thompson-Robinson to make the score 10-6 with 1:39 left in the first quarter.
The key play was a 33-yard completion to Jimmy Telles on third-and-10 that moved the ball to the DeMatha 4-yard line.
"I threw a slant to Jimmy, and he kind of scrambled his way down there," Thompson-Robinson said. "That was the momentum changer, and from then on we just kind of took off with it."
Thompson-Robinson added a 1-yard TD run on the next possession, and the Gaels led 13-10 at halftime.
But DeMatha rallied. DeMarcco Hellams caught a 12-yard scoring pass from Tyler Lenhart to make it 17-13 with 8:58 left in the third quarter.
Gorman came back after pinning DeMatha deep in its own territory on the Stags' next possession. That set up a three-play, 30-yard scoring drive, capped by a 6-yard jump pass from Thompson-Robinson to Falcon Kaumatule with 30 seconds left in the third quarter that gave the Gaels the lead for good.
"No worries," Thompson-Robinson said of the mood after the team fell behind. "I know this team; I know my guys. I've been training with them since January. I knew we were going to come back. No question."
Thompson-Robinson added a 68-yard TD pass to Jalen Nailor and a 22-yard scoring pass to Telles in the fourth quarter.
"It's amazing, just kind of having the performance we did, putting up that many points, especially with a lot of young guys," Thompson-Robinson said. "This whole team is pretty much inexperienced, so just to get that first win is pretty good."
More preps: Follow all of our Nevada Preps coverage online at nevadapreps.com and @NevadaPreps on Twitter.
Contact prep sports editor Damon Seiters at dseiters@reviewjournal.com or 702-380-4587. Follow @DamonSeiters on Twitter.