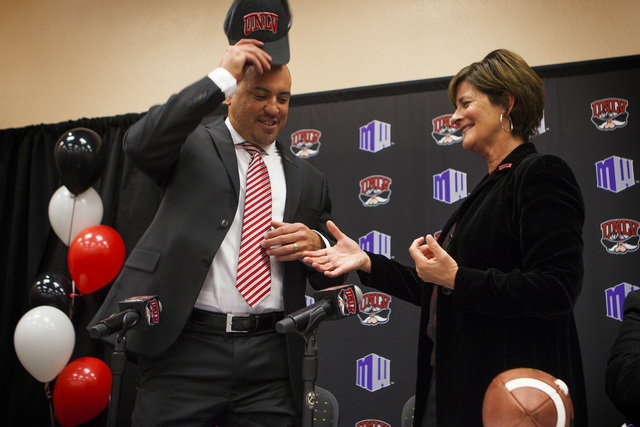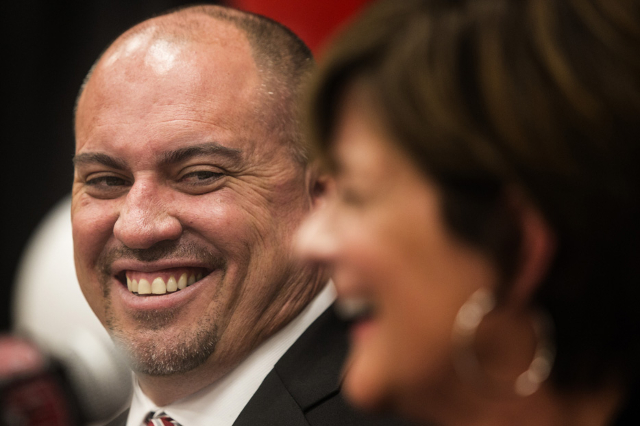 When the next major shake-up comes in college sports — and it's coming — some teams in the Mountain West are going to be on the positive side of that change.
And some will be left behind.
That's why what's happening at Colorado State, San Diego State and UNLV is so important. All three schools are concerned about not only the next four or five years but also the next four or five decades.
Colorado State is moving forward with preparing a site for a $220 million stadium which will seat 40,085. Ground will be broken in September, and the stadium is scheduled to open in time for the 2017 season.
"Having been involved in stadium projects in previous positions at Michigan, Oklahoma and Texas, I have seen the energy and excitement of a new or remodeled facility on campus really galvanize people's pride in their campus and their community," Rams athletic director Joe Parker said in a statement. "We have a tremendous opportunity to make this an attraction that is positive for our university and our community, and to work together throughout the process."
UNLV athletic director Tina Kunzer-Murphy would love to work together with the university and community on a new stadium, and the chance of that eventually happening looks a little more realistic today than it did a few months ago.
The UNLV Foundation agreed with Wells Fargo in early April to buy a 42-acre piece of land at Tropicana Avenue and Koval Lane, but much has to be done before that becomes official. And then the finances would need to be in place to construct a stadium on the site.
That's a more distant goal. The more pressing priorities are widening Sam Boyd Stadium and installing new turf this summer. Plus, there is the ongoing effort to raise funds to build a new football facility that is critical to first-year coach Tony Sanchez's revival plans for the long-struggling program.
Kunzer-Murphy said she hoped to make an announcement on the new building within six months, saying she speaks with Sanchez daily about it.
"We've got one of the greatest basketball facilities in the world in the Thomas &Mack and the Mendenhall, and we hope football will be right there," Kunzer-Murphy said.
While UNLV works to get its program off the ground floor, San Diego State is trying to avoid a free fall.
With the Chargers looking to ditch Qualcomm Stadium and the Aztecs' lease expiring after the 2018 season, San Diego State isn't exactly in a position of strength.
The city of San Diego is trying to keep the Chargers from moving to Carson, Calif., and a mayoral committee unveiled plans for a $1.1 billion project. The catch for the Aztecs is their rent would go from the current $500,000 per year at Qualcomm to $1.25 million, according to the San Diego Union-Tribune.
And if the Chargers do head to Carson, San Diego State really would be stuck because it's doubtful the city will want to keep Qualcomm standing long for a team that routinely plays in front of thousands of empty seats.
Petco Park, home to the Padres, could be a short-term solution, if it's a solution at all. That stadium was constructed specifically for baseball, and the Union-Tribune reported that it could fit in only a 95-yard football field.
So the Aztecs need their own place, but athletic director Jim Sterk already has passed the hat for a $14.5 million basketball practice facility that opens in August.
San Diego State ultimately could be left without a place to play football, a real shame for a program that produced Air Coryell and Marshall Faulk.
Without football, San Diego State's Mountain West membership would be in danger, though the conference might make an exception given the Aztecs' importance in basketball.
So if those at UNLV think times have been hard, at least the Rebels aren't San Diego State.
■ BIDDING IS OPEN — With the success of the initial College Football Playoff last season, cities are lining up to bid for future championship games like it's the primary field for the Republican Party.
The game already has been awarded to Glendale, Ariz., in 2016 (2015 season) and Tampa, Fla., the following year.
Atlanta, Houston, Miami Gardens, Fla., and Santa Clara, Calif., are in the running for the 2018 game. Consider Atlanta and Santa Clara the favorites because it's doubtful the CFP committee would want to return to Texas and Florida so soon after placing the game in those states. The first title game was played in January in Arlington, Texas.
As for 2019, Charlotte, N.C.; Detroit; Houston; New Orleans; San Antonio and Santa Clara want the game, and Charlotte, Houston, Minneapolis, New Orleans, San Antonio and Santa Clara are bidding for 2020.
■ KEEP OUT — Say what you want about the Southeastern Conference and its arrogance, but the league is absolutely correct about how it views field and court stormings.
The SEC knows such events are a serious injury (or worse) waiting to happen, not to mention a costly lawsuit.
So the conference substantially increased its penalties against schools after a field or court is flooded by fans. A first offense will result in a $50,000 fine, $100,000 for the second time and $250,000 for any time afterward. The fines previously were $5,000, $25,000 and $50,000.
"It's just a way of sending a message," SEC commissioner Mike Slive told reporters. "It's a way of communicating to the conference that this is serious. And the money is serious."
Contact Mark Anderson at manderson@reviewjournal.com or 702-387-2914. Follow him on Twitter: @markanderson65. He also is first vice president of the Football Writers Association of America.