Fans burn Nike gear in protest of new Kaepernick 'Just Do It' ad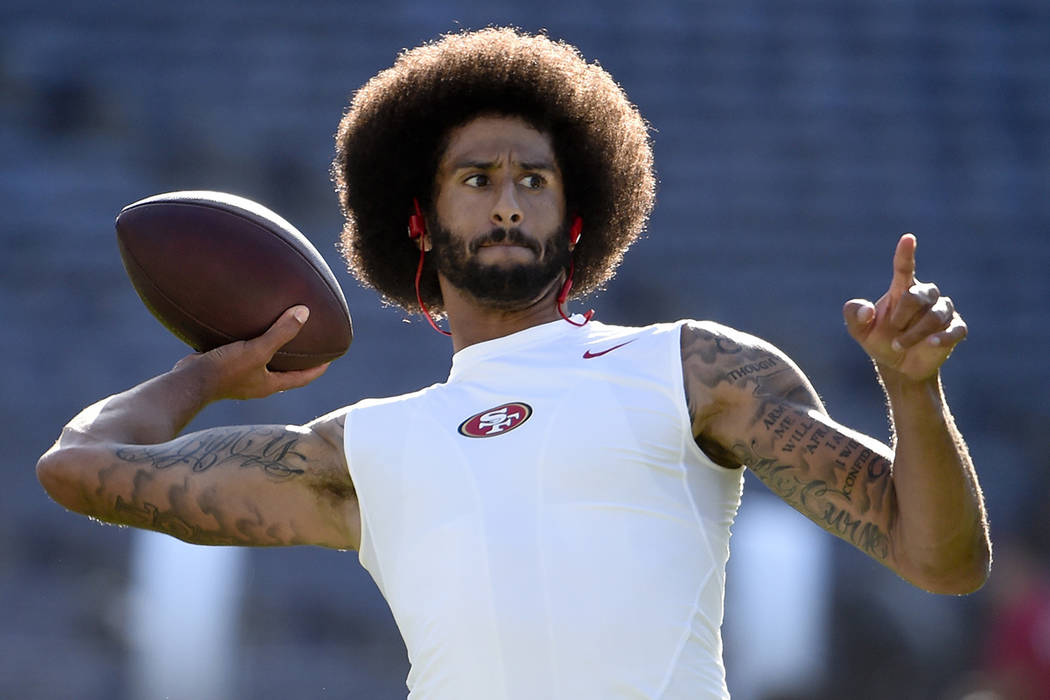 The news of former NFL quarterback Colin Kaepernick becoming one of the faces of Nike's 30th anniversary "Just Do It" ad campaign has been met with mixed reviews.
Nike's decision to feature Kaepernick has been met with backlash, with some sports fans destroying their Nike gear in protest.
Hashtags #JustBurnIt, #boycottNike and #IStandForOurFlag started circulating on social media, with posts showing fans burning their Nike gear and saying they no longer support the company for their decision.
.@Nike Due to your support of C.K. in your coming adds, I as an American can no longer support your company. #boycottNike #IStandForOurFlag pic.twitter.com/5JxSMD8SSO

— AlterAtYeshiva (@alteratyeshiva) September 4, 2018
First the @NFL forces me to choose between my favorite sport and my country. I chose country. Then @Nike forces me to choose between my favorite shoes and my country. Since when did the American Flag and the National Anthem become offensive? pic.twitter.com/4CVQdTHUH4

— Sean Clancy (@sclancy79) September 3, 2018
Not playing around. #BackTheBlue #BackTheArmedForces #NikeBoycott pic.twitter.com/uoJcRVJZM5

— Kandi (@kandiboring) September 4, 2018
.@Nike how you going to endorse @Kaepernick7 a person that advertises socks with cops portrayed as pigs, a person that hasn't played NFL for 2 years, well it's good I never really spent money on your brand but to the money I did, here they are pic.twitter.com/oHFVgDnR4K

— Sebastian Blanco (@thasaviorBlanco) September 3, 2018
Kaepernick hasn't played in the NFL since the 2016 season for the San Francisco 49ers. That season, he entered the spotlight after kneeling during the National Anthem to protest police brutality.
Last week, an arbitrator denied the NFL's request to throw out Kaepernick's claims that owners conspired to keep him out of the league due to his protests, according to the Associated Press.
But not everyone disapproves of Nike's decision. Some are taking to Twitter to show their support for both Nike and Kaepernick.
Me going out to buy everything Nike…… #ImWithKap pic.twitter.com/5LFMygOTPA

— (@MrsRare1) September 4, 2018
So @Nike, will you be releasing a line or #ImWithKap shirts. Looking to buy!

— Zoe (@zoe802) September 4, 2018
Ima make it my mission to wear as much Nike as I can, Ima go buy some new socks #ImWithKap

— Enrique (@Noturaverage_e) September 4, 2018
Many supporters are asking those burning their shoes on Twitter to instead, maybe donate them to those less fortunate.
Dear people burning @Nike gear,

Pls remember there are less fortunate people living in the streets struggling everyday that would die for those clothes you had the privilege of owning. Give them to those who need it most. I'm sure you'll bless someone's day if you do. #ImWithKap

— Nick Cionci (@nickcionci3) September 4, 2018
Maybe something else good can come out of the idiocy. I'm purchasing a pair of @Nike shoes and socks to donate to a local homeless shelter. I'm happy to fight stupidity with my wallet. #ImWithKap #JustDoIt

— Stephy (@StephA_SC) September 4, 2018
You could have, you know, donated these shoes to a homeless vet.

— Maggie Klaus (@Maggie_Klaus) September 4, 2018
According to KMOV in St. Louis, this isn't the first time the public has protested against a brand by destroying their purchased goods. In November of 2016, New Balance customers burned their shoes in protest of the company's perceived support for Donald Trump.
Contact Rochelle Richards at rrichards@reviewjournal.com or 702-224-5505. Follow @RoRichards24 on Twitter.