Kaepernick continues protest, kneels during national anthem
September 2, 2016 - 2:59 am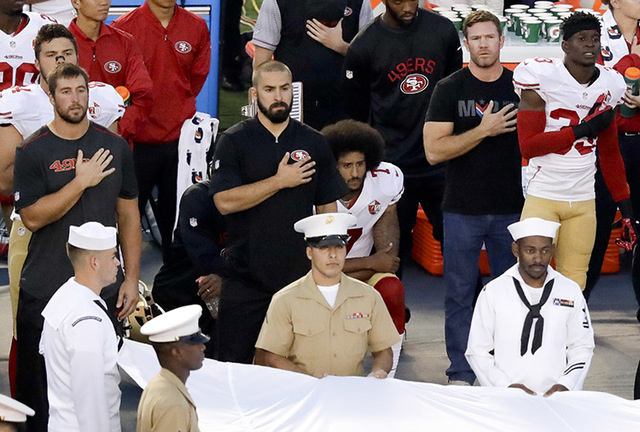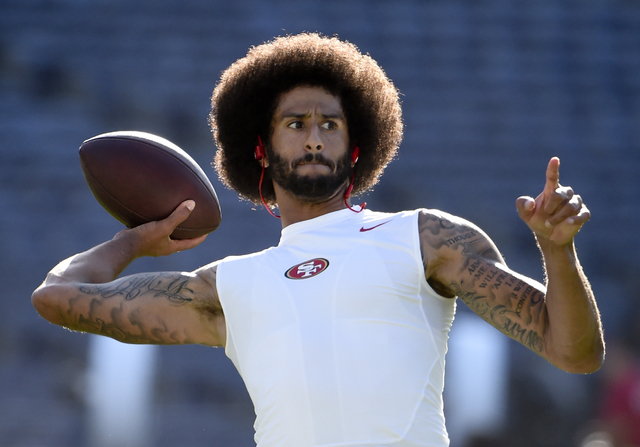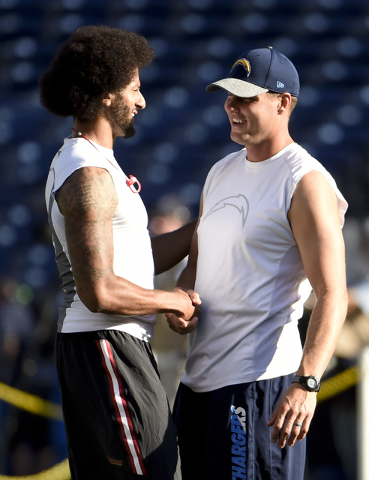 SAN DIEGO — Colin Kaepernick and San Francisco 49ers safety Eric Reid kneeled during the national anthem Thursday night, continuing the quarterback's preseason protest of American racial injustice and minority oppression.
Kaepernick and Reid dropped to one knee while a naval officer sang "The Star-Spangled Banner" and dozens of military members unfurled an oversized flag at the Chargers' Qualcomm Stadium.
Kaepernick received scattered boos when he dropped to a knee, but the protest was otherwise unremarked by the San Diego crowd. The 49ers' visit coincided with the annual Salute to the Military preseason game for the Chargers, who have strong fan support in their city's extensive armed forces community.
Kaepernick got much heavier boos when he took the field to start the game for the 49ers and immediately led them on a 16-play, 85-yard touchdown drive. The veteran quarterback is attempting to regain the starting job that he lost last season.
Kaepernick's protest has dominated the public discussion of the nation's most popular sport this week, and his stance has been met with equally passionate condemnation and support. His refusal to stand for the anthem first came to public notice last week when he remained seated on the 49ers' bench before a preseason game against Green Bay.
When Kaepernick left the field following pregame warmups, he was greeted with profanity and obscene gestures from Leo Uzcategui, a 20-year Navy veteran in a military-green Chargers jersey with quarterback Philip Rivers' No. 17 in camouflage numbering.
"I was in the Navy and I saw men and women bleed and die for this flag," Uzcategui said. "If he wants to do something, go to some outreach program where he can do some good. And I get it, his First Amendment right. But you don't sit during the presenting of the colors, and you don't sit during the national anthem. That is not the way to do it."
Domenique Banks, a 23-year-old fan from nearby Oceanside, California, got the quarterback to sign his Kaepernick jersey before the game.
"I told him I appreciate what he is standing up for," Banks said. "He said he appreciated it. Most of the people I talk to say the same thing. I don't like that he is sitting during the national anthem, but I appreciate what he is standing for."
Kaepernick said he had invited teammates to sit with him during the anthem, but didn't expect any to join him. His invitation apparently was accepted by Reid, the 49ers' starting safety and a fourth-year veteran from Baton Rouge, Louisiana. Reid, who wasn't in uniform for the game, had been publicly supportive of Kaepernick's stance.
One sign in the crowd read: "You're an American. Act like one."
In Oakland, Seahawks cornerback Jeremy Lane also sat on the bench behind his standing teammates as the national anthem was performed before Seattle's game against the Raiders.
Kaepernick kneeled next to Nate Boyer, a former Green Beret who went to training camp with the Seahawks last year as a long snapper. Boyer, who wrote a conciliatory open letter to Kaepernick earlier this week, had a long conversation with the quarterback about his stance this week, and he posted a photo of the two on Twitter with a caption reading, "Let's just keep moving forward. This is what America should be all about."
Thanks for the invite brother… Good talk. Let's just keep moving forward. This is what America should be all about pic.twitter.com/LgjPpjk173

— Nate Boyer (@NateBoyer37) September 2, 2016
Kaepernick's visit to San Diego fell on the Chargers' 28th annual Salute to the Military, a night designed to pay tribute to the tens of thousands of active and retired military personnel who live in the area. The festivities included pregame music from the Marine Band San Diego, halftime recognition of Vietnam War veterans, and a crowd filled with numerous injured soldiers invited as special guests.
Kaepernick has said he doesn't intend his stance to be a criticism of the military, claiming he has "great respect for the men and women that have fought for this country."
Kaepernick's social activism, which only emerged publicly in recent weeks, also included support for the Black Lives Matter movement through social media.
While negative reaction to the quarterback has been strong, Kaepernick also has been widely praised for his commitment to his stance. Veterans and military members tweeted their support for Kaepernick in recent days under the hashtag "VeteransForKaepernick."
Jim Brown voiced support for Kaepernick while disagreeing with his method of protest. Kareem Abdul-Jabbar called Kaepernick's decision "highly patriotic" while encouraging him to take further steps to build dialogue between law enforcement and blacks.
Amid the uproar of his emerging social activism, Kaepernick is still trying to win a job with the 49ers less than four years after leading them to the Super Bowl. The quarterback lost the starting job last season, and he hasn't separated himself from Blaine Gabbert this summer under new coach Chip Kelly.
Gabbert wasn't expected to play in the San Diego finale because he had already played much more in the preseason than Kaepernick, who didn't appear until San Francisco's third exhibition game.