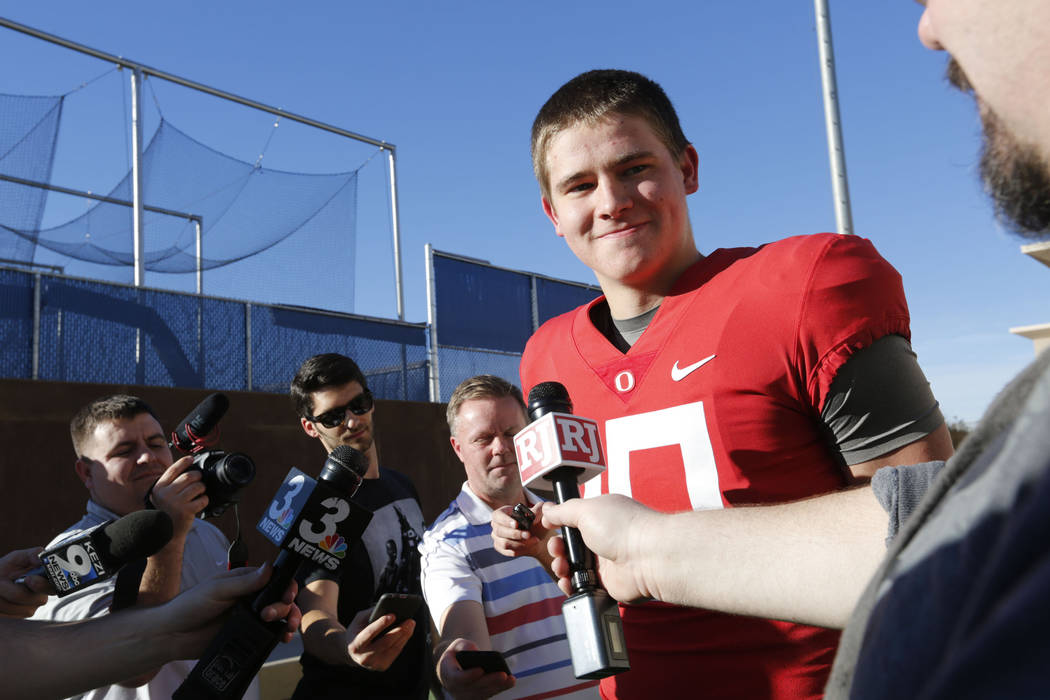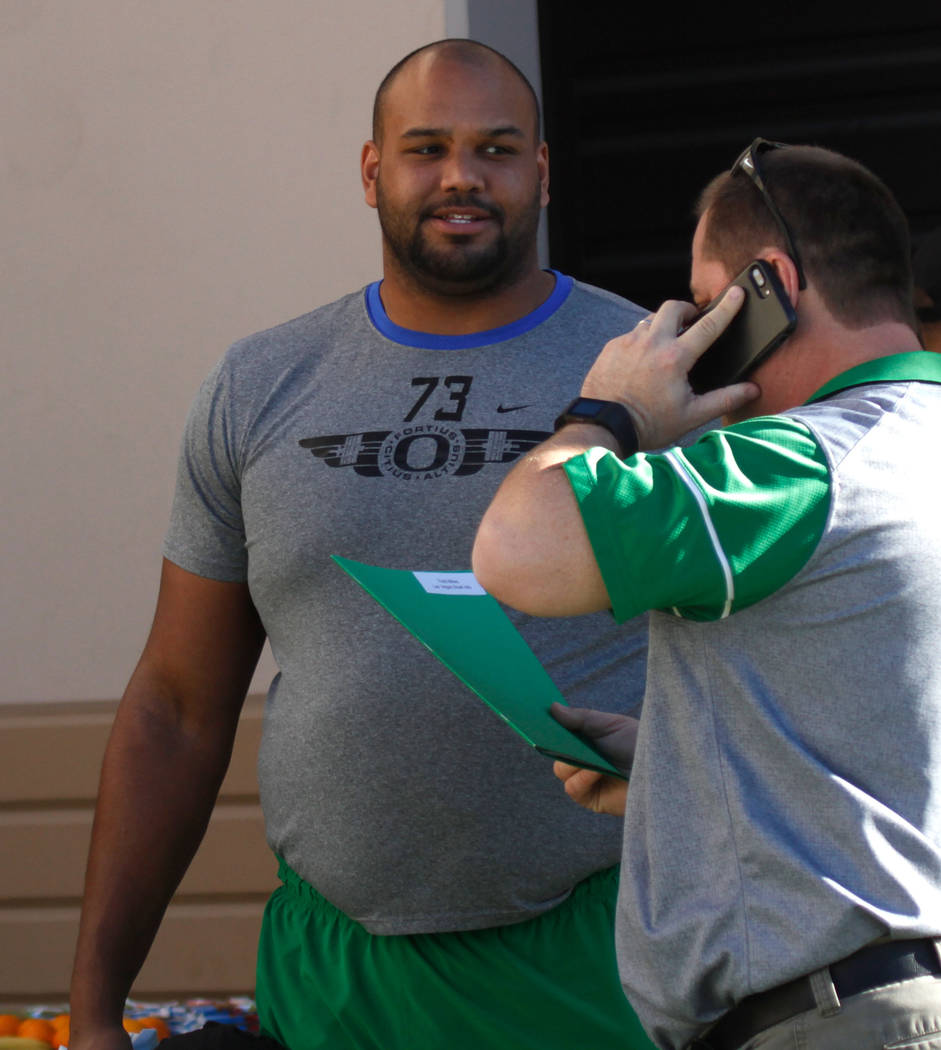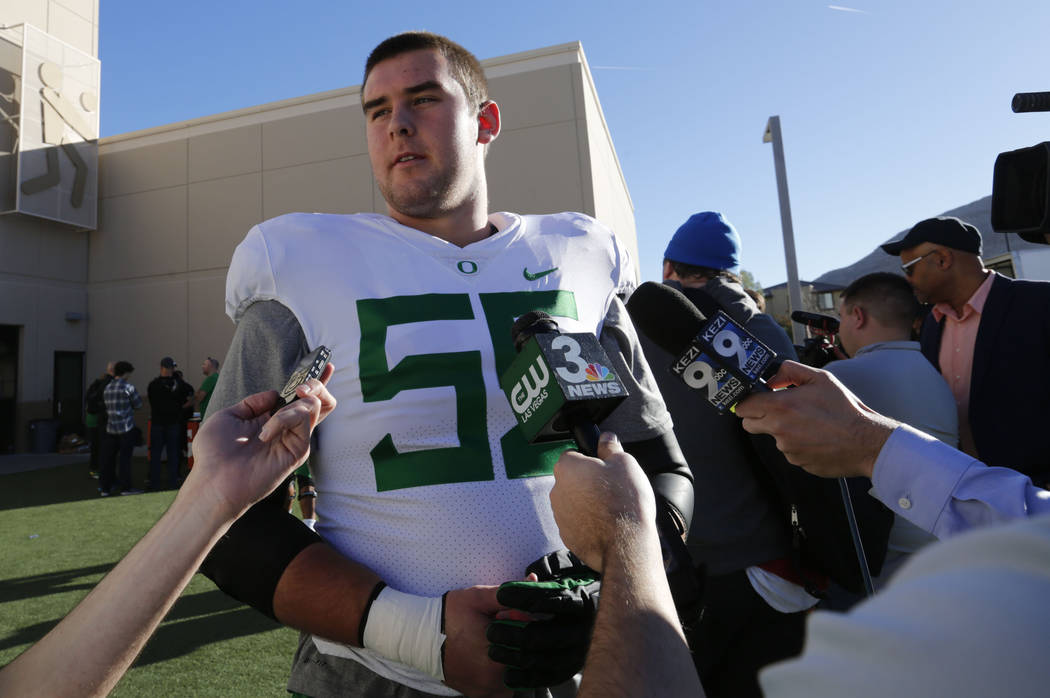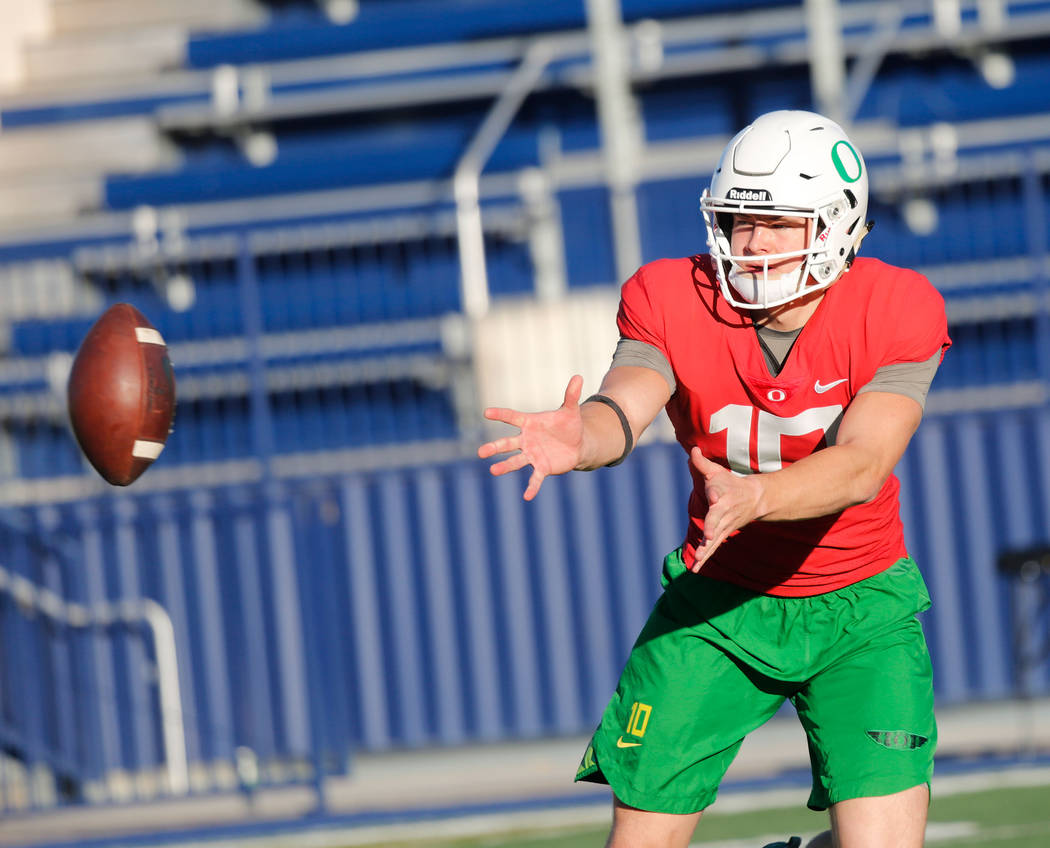 Oregon wide receiver Charles Nelson didn't hesitate when asked about the potential of sophomore quarterback Justin Herbert.
"Heisman candidate," the senior said Wednesday before the Ducks practiced at Bishop Gorman High School in preparation for Saturday's Las Vegas Bowl against Boise State at Sam Boyd Stadium.
That kind of lofty praise isn't just coming from inside the program. Several national publications have listed Herbert as an early contender to win the Heisman next season.
The dichotomy between Oregon's performances with and without Herbert, a Eugene native, are a major reason he has drawn so much attention.
The Ducks went 1-4 and averaged 15 points when he was out with a fractured collarbone on his left, nonthrowing arm this season. Oregon went 6-1 and averaged a staggering 52 points when he started.
Herbert returned for the final two games to help the Ducks finish strong with a 48-28 win over Arizona and 69-10 victory over Oregon State in the "Civil War" game.
The 6-foot-6-inch, 225-pounder completed 67 percent of his passes with 13 touchdowns and three interceptions this season and ran for five scores.
He called the Las Vegas Bowl "huge" if for no other reason than the chance to play another game.
"I think you can start to take the game of football for granted, and those games I was out made me realize how much I truly missed the game," he said. "It's great just to be back and playing alongside the guys and finishing strong for the seniors and the program.
"I haven't seen too much of (the early Heisman hype), but if that's the case, it's pretty cool. We'll just finish this game and get into the offseason."
Oregon coach Mario Cristobal couldn't be more excited about his starting quarterback as he takes over the program.
"We know how special he can be," said Cristobal, who was promoted to head coach last week after Willie Taggart took the Florida State job. "The best part about him is he's hungry and not content. He wants to be better at everything he does. The other nice thing about him is he's so smart. His football IQ is incredible."
Cristobal said the attention Herbert is getting should help in recruiting.
"If I'm a football player, I want to play with Heisman Trophy candidates, especially ones that are as young as he is," the coach said. "It's a credit to him and those around him, and it gets everybody juiced up a little bit."
Contact Adam Hill at ahill@reviewjournal.com or 702-277-8028. Follow @AdamHillLVRJ on Twitter.