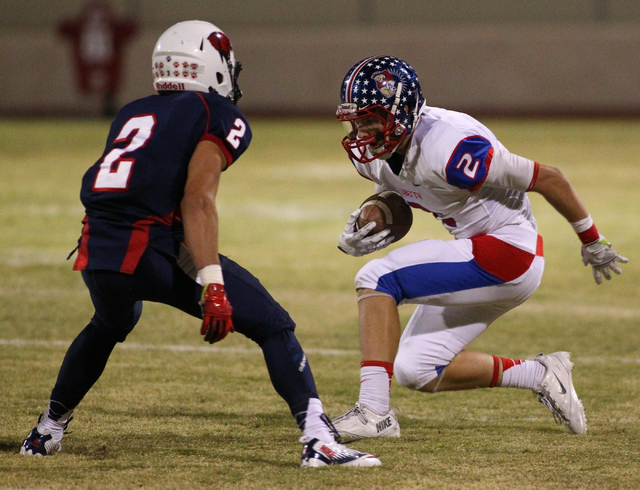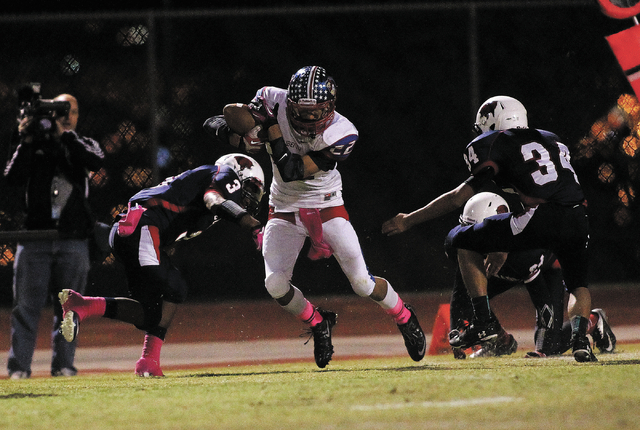 Coronado quarterback Jackson Cofer scored on a 95-yard run on the first play of the second half on Friday. The Cougars gained a little more than half of that total the rest of the game.
Liberty held host Coronado to 56 yards and three first downs in the final 23 minutes, 46 seconds and pulled away in the fourth quarter to earn a 45-27 victory in the Southeast League opener for both teams.
"I thought our defense played great all game except for (Cofer's long run)," Liberty coach Rich Muraco said. "When you play a zone-read team, it's about assignments. We had to remind the defensive line, 'Don't be a hero, and stay in your gaps.' "
The No. 2 Patriots (3-3, 1-0 Southeast) racked up 556 yards in total offense but allowed the Cougars to hang around thanks to four turnovers and a slew of penalties. Cofer's scoring run 14 seconds into the third quarter brought Coronado within 28-27, but Liberty scored 17 points in the fourth quarter.
Calvin Tubbs rumbled 36 yards for a touchdown with 10:35 remaining in the fourth, and after Austin Fitzgerald booted a 49-yard field goal midway through the quarter, Brenan Adams capped the scoring with a 10-yard run with 3:51 to play.
Liberty quarterback Tyler Newman completed 19 of 30 passes — he had 11 straight completions during the first half — for 283 yards and three touchdowns. Newman added a 1-yard touchdown run late in the first half after a Cofer fumble to put the Patriots up 28-20 at the break.
"Our game plan was to throw the ball, and the receivers made plays and the line blocked well," Newman said. "Our tempers flared in the first half, but we calmed ourselves down and played a pretty good second half."
Cofer finished with 163 yards on the ground and two TDs. He outran Liberty defensive back Bryan Roland on the long scoring play but was unable to move the Cougars offense the rest of the way.
Coronado (1-4, 0-1) had a chance to grab the lead late in the third quarter after stuffing the Patriots on a fake punt near midfield, but Spencer Cofer pushed a 23-yard attempt wide right.
"My fumble turned it around for them," Jackson Cofer said. "Little things like that can turn a game, both positively and negatively."
Adams led a balanced rushing attack for Liberty with 119 yards on 17 carries. Tubbs added 75 yards and Ethan Tuilagi finished with 69 yards as the Patriots racked up 273 yards on the ground.
The Cougars took the lead 3:15 into the
■ Green Valley 47, Valley 13 — At Valley, Albert Lake scored three first-half touchdowns for the fourth-ranked Gators, who took over early and rolled past the host Vikings.
Green Valley (3-2, 1-0 Northeast) scored two TDs in the game's first two minutes, the first coming on a 43-yard pass from Christian Lopez to Markus Varner and the second on a 12-yard run by Lake that followed a Valley fumble.
Though the Vikings (1-4, 0-1) capped a 16-play drive with a 1-yard TD plunge by Malik Batiste late in the first quarter, the Gators dominated the rest of the way.
■ Canyon Springs 30, Silverado 22 — At Silverado, Jordan Davis hauled in two second-half touchdown receptions and finished with seven catches for 128 yards to power the No. 3-ranked Pioneers' come-from-behind victory.
Facing fourth-and-12 at the Silverado 39, Bradley Alexander completed a pass to Kajuan Casey on the right sideline. Casey was stripped of the ball at the 3, but the ball bounded into the end zone and Greg Banks fell on it for a touchdown to put the Pioneers (5-0, 1-0 Northeast) ahead 23-22.
Then two plays into the ensuing Silverado drive, Jarrett Alipio fumbled and Joe Jackson recovered for the Pioneers. Alexander lobbed a 20-yard TD pass to Davis on the next play to put the Pioneers up by eight with 7:48 left.
Alexander threw for 234 yards on 14-of-25 passing for Canyon Springs.
Alipio led Silverado's rushing attack with 33 carries for 168 yards and a touchdown.
■ Desert Oasis 49, Sierra Vista 12 — At Desert Oasis, Jocquez Kalili rushed for 178 yards and four touchdowns on 24 carries to lead Desert Oasis (3-1) past Sierra Vista in the Railroad Rivalry game.
Sierra Vista (1-3) took a 6-0 lead on a 3-yard touchdown run by freshman quarterback Randal Grimes early in the second quarter.
The Mountain Lions' scoring drive seemed to ignite the Diamondbacks as they struck for 21 points in the second quarter. The D-backs got started on an 11-yard touchdown pass from Richie Stammetti to Joey Poehling and two rushing scores from Kalili of 52 and 4 yards.
■ Desert Pines 57, Sunrise Mountain 19 — At Desert Pines, Eric Wilkes rushed for more than 200 yards for the second straight game as the Jaguars celebrated Homecoming with an impressive win.
Wilkes rushed for 213 yards on 12 carries, 207 of those in the first half with TD runs of 1, 5, 59 and 73 yards.
Quarterback Iquan Corsey added 94 yards, two rushing touchdowns and scoring passes of 70 yards to Andre Watts and 38 yards to Tim Hough.
Desert Pines (6-0, 2-0 1-A Sunrise) finished with 519 yards.
The Miners (1-5, 0-2) got a solid game from Wanya Calahan, who rushed for 115 yards with two scores and added a 20-yard touchdown pass to Daquwan Doyle.
■ Basic 53, Eldorado 28 — At Eldorado, Antraye Johnson returned the opening kickoff 95 yards for a touchdown, rushed for three scores and added a touchdown pass to lead the Wolves.
Johnson tossed a 45-yard TD pass to David Garza and scored on runs of 5, 1 and 35 yards. Elijah Sharif returned an interception 46-yards for a score in the first quarter as the Wolves led 41-15 at the half.
Jonathan Scoffield rushed for 106 yards and a score, and Garza tossed a 69 yard TD to Aaron Bashaw for Basic.
Eldorado was led by Tichaud Simmons, who rushed for 159 including touchdown runs of 81 and 74 yards, and Jason Henderson who had an 85-yard touchdown run and finished with 161 yards on eight carries.
■ Foothill 62, Del Sol 0 — At Del Sol, Drew Doxtator threw three touchdown passes for the Falcons in a rout of the Dragons.
Doxtator completed his first eight passes and finished 10 of 12 for 190 yards during the first half for Foothill (3-2, 1-0 Southeast League). Nick Gardener relieved him in the second half and threw for 85 yards and one touchdown.
Ian Ellis caught four passes for 46 yards and two touchdowns. David Persi had five receptions for 116 yards with a touchdown and returned a punt 50 yards for another score. Kyle Lindley led all rushers with 92 yards and a touchdown on 12 carries.
Foothill's defense gave up just 3 yards of offense to Del Sol (0-5, 0-1) and picked off Dragons quarterback Aaron Williamson three times. Aedan Bartolowitz caught two of those interceptions and returned one 42 yards for a touchdown.
■ Faith Lutheran 35, Clark 20 — At Faith Lutheran, the Crusaders scored 21 points during the second quarter and sailed to their fifth consecutive win.
Faith gained 225 of its 283 yards on the ground, including 164 yards on 18 carries from Keenan Smith.
The Clark offense initially seemed poised to go toe to toe with the Crusaders, answering Smith's 34-yard scoring run with an 81-yard TD pass to Marquice Stuart from Kareem Warren.
Warren finished with 179 yards passing and 77 yards rushing for Clark (2-4, 0-2 Sunset).
■ Mojave 61, Western 0 — At Western, Ty Flanagan ran for 165 yards and three scores and Elijah Smoot added 90 yards and a score as the Rattlers (3-3, 1-1 I-A Sunset) defeated the Warriors (0-6, 0-2).
Mojave's offense totaled 372 rushing yards and seven touchdowns. Flanagan ran for touchdowns of 5, 58 and 69 yards, the 58-yarder on the first play of the second half. DeAndre Armstrong ran for an 18-yard touchdown to begin the scoring with 9:24 to go in the first quarter and later returned an interception 85 yards for a score as well.
The Mojave defense held Western to 54 yards of total offense, including only 13 rushing yards.
■ Moapa Valley 38, Chaparral 6 — At Chaparral, the visiting Pirates kept their unbeaten record intact.
No. 9 Moapa Valley's Zach Hymas threw for four touchdowns and 109 yards in the blustery wind. Hymas connected on scoring passes to Jeremy Waite of 19 and 39 yards to help put away Chaparral (2-4). Hymas also threw touchdown passes to Chad Jones (3 yards) and Lance Hilton (5 yards).
The Pirates controlled the ball with a punishing rushing attack anchored by running back Jared Repp's 91 yards. Repp also ran one in from a yard out late in the second quarter. That score was set up when Moapa Valley (6-0) pounced on a Cowboys' fumbled punt return and took over on Chaparral's 7-yard line.
■ Cimarron-Memorial 34, Durango 7 — At Durango, Cimarron's senior tailback Michael Barnson scored four touchdowns and rushed for 218 yards on 25 carries in an easy win over the Trailblazers (0-5).
Barnson had a 6-yard scoring run in the first quarter to cap an eight-play, 65-yard opening drive for the No. 10 Spartans (5-0).
Barnson added a 3-yard TD carry six seconds before the half as Spartans quarterback Derek Morefield connected on passes of 23 yards to David Cotterell and 32 yards to Djon Watson during the half's final minute.
The Meadows 14 Agassi Prep 13 — At Rancho, the Mustangs (4-2 3-1 Division III Southern) were able to come from behind and defeat the Stars in overtime.
Mustangs quarterback Jacob Gleason connected with Bryson Navallo on an 8-yard touchdown pass to tie the game in the first overtime, and kicker Tommy Halkyard's extra point sealed the victory.
On their first overtime possession the Stars scored on a 2-yard run by quarterback Stephan Laushaul, but the extra point attempt was unsuccessful.
Junior running back Kobe Williams scored on a 16-yard run midway through the second quarter to give the Stars (4-2, 3-2) a lead they took into halftime.
Navallo, who led the Mustangs with 122 yards on 28 carries, scored on a 7-yard run in the third quarter to tie the score at 7-7. Junior running back Nathan DeVera contributed 66 yards to the Mustangs' 201-yard ground attack.
■ Virgin Valley 34, Boulder City 3 — At Boulder City, Garrett Leavitt completed 14 of 20 passes for 202 yards and two touchdowns to lead the Bulldogs (6-0, 2-0 (I-A Sunrise) over the Eagles.
Leavitt also rushed for 60 yards and two scores. Dillon Prach recorded 11 tackles for Boulder City (2-4, 0-2).
■ Sandy Valley 40, Beaver Dam (Ariz.) 0 — At Beaver Dam, quarterback Lane Eastham played a huge part in the Sandy Valley rushing attack that toppled the Diamondbacks.
He finished with four rushing touchdowns for the visiting Sidewinders (3-2).
■ Pahranagat Valley 40, Indian Springs 7 — At Alamo, Tabor Maxwell tossed four touchdown passes to help the Panthers (6-0, 3-0 Division IV Southern) down the Thunderbirds (3-2, 1-1).