Micah Bowens powers Bishop Gorman to Desert Region title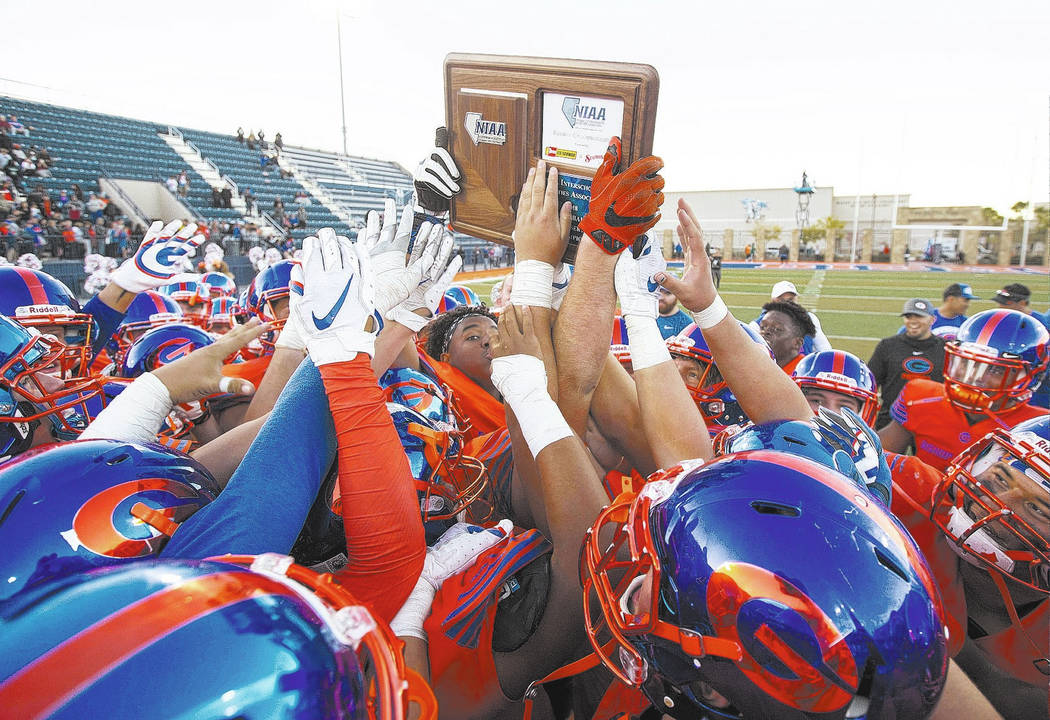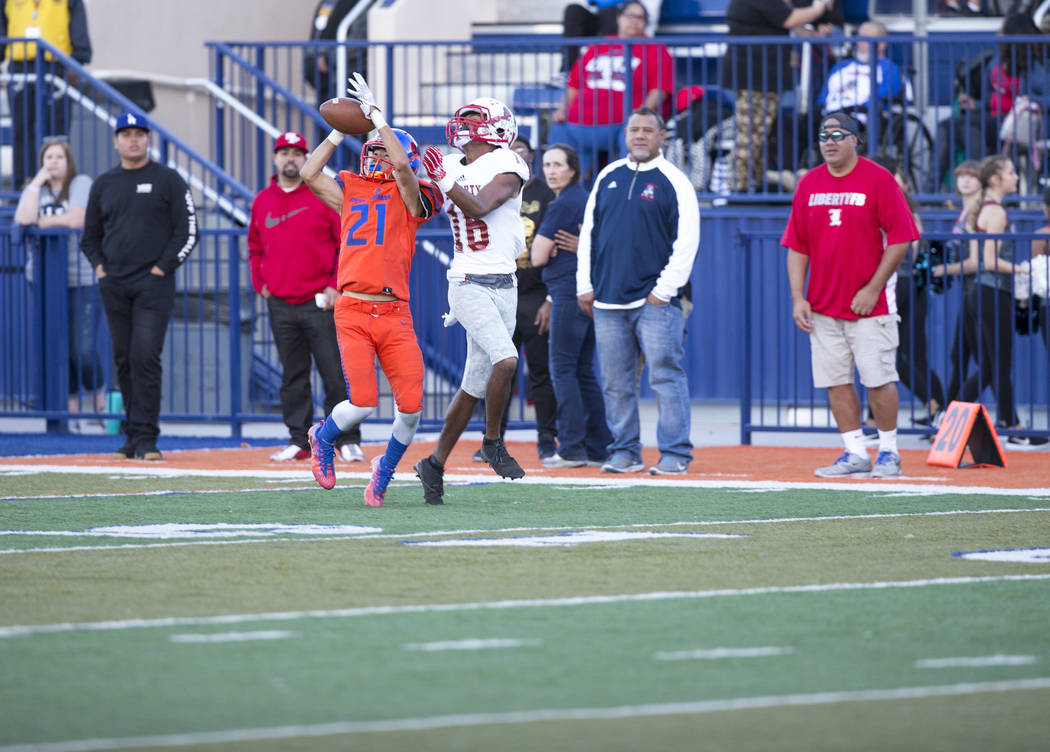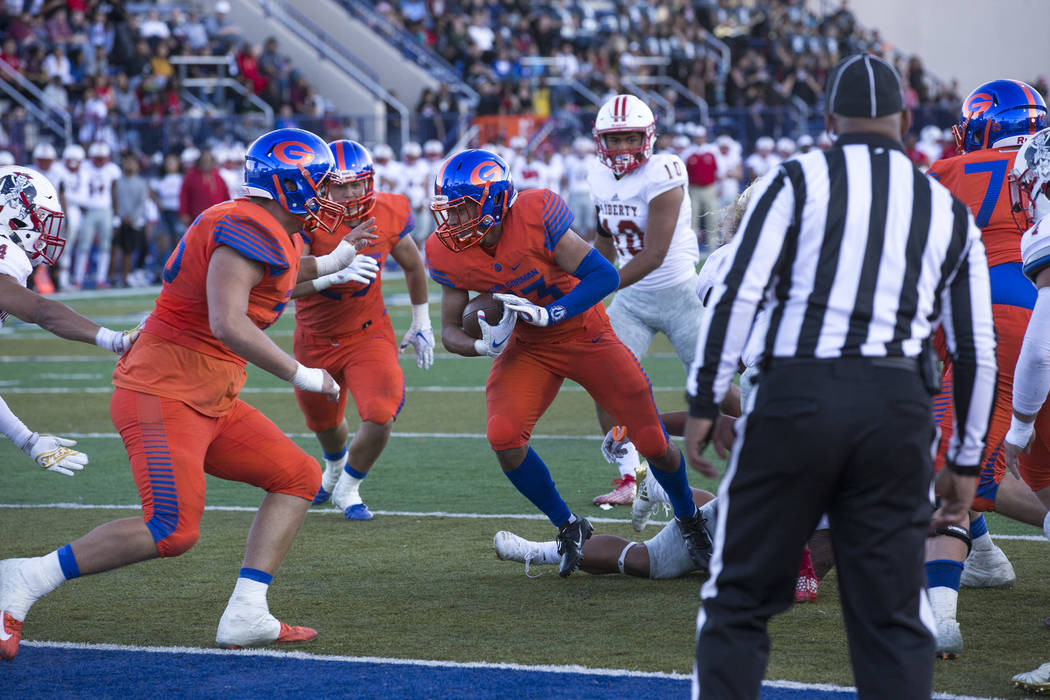 Micah Bowens' one punt attempt Saturday was atrocious, as he booted the ball off of the backside of one of his linemen.
It was about the only thing that didn't go right for the Bishop Gorman quarterback on Saturday.
Bowens rushed for two touchdowns and passed for two scores, leading the Gaels to a 42-28 home victory over Liberty for the Desert Region championship and a berth in next week's Class 4A state title game.
Gorman faces Bishop Manogue (11-3) in the championship game at 12:10 p.m. Saturday at Sam Boyd Stadium. The Gaels are seeking a 10th consecutive state title.
Bowens had a rushing touchdown on each of Gorman's first two drives to stake the Gaels (10-3) to an early 14-0 lead and snatch the momentum immediately.
"They came out fired up," Bowens said of Liberty. "I had to shut them up real quick."
Bowens broke off an 84-yard run on the second play from scrimmage, spinning out of a tackle near the 40 and then getting a big block down field to complete the run just 53 seconds into the game.
On the next possession, Bowens had a 39-yard run to start the drive, then finished it off with a 27-yard scoring run where he ran through a tackle at the 10 and spun across the goal line while a Liberty defender held on.
"I think it set the tone right away and we just kept on kind of rolling with it," Gorman coach Kenny Sanchez said.
Bowens finished with 218 yards on 10 carries. He also completed 10 of 17 passes for 169 yards and the two touchdowns.
"That's the one thing I was worried about with them was Micah's running ability," Liberty coach Rich Muraco said. "He's improved so much from the beginning of the year to the end of the year.
"He broke some tackles and was pretty unstoppable today."
Gorman extended the lead to 21-0 with 7:52 to go in the second quarter on a screen pass from Bowens to running back Amod Cianelli that went for 74 yards. Junior linebacker Bryan Certain then picked off a Lonenoa Faoa pass and returned it 46 yards for a touchdown and a 28-0 lead with 6:51 to go in the half.
Liberty (7-5) didn't fold, and made things interesting before halftime. Faoa bounced back and completed his next four passes, helping set up a 48-yard scoring run by Kyle Beaudry on fourth-and-3. Faoa added a 15-yard TD pass to Maurice Hampton with 43 seconds left in the second quarter to cut the lead to 28-13. Hampton made a beautiful leaping catch over Gorman defensive back Ammonte Beverly in the end zone.
"I was so proud of the resiliency of the team," Muraco said. "In past years if they would have fallen behind 28-0 it would have been probably running clock. But our kids believe in each other and fought hard."
Muraco said he felt his team was poised to make the comeback in the second half, especially with the Patriots getting the ball first after the break. But Zyrus Fiaseu fumbled while battling for extra yardage on the first play of the second half, and Bam Amina recovered for Gorman.
That set up a 29-yard TD pass from Bowens to Blaze Boudreay that made it 35-13 with 9:31 to go in the third quarter.
Fiaseu finished with 99 yards on 24 carries, and Faoa passed for 169 yards and three scores for the Patriots, who saw their streak of eight consecutive region titles come to an end. Cianelli added a 3-yard scoring run for the Gaels.
"We had a few ups and downs at the beginning of the season," Bowens said. "We got our stuff together. We've been grinding every day, doing what we had to do to get where we want to be. And we've got one more left, so it's not over."
More preps: Follow at nevadapreps.com and @NevadaPreps on Twitter.
Contact prep sports editor Damon Seiters at dseiters@reviewjournal.com or 702-380-4587. Follow @DamonSeiters on Twitter.