No. 6 Faith Lutheran confident against No. 2 Arbor View
Updated October 4, 2018 - 2:09 pm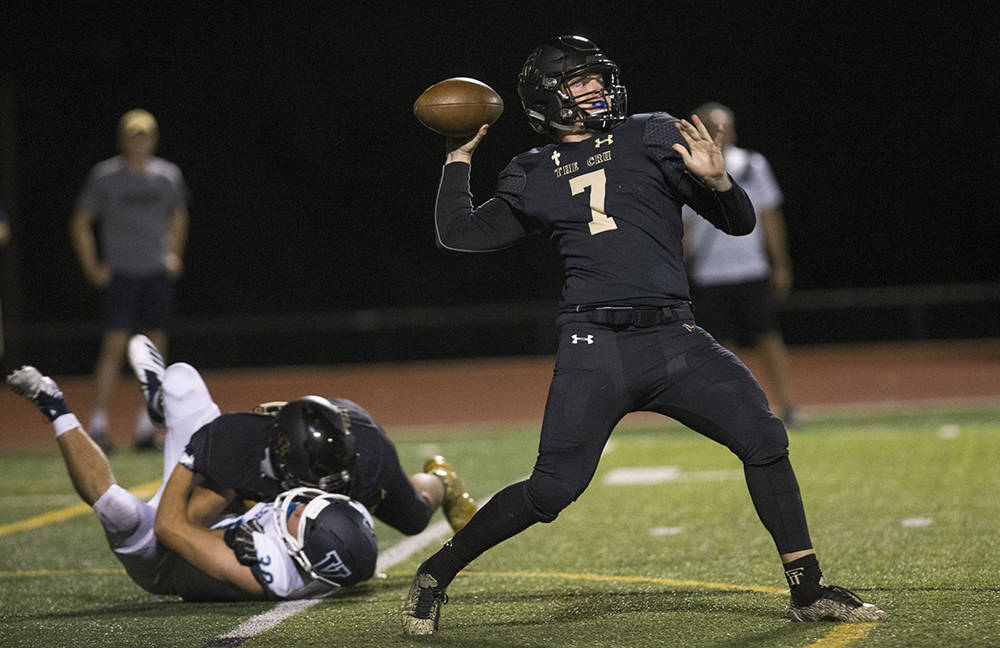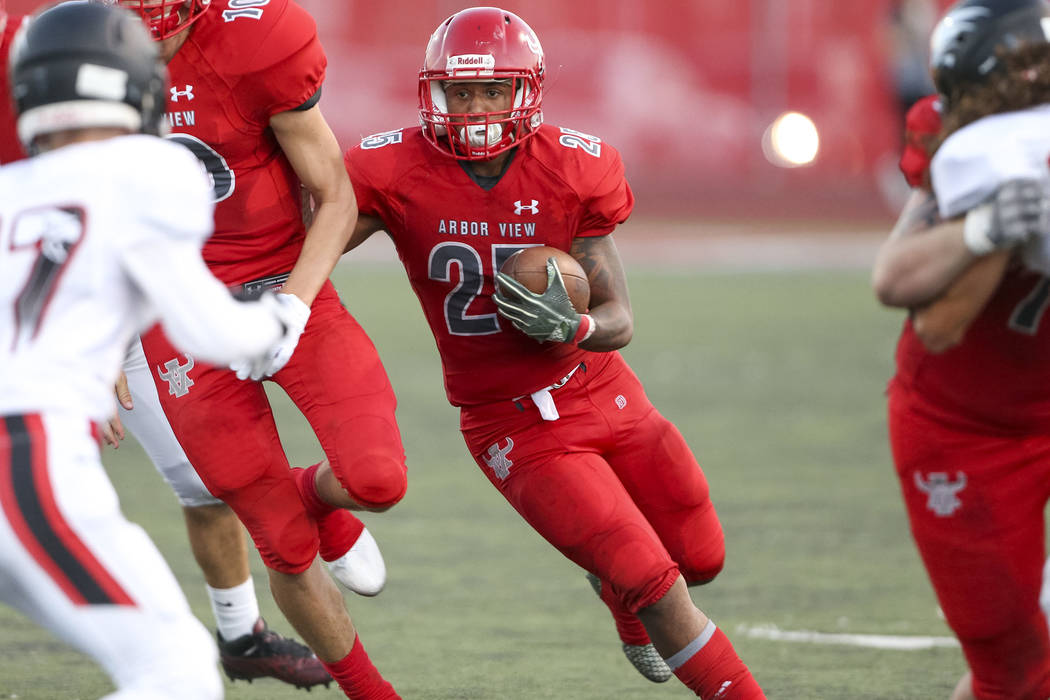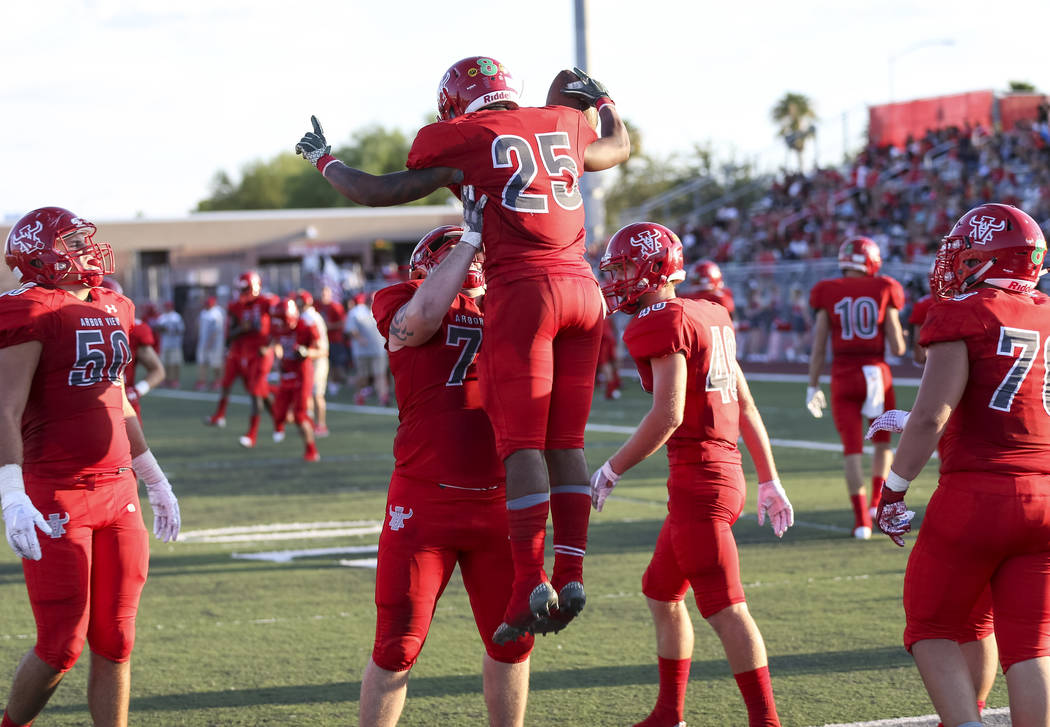 Faith Lutheran has lost its last five meetings with Arbor View, and the Aggies have won four consecutive Northwest League football titles.
Zac McPherson thinks its time for both of those streaks to change.
"This matchup is what's going to define the rest of our season," said McPherson, Faith Lutheran's starting left tackle. "Everybody talks about Arbor running this part of town, but we should have had it last year and we're going to get it this year.
"We're going to make this statement, and we're going to take the division."
McPherson and the sixth-ranked Crusaders (3-3, 2-0 Northwest League) get their shot to make that statement at 7 p.m. Friday when they host the No. 2 Aggies (6-1, 3-0).
Faith Lutheran has bounced back from a 1-3 start against out-of-state teams with two consecutive lopsided victories to start league play. But coach Vernon Fox knows the Aggies present a special challenge.
"Obviously we're excited," Fox said. "We love playing against good teams, that's why we set the nonconference the way that we do to try to prepare ourselves for the tough Northwest Conference. Arbor's been at the top of that for a long time. I've got nothing but respect for them."
Faith Lutheran's last victory in the series was 2005, the year Arbor View opened. The Aggies responded by winning the next four matchups by an average of 37.3 points before the Crusaders made things interesting last fall in a 27-24 Arbor View win.
McPherson said getting off to a good start could be the key this season. Faith Lutheran couldn't overcome first-half deficits in losses to Chandler (Arizona), Valor Christian (Colorado) and JSerra Catholic (California).
"We've got to start off strong. We can't take a quarter or two to roll into it," McPherson said. "We've got to go, hit them in the mouth in the beginning drive, and that'll be history from there."
Faith Lutheran's offense has been inconsistent at times. The Crusaders were shut out by Valor Christian and managed just 10 points against JSerra Catholic.
"We've done some good things at times, other times we've struggled," Fox said. "But again, it's about progression. I feel like we are getting better. We're getting better at the right time."
One key for Faith Lutheran's offense could be running the ball. The Crusaders have 604 rushing yards compared with 2,099 for Arbor View.
While the Crusaders can't match the overall production, leading rusher Julian Rohan has averaged 8.6 yards per carry.
"Arbor View likes to talk about their run game, but we'll show them a run game," McPherson said. "We have a solid run game. I don't think we've been able to show it yet. But it'll be shown this week."
The Aggies feature the area's second-leading rusher in Kyle Graham (1,121 yards, 11 TDs), and their top five ball carriers average more than 8 yards per carry from the team's double-wing offense.
"When you play against Arbor View, you know that their offense is efficient and proficient," Fox said. "It's no secret what they do, but they do it well."
Junior linebacker Hunter Kaupiko is confident the Crusaders will slow that ground game.
"I feel like our defense is the best in the state," Kaupiko said. "And after we beat Arbor, everyone's going to know that we're the best in the state."
More preps: Follow all of our Nevada Preps coverage online at nevadapreps.com and @NevadaPreps on Twitter.
Contact prep sports editor Damon Seiters at dseiters@reviewjournal.com or 702-380-4587. Follow @DamonSeiters on Twitter.
Friday's games
(All times 7 p.m. unless noted)
GV Christian at Spring Mountain, 3 p.m.
Coronado at Green Valley
Foothill at Basic
Clark at Durango
Desert Oasis at Bishop Gorman
Silverado at Sierra Vista
Arbor View at Faith Lutheran
Palo Verde at Cimarron-Memorial
Shadow Ridge at Centennial
Legacy at Eldorado
Mojave at Desert Pines
Moapa Valley at Boulder City
Rancho at Sunrise Mountain
Democracy Prep at Valley
Pahrump Valley at Del Sol
Western at Cheyenne
Virgin Valley at Spring Valley
Laughlin at The Meadows
Calvary Chapel at Needles
Lincoln County at Lake Mead
Three games to watch
Foothill at Basic — Always an intense rivalry between Henderson squads, the Falcons are the area's last undefeated team in Class 4A and will put that unbeaten mark on the line against the Wolves.
Mojave at Desert Pines — A rematch of the 2017 Class 3A state title game. It will be Desert Pines' first game since forfeiting last week because of a fight against Liberty.
Moapa Valley at Boulder City — First place in the Sunrise League is on the line when the Pirates, ranked No. 1 in Class 3A, travel to face the second-ranked Eagles.