Rebels fall short in comeback, lose by 10
November 3, 2013 - 5:43 pm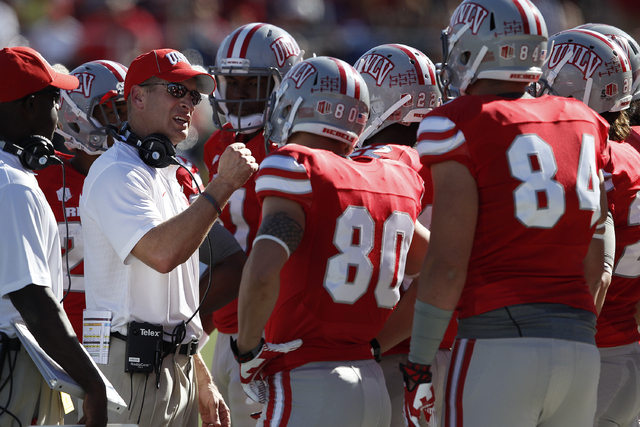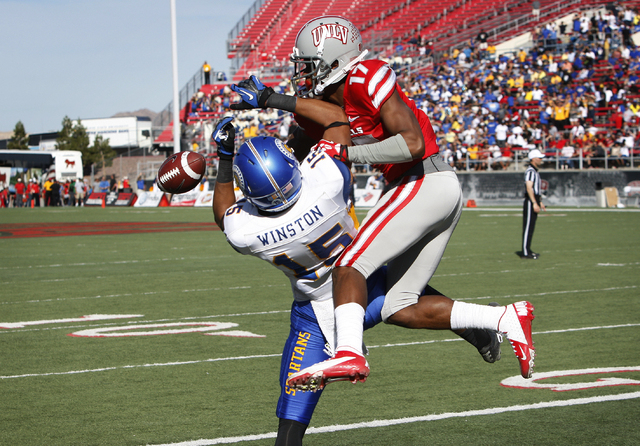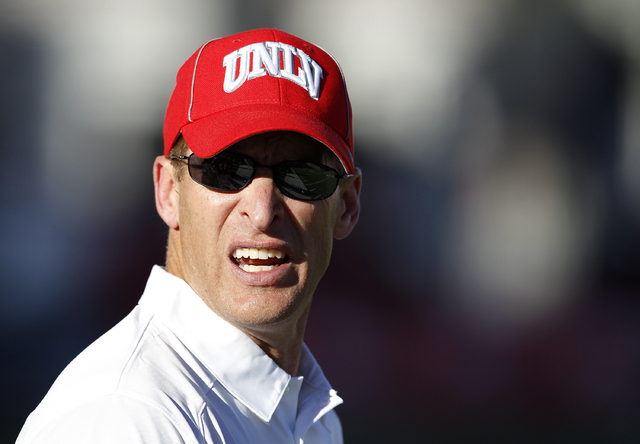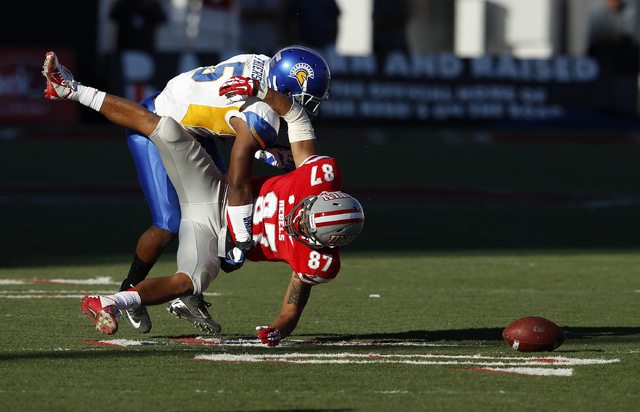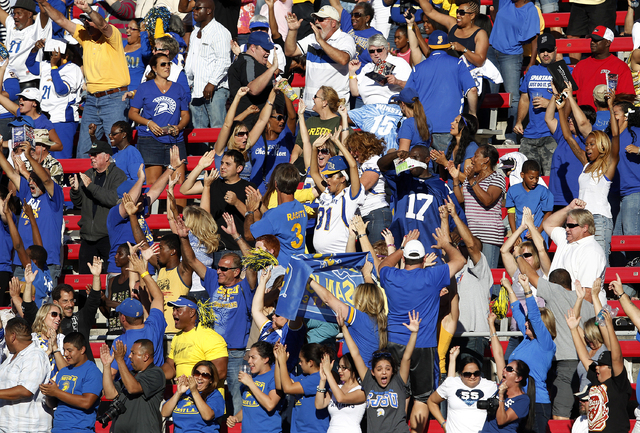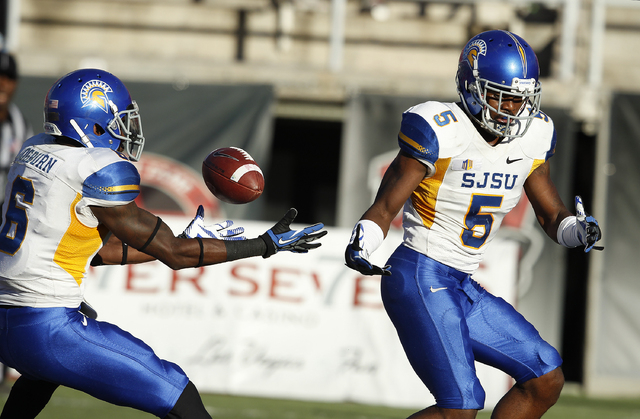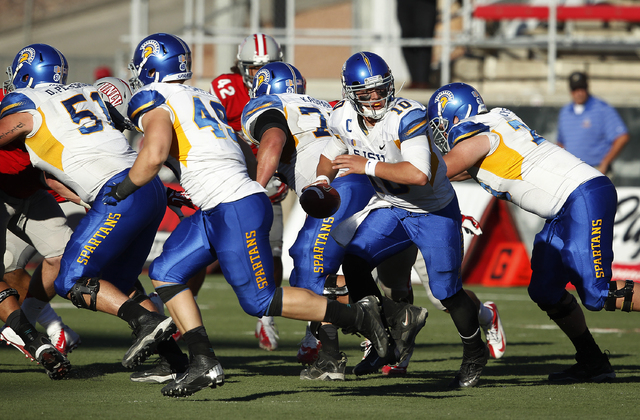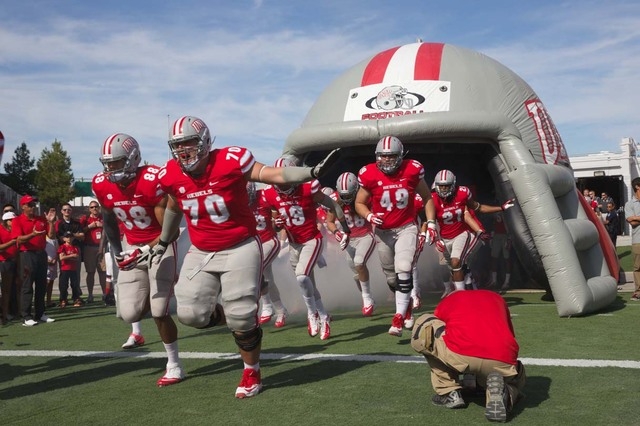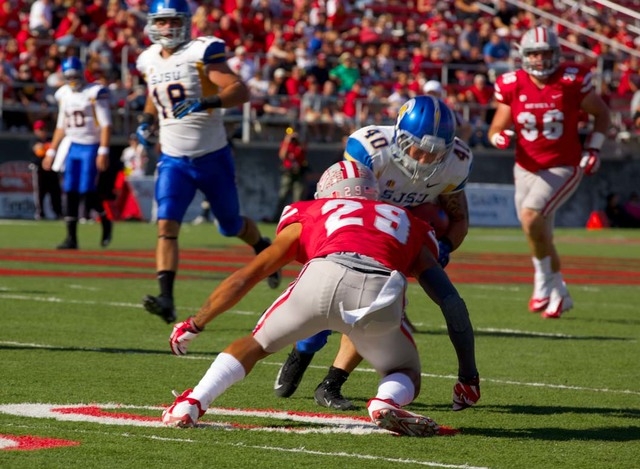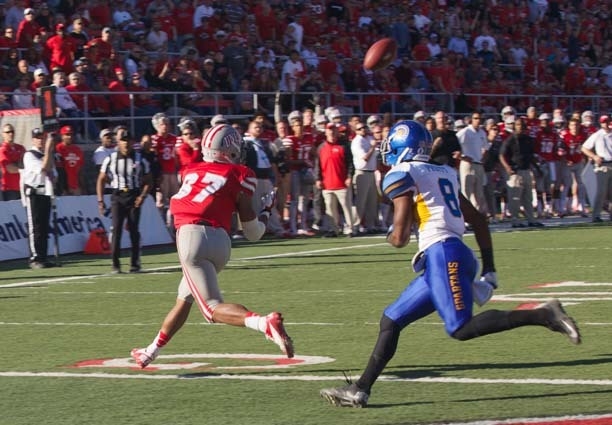 No one will ever know if UNLV would have come back and won.
The Rebels, though, had momentum and appeared ready to finally catch San Jose State.
But that momentum — as well as nearly any chance of a successful rally — was snuffed out early in the fourth quarter Saturday when UNLV wide receiver Marcus Sullivan's dropped pass turned into an interception.
The air also went out of Sam Boyd Stadium, and UNLV never got closer, eventually losing 34-24.
"Tough one to take," UNLV coach Bobby Hauck said. "Did not play well enough to win. Didn't deserve to win. That's on me."
The loss kept the Rebels (5-4, 3-2 Mountain West) one victory shy of becoming bowl eligible. They have three games remaining, beginning Saturday at home against Utah State, to try to qualify for the postseason for the first time since 2000.
Hauck clearly was irritated by UNLV's performance against San Jose State (5-3, 4-1), and though he didn't say it, he had the look of a coach who just watched one get away.
The fact the Rebels were even in position to tie the game was remarkable considering how badly they were outplayed in the first half in falling behind 24-3. UNLV looked as if it had no chance to even make the game competitive after being outgained 331 yards to 74.
Then the momentum switched in the second half.
Caleb Herring threw a 19-yard touchdown pass to Sullivan and later ran in 1-yard quarterback sneak on fourth down to bring UNLV to within 24-17 entering the fourth quarter.
The situation looked even better for the Rebels when they then forced the Spartans into a three-and-out. After getting back the ball, they reached San Jose State's 47-yard line, where they faced second-and-7. That's when Herring threw over the middle to Sullivan, who bobbled the ball into the hands of San Jose State safety Forrest Hightower at the 44.
"I'm definitely not one to blame anybody for the game, but that was very definitely detrimental," running back Tim Cornett said. "I feel like that did kill a lot of momentum. That probably would've been big for us to go down there and tie it."
Instead of possibly driving for the tying touchdown, the Rebels found themselves back on defense and allowing a 37-yard touchdown run to Thomas Tucker that gave the Spartans the important two-possession advantage.
UNLV got back to within one possession again on Herring's 16-yard scoring pass to Maika Mataele with eight minutes left, but the Spartans all but sealed the game with a 44-yard field goal by Austin Lopez with 2:56 remaining.
Sullivan said the entire day was frustrating because "we had the game won."
That part is debatable, but it's difficult to deny the defensive job the Rebels did in holding quarterback David Fales below 200 yards for the first time in his two-year career at San Jose State. He completed 15 of 30 passes for 150 yards and a touchdown, with two interceptions.
The Rebels, though, had no answers for San Jose State's running game, which gained 312 yards, including 187 by Jarrod Lawson.
UNLV couldn't keep up, not with Cornett rushing for 24 yards on 12 carries, his lowest total since gaining just a yard at UNR on Oct. 8, 2011.
"I feel like I was out of my game, trying to do more than I ordinarily do in the first half," Cornett said. "That got to me mentally."
The running game as a whole finished with just 86 yards, and Herring accounted for most of that total by rushing for 55 yards, mostly on scrambles.
He also completed 26 of 49 passes for 265 yards and two touchdowns, but with two interceptions that were not entirely his fault.
In the end, the Rebels dug themselves such a deep hole in the first half, they had to fight just to have a dropped pass mean something.
"They definitely capitalized on our sluggishness in the first half and got after us and put up a big lead that we couldn't overcome in the second half," Herring said.
Contact reporter Mark Anderson at manderson@reviewjournal.com or 702-387-2914. Follow him on Twitter: @markanderson65.
RELATED: Twitter hangs on to ope as UNLV drops first chance at bowl eligibility
Top Performers: UNLV vs. San Jose State
Gameday Grades: UNLV vs. San Jose State
Missed reception serves as turning point in UNLV loss to SJSU