Spring Mountain ends Pahranagat Valley streak, claims 1A state title
November 19, 2016 - 6:29 pm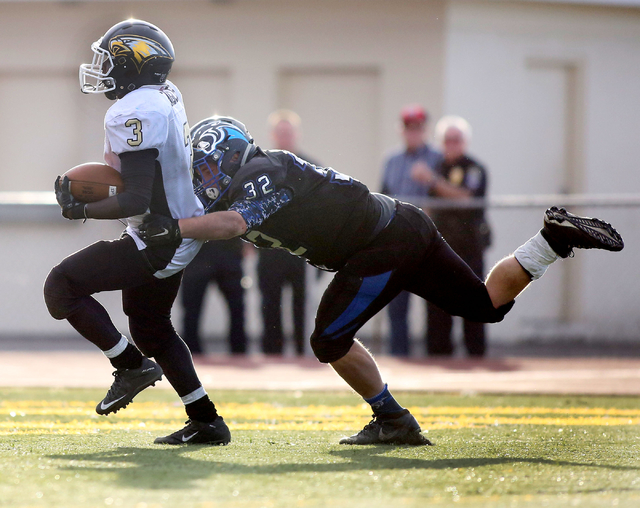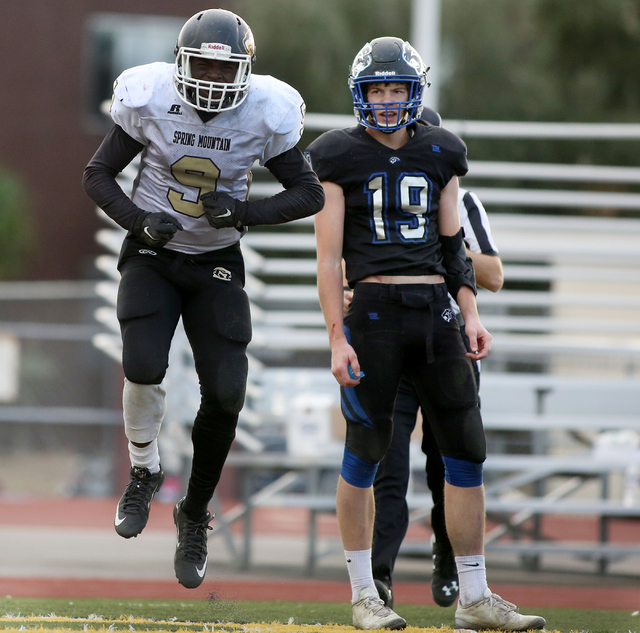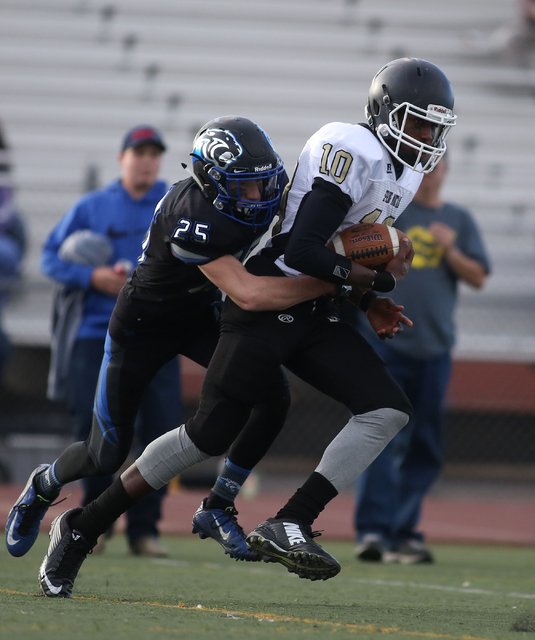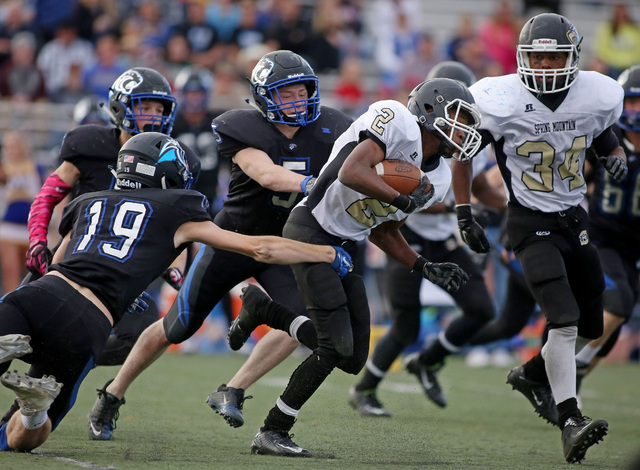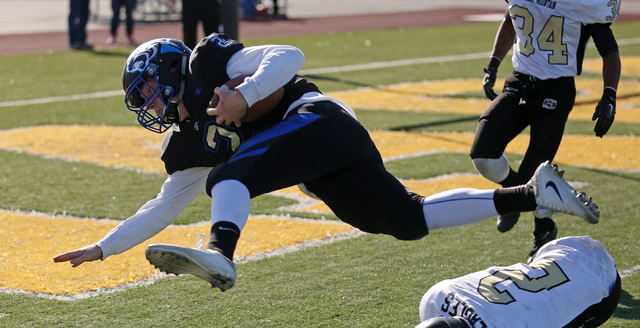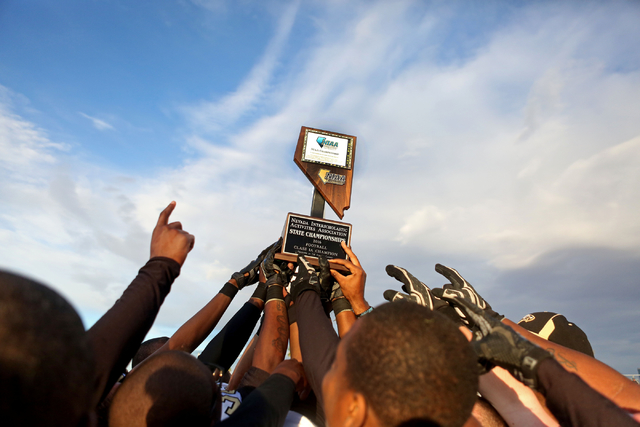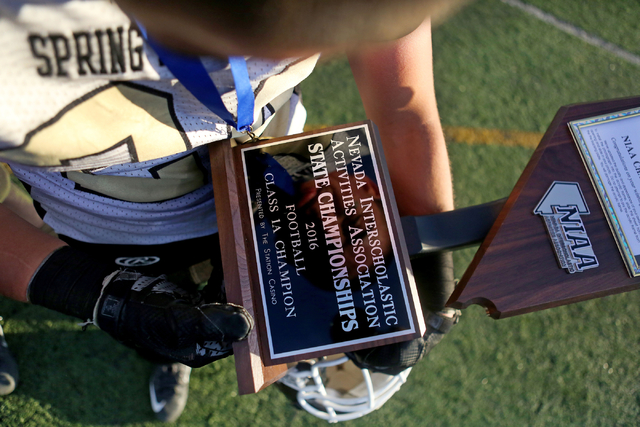 Spring Mountain senior quarterback Eric Brooks beamed as he aimlessly roamed around the football field at Clark High School on Saturday afternoon.
He hugged family members, laughed and joked with his teammates and cradled the Class 1A state football championship trophy like a newborn baby.
After all, he had just engineered the unthinkable. And he was going to do anything to savor one of the greatest moments of his life.
Brooks guided Spring Mountain to a shocking 68-46 victory over Pahranagat Valley on Saturday, snapping the Panthers' national eight-man record 104-game winning streak and clinching the Golden Eagles' first football state championship.
Spring Mountain players gave head coach Aaron Masden the mandatory Gatorade shower as the final buzzer sounded, and a flock of Golden Eagles fans cheered their team as Pahranagat Valley watched another team celebrate a state title for the first time since 2007.
"If it wasn't for Pahranagat Valley, we wouldn't be here," Masden said. "They pushed us to improve our schemes and push our kids to get better to compete with them. It just goes back to preparation and fundamentals and working hard. All week long and all season long."
The Panthers had topped the Golden Eagles 12 times during their winning streak by a combined 420 points, and had beaten Spring Mountain 36-18 during the regular season
But the Golden Eagles (9-2) were armed with a roster comprised of talent Pahranagat Valley doesn't typically see.
They fine-tuned their game plan and unleashed Brooks, who turned in one of the most dominant individual performances in state tournament history.
Brooks led Spring Mountain on 10 scoring drives, and capped each one with either a passing or rushing touchdown. He passed for 499 passing yards and eight touchdowns and rushed for 96 yards and two scores.
When he wasn't picking the Panthers apart in the pocket, he was buying time behind the line of scrimmage for his receivers.
Like Tyriq McKinney, who had 10 catches for 203 yards and five touchdowns. Or Damariyae Royal, who caught 11 passes for 131 yards and a touchdown. Or LaShawn Young, who caught five passes for 90 yards and two touchdowns, including the game-clinching 61 yard score late in the fourth quarter.
"We found a couple zone beaters that coach threw in there," Brooks said. "Once we beat their zones, they switched it up to man. That was a big mistake."
Pahranagat Valley (11-1) did its best to keep up with Brooks and company, especially in the first half. Four-year starting quarterback Tabor Maxwell engineered four touchdown drives, and led two scoring drives in the third quarter, too.
But Spring Mountain forced a key fumble and made an important fourth-down stop midway through the fourth quarter to seize momentum.
Panthers receivers, who run uncovered against virtually every secondary they face, were suddenly blanketed with nowhere to go. The gaping running lanes Pahranagat Valley running backs typically dart through were no longer there.
And for the first time in more than eight years, the Panthers didn't have any answers.
"In life, you're going to face ups and downs. There are going to be times when things don't go your way," Pahranagat Valley associate head coach Brett Hansen said. "You hand it to Spring Mountain. They executed and did a hell of a job."
Maxwell concluded his incredible high-school career with 273 passing yards, two touchdowns and one interception. He added 122 rushing yards and three rushing scores.
Pahranagat Valley players and coaches were gracious in defeat and congratulated the new state champions. They quickly exited the field to give Spring Mountain its opportunity to relish the moment with its fans.
"Words can't explain," McKinney said. "We just knew that we had to win. For everybody."