Gladiators' absence barely leaves mark on Las Vegas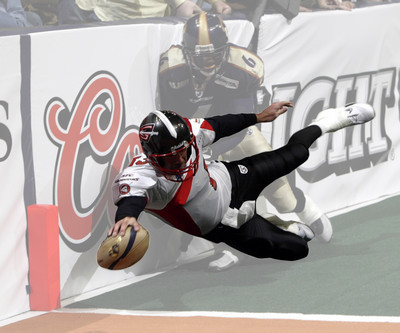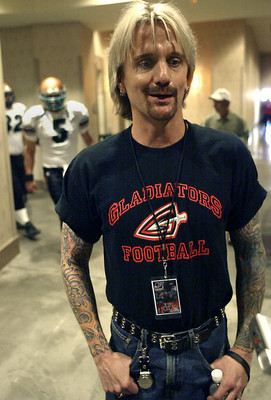 Max Maddux promises he'll get around to removing the Gladiators window stickers on his truck.
Since the Arena Football League franchise bolted for Cleveland in October after five seasons in Las Vegas, the once-ardent Gladiators fan deleted the AFL bookmark from his Web browser and threw away a helmet, two mini-helmets, a pennant and any other items he and his wife, Jamie, found.
Maddux, who created the Gladiaddicts, also donated his and Jamie's self-designed booster club shirts to charities, as well as red, white and black personalized replica jerseys and a personalized authentic team jersey.
"I keep looking for homeless guys wearing my jerseys," Maddux said via e-mail.
For the first time since 2003, Las Vegas is homeless when it comes to the AFL. Though the Gladiators never had a large fan base, a strong, vocal group
of supporters showed up at each home game even as overall attendance dwindled and the losses piled up. In all, the Gladiators lost 50 of 81 games during their Las Vegas stay.
Maddux was part of the solid fan base, but said by phone he believed Las Vegas was used by owner Jim Ferraro and the AFL. Maddux said he has "written them all off."
He isn't alone. Las Vegas was among the strongest television markets in the AFL, consistently producing higher ratings than most other league cities. But now Las Vegas has tuned out, its 0.3 rating through the first nine ESPN2 games not exactly challenging "American Idol," though still higher than four AFL cities.
It's difficult to dispute the logic of the Gladiators' move to Cleveland, a decision that was validated when the team drew 17,391 fans for its first game March 3. Three home games since then have each attracted more than 13,000 in a sports-mad Cleveland market that has the added benefit of being able to attract fans from suburbs and nearby towns.
Outside the Las Vegas Valley, there's just a lot of sand and mob-victim burial grounds.
Las Vegas' largest home crowd last season was 6,593 for the first game at the Orleans Arena. Like other professional and college sports teams, the Gladiators announced tickets sold, and 1,500 to 2,000 corporate season tickets typically went unused.
But even many fans the club could usually count on began spending their Sunday afternoons elsewhere. In-house attendance shrank to about 2,500 by the time the Gladiators played their last game here.
Though crowds were larger in the four prior seasons at the Thomas & Mack Center, the Gladiators never topped the initial buzz generated by their move from New Jersey in December 2002. Their highest single-game attendance was 12,521 for the 2003 home opener — the one time Gladiators officials mistakenly announced the in-house crowd size, rather than the number of tickets paid.
Cleveland fans have more to cheer about. The Gladiators are 5-4 after Friday's statement-making 67-55 victory over the previously unbeaten Philadelphia Soul. The team never had a winning record in Las Vegas, going 8-8 in the regular season the first three years. The first season ended at 8-9 after a loss in the team's only playoff appearance.
"We made the right decision" to move, Ferraro said last week from a runway at McCarran International Airport, where his private plane was preparing to leave for Cleveland. "I wish it would've worked in Vegas. It would've been nice, but I take responsibility for part of it because there was bad management, and I hired them."
Ferraro, in Las Vegas last week for an asbestos convention, also talked about the difficulty of being "an absentee owner," flying in for games from Miami. Cleveland isn't South Florida, but the high-profile asbestos litigator has a law office there, and spends much more time braving the Lake Erie winds than he did the desert heat.
"I have my finger more on the pulse because I'm up there a lot," Ferraro said. "When I was in Miami and the team was here, all I could do was call. Then when I would come, they would clean it up and make it look OK."
Ferraro did his own share of cleaning house in the offseason. The front office — led by Bernie Kosar, the team's part owner, chief executive officer and Cleveland Browns legend — was replaced. First-year coach Mike Wilpolt heads an entirely new staff. Only three players — fullback Marlion Jackson, defensive lineman Karon Riley and fullback/linebacker Josh Rue — were taken along to the Midwest.
As the organization moved forward, those who remain in Las Vegas have moved on with their lives with pieces still attached to their AFL pasts.
One is Dan Dolby, the general manager in 2005 and 2006, who said it's not the same without the Gladiators.
"Oh, I absolutely miss not having a team around," said Dolby, now with YMCA of Southern Nevada. "Even last year I followed the team really close. I put my heart and soul into that team."
Dolby stays in contact with former Gladiators sprinkled throughout the league. Wide receiver Marcus Nash, now with the Dallas Desperados, owns a home in the valley and works for Dolby in the offseason in personal training.
"I'm more of a fan of the league than any team," Dolby said.
Adam Grant, the Gladiators' marketing director all five seasons in Las Vegas, said he has kept up some with the Cleveland club.
"I check to see if they've won or lost," said Grant, now with Nevada Power. "Guys like Marlion, I like to see do well. It's a totally different group."
Maybe Las Vegas' days as a non-AFL city will end one day, perhaps if the planned arena near the Strip is built by 2010 as expected. Groundbreaking is scheduled for next month.
Would Las Vegas be so welcoming after a second failed marriage with an AFL team?
It wouldn't be an easy sell, but even Maddux might be willing to restock his closet if he's convinced the commitment to success is genuine.
Grant agreed that it would have to be the right situation to win over a skeptical fan base that believes it was burned by questionable ownership and management decisions.
"I think it would take major community outreach and rebuilding of the bridge corporate-wise and with fans," Grant said. "I think it would depend on who brings the team back and the situation. If it's the same circumstances, you're not going to get people back, but if it's local ownership and the right situation, it could work."
Contact reporter Mark Anderson at manderson@reviewjournal.com or 702-387-2914.
SEASON, RECORD 2003, x-8-9 2004, 8-8 2005, 8-8 2006, 5-11 2007, 2-14 TOTALS 31-50 x-includes playoff loss