Bill Foley has no plans to change Golden Knights name despite Army's concerns
November 30, 2016 - 7:09 am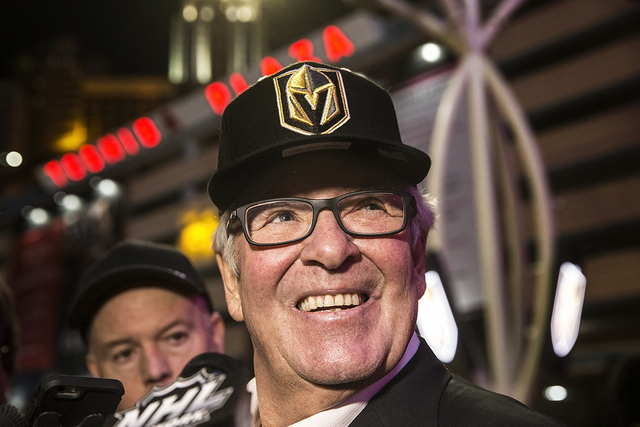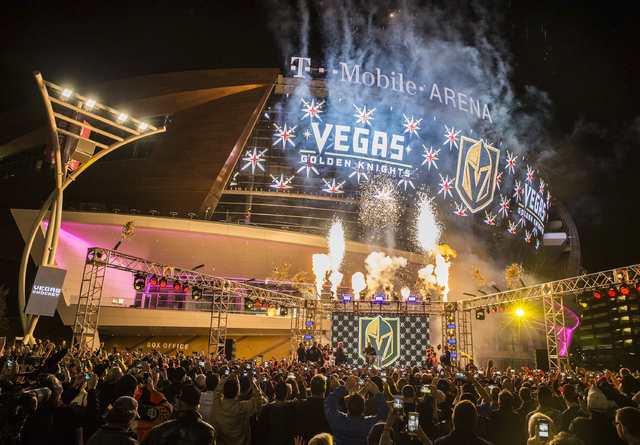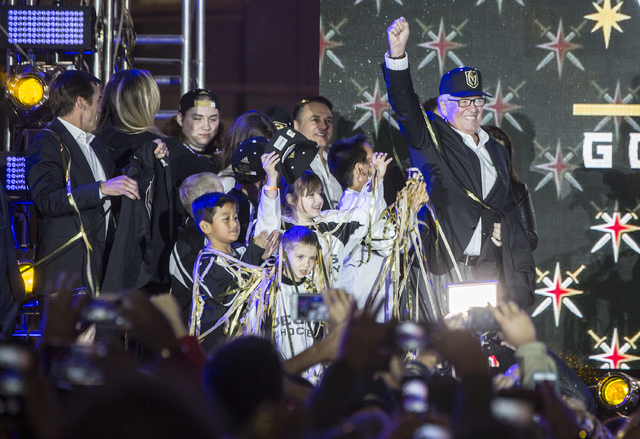 Bill Foley has no intention of changing the name of his NHL team.
The Vegas Golden Knights owner said he legally has the right to call his team the Golden Knights despite the fact that the Army's parachute unit goes by the same name.
The Golden Knights name came under fire this week when the Fayetteville (N.C.) Observer reported that the Army wasn't sure it approved of the NHL's use of the nickname.
"I'm well aware of that," Foley, a 1968 graduate of West Point, told the Review-Journal on Tuesday night. "But we didn't check with the Army on the name Golden Knights because once we copyrighted and trademarked it, our lawyers and the NHL's lawyers didn't feel we needed to."
Foley said he did check with West Point officials when he was considering naming his team the Black Knights, the same nickname Army's NCAA Division I athletic teams use. But after feeling pushback, he abandoned those plans.
He had owned the trademarks, domain names and copyrights for three different brands of Knights — Golden, Silver and Desert. He went with Golden in part to pay tribute to Nevada's gold mining industry.
But once the parachute team became aware that a hockey team was using its nickname, it had some concerns. However, it has yet to take any action, legal or otherwise.
"We're reviewing the situation and figuring out what the way ahead would be," Army spokeswoman Alison Bettencourt told the Observer this week. "We understand that one of the Las Vegas team owners has Army connections, and will likely understand our interest in this announcement is meant to protect the proud history of the Army's Golden Knights and their vital role in telling the Army story and connecting America with their Army."
Foley said he's not looking to cause trouble.
"I have great respect for the Golden Knights parachute team," he said. "In fact, I tried to incorporate them into the ceremony last week, but we couldn't make it work."
Foley said the team did get permission from Clarkson University and the University of Central Florida to use the name Golden Knights, a nickname that both schools also use.
"But we're no different than the Texas Rangers, who are a baseball team and are also a law enforcement agency," Foley said "We did everything properly and legally, and we even went to Clarkson and Central Florida, both of which have the name Golden Knights for their teams, and neither of them objected.
"But if the Army has an issue, I'll be glad to talk to them."
Contact Steve Carp at scarp@reviewjournal.com or 702-387-2913. Follow @stevecarprj on Twitter.
RELATED
Las Vegas' NHL team officially named Vegas Golden Knights
Here's what people are saying about the Las Vegas NHL team name
Some will like Golden Knights, others won't, but it's about winning
Fans share thoughts on name, logo of Vegas Golden Knights

NHL in Vegas
Complete coverage of hockey in Las Vegas
Want to keep up with all the hockey updates? Follow our Twitter: @HockeyinVegas