Cody Glass finds his stride in Golden Knights' 4-0 win over LA Kings
September 13, 2017 - 5:46 pm
Updated September 13, 2017 - 6:43 pm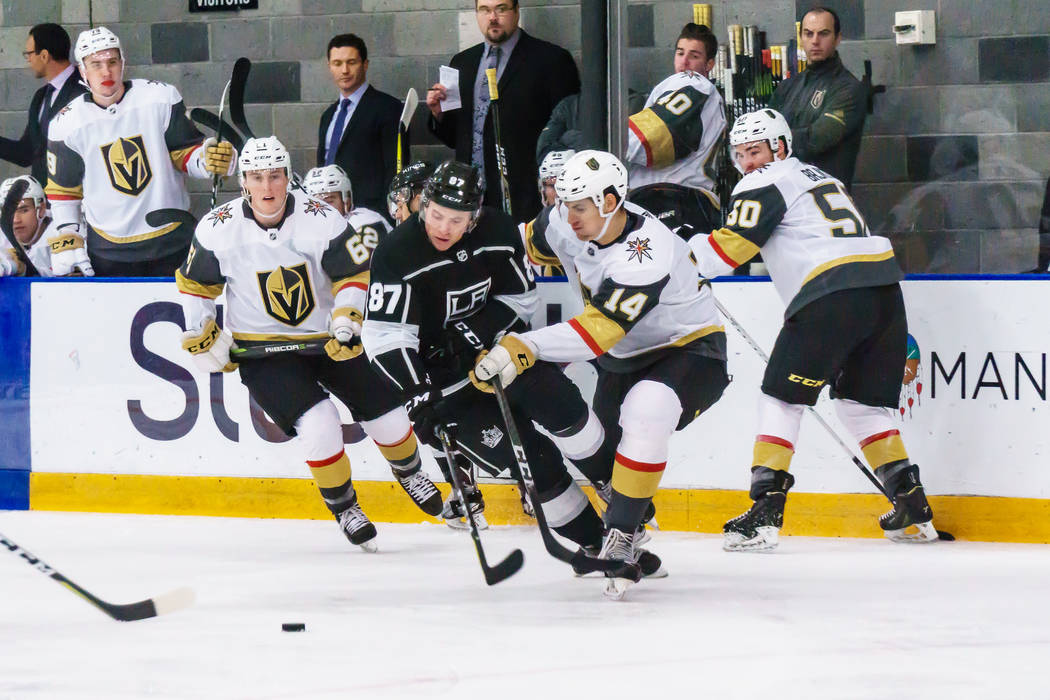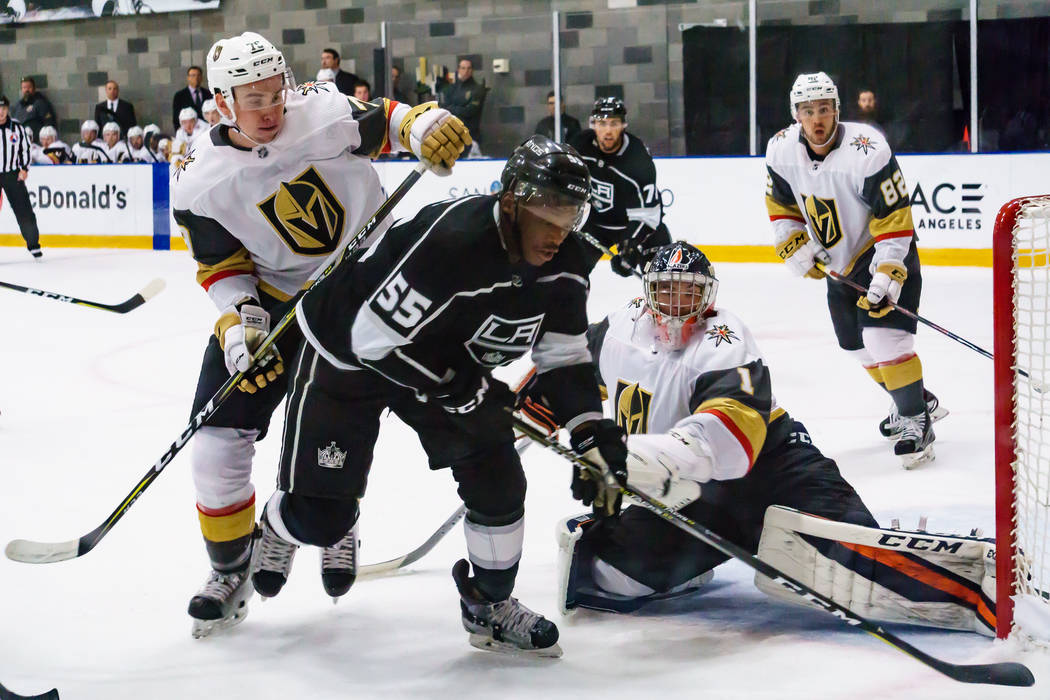 LOS ANGELES — Cody Glass offered a glimpse Wednesday as to why the Golden Knights made him the expansion franchise's first draft pick in June.
The 18-year-old center from the Portland Winterhawks scored a goal and had a pair of assists in helping the Knights beat the Los Angeles Kings rookies 4-0 at the Toyota Sports Center and gain a split in their two-game series.
Glass, the sixth overall pick in the entry draft, has an opportunity to prove his worth among veterans Friday when training camp opens at City National Arena.
"I think moving forward it'll be good," Glass said of the momentum he has suddenly picked up. "I think I know what to expect. It's a little faster, and I'm starting to feel more comfortable."
Rocky Thompson, the Chicago Wolves coach who directed the Knights' rookies in L.A., said playing with NHL players will help Glass as well as Nick Suzuki, a fellow first-rounder who also will be among the 60 participants at training camp.
"When you're playing with better players, it forces you to raise your game, and in some ways it can be easier for young players like Cody and Nick because they'll be playing with players who have so much skill," Thompson said. "But this was good for Cody's confidence to get a goal and a nice assist."
Glass fed Tomas Hyka for the first Knights goal, a shot taken on the move 1:27 into the game. It was Hyka's second goal in as many days.
"That was an NHL play those two made," Thompson said.
Glass' goal, which came at 13:40 of the first period, came on a cross-ice feed from Dylan Coghlan. The other goals came from Nikolas Brouillard on a slap shot just inside the blue line late in the second period — which drew Glass' second assist — and an empty-net goal from Patrick Bajkov.
The Knights' first win came on a shutout courtesy of goaltender Dylan Ferguson, who looked stellar while facing 34 shots.
Thompson said the difference between Wednesday's win and Tuesday's 6-2 loss was easy to explain.
"We weren't cheating the game (Wednesday)," he said. "We did the little things well and we backchecked. We also drew more penalties and didn't take as many. It was a nice way to bounce back, and I'm happy for our organization. Winning is important when you're starting a new team, and even though it was only a rookie scrimmage, it's important we play the right way."
For Glass, it's simply a chance to stick around through the end of the month and maybe even make the roster for the Oct. 6 regular-season opener at Dallas.
"It's going to be a different experience," he said of skating with NHL players. "For me, I just want to enjoy it."
Contact Steve Carp at scarp@reviewjournal.com or 702-387-2913. Follow @stevecarprj on Twitter.
Golden Knights preseason schedule
At Vancouver Canucks, Sunday, 2 p.m.
At Colorado Avalanche, Tuesday, 6 p.m.
At San Jose Sharks, Sept. 21, 7:30 p.m.
At Anaheim Ducks, Sept. 24, 7:30 p.m.
Los Angeles Kings, Sept. 26, 7 p.m.
Colorado Avalanche, Sept. 28, 7 p.m.
San Jose Sharks, Oct. 1, 5 p.m.
(Home games at T-Mobile Arena)