Colin Miller takes care of Golden Knights' defensive business
Updated April 12, 2018 - 7:59 pm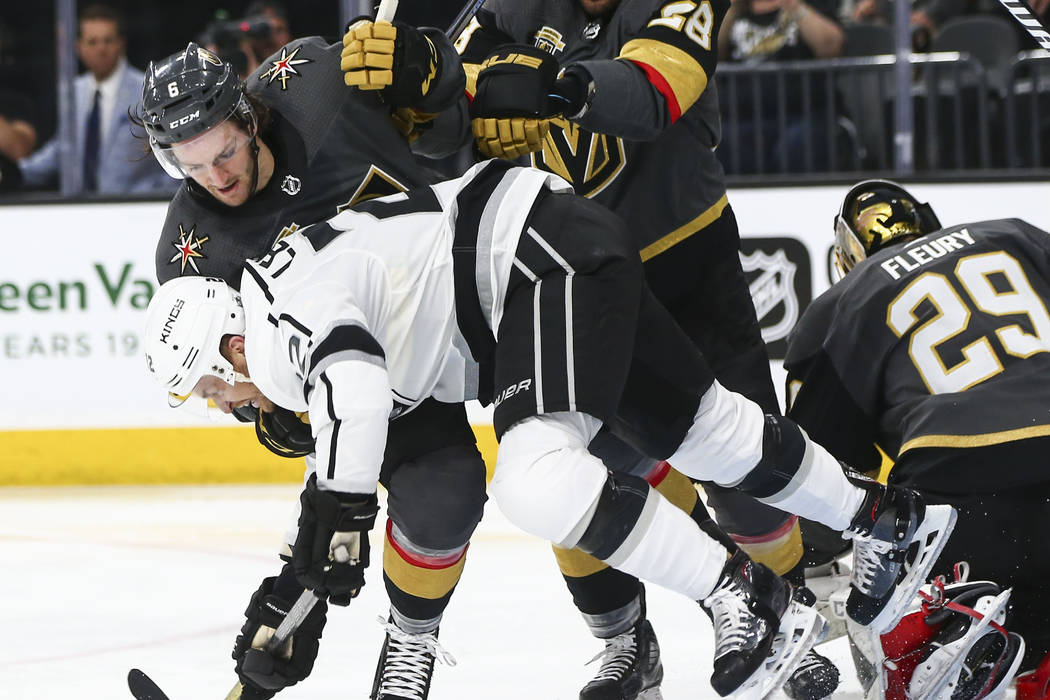 On a night when offense was at a premium, Colin Miller made sure he took care of business in his own end.
The Golden Knights' 25-year-old defenseman had one of his best games of the season in Wednesday's 1-0 victory over the Los Angeles Kings in Game 1 of their Western Conference quarterfinal series. He was all over the ice, starting rushes, closing out shooters, picking up open enemy wingers and using his body to clear Kings from in front of goaltender Marc-Andre Fleury.
"It's the first game of a series, and you want to set the tone," Miller said Thursday after an optional workout at City National Arena. "I thought we stuck to our game plan and we were pretty quick throughout the game."
But it wasn't just Miller. The entire six-man defensive corps was strong, winning battles in front, moving the puck quickly out of the zone and supporting the rush. It was a defenseman — Shea Theodore — who accounted for the only goal on a wrist shot that went off a Kings player and past Jonathan Quick 3:23 into the game.
"It's just being aware," Miller said of being more responsible in his own end. "The net front is a big area in the playoffs, and a lot of pucks go in from there and a lot of grimy goals get scored there. I think just boxing out and make sure that Flower can see the shots is the big thing."
Coach Gerard Gallant said Miller, the team's leader in points among defensemen with 41, has made considerable progress since training camp.
"He's come a long way from the first game of the season," Gallant said of Miller, who was selected from the Boston Bruins in the expansion draft. "He played a real solid game (Wednesday).
"We like him a lot. He plays a good two-way game, and he plays a lot of offense. But he's also played a lot better defensive hockey over the year."
Miller, whose season-high for hits is eight against the Kings on Feb. 27, had five in Game 1. The teams combined for a total of 127, a number that surprised him.
"It was definitely physical," he said. "I looked up in the second period, and I think everyone was surprised by the number of hits. But that's playoff hockey, right? It was a fun game to be part of.
"We're not going out of our way to make any hits. Our game is a speed game, and we've said that all year. And when we're skating and we have the puck, there's going to be hits. But I thought we did a good job of rising to that level."
Contact Steve Carp at scarp@reviewjournal.com or 702-387-2913. Follow @stevecarprj on Twitter.