From websites to handguns, Golden Knights protecting team logos
August 13, 2018 - 12:41 pm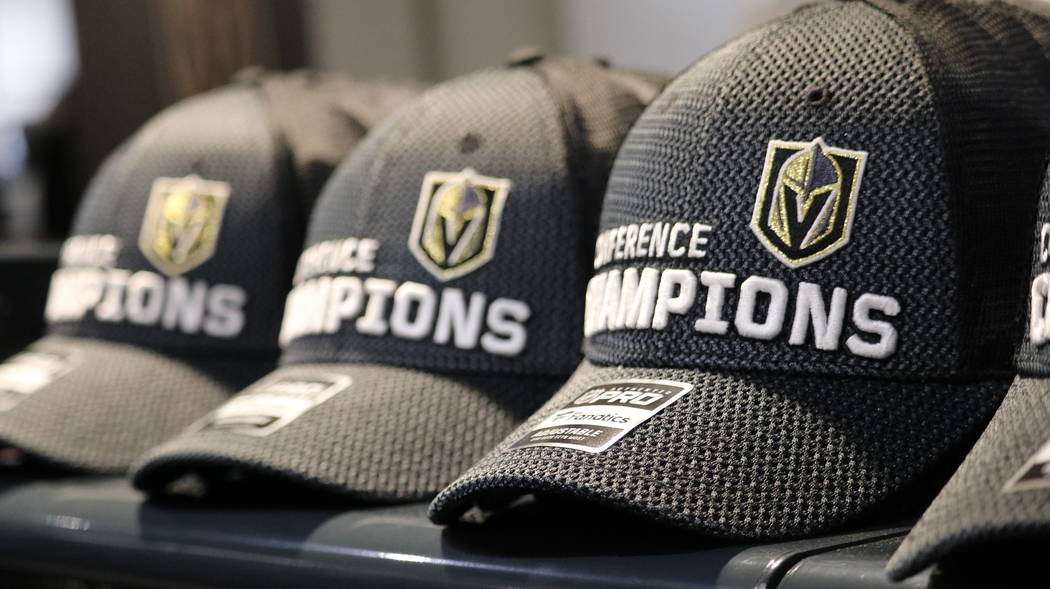 A "Neon Knights" Twitter account. A Henderson man's "7th Knight" fan website. The familiar Spartan helmet decorating a handgun.
Online and off, the Golden Knights have sought protection for logos, slogans and even names that may confuse fans because they sound too similar.
But fake Knights-branded shirts, shoes, ties, and even blankets sold on the side of the road, or on websites like Facebook and Etsy, won't go away anytime soon.
"Usage of our marks without licensing or without our permission has happened at different times throughout the season with various entities," Knights spokesman Eric Tosi said. "We successfully addressed the matters with these entities accordingly and received their cooperation."
Tosi said the team has resolved the incident over a golden helmet that local store Spartan Arms put on a firearm, which the team learned about through a photo posted online. He declined to elaborate further.
A representative with Spartan Arms declined to comment.
Enforcement
Companies walk a fine line, DeVoy Law attorney Jay DeVoy said. Teams like the Knights don't want to discourage fans from making art and crafts in honor of a team or be seen as attacking fans.
But the companies don't want fans making money off something they don't own, like the team's Spartan helmet logo.
The Knights have even filed with the U.S. Customs and Borders Protection law enforcement agency to protect against imported goods using the team logo without permission, according to federal records.
Federal records show the Knights have a pending intellectual property case against Edge Entertainment Group, which uses the "Neon Knights" name on Twitter and Facebook. On those accounts are photos of mockup jerseys with neon pink helmets over neon green shields.
Records also show that a Henderson man, Warren Best, abandoned his applications for Knights-esque phrases like "U-Knighted we stand" and "7th Knight."
Best did not return request for comment. A website using the "7th Knight" name says Best moved to Las Vegas from Canada 21 years ago and wanted to use the slogans for a Knights fan group.
"The fans have embraced the team," the website says. "And the team has embraced its fans."
So-called intellectual property can be tough to track. Even the Knights have been accused of infringing on someone else's trademarked name and colors. In July, the Knights reached an agreement after the U.S. Army filed a complaint with the federal Patent and Trademark Office. The army had used the "Golden Knights" name and colors for an army parachute team for over 50 years.
Hefty fees
Trademark and copyright monitoring services are hired to send regular reports to property owners' lawyers, attorney Steven Rinehart of Salt Lake City-based Western IP Law Group said.
Those lawyers typically decide whether the cost of stopping a violator is worthwhile. Cease-and-desist letters are usually the first step.
"All of these things on Etsy and for sale on street corners are usually ignored," Rinehart said. "Not because they aren't infringement, but because it's not worth chasing them."
David Famiglietti said customers have asked for sports logos engraved on guns at his North Las Vegas gun store, New Frontier Armory. But the store does not offer firearms manufactured with corporate logos and doesn't advertise engraving services to avoid attention from major companies, he said.
John Hastings said his Henderson-based car wrapping business 5150 Wraps gets frequent requests to decorate cars with the Knights logo. But the cost to license the logo and give up a percent of sales isn't worth it.
"It would not make any sense for us to enter into an agreement with any sports teams," Hastings said.
For companies to license team logos, they can pay a license fee, normally a percentage of gross revenue. Major brands usually only work with established merchandisers who can project sales on an item.
"The licensing fees need to be worth at least in the six figures for professional sports teams to be interested," attorney DeVoy said.
The fees can range from under 5 percent to over 50 percent of the gross sales price of an item, West Allen of Howard & Howard Attorneys said.
If found to have violated a company's property rights, the violator could face as little as $750 to as much as $150,000 per work, Allen said.
For companies protecting their brand, not policing where logos or slogans get used could become a problem later. If intellectual property owners aren't aggressive, someone sued by the owner could say the owner didn't really care about the property or that it had become too widely used for any one owner.
This fate befell the word escalator, trademarked by the Otis Elevator Co. until 1950.
More Golden Knights: Follow all of our Golden Knights coverage online at reviewjournal.com/GoldenKnights and @HockeyinVegas on Twitter.
Contact Wade Tyler Millward at 702-383-4602 or wmillward@reviewjournal.com. Follow @wademillward on Twitter.