Golden Knights' 6-2 loss in rookie scrimmage a mixed bag
September 12, 2017 - 11:07 pm
Updated September 12, 2017 - 11:44 pm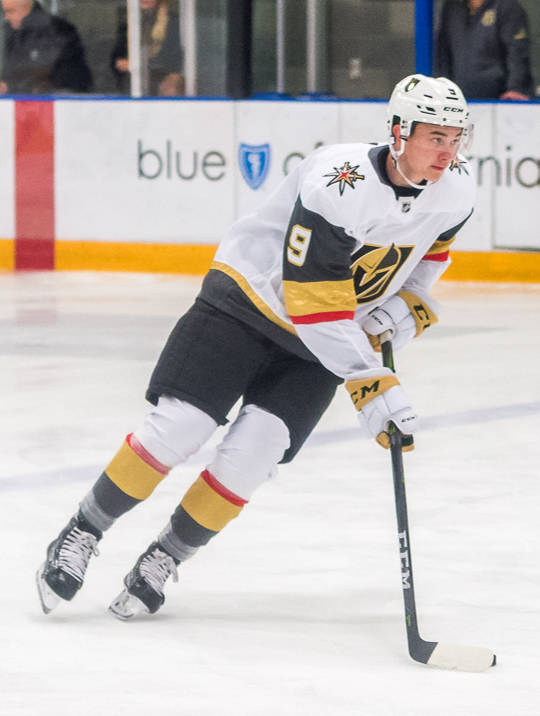 LOS ANGELES — The Golden Knights' first competition as a franchise produced a mixed bag of results Tuesday at the Toyota Sports Center.
It was a Hollywood on Ice version of "The Good, the Bad and the Ugly" all in a tidy 60 minutes. Some fine work in goal by Logan Thompson; Tomas Hyka showing speed and skill in scoring the franchise's first goal and some solid work by Keegan Kolesar along with the fourth line of Ben Jones, Lucas Elvenes and and Jayden Halbgewachs.
Their good work was offset by too many penalties, too many turnovers and some sketchy play in net by Jiri Patera, who allowed all six of the Los Angeles Kings' goals over 29 minutes in a 6-2 loss.
The two teams will meet at 1 p.m. Wednesday in the second of two scrimmages.
"The mistakes we made are correctable," said Rocky Thompson, the Chicago Wolves head coach who is overseeing the Knights' rookies and was behind the bench Tuesday. "Our energy was good. But we gave up three quick goals in the third period, and it was disheartening."
The good? The Knights were nursing a 1-0 lead on Hyka's first-period goal midway through the second period as Thompson had turned aside 14 shots and looked strong in goal. The plan was to change at that point, and Patera let in the first shot he faced.
That was the bad. So was the misconduct penalty Alex Tuch drew with 5 1/2 minutes left in the first period following a fight with Shane Walsh. It forced Thompson to shuffle his lines and it took away the flow the Knights appeared to have established.
"Losing Alex for the length of time we did got us out of sync a little," Thompson said. "We had to juggle some things with our lines and our special teams."
But it was still a 1-1 game going into the third period. Then the roof caved in. The Kings scored three times in a 1:06 span to go up 4-1. That was the ugly part.
But for the Knights, who were unofficially outshot 26-12, there was plenty of things to build on. Hyka's goal, which came 75 seconds into the game, was a pretty move, a backhand between goalie Cal Petersen's legs, and it was all due to his speed.
"It's one of my strengths, and I've been trying to use it during (rookie) camp," Hyka said. "It's a little harder here because the ice is smaller than in Europe. But it felt good to get the first goal."
Kolesar, who had the other Knights goal on a neat redirect of Patrick Bajkov's cross-ice feed, also participated in the franchise's first fight as he and Boko Imama dropped the gloves eight minutes in. He has been a consistent performer in practice and Kolesar continued to impress Tuesday.
Tyler Wong had a couple of chances to make a big impression as he was awarded a penalty shot in the second period when it was still 1-0. But he was unable to convert as the puck rolled on its side and he couldn't put it past Petersen.
Wong also had a breakaway early in the third period but he once again failed to finish.
"When you're getting your chances, it means you're doing something right," Wong said. "But my job is to score goals, and I didn't get it done tonight."
And while it was only a scrimmage involving a bunch of rookies, losing didn't sit well with Knights general manager George McPhee.
"I liked the way we played early on in the game but I didn't like the way we finished," McPhee said. "I'm not very happy right now. I don't like 6-2."
Contact Steve Carp at scarp@reviewjournal.com or 702-387-2913. Follow @stevecarprj on Twitter.