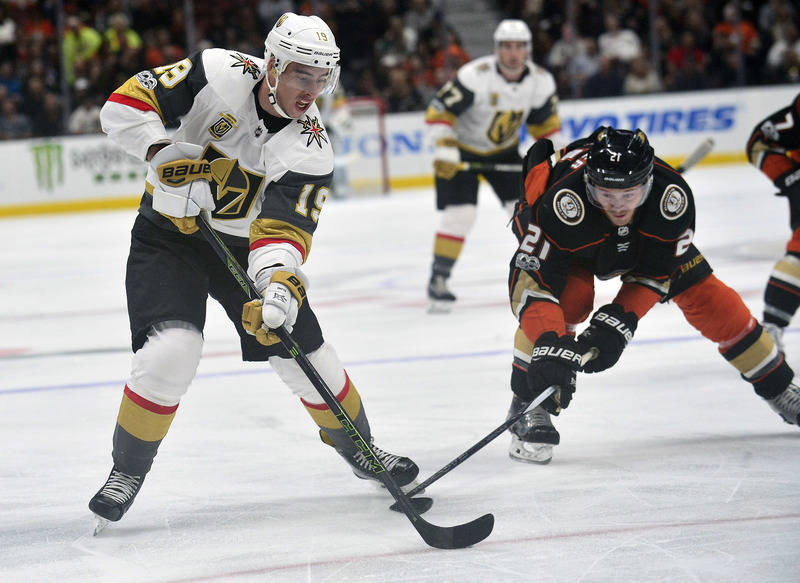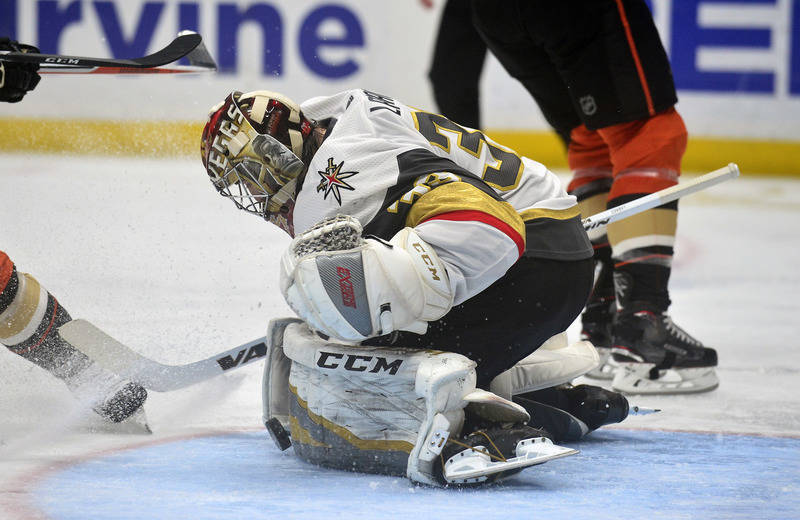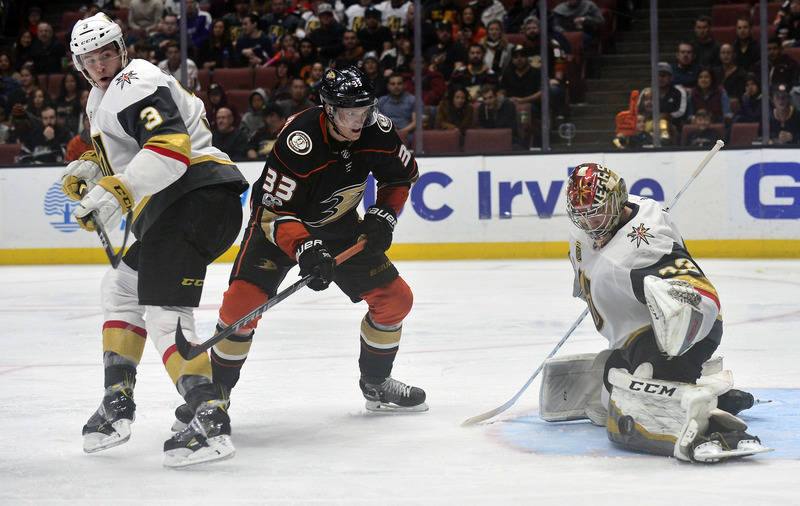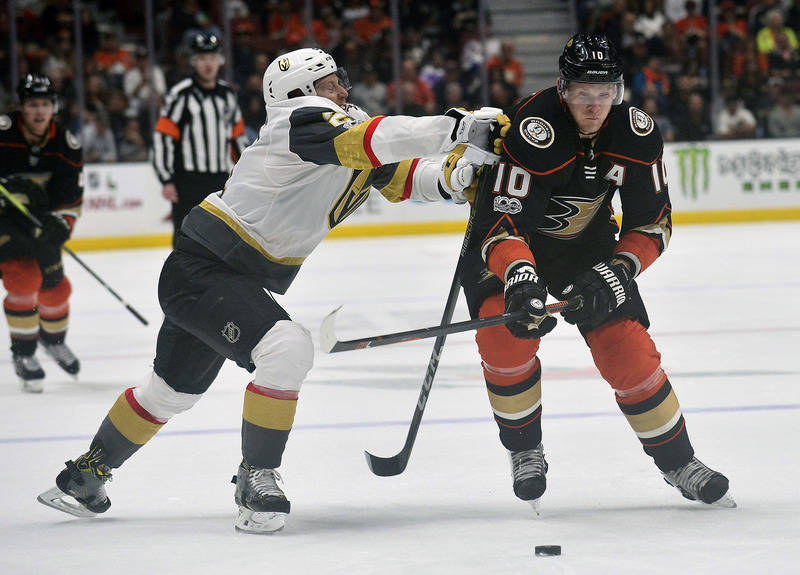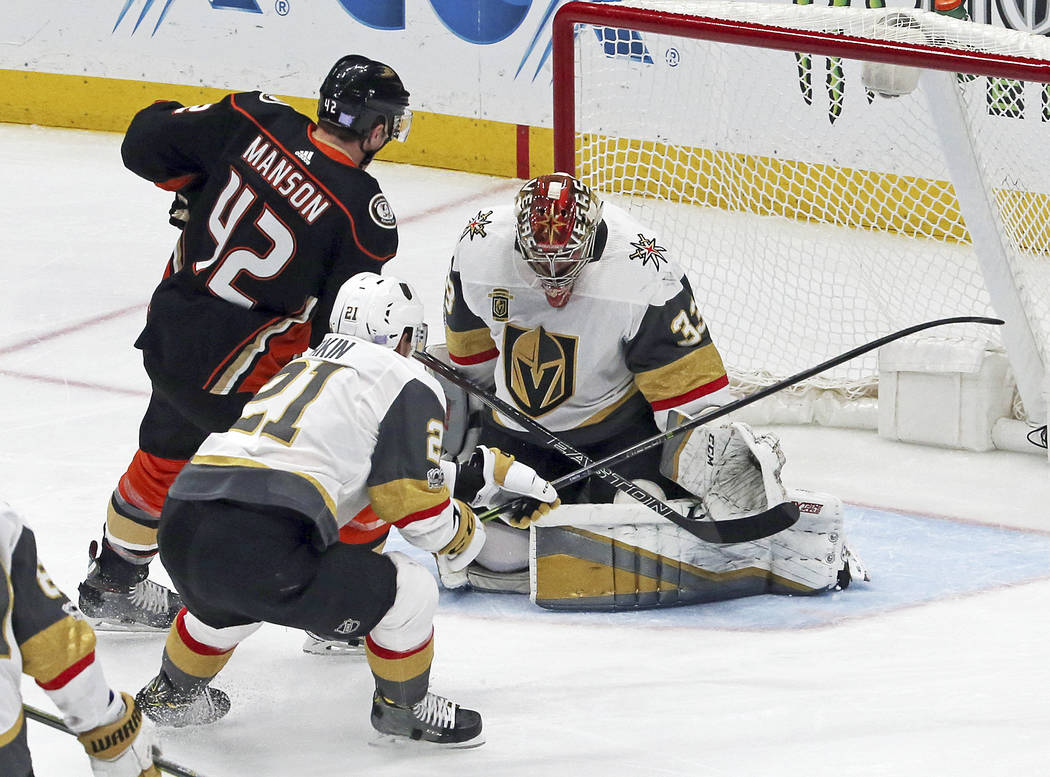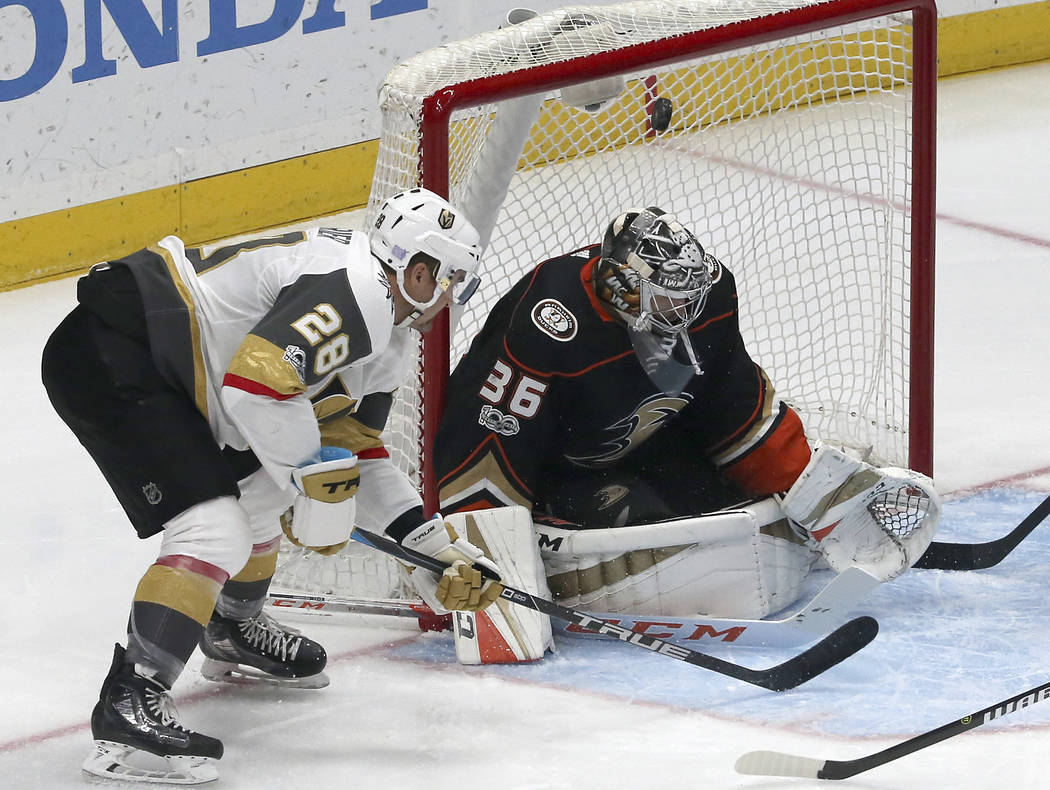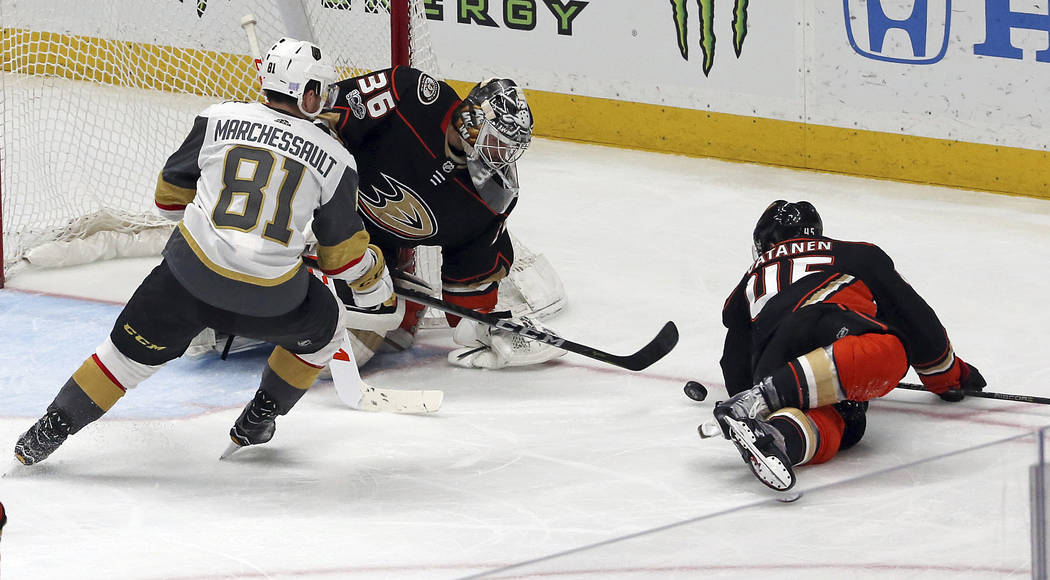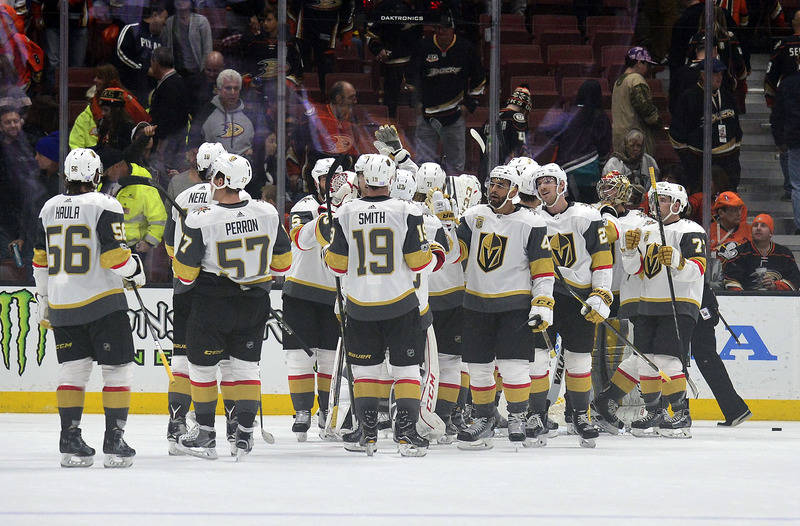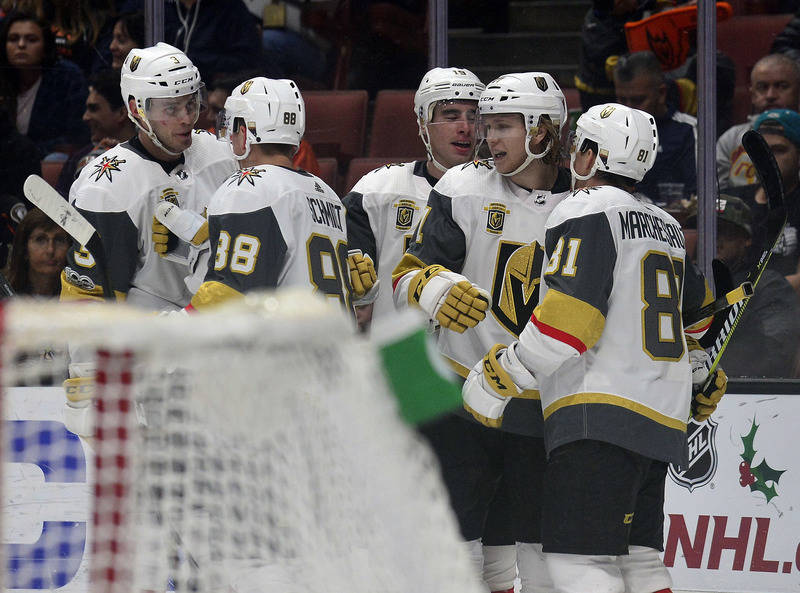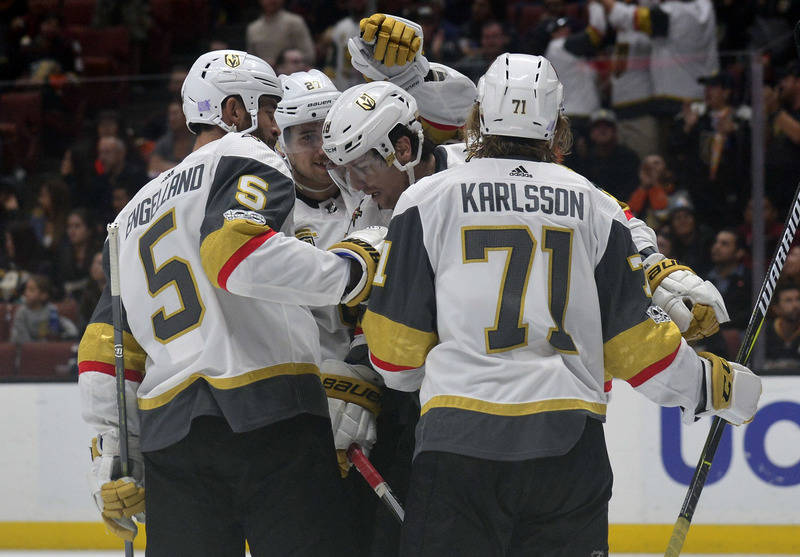 ANAHEIM, Calif. — Yes, it's true. The expansion Golden Knights are in first place.
James Neal's backhander off a rebound broke a third-period 2-2 tie, and the Knights defeated the Anaheim Ducks 4-2 Wednesday night at the Honda Center.
The Knights moved into first place in the Pacific Division after Los Angeles lost to Winnipeg 2-1. The Knights have 27 points to the Kings' 26.
"It's always better when you're winning," said William Karlsson, who scored his career-high 10th goal of the season to put the Knights ahead 4-2 with two minutes to play. "We believe we're a good team."
The Knights took a franchise record 49 shots on goal, rallying from a 2-0 deficit to improve to 13-6-1. But for a while, it looked as if they weren't going to solve John Gibson, who was outstanding in the Anaheim net.
"I think it was a matter of staying patient and putting pressure on (Gibson)," said Reilly Smith, who had an assist on Karlsson's goal. "We've been that kind of resilient team all year. We keep working, and eventually something good happens."
Josh Manson stick-handled through the Knights' defense and beat Maxime Lagace midway through the first period, and Derek Grant's redirect of Hampus Lindholm's wrist shot on the power play made the score 2-0 5:59 into the second period.
The Knights answered with a power-play goal when Jonathan Marchessault one-timed David Perron's cross-ice feed late in the second. The goal was Marchessault's sixth of the season.
Vegas tied the score 2-2 early in the third period on Colin Miller's wrist shot. Neal kept the puck alive and fed Perron, who found Miller open at the blue line.
"We got behind, but our game was there," said Neal, who notched his team-leading 11th goal. "Our mindset was to keep playing the same way and we'll get our chances.
"I thought we deserved to win this game. It's a great road win. This is a tough building to play in."
Knights coach Gerard Gallant said he didn't want his team to deviate from what it was doing just because of a hot goalie.
"I thought we were creating good chances and it was just a matter of time," Gallant said. "We were skating well and moving the puck well. I told them to just keep doing what they were doing."
Lagace was Gibson's equal at the other end. The 24-year-old rookie, starting his 10th consecutive game, stopped 17 of 19 shots and won his third straight.
"The kid's playing great for us," Gallant said. "He's making big stops, and he's playing with more confidence."
Neal said of Lagace: "He's been tremendous. He came up big, and he's done a great job."
The Knights, who will practice at 1 p.m. Thanksgiving Day at City National Arena to prepare for Friday's 3 p.m. game against San Jose at T-Mobile Arena, will enjoy their time in first place.
"Everyone in here believes we have the talent to compete and win every night," Smith said. "We're a resilient group. We never give up, and everyone is contributing."
Karlsson, whose previous career best was nine goals with the Columbus Blue Jackets in 2015-16, said he, Smith and Marchessault are finding the open spaces on the ice.
"We're creating good chances for ourselves," Karlsson said. "Everyone is looking for each other, and we're putting those chances away. It's a lot of fun right now."
Contact Steve Carp at scarp@reviewjournal.com or 702-387-2913. Follow @stevecarprj on Twitter.
Three takeaways
1. The Great Gibson. John Gibson was outstanding in the Anaheim net Wednesday. He saw a lot of rubber — 49 shots in all. But the Knights ultimately solved him.
2. Got your back. When Brendan Leipsic got belted in the corner long after he had given up possession of the puck in the first period, Will Carrier was there to defend his teammate. Carrier dropped the gloves with Anaheim's Mike Liambas, and though he got the worst of it, the fact that he was there for his teammate spoke volumes on how good the chemistry is on the Knights.
3. Will I Am. William Karlsson notched his career-high 10th goal of the season when he first-timed Reilly Smith's pass past Gibson with two minutes to play. But Karlsson could have had more. He is playing at a high level.