Golden Knights coach Gerard Gallant defends Ryan Reaves' rugged play
Updated February 28, 2018 - 6:33 pm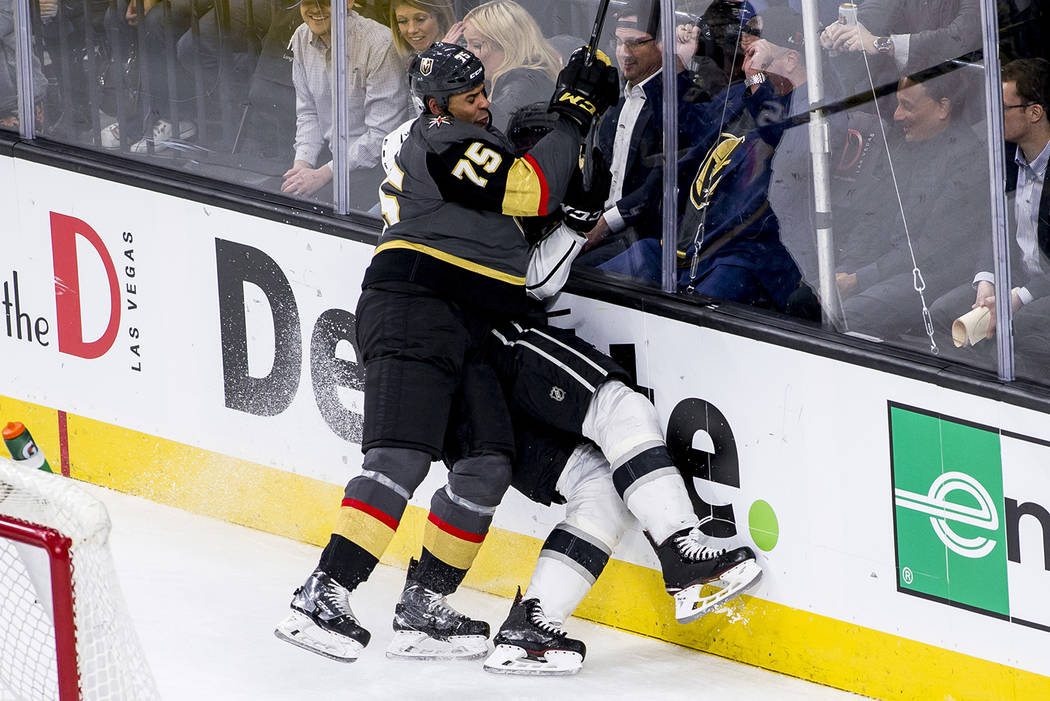 Ryan Reaves doesn't take long to create talking points, that's for sure.
Two games into his career with the Golden Knights, Reaves has become a lightning rod for his rugged style.
And after Reaves took two minor penalties in third period of Tuesday's 4-1 loss to the Los Angeles Kings, Knights coach Gerard Gallant defended the play of the 6-foot-1-inch, 225-pound power forward.
"I don't want him to change his game," Gallant said. "I want him to go up and down. I want him to go to the net, play hard, finish checks, stay out of the penalty box — obviously, that's a big thing.
"He came in and apologized after the game. I said, 'Don't worry about it. It's not your fault. You played hard. You played the way we want you to play.'"
Reaves, 31, was acquired from Pittsburgh on Friday and has almost as many penalty minutes (six) as hits (nine) in his brief time with the Knights.
He was involved in two plays Tuesday against Los Angeles that sparked debate as the Knights finished February with three losses in their last five games, all against Pacific Division foes.
"I play hard, and I think that's what's kind of kept me in this league, is I don't take stupid penalties like that," the eighth-year pro said Tuesday night. "I'm not going to apologize for any one of those penalties. They did cost the game, but that's my style of play. I bring energy, I bring physicality, and that's going to continue every team we play."
The first play involving Reaves occurred with 7:40 remaining in the third period and the Knights trailing, 3-1.
Reaves was penalized for boarding when he wiped out Kings defenseman Derek Forbort behind the net with a hit that appeared to be from behind.
"I don't think that penalty should be called in any decade. That's a clean hit," Reaves contended afterward. "It's not from behind. It's on his shoulder, if not even the chest. Just a loud noise that they're going to call the reaction of the bench. It's hockey."
Reaves was back in the spotlight on his next shift after leaving the penalty box. With a little more than three minutes remaining, Reaves was called for roughing when he gave Kings defenseman Drew Doughty a shot to the back of the head moments after goaltender Jack Campbell denied Reaves from close range.
Gallant vehemently argued the penalty and was assessed a two-minute bench minor for abuse of officials. Jeff Carter of the Kings scored on the subsequent 5-on-3 advantage to put the Knights in a three-goal hole.
"I thought those were panic calls," Reaves said. "Doughty throws his head back like he got shot. It's the shoulder pad that hits (Forbort's) chin. Two bad calls at a critical time of the game.
"They're not going to get those calls in the playoffs, that's for sure."
Reaves was a polarizing figure in Pittsburgh after seven seasons with St. Louis. Many Penguins fans thought his toughness was necessary to keep opposing teams from taking liberties with their star players; others believed that role is obsolete with how the NHL game is now played.
And after Tuesday's flash points, the same questions appear to be following him with the Knights.
"I want us to be a clean team," Gallant said. "We're one of the cleanest teams in the league. I think we're second in the league in penalty minutes. So, we're going to play the same way. But he's a big body that can get to the net and play hard and forecheck. He's not going out there to fight every shift or that stuff. That's not what we want."
More Golden Knights: Follow all of our Golden Knights coverage online at reviewjournal.com/GoldenKnights and @HockeyinVegas on Twitter.
Contact David Schoen at dschoen@reviewjournal.com or 702-387-5203. Follow @DavidSchoenLVRJ on Twitter.
Tatar debuts
In contrast to the polarizing play of newcomer Ryan Reaves, wing Tomas Tatar had a much quieter debut with the Knights after he was acquired at the trade deadline from Detroit.
The 27-year-old Tatar was credited with four shots on goal and three hits in 12:38 of ice time during Tuesday night's 4-1 loss to the Los Angeles Kings.
"He had a couple of opportunities," Knights coach Gerard Gallant said. "He came in for his first game and he had some jump. He was excited and it was too bad the result was bad."
David Schoen Review-Journal