Golden Knights' Colin Miller finds range with booming shot
January 24, 2018 - 7:11 pm
Updated January 24, 2018 - 7:37 pm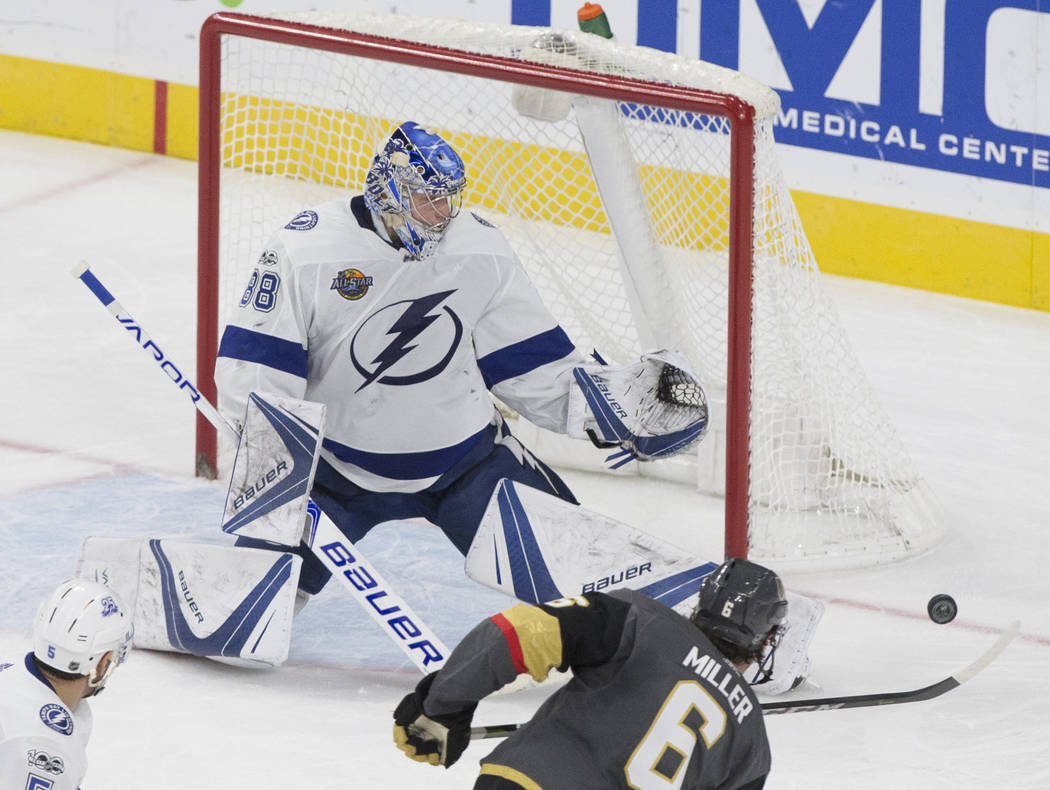 Golden Knights defenseman Colin Miller always suspected he had a powerful shot. The confirmation came three years ago.
On Jan. 25, 2015, Miller recorded the hardest shot during the skills competition at the American Hockey League All-Star game in Utica, New York.
His 105.5 mph blast set an event record that still stands.
"I was kind of surprised at that whole weekend there," said Miller, who also won the fastest skater competition that night. "I never really tested my shot or anything like that or measured it. But it went well, so I was happy I didn't miss the net."
Miller's shot has been on target lately for the Knights, too.
The 25-year-old has goals in two straight games heading into Thursday's 7 p.m. contest against the high-scoring New York Islanders (24-20-5, 53 points) at T-Mobile Arena.
"I was really happy with Colin lately because he's shooting the puck more," Knights coach Gerard Gallant said. "Colin's got a big shot, and that's what we want him to do. Sometimes he looks for that pass a little too often for me, and I sort of joke with him, 'Shoot more pucks.'
"Fortunately he put a couple pucks in the back of the net. But he's played good all year for us."
Miller, a native of Sault Ste. Marie, Ontario, took an unusual path to the NHL. He was undrafted by his major junior team in the Ontario Hockey League and bypassed the first year he was eligible for the NHL draft.
Los Angeles selected Miller in the fifth round in 2012, and after two seasons in the AHL, he was traded to Boston in the summer of 2015 as part of the deal for forward Milan Lucic.
Miller recorded 29 points (nine goals, 20 assists) in 103 games over two seasons with the Bruins before being picked by the Knights in the expansion draft.
"I think this year, the opportunity is the big thing," Miller said. "There's a lot of guys on this team that are getting opportunities that they wouldn't get other places. When you get the opportunity and the coaches feel confident in you and you're confident in yourself, it's really kind of just up to you to perform."
Miller has appeared in all 47 games for the Western Conference-leading Knights (32-11-4, 68 points) and has seen his ice time increase over the past two months. He tops the team's defensemen with seven goals and 25 points.
Miller also is a favorite with those in the hockey analytics community thanks to his team-best 56.7 Corsi For percentage (shots attempted vs. shots allowed) at even strength.
"He's such a special player, and he's got such a bright future," said Brad Hunt, Miller's primary defensive partner. "When he loads that thing up, people are getting out of the way, and (Tuesday) night was proof of that. Right from the point, not really any screen, just ripped it right past (Blue Jackets goaltender Sergei) Bobrovsky."
Miller's one-timer from the top of the slot tied the game 2-2 in the second period, and the Knights went on to a 6-3 victory.
He scored a power-play goal from a similar area Sunday in the 5-1 win at Carolina.
The Knights recently switched to an "umbrella" formation in hopes of jump-starting their struggling power play and taking advantage of Miller's booming shot.
Miller now is stationed in the middle of the ice on the man-advantage rather than above the right faceoff circle, and the Knights have four power-play goals the past two games following a 1-for-32 stretch.
"Before this year, I haven't had much success pointswise in the NHL. But it takes time," Miller said. "At other levels, I seem to have been able to break through. But it's nice, obviously now, to have some success at this level."
Contact David Schoen at dschoen@reviewjournal.com or 702-387-5203. Follow @DavidSchoenLVRJ on Twitter.
Game day
— Who: Islanders vs. Golden Knights
— When: 7 p.m. Thursday
— Where: T-Mobile Arena
— TV: AT&T SportsNet (Cox 313/1313, DirecTV 684, CenturyLink 760/1760, U-verse 757/1757)
— Radio: KRLV (98.9 FM, 1340 AM)
— Line: Knights -200; total 7
Three storylines
1. Maintain focus. This is the final game before the all-star break, and the Golden Knights have an opportunity to tie the NHL record for most victories by a team in its inaugural season.
2. Chemistry class. The Knights played the third period Tuesday with five defensemen after Brayden McNabb was injured. Veteran Jason Garrison was called up from the minors and will have one practice to get up to speed.
3. High-octane offenses. The Islanders and Knights are No. 2 and No. 3 in the league, respectively, in goals scored. But the Knights will do their best to avoid getting into an up-and-down, pond hockey game.
David Schoen Las Vegas Review-Journal