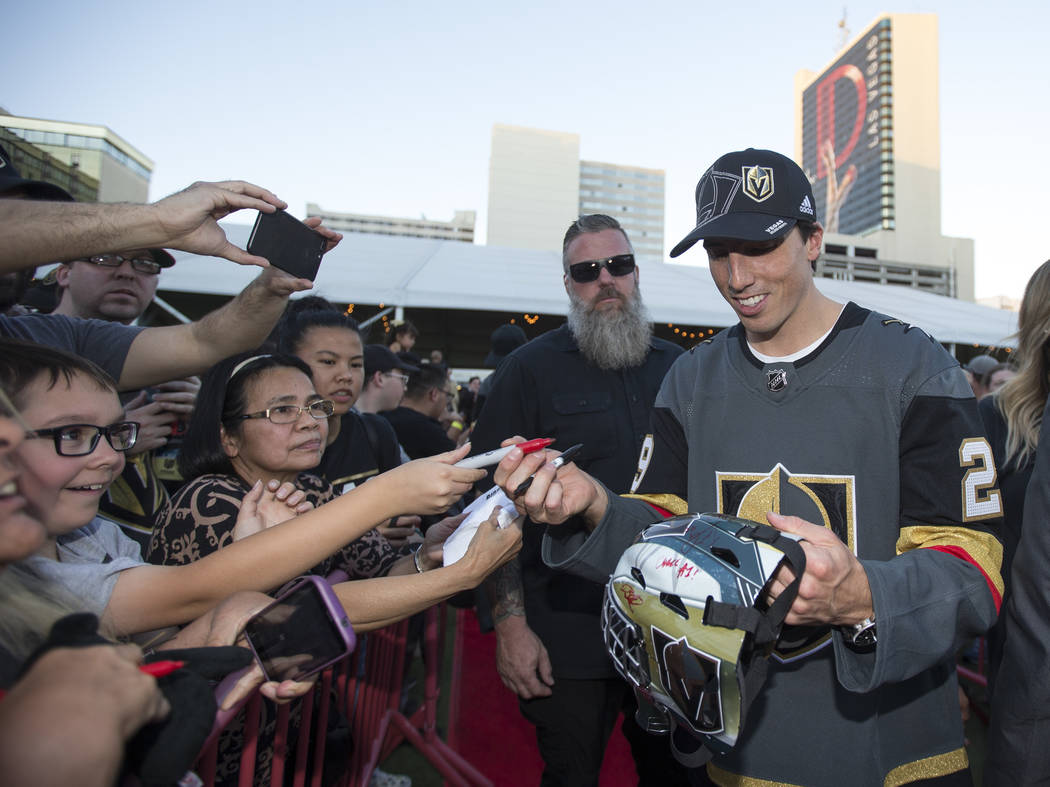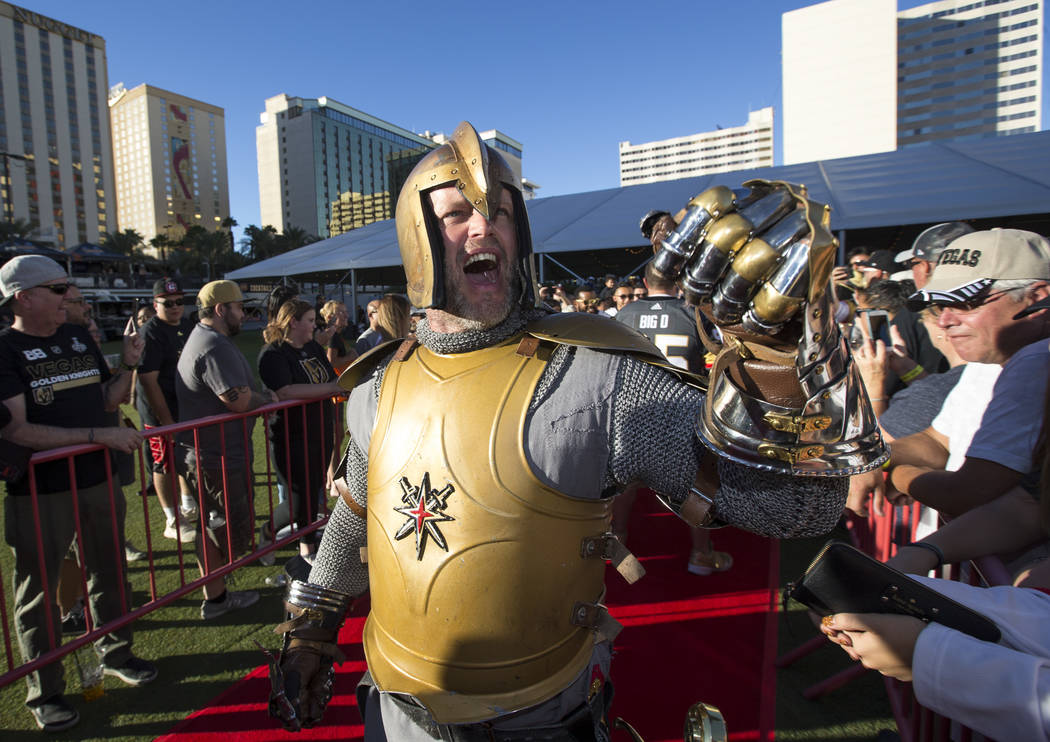 A thunderous bass reverberated throughout downtown Las Vegas, backing the sounds of Guns N' Roses, Metallica and Flo Rida — and drowning out the hundreds and hundreds congregated to greet their beloved hockey team
But when the Golden Knights finally arrived at the Downtown Las Vegas Events Center, the hundreds and hundreds began to cheer and that bass didn't seem as thunderous anymore.
It became rather meek in comparison with the cheers that served as the soundtrack for the franchise's magical inaugural season. And if Wednesday night is any sort of indicator, those cheers could serve as the soundtrack for its second season, too.
The Knights hosted their annual Fan Fest and unveiled their team during an interpersonal three-hour celebration the epicenter of the city. Players arrived at roughly 6 p.m. and walked down a red carpet amid boundless adoration from their faithful.
They mingled, signed autographs and posed in photos for nearly an hour before formal introductions on a stage set up for that very reason. Each player received his fair share of applause and a had a moment or two to bask in its glory.
The local love, they indicated, doesn't ever get old.
"Everywhere you go, you get the support we have here tonight," defenseman and longtime Las Vegas resident Deryk Engelland said. "It's an honor, just to represent the team in this city."
The event featured a live deejay, food trucks, beverage stands and an array of games for the youths. Players were patient as they greeted the fans, and some, like forward Alex Tuch, signed for seemingly every autograph seeker.
The always popular goalie, Marc-Andre Fleury, was one of the last players to walk the red carpet and delivered a sentimental message from the stage during his turn with the microphone.
"We've had so many people around town say they've never watched hockey before, and now they're Golden Knights fans," he said. "It's awesome."
New acquisitions Paul Stastny and Max Pacioretty were among the most popular players, and reigning NHL coach of the year Gerard Gallant was showered with praise before, during and after his introduction.
"The fans are unbelievable," Gallant said. "The first exhibition game a few days ago, when there's 17,000 in the building and the noise they made. It's just incredible. Last year in the playoffs, you knew they we're going to be loud, but even for an exhibition game, I couldn't believe it."
They were plenty loud at Fan Fest, too.
Louder than that bass, anyway.
More Golden Knights: Follow all of our Golden Knights coverage online at reviewjournal.com/GoldenKnights and @HockeyinVegas on Twitter.
Contact reporter Sam Gordon at sgordon@reviewjournal.com. Follow @BySamGordon on Twitter.