Golden Knights' first line terrorizing Sharks in playoff series
SAN JOSE, Calif. — William Karlsson waved his hand in a semicircular motion in an attempt to depict the path of linemate Reilly Smith.
Except the Golden Knights center looked more like he was shooing away an invisible insect.
"I think he skated somewhere like that, if you know what I mean," Karlsson said with a self-deprecating laugh. "I think I saw him, and I just knew he was there."
Karlsson can't quite explain the chemistry that exists between himself and Smith and wing Jonathan Marchessault.
But his no-look pass to set up Smith's goal in the second period of Game 3 on Monday was the latest example of the telepathy that exists between the Knights' No. 1 line.
"We just seem to be clicking right now," Karlsson said Tuesday. "I don't know why but we seem to have fun out there. And when you have fun, usually that's usually when you play good."
Karlsson, Smith and Marchessault have terrorized San Jose in the first three games of the Western Conference semifinals, combining for 19 points to help the Knights take a 2-1 lead in the best-of-seven series.
Game 4 is at 7 p.m. Wednesday at SAP Center.
"Skill players make those plays," Knights coach Gerard Gallant said. "And when you've got guys that have played together all season together — like I talk about that line all the time — they're talented and they've got good chemistry and things work out like that."
San Jose has used its top defensive pair of Marc-Edouard Vlasic and Justin Braun as often as possible against Karlsson, who scored four goals in four regular-season games against the Sharks.
But the Knights' top line has owned the matchup and had a hand in nine of the Knights' 14 goals in the series.
Karlsson has three goals and four assists, including the overtime winner in Game 3. Smith (one goal, five assists) and Marchessault (two goals, four assists) each have six points in the series.
Smith (1-7-8) and Karlsson (3-4-7) are the second teammates in NHL history to each post a point streak of at least five games in their team's first Stanley Cup playoffs appearance.
Gallant brought up Boston's much-hyped top line of Patrice Bergeron, Brad Marchand and David Pastrnak when asked why his team's No. 1 line is having so much postseason success.
"When your lines are going, it's clicking and working out," Gallant said. "Everybody has top shutdown defensemen and everybody has top lines and you do the best you can."
He later added: "I guess you could probably look at our team and say, well, we've got that Karlsson line that's loaded up pretty good."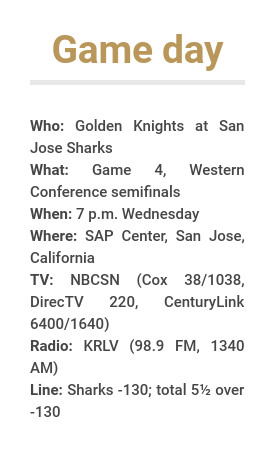 San Jose coach Peter DeBoer said Tuesday the best way to slow down the Karlsson line is to stay out of the penalty box. The Knights went 2-for-6 on the power play in Game 3 and 3-for-10 in the series opener, with the No. 1 unit featuring Karlsson, Smith and Marchessault on the ice for three of those goals.
However, the Sharks also are struggling to contain the Knights' top line during 5-on-5 play.
Karlsson, Smith and Marchessault accounted for six goals at 5-on-5 and have been on the ice for one Sharks goal at even strength (Brent Burns' second goal in Game 2).
"You feed those good players a little extra time and let them feel the puck a bit, they find their game even more," San Jose captain Joe Pavelski said. "If we can just play that team 5-on-5, you can take away some of that speed and some of their opportunities."
Contact David Schoen at dschoen@reviewjournal.com or 702-387-5203. Follow @DavidSchoenLVRJ on Twitter.
Three storylines
1. Carryover effect. The Golden Knights regained the momentum — not to mention home-ice advantage — in the series with Monday's overtime victory. Now they have the chance to put San Jose in a 3-1 hole with Game 5 at T-Mobile Arena.
2. Ride Fleury. Marc-Andre Fleury leads all qualifying goaltenders in playoff wins (six) and goals-against average (1.23). San Jose is expected to play desperate, and the Knights need another strong performance from the 33-year-old.
3. Tough decisions. Sharks defenseman Paul Martin, 37, has struggled in his limited ice time during the series, and San Jose coach Peter DeBoer could opt to insert Joakim Ryan in his place. DeBoer had to stack his top forward line with Joe Pavelski, Evander Kane and Logan Couture late in Game 3. The Hail Mary move nearly produced the overtime winner.
David Schoen Review-Journal