Golden Knights look for fast start in Game 2 at Jets
Updated May 13, 2018 - 5:43 pm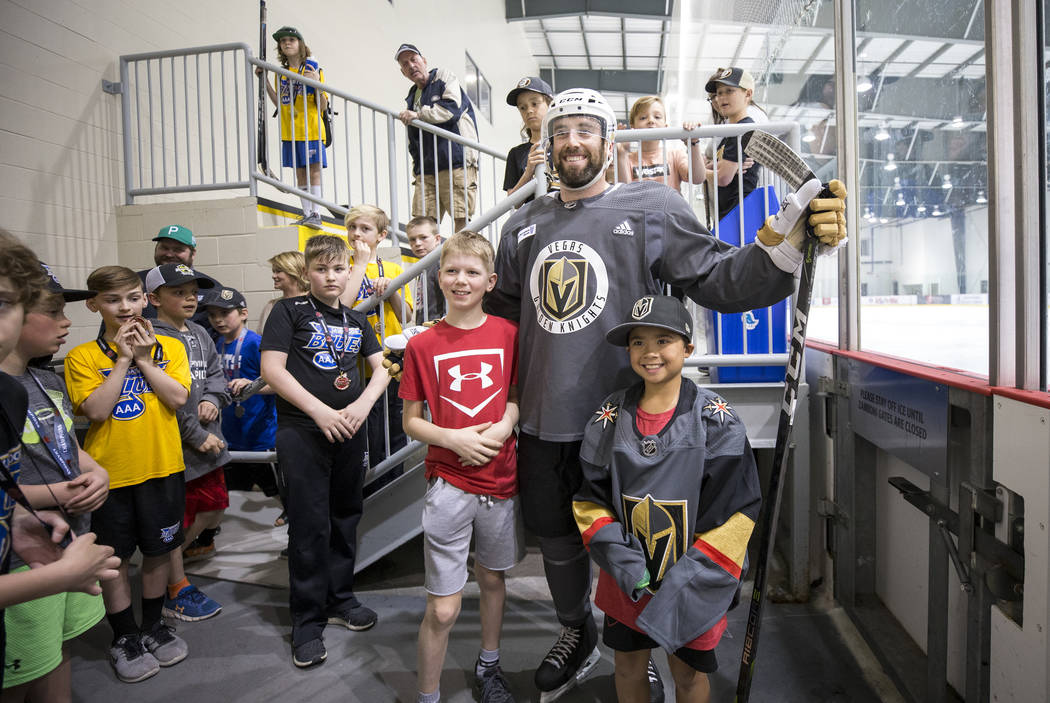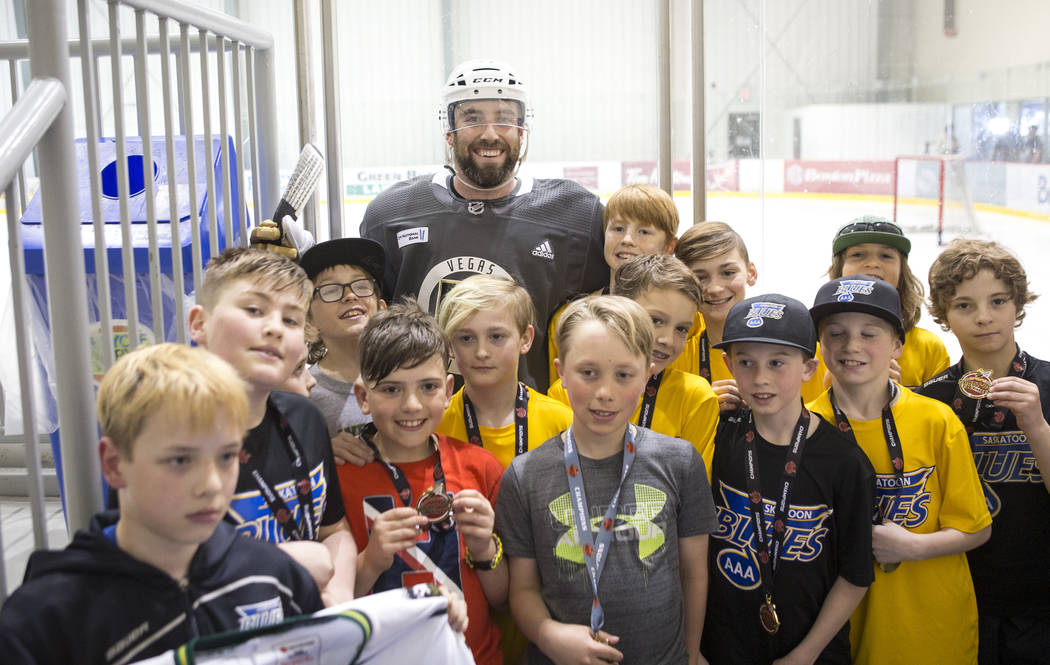 WINNIPEG, Manitoba — For the Golden Knights, the objective of getting a split on the road in the opening two games of the Western Conference Final at Bell MTS Place remains in play.
Panic? Not yet. Disappointed? Absolutely. Disillusioned? Hardly.
"I think we know where we stand," goaltender Marc-Andre Fleury said Sunday as the Knights go into Game 2 at 5 p.m. Monday trailing the Winnipeg Jets 1-0 in the best-of-seven series after falling 4-2 in Game 1 Saturday. "We know what happened. I'm sure we'll respond. I'm not too worried about it."
The Knights can change the narrative of this series quickly with a win. But they also know they have to clean up a few things to get the desired result.
They said they need to stay out of the penalty box after the Jets went 2-for-4 on the power play in Game 1. They also collectively talked about starting quicker and not chasing the game after the Jets scored 1:05 into the contest and built a 3-0 lead after just 7:35 had elapsed.
"You never win a game in the first 10 minutes," defenseman Nate Schmidt said. "But you certainly can put yourself in a big enough hole and make it tough to come back. We made a push in the second and third periods, but against that team, that crowd in that building, it was tough to come back from three goals."
Coach Gerard Gallant said he expects his team to bounce back Monday. They've done it before.
"Nobody's happy with the way things went (in Game 1), but you move on," Gallant said. "We have to pick up our work ethic a little bit and we will be fine. Our systems are fine, the way they played is fine; we just didn't compete hard enough.
"I'm disappointed in losing, but again, our guys will be ready to play. You can't play your best game every night. We had a tough game (Saturday) and we didn't play our best, but our guys will be ready to play (Monday)."
Schmidt and Reilly Smith said the plan is to get pucks deep into the Winnipeg end, win the footraces and make the Jets defend the entire ice, not just the neutral zone, where they stymied the Knights in Game 1.
"You don't want to feed the wolf," Schmidt said. "You've got to make the game tougher on their D."
Smith said: "When we were having success we were getting the puck in deep against them, turning their D and making them chase the puck. We were also doing a good job keeping possession when we got it. But that's the key, getting possession and getting more shots on goal."
The Knights managed just 21 in Game 1. Gallant said all four lines need to put more pressure on Jets goaltender Connor Hellebuyck.
"Everyone has to play better, all 20 guys," he said.
The Jets? They want to keep rolling the way they did in Game 1.
"We've been trying to focus a lot on our starts and trying to come out hard and establishing ourselves in the first period," Jets forward Bryan Little said Sunday. "That's what stuck out for me. We had another big first period."
Little said he doesn't expect the Knights to roll over.
"They're quick and they get on the puck," he said of the Knights. "They've got some guys that can score goals and have had really big seasons for them and big playoffs for them. They're kind of similar (to Nashville). Dangerous guys and a lot of speed, a bit more physical than I thought. That's another part of the game we're going to have to get used to."
Is Monday a must-win for the Knights? Jonathan Marchessault said yes. Fleury's not so sure.
"I don't think so, unless you're playing that last game not to get eliminated," Fleury said. "It's one game, right? Nobody is panicking. You try to learn from it, but every night and every game is a must-win. It doesn't matter if it's (Games) 1 or 2."
Contact Steve Carp at scarp@reviewjournal.com or 702-387-2913. Follow @stevecarprj on Twitter.
Game day
Who: Golden Knights at Winnipeg Jets
What: Game 2, Western Conference Final
When: 5 p.m. Monday
Where: Bell MTS Place, Winnipeg, Manitoba
TV: NBCSN (Cox 38/1038, DirecTV 220, CenturyLink 640/1640, DISH 159)
Radio: KRLV (98.9 FM, 1340 AM)
Line: Jets -135; total 6 over -120
Three storylines
1. Can Jets maintain status quo? Winnipeg played about as well as it could in taking care of business in Game 1. Can the Jets handle whatever the Knights intend to throw at them in Game 2, particularly getting more pucks and traffic at goaltender Connor Hellebuyck?
2. Second line improvement. Erik Haula's line struggled in Game 1. Not only were he, James Neal and David Perron kept off the scoresheet, they failed to register a single shot on goal and were just 1 for 6 on faceoffs. Can their raise their level of play in Game 2?
3. Stay out of the box. To a man, every Knights player interviewed after Game 1 said the team must avoid taking penalties after being whistled for six and surrendering two power-play goals. Coach Gerard Gallant said before the series that any number of penalties beyond three or four would be unacceptable and he was right.