Golden Knights look to bring back all of their restricted free agents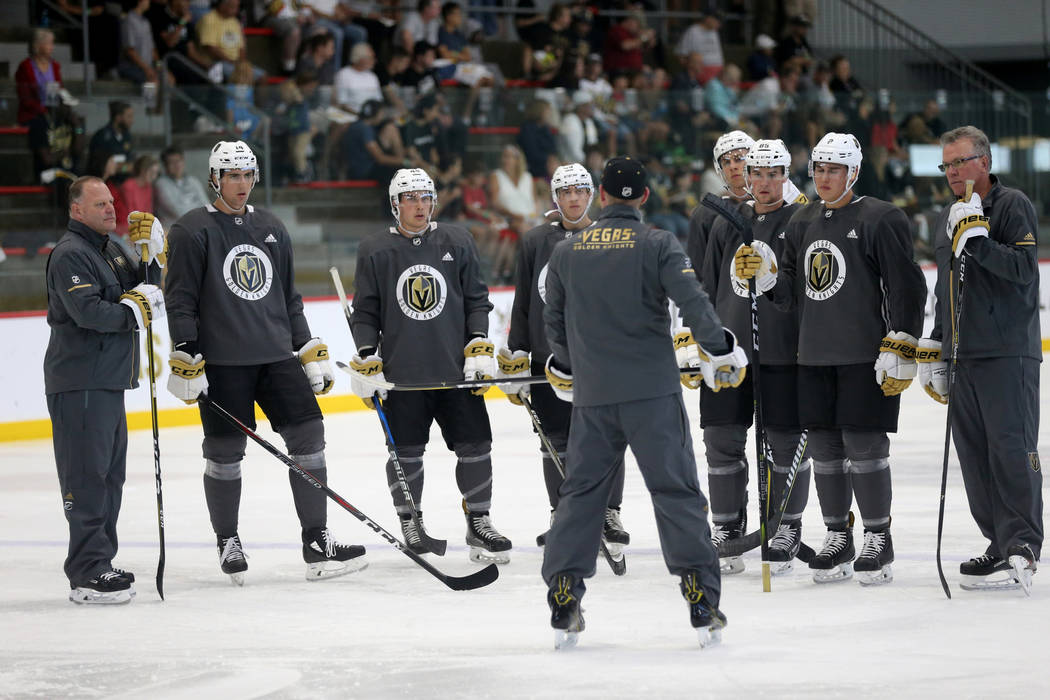 It's a bit like doing a sudoku, but the completed Japanese number puzzle shows the Golden Knights offered qualifying offers to all eight of their restricted free agents.
The agents for forward William Carrier, defenseman Colin Miller and forward Tomas Nosek confirmed Tuesday to the Review-Journal their clients received offers from the team.
Shea Theodore presumably was made a qualifying offer, too. Failing to do so would allow the promising 22-year-old defenseman to become an unrestricted free agent and walk for free, and that's not happening.
Theodore's agent, Craig Oster, did not return voicemail and text messages seeking confirmation of the offer.
Miller and Nosek are arbitration eligible, along with forward William Karlsson, whose agent said Monday the Knights made a qualifying offer to the 43-goal scorer.
Goaltender Oscar Dansk also received a qualifying offer from the team, and Hockey Buzz reported that minor leaguers Philip Holm and Teemu Pulkkinen also were made offers.
The offers to Carrier and Nosek are noteworthy in that the Knights chose to bring back two players from the fourth line.
Nosek scored two goals in Game 1 of the Stanley Cup Final, including the winner midway through the third period. He had three goals in the series after producing seven goals and 15 points in 67 regular-season games.
Carrier was second on the team in hits per game (3.1) but struggled to stay healthy. He appeared in 37 of 82 games.
Restricted free agents have until July 15 to sign a qualifying offer.
Getting reacquainted
Cody Glass, the No. 6 overall pick in last year's draft, was one of the featured players on the first day of development camp at City National Arena.
But Keegan Kolesar made sure the 19-year-old prospect didn't get too full of himself. When Glass stepped onto the ice prior to the start of practice, Kolesar gave him a sarcastic stick tap.
"I remind him he's the high draft pick all the time," Kolesar said with his tongue firmly planted in his cheek before turning serious. "He's the face of this place and he's going to have a long, good future ahead of him, and I want him to soak it in."
Glass and Kolesar were part of the "Black Aces" during the playoffs and were paired in a handful of drills. Glass said the 21-year-old, who split time between Chicago (AHL) and Quad City (ECHL) last season, has been a mentor.
"Coming in for my second year, not a lot of pressure," Glass said. "I know what to expect now, and it's a lot of fun being here."
Fellow 2017 first-round pick Erik Brannstrom stood out with his accurate shot. And Nick Suzuki, the No. 13 overall pick last summer, showed his improved strength.
"Having this experience from last year, more confidence with everything to do with the camp, I just felt really comfortable stepping on the ice today, and that's coming a long way from my first practice here last year," Suzuki said.
Mic check
The Knights added a new twist to the fan experience at development camp, as assistant coach Ryan Craig wore a microphone during the two practices on the Summerlin Hospital rink.
Craig's voice was projected through the speakers at City National Arena, and he could be heard explaining drills and shouting encouragement to players.
Team spokesperson Eric Tosi said one assistant coach will wear a microphone during practice, with Mike Kelly doing the honors Wednesday and Ryan McGill on Thursday.
"We're always looking for innovative ways to connect with our fans," Tosi said. "To see how an NHL coach interacts with players during practice, I think that would be fascinating for any fan, that enhancement of the fan experience and bringing them closer the coaching staff and the players."
O'Ree's impact
Willie O'Ree, the first black player to play in the NHL, was elected to the Hall of Fame on Tuesday and Kolesar noted the significance.
Kolesar recalled doing a social studies report on O'Ree when he was in middle school in Manitoba.
"I was a young black hockey player coming in and I want to know as much about him as I could. I wanted something to inspire me to keep playing and go the distance," Kolesar said. "I'm very happy for him, and I'm sure a lot of African-American hockey players can say the same."
More Golden Knights: Follow all of our Golden Knights coverage online at reviewjournal.com/GoldenKnights and @HockeyinVegas on Twitter.
Contact David Schoen at dschoen@reviewjournal.com or 702-387-5203. Follow @DavidSchoenLVRJ on Twitter.