Golden Knights make first-ever player transaction
Updated March 6, 2017 - 4:50 pm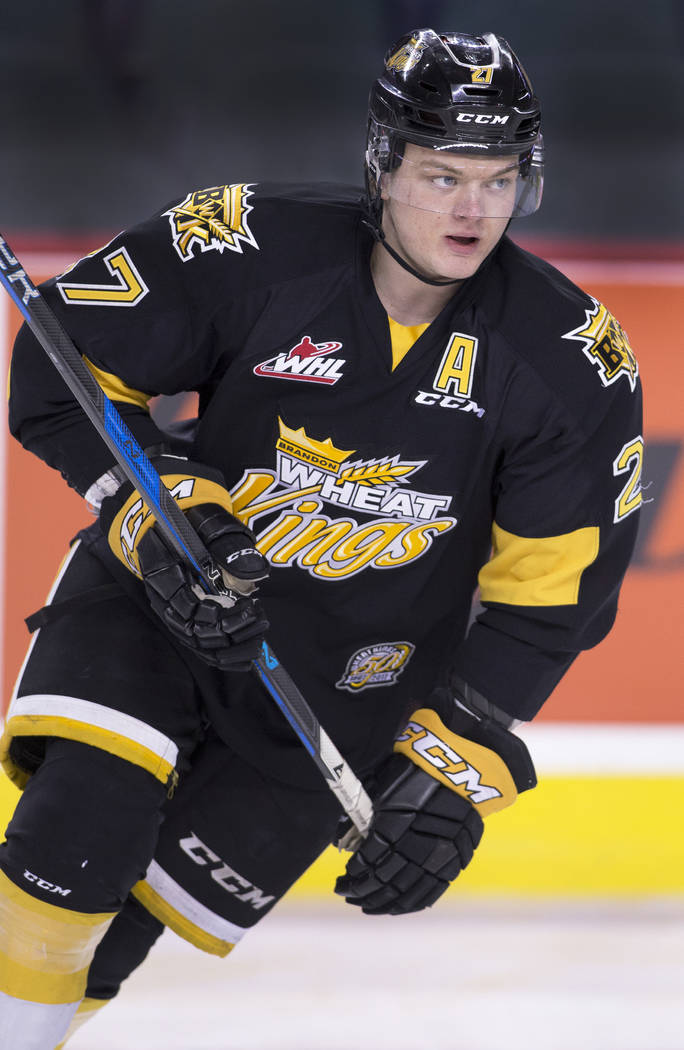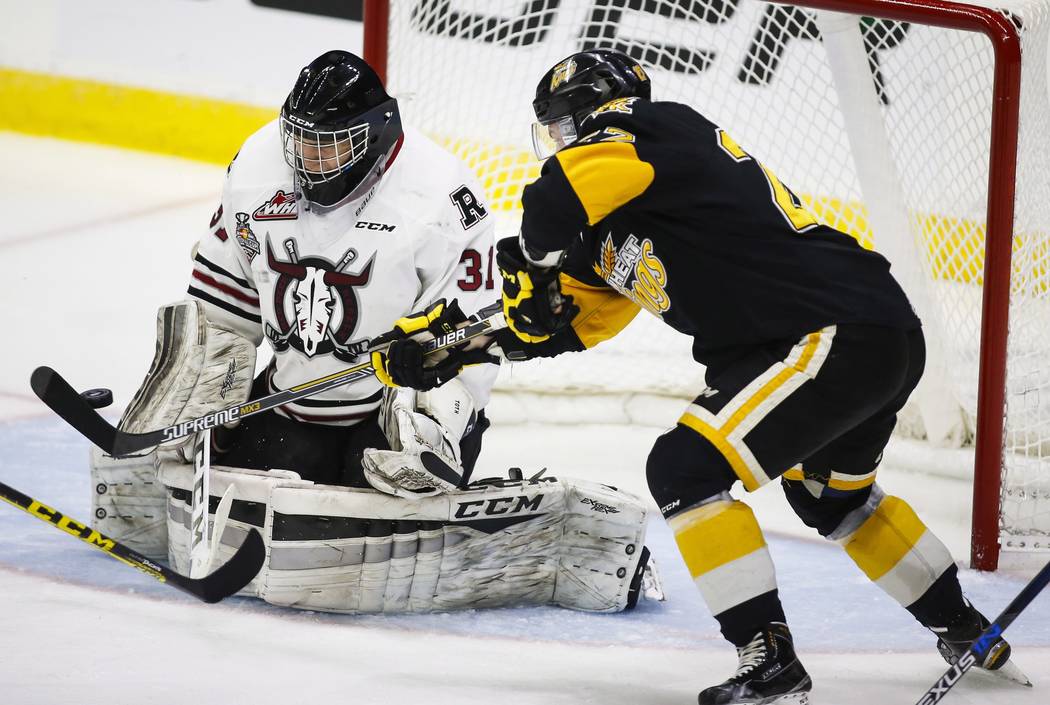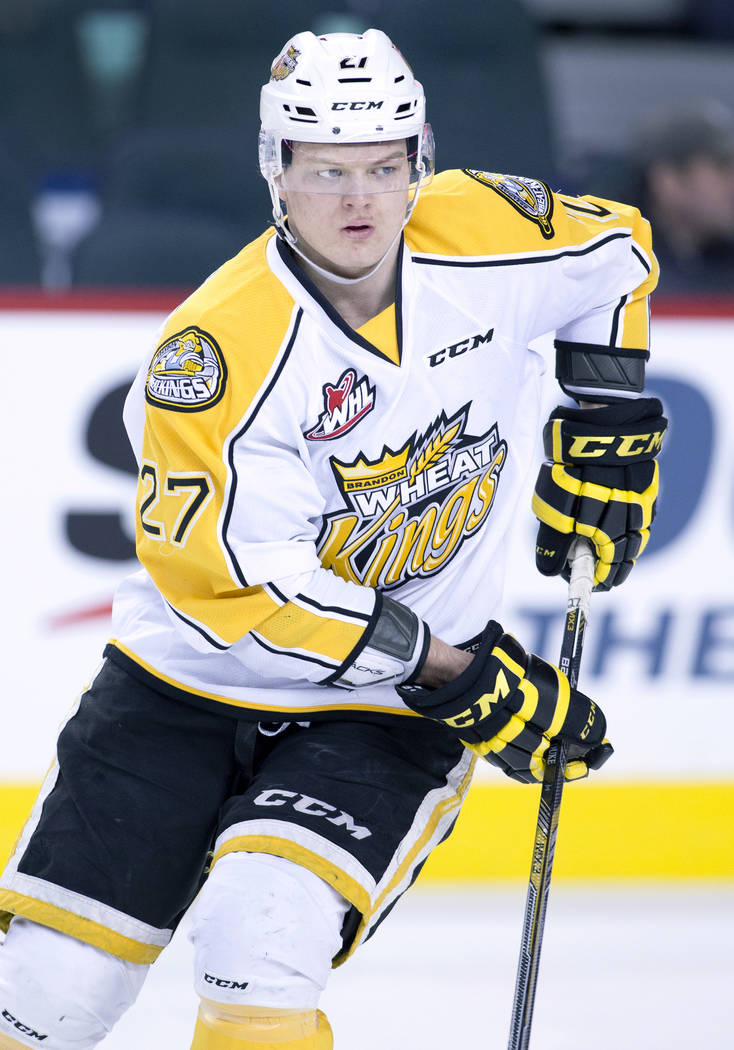 Reid Duke said he's ready to be the answer to a trivia question. He also said he's ready to one day play in the NHL.
The Golden Knights made history Monday with their first-ever player transaction when they signed Duke, a junior free agent center, to a three-year entry level contract. The deal was discussed last week and finalized Sunday.
Duke, a 6-foot, 190-pound, right-handed shot from Calgary who is the leading scorer for the Western Hockey League's Brandon Wheat Kings, will finish his season with his junior team, then report to the Knights for their inaugural development camp in July at the Las Vegas Ice Center.
"I'm excited to be part of something new," Duke said Monday from Manitoba. "There's a lot of buzz around the city having the NHL and I feel blessed to be the first player signed. There's a lot of firsts for everything and this one is pretty exciting."
"There's going to be an opportunity there to make the team and I don't expect them to hand me anything. I'm going to work hard and try and make a positive impression."
Knights general manager George McPhee said the team liked the way Duke competed and that his size and strength translates well at the NHL level.
"I saw him two weeks ago in person," McPhee said from Boca Raton, Florida, where he is attending the NHL general manager meetings. "(Scout) Wil Nichol saw him in the fall in Traverse City (Michigan) at a tournament and has followed him all year.
"He can skate. He thinks the game well. He has strength which translates well at the next level and he faced adversity by being drafted in the sixth round and it took it head on. He's a scrappy player and he embodies what we want in our players — he's talented, he's a man of character and he never gives up."
Duke, 21, was drafted by the Minnesota Wild in the sixth round of the 2014 NHL draft. However, he never signed with the Wild within two years of being drafted and Duke became a free agent, making him eligible to sign with any of the NHL's 31 teams.
The Knights had an advantage as assistant general manager Kelly McCrimmon coached Duke in his first two seasons in Brandon. McCrimmon also is the owner of the Wheat Kings.
"He has a good combination of attributes," McCrimmon said of Reid. "He has a high skill level and the size and strength to play in the NHL and he's a good two-way player. But we also recognize he's going to need time to develop."
Duke has 35 goals and 32 assists this season along with 69 penalty minutes. He has tried to pick up the slack during captain Nolan Patrick's absence after Patrick missed a couple of months with an upper body injury. Patrick is projected as the No. 1 player to be selected in June's NHL Entry Draft.
"I knew it was a great opportunity in Vegas," Duke said. "But having Kelly there makes a huge difference. He's done so much for my career and helping me shape my game for the pros."
Originally a first-round draft pick of the Lethbridge (Alberta) Hurricanes in 2011, Duke returned to juniors after he was drafted by Minnesota in 2014 and was traded to Brandon a few months later. In his first season in Brandon, Duke had 20 goals and 31 assists. Last season, he scored 33 goals and had 29 assists.
"I think I've become a more versatile player," Duke said. "I'm a better two-way player who is responsible in the defensive end. I also think I understand the game better as I've gotten older. I see things on the ice now that I didn't know existed three or four years ago. Everything comes with age as well."
Follow all of our Golden Knights coverage at reviewjournal.com/GoldenKnights and @HockeyInVegas on Twitter.
Contact Steve Carp at scarp@reviewjournal.com or 702-387-2913. Follow @stevecarprj on Twitter.
THE DUKE FILE
A look at Reid Duke, the first-ever player signed by the Vegas Golden Knights on Monday:
Age: 21
Hometown: Calgary, Alberta
Current Team: Brandon Wheat Kings (WHL)
Position: Center/right wing
2016-17 Statistics: 54 games, 35 goals, 32 assists, 67 points, 71 penalty minutes
Status: Junior free agent. Previously drafted in 2014 by Minnesota in sixth round. Did not sign.
Internal Competition: Played for Team Pacific in 2012 World Youth Challenge; Represented Canada in 2012 Winter Youth Olympics.
Family: Mother Paula, Father Gerry, brother Kelly 23, Tel 16.