Golden Knights' Neal, Fleury named to NHL All-Star Game
January 10, 2018 - 1:21 pm
Updated January 10, 2018 - 5:43 pm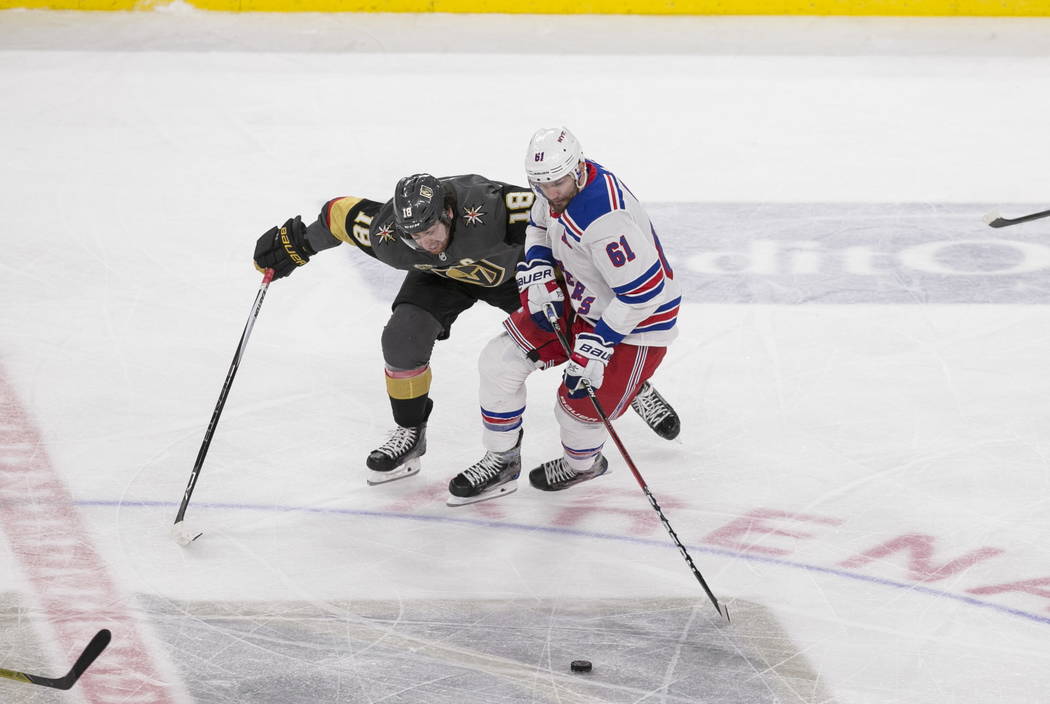 In the end, the NHL must have thought that experience counted when it came to being selected to play in its All-Star Game.
The Golden Knights will be represented by veterans James Neal and Marc-Andre Fleury in the 62nd All-Star game later this month. Neal, a forward, and Fleury, a goaltender, were named Wednesday to the 11-man Pacific Division team, which will be led by Knights coach Gerard Gallant.
Despite their outstanding seasons in the first half, William Karlsson, Jonathan Marchessault and David Perron were not selected. Karlsson leads the Knights with 22 goals, Marchessault leads the team with 40 points and Perron has a team-high 25 assists. None of the trio has ever been an NHL All-Star.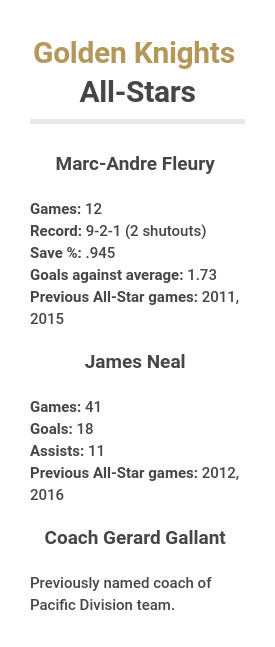 The game will be played Jan. 28 in Tampa, Florida. The skills competition is Jan. 27. The four division team captains were voted by the fans while the 40 players were selected by the NHL's hockey operations staff.
Neal and Fleury will be making their third All-Star appearances. Fleury was chosen despite having missed 25 games with a concussion. Gallant will be coaching in the game for the second time after coaching the Atlantic All-Stars in 2016 while the coach of the Florida Panthers.
Neither Neal nor Fleury were made available to the media Wednesday as the Knights are in the midst of their bye week. However, the team released quotes from both players on their being selected.
"I didn't expect this because I haven't played too many games this year," said Fleury. "I'm excited because it's always a nice honor to be a part of. I just feel like there's so many great players around the league and they only pick a few.
"There could have been a lot of guys from this team that got to go. We've got so many guys stepping up throughout the season. Marchy (Jonathan Marchessault) has 40 points right now. That's awesome. William Karlsson has scored so many important goals for our team. (Malcolm) Subban has been playing great in net, too.
"I wish the other guys could do this too and be a part of it. Too bad there's only a few of us going. We get to go because of all of the work that they've done this season."
Neal said: "It's very exciting to be named to the All-Star team. I'm looking forward to representing our team in Tampa and share the All-Star experience with Marc-Andre and Coach Gallant. Having three representatives from the Golden Knights is a great honor. There are a bunch of guys on our team who are having All-Star caliber seasons."
The Knights lead the Pacific Division, but the second-place Los Angeles Kings had the most players picked for the Pacific lineup with three — goaltender Jonathan Quick, defenseman Drew Doughty and center Anze Kopitar.
More Golden Knights: Follow all of our Golden Knights coverage online at reviewjournal.com/GoldenKnights and @HockeyinVegas on Twitter.
Contact Steve Carp at scarp@reviewjournal.com or 702-387-2913. Follow @stevecarprj on Twitter.
62nd NHL All-Star Game
When: Jan. 27-28
Where: Tampa, Florida
Format: 3-on-3 tournament, 20-minute periods, division vs. division; winners play for championship
Roster: 11 players (two goaltenders, three defensemen, six forwards). Each team must have at least one representative
Selection: Made by the NHL's hockey operations department. Rosters to be announced Friday
TV: NBCSN (Jan. 27), NBC (Jan. 28)
NHL All-Star Game rosters
(x-Fan-elected captain)
Atlantic Division
F Aleksander Barkov, Florida (First All-Star appearance)
F Jack Eichel, Buffalo (First)
F Nikita Kucherov, Tampa Bay (Second)
F Brad Marchand, Boston (Second)
F Auston Matthews, Toronto (Second)
F x-Steven Stamkos, Tampa Bay (Fifth)
D Mike Green, Detroit (Second)
D Victor Hedman, Tampa Bay (Second)
D Erik Karlsson, Ottawa (Fifth)
G Carey Price, Montreal (Sixth)
G Andrei Vasilevskiy, Tampa Bay (First)
Coach: Jon Cooper, Tampa Bay (First)
Metropolitan Division
F Josh Bailey, N.Y. Islanders (First)
F Sidney Crosby, Pittsburgh (Third)
F Claude Giroux, Philadelphia (Fifth)
F Taylor Hall, New Jersey (Third)
F x-Alex Ovechkin, Washington (Seventh)
F John Tavares, N.Y. Islanders (Fifth)
D Noah Hanifin, Carolina (First)
D Seth Jones, Columbus (Second)
D Kris Letang, Pittsburgh (Fourth)
G Braden Holtby, Washington (Third)
G Henrik Lundqvist, N.Y. Rangers (Fourth)
Coach: Barry Trotz, Washington (Third)
Central Division
F Patrick Kane, Chicago (Seventh)
F Nathan MacKinnon, Colorado (Second)
F Brayden Schenn, St. Louis (First)
F Tyler Seguin, Dallas (Fifth)
F Eric Staal, Minnesota (Fifth)
F Blake Wheeler, Winnipeg (First)
D John Klingberg, Dallas (First)
D Alex Pietrangelo, St. Louis (First)
D x-P.K. Subban, Nashville (Third)
G Connor Hellebuyck, Winnipeg (First)
G Pekka Rinne, Nashville (Second)
Coach: Peter Laviolette, Nashville (Third)
Pacific Division
F Brock Boeser, Vancouver (First)
F Johnny Gaudreau, Calgary (Fourth)
F Anze Kopitar, Los Angeles (Fourth)
F x-Connor McDavid, Edmonton (Second)
F James Neal, Vegas (Third)
F Rickard Rakell, Anaheim (First)
D Brent Burns, San Jose (Fifth)
D Drew Doughty, Los Angeles (Fourth)
D Oliver Ekman-Larsson, Arizona (Second)
G Marc-Andre Fleury, Vegas (Third)
G Jonathan Quick, Los Angeles (Third)
Coach: Gerard Gallant, Vegas (Second)