Golden Knights thank fans with event at Fremont Street Experience
Updated June 13, 2018 - 9:56 pm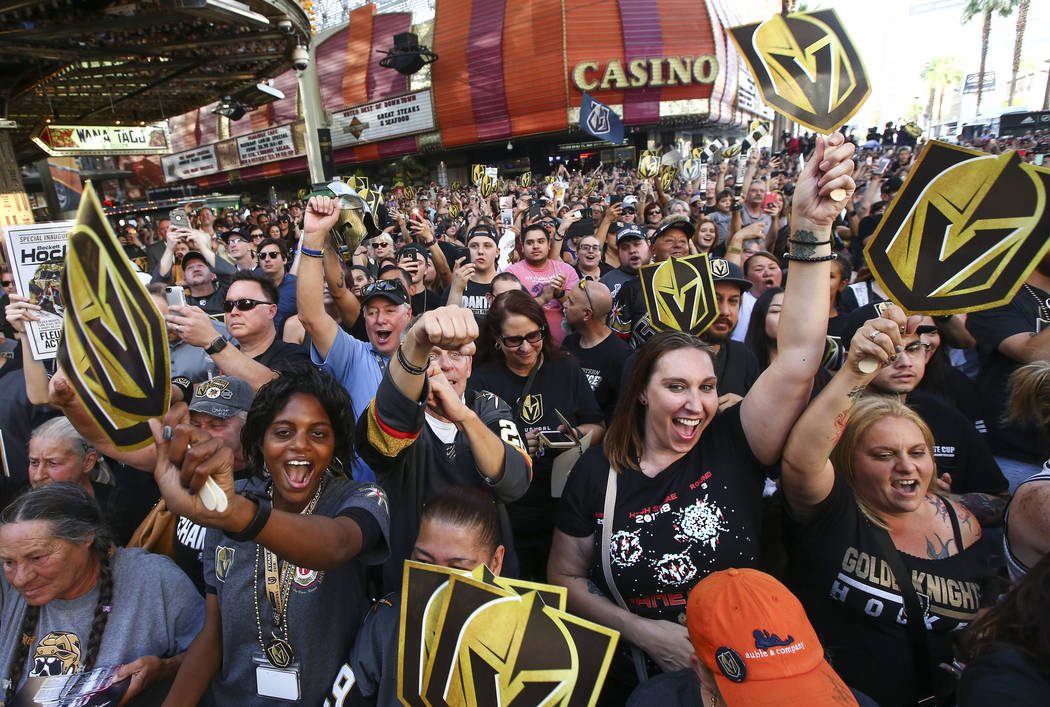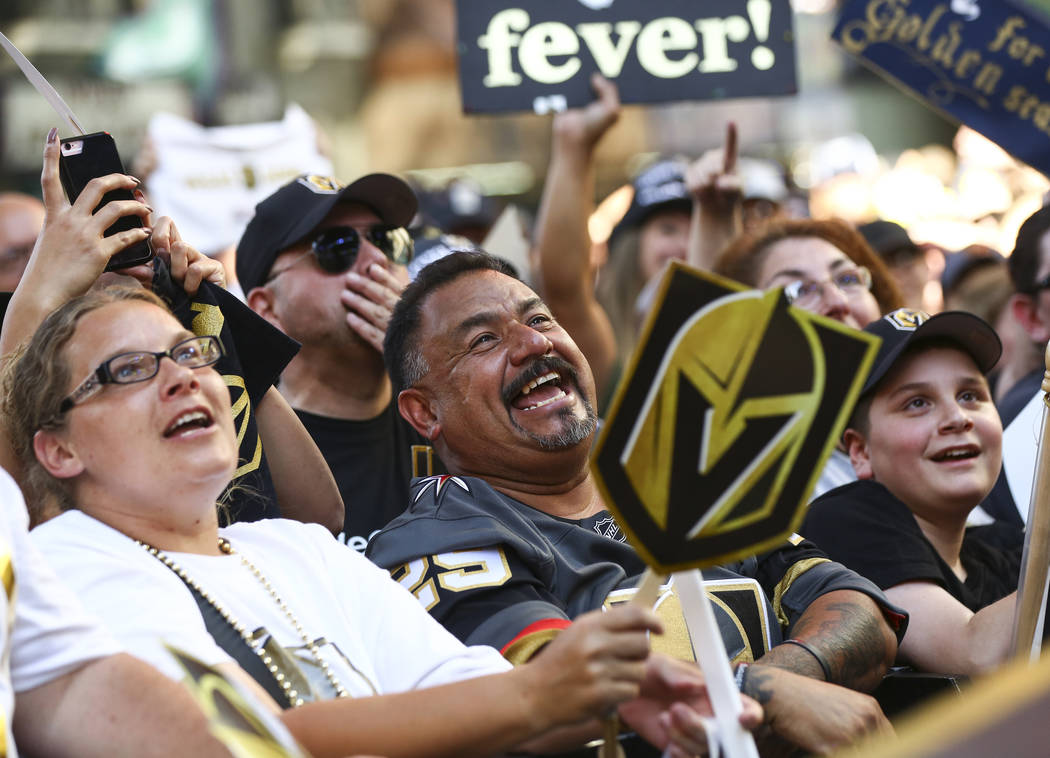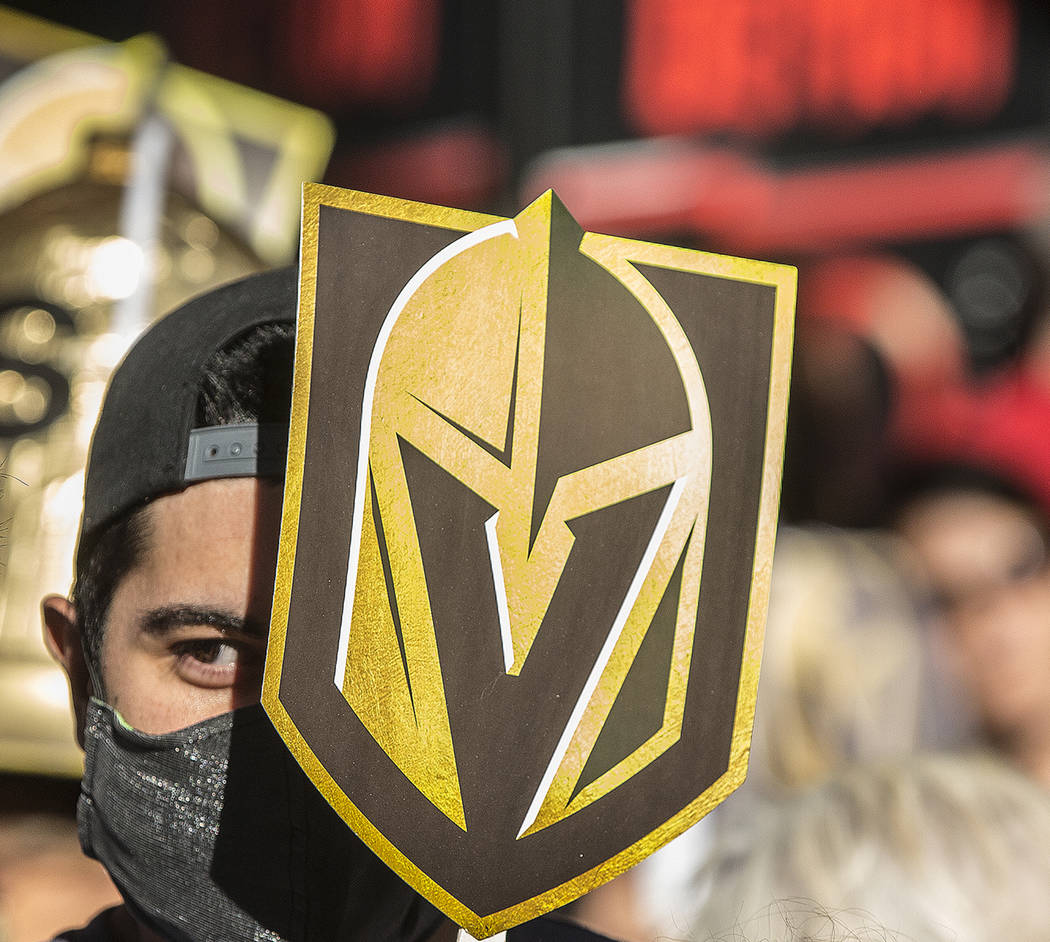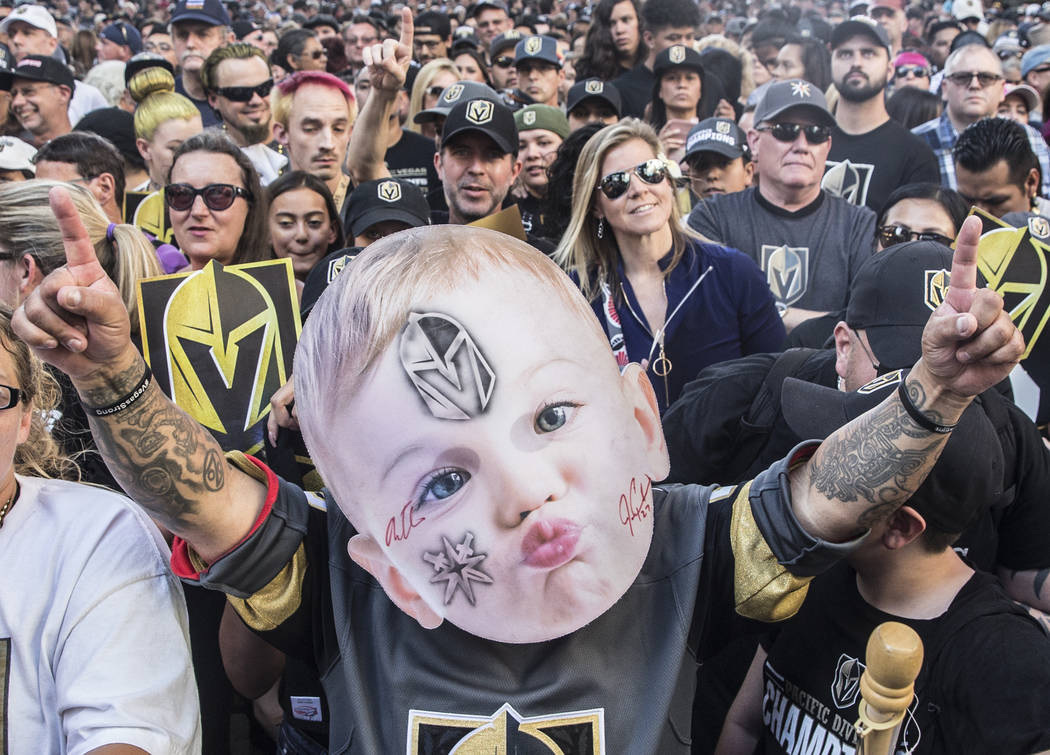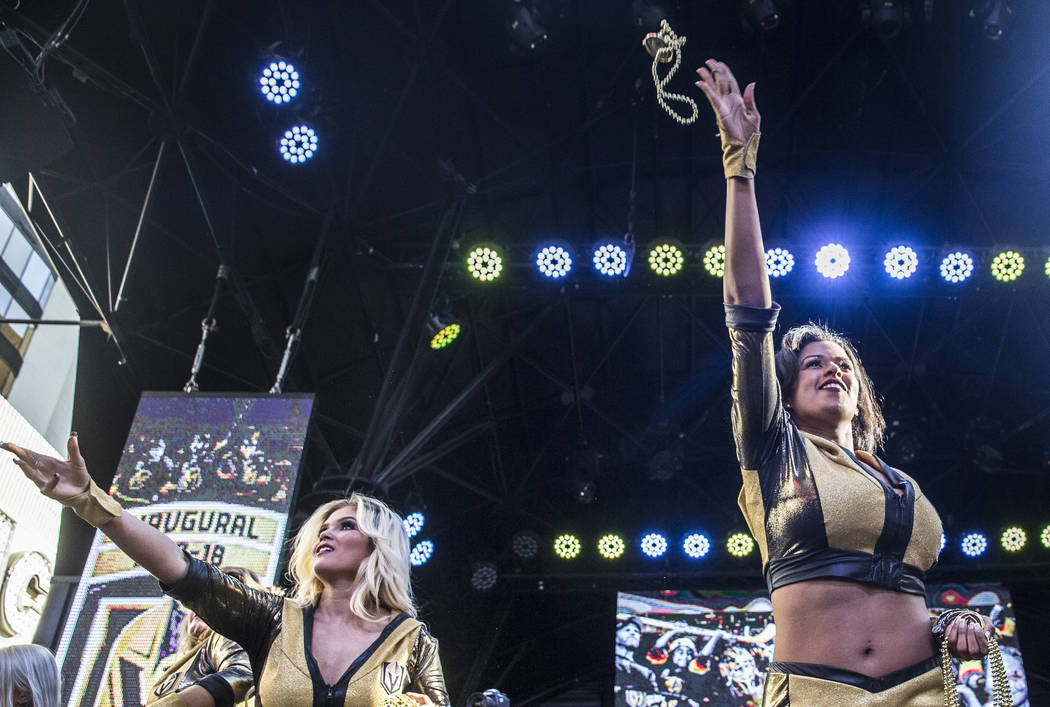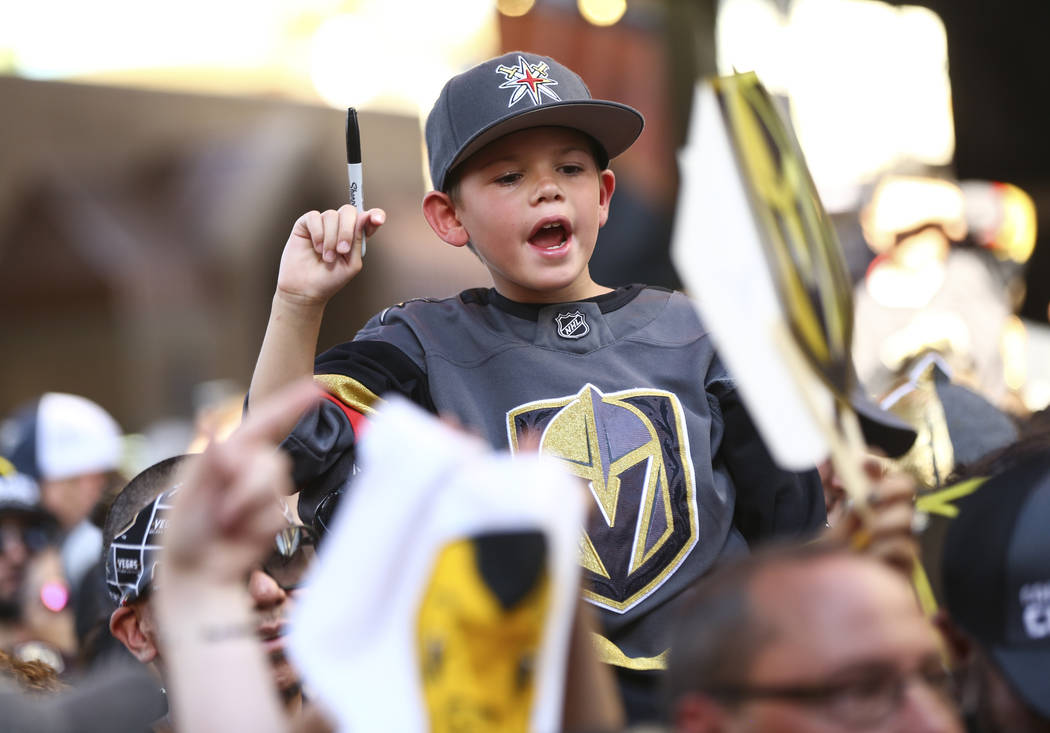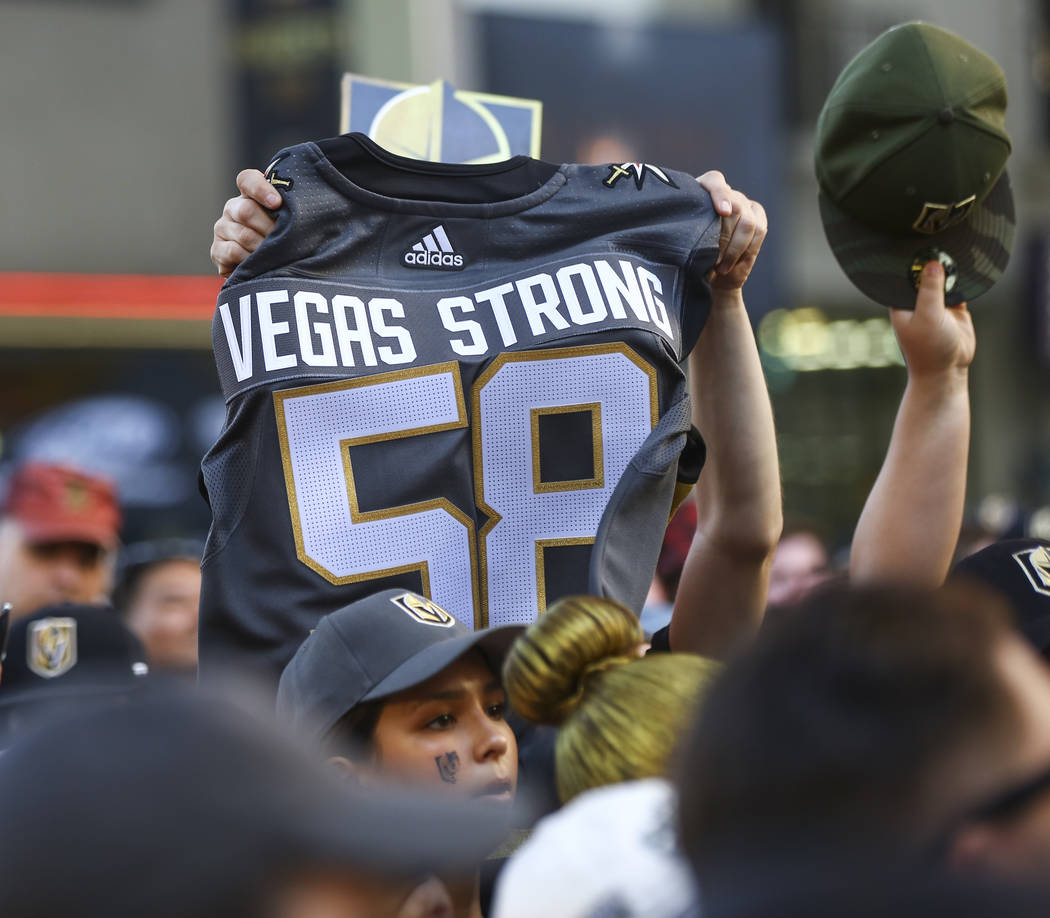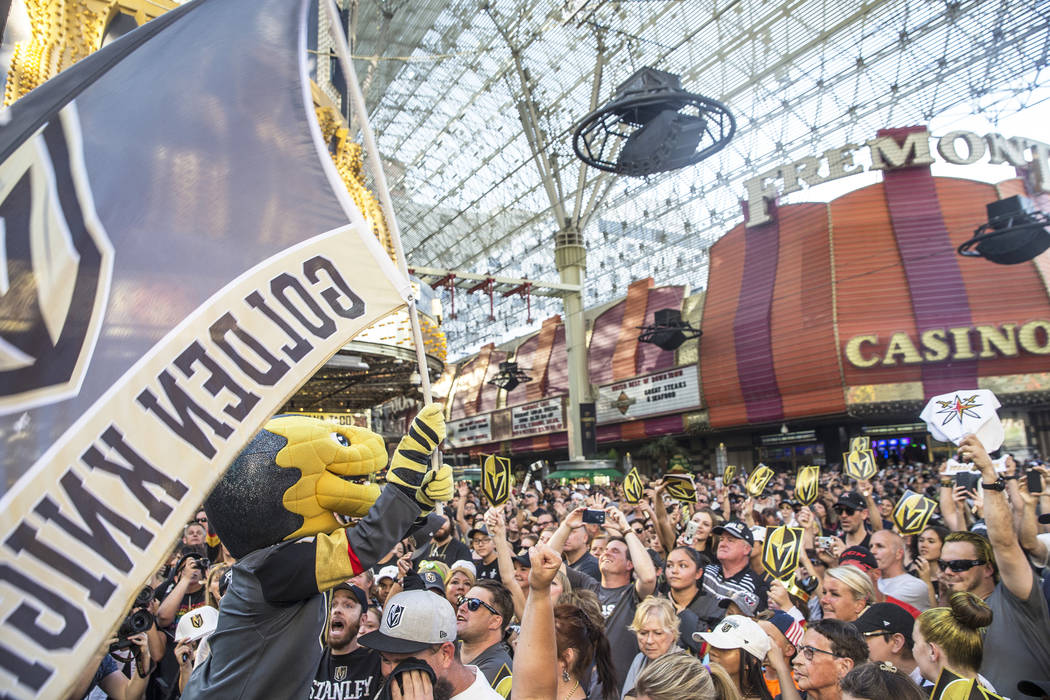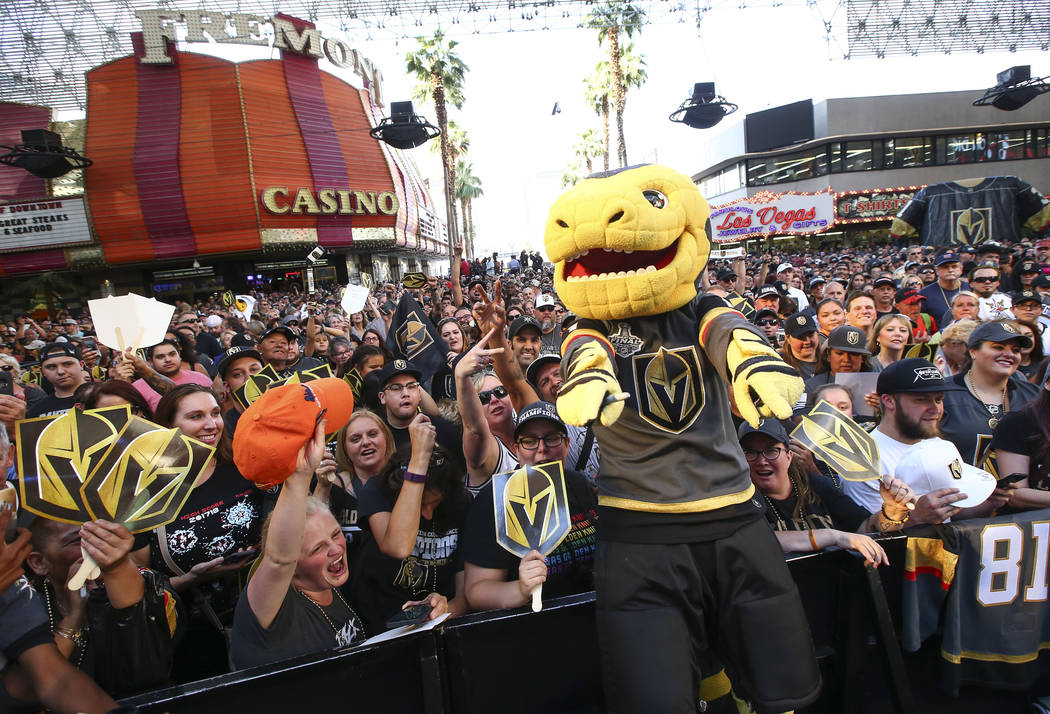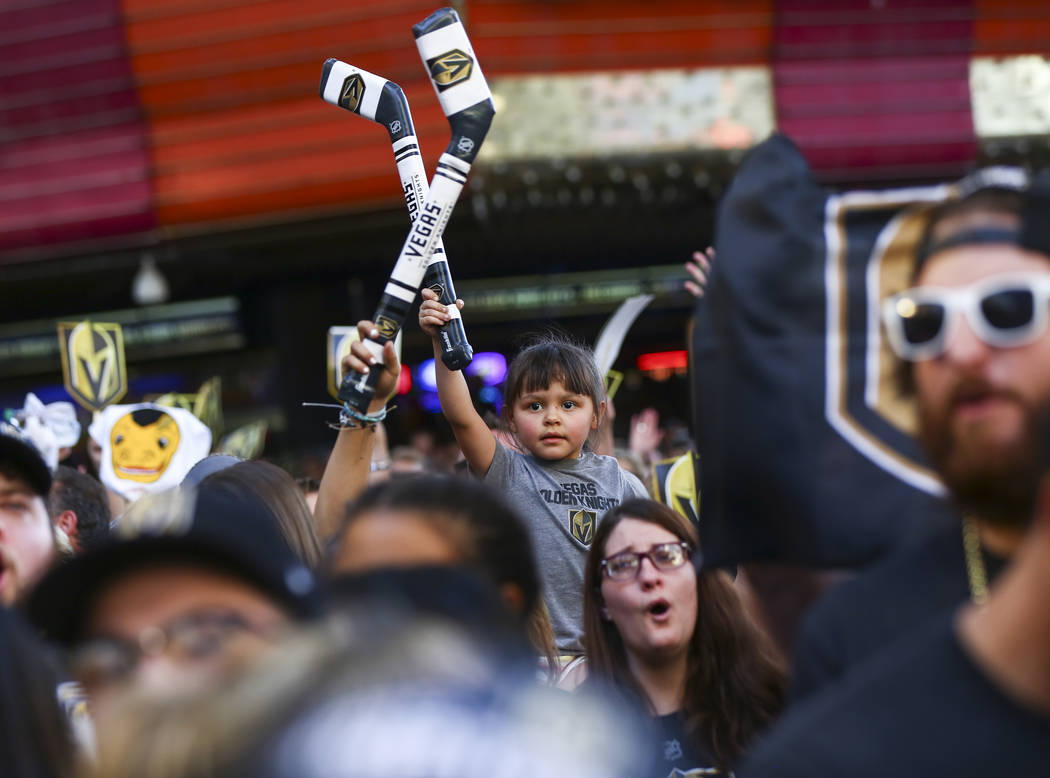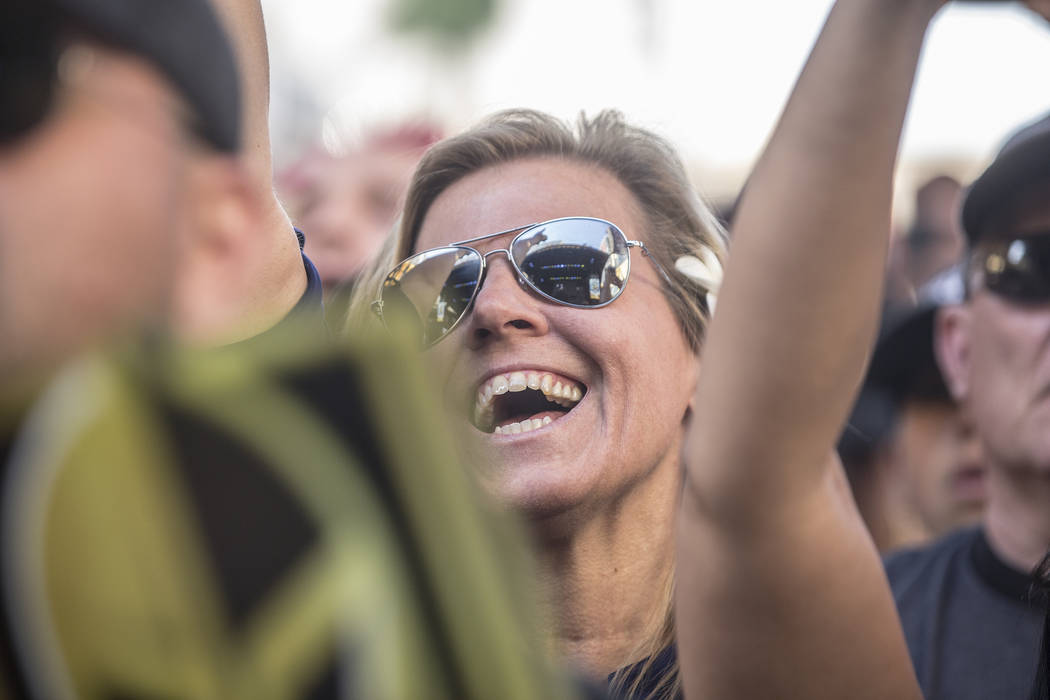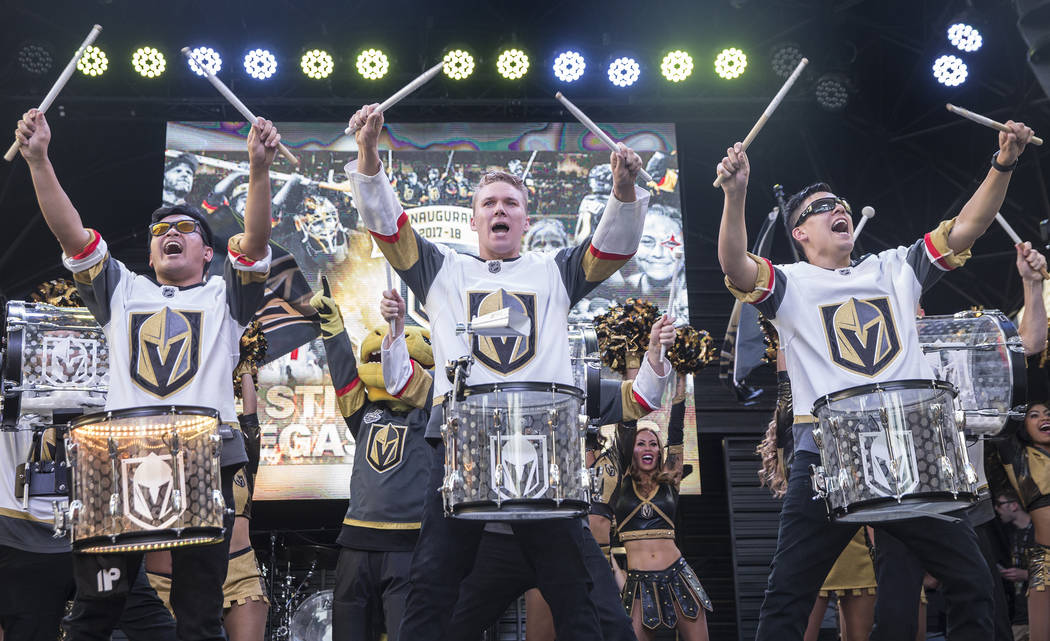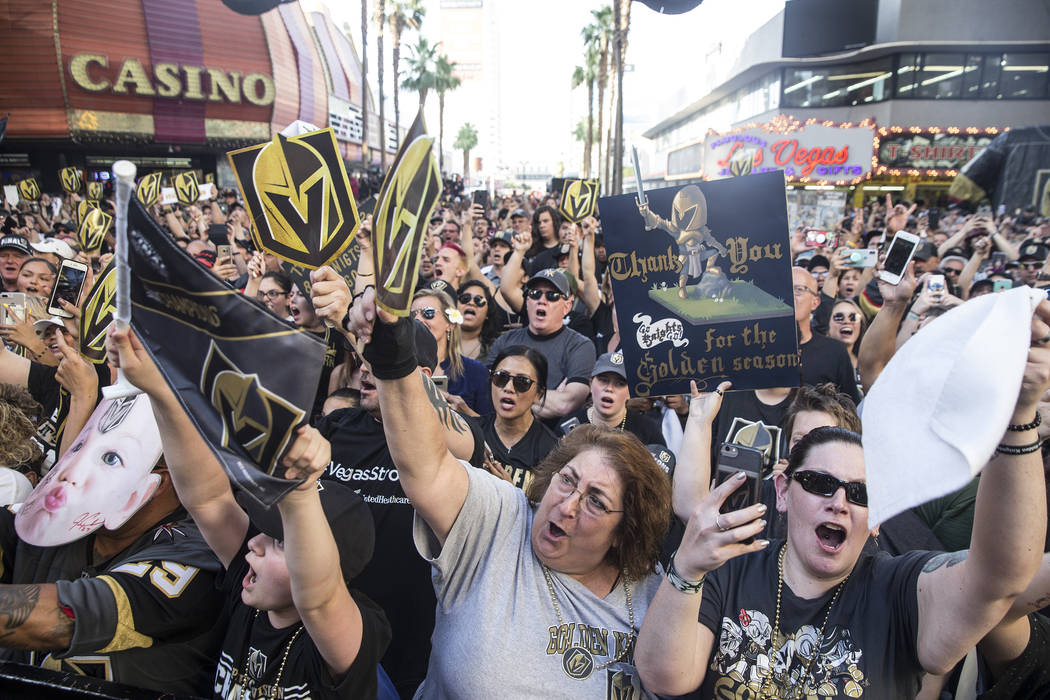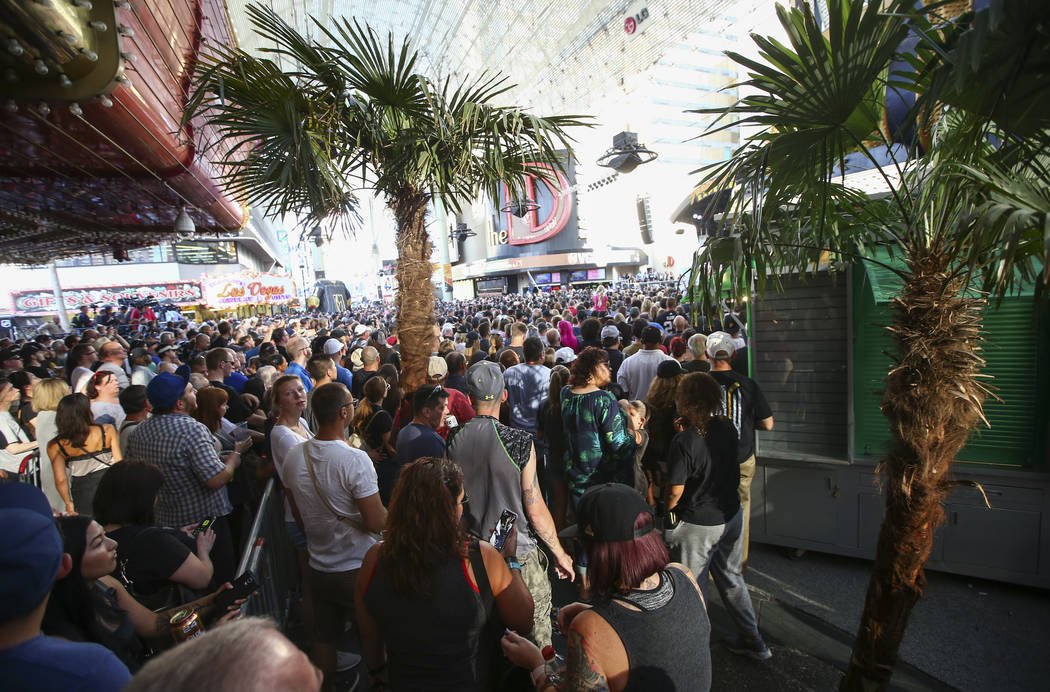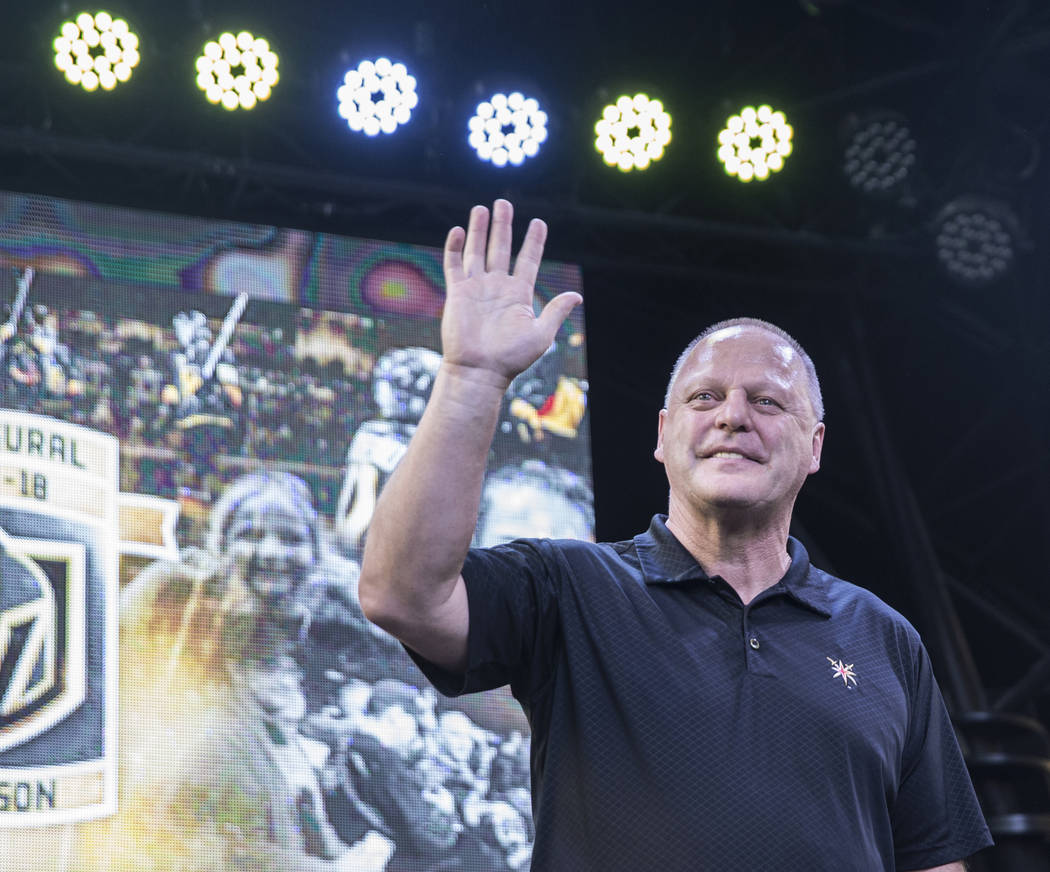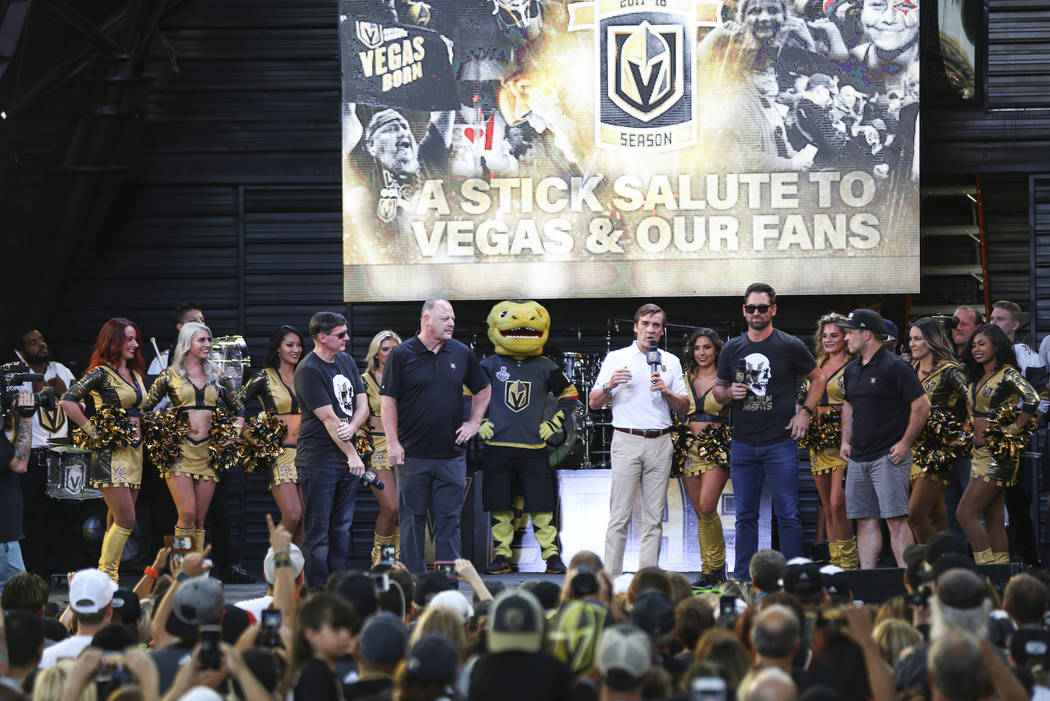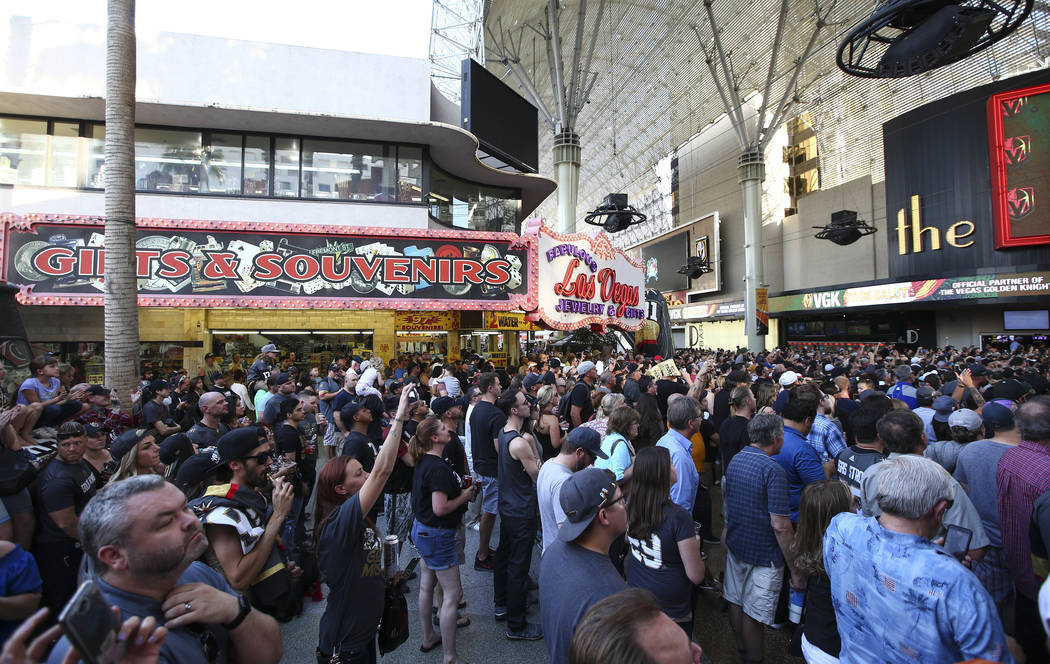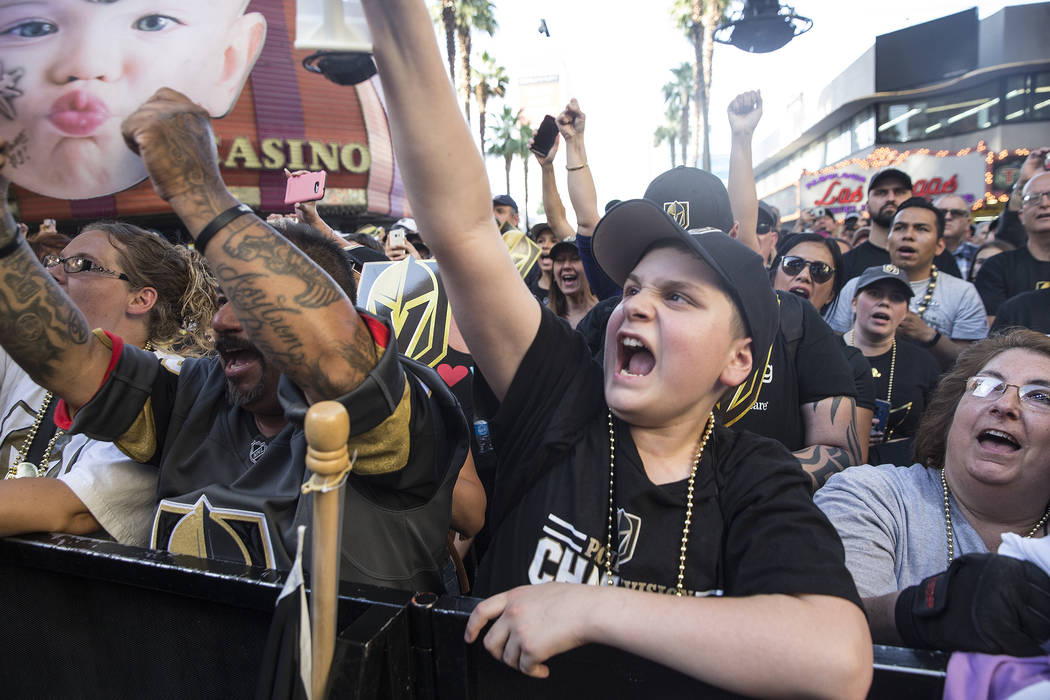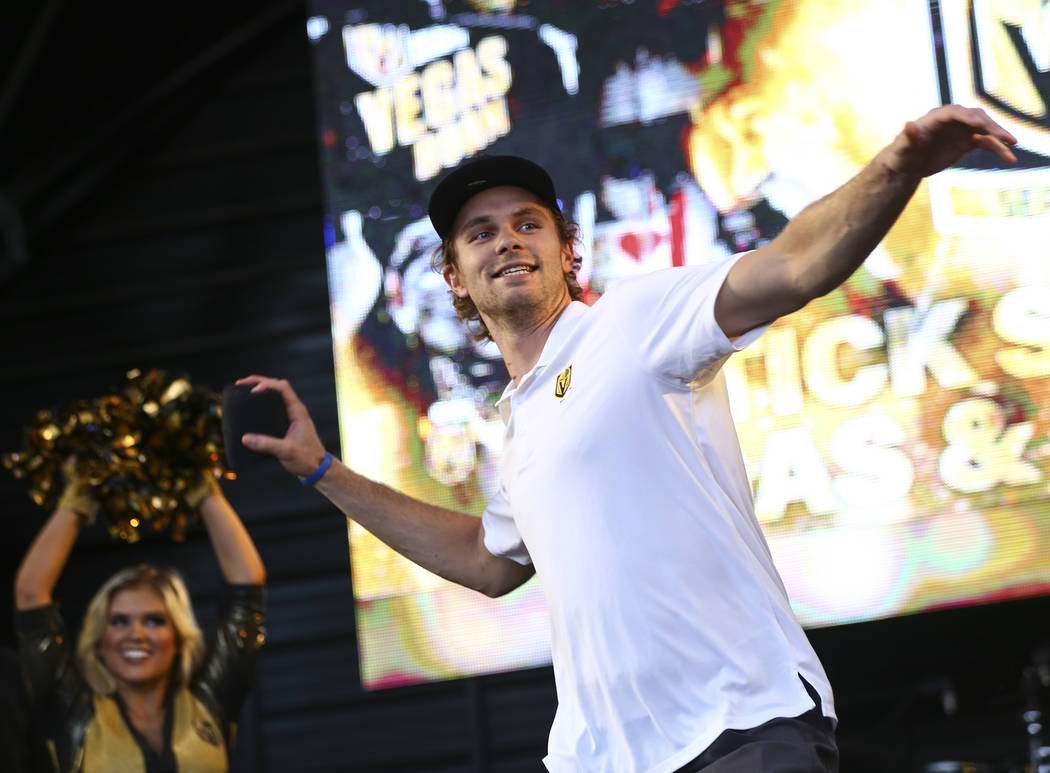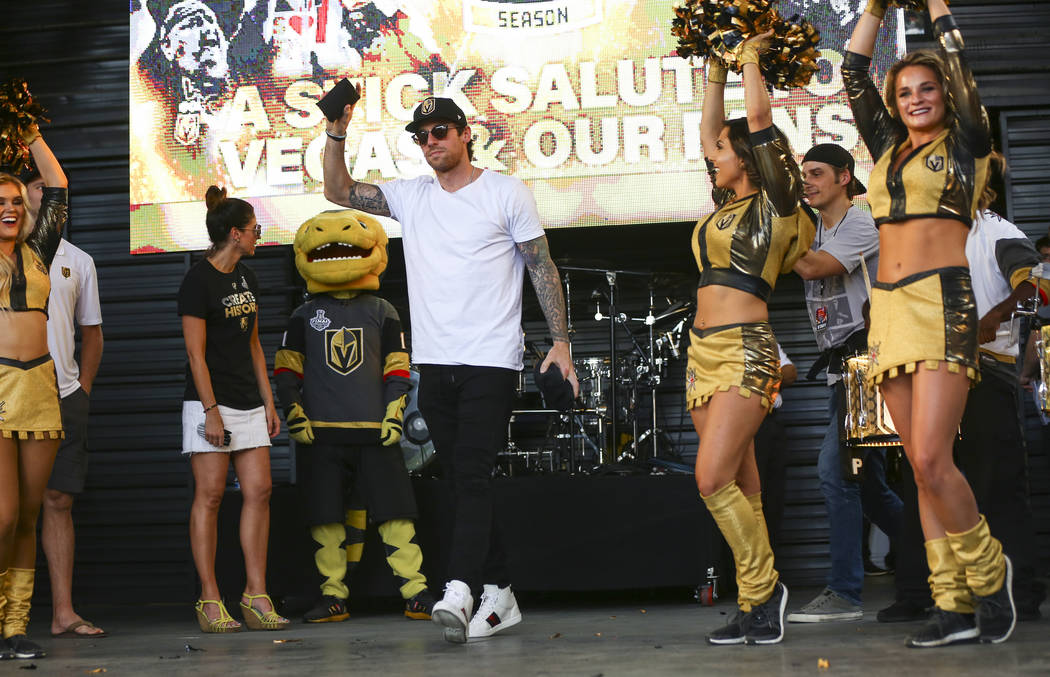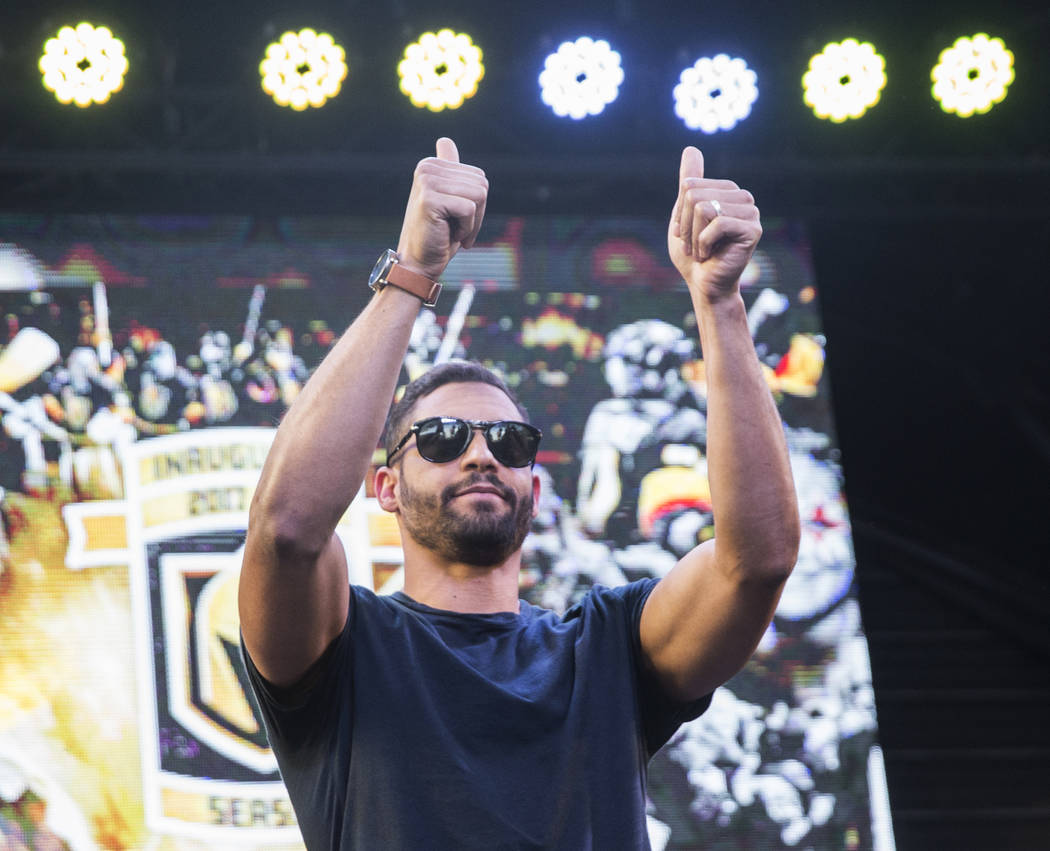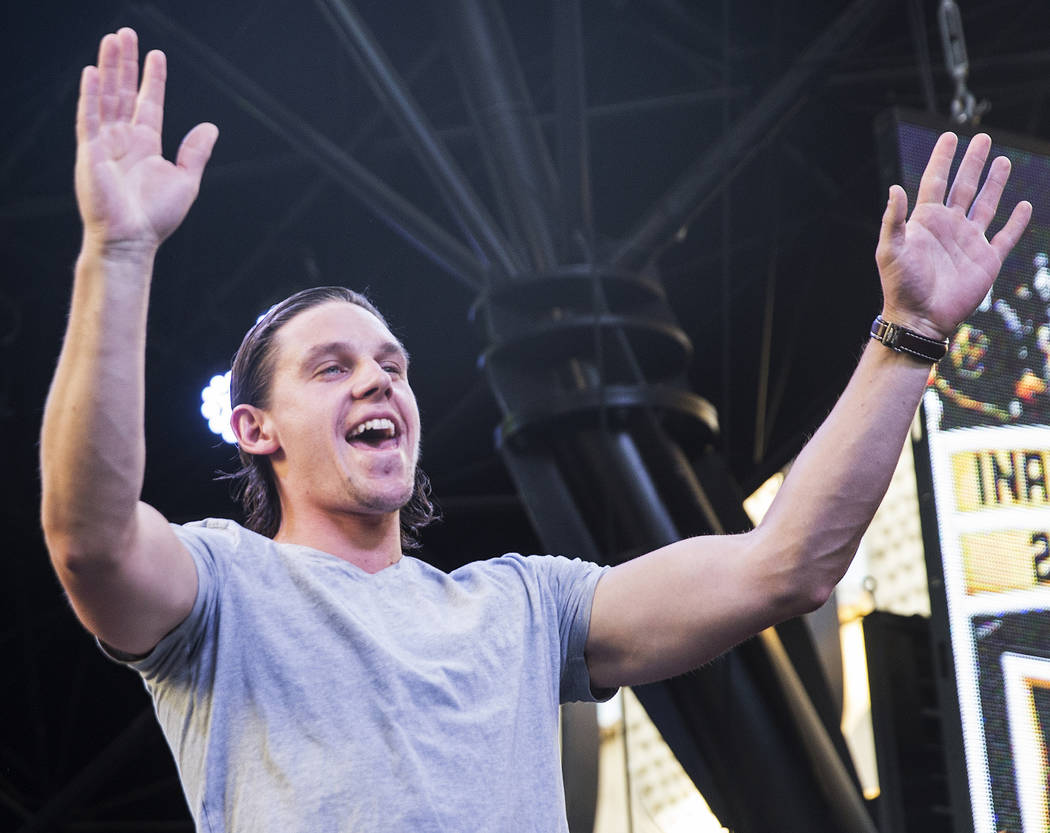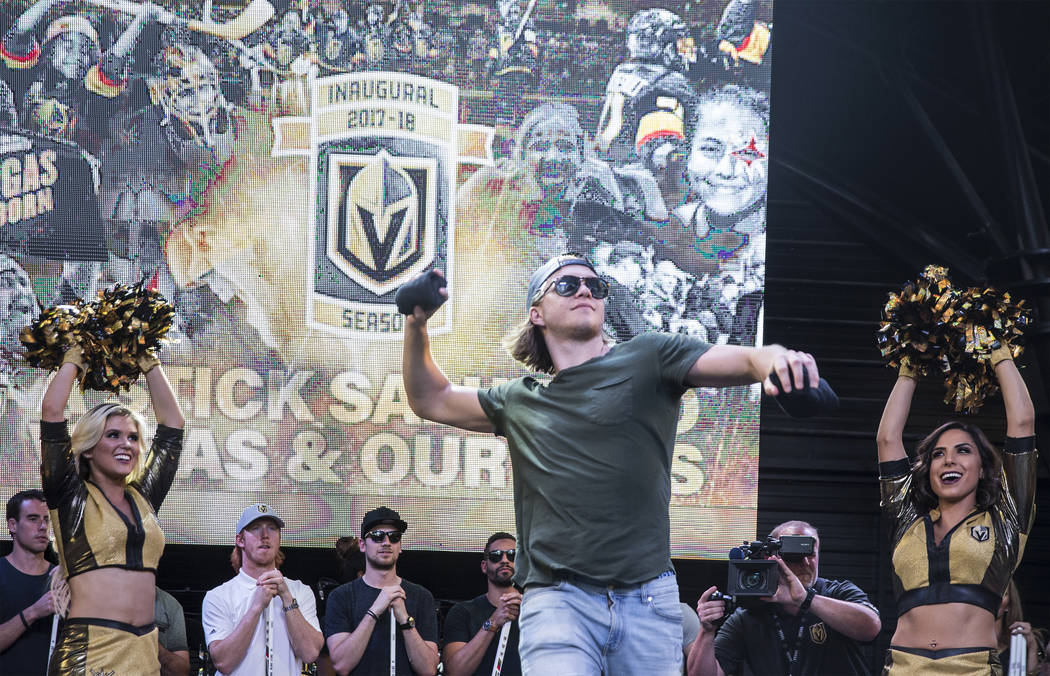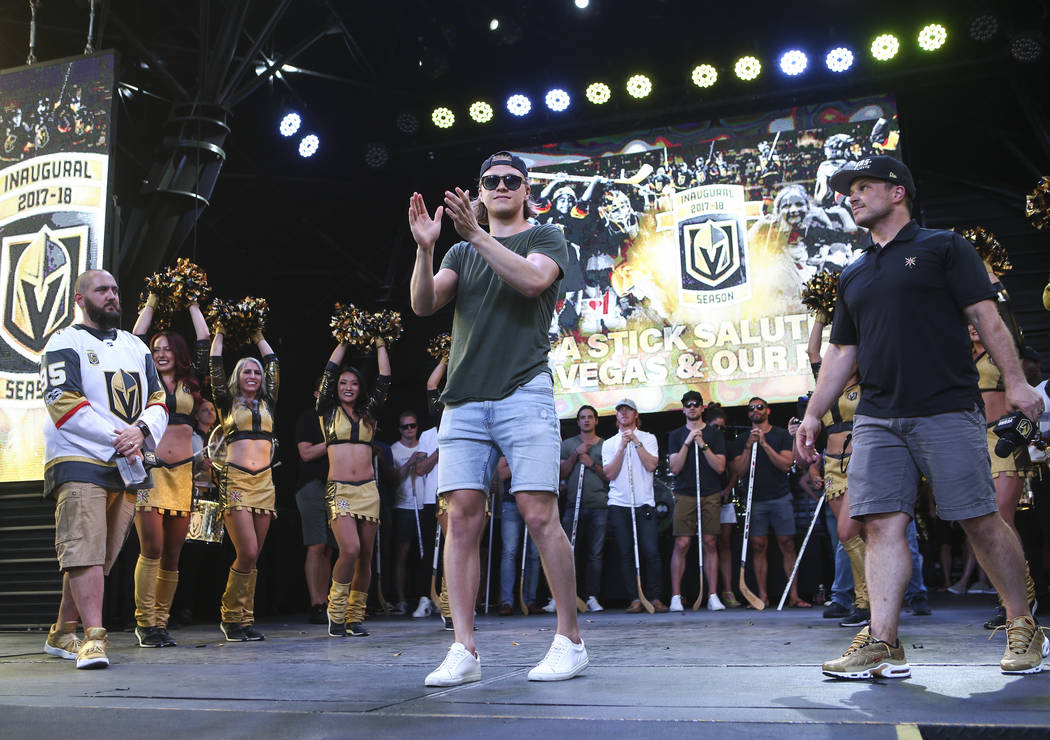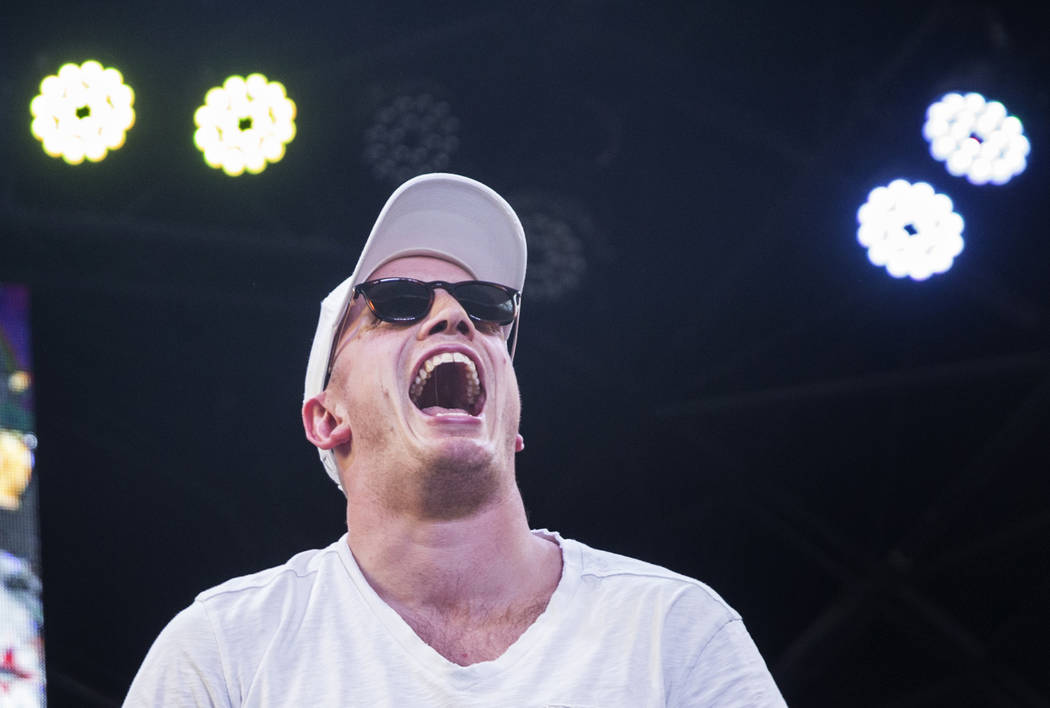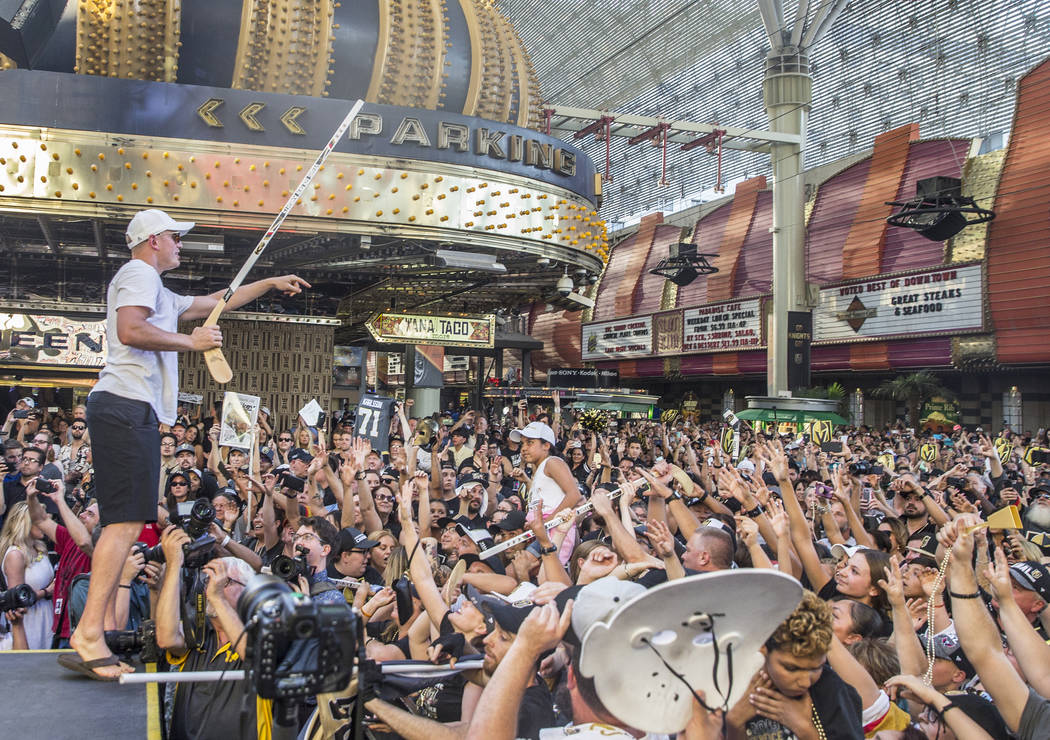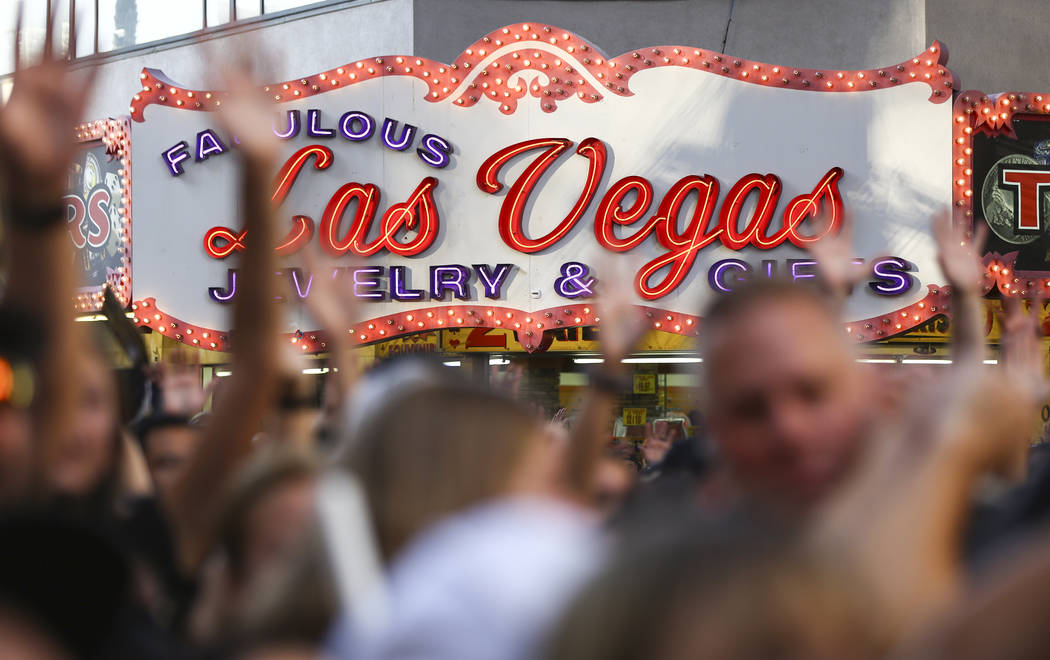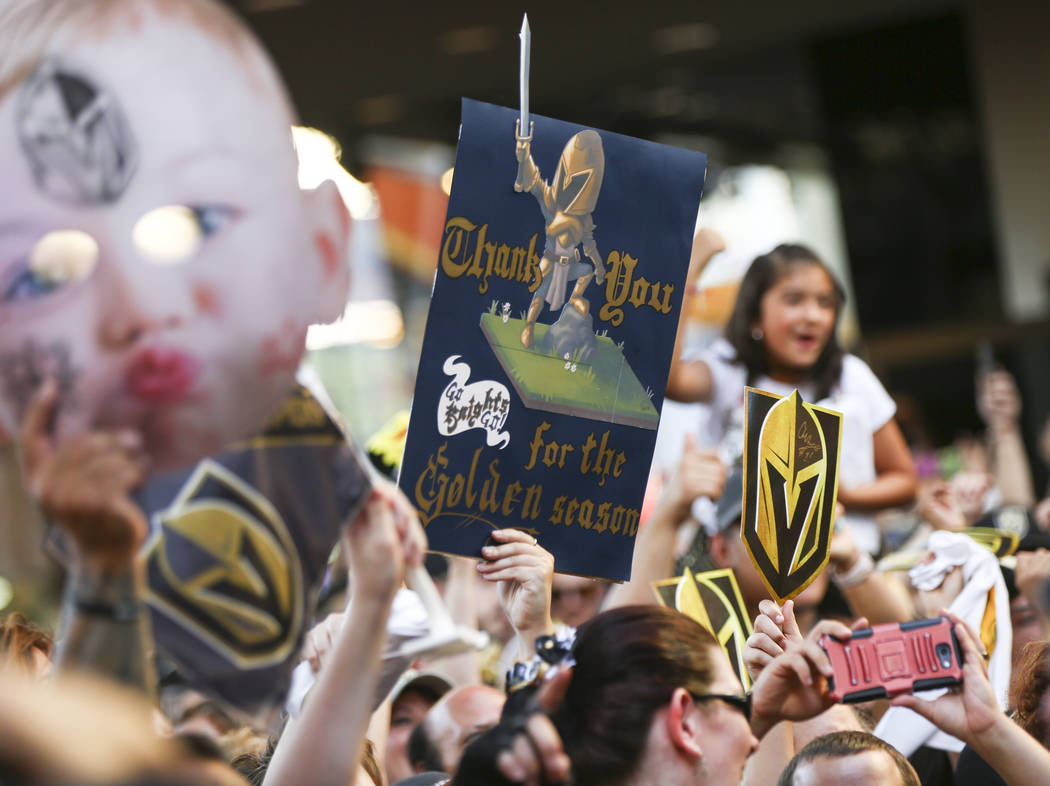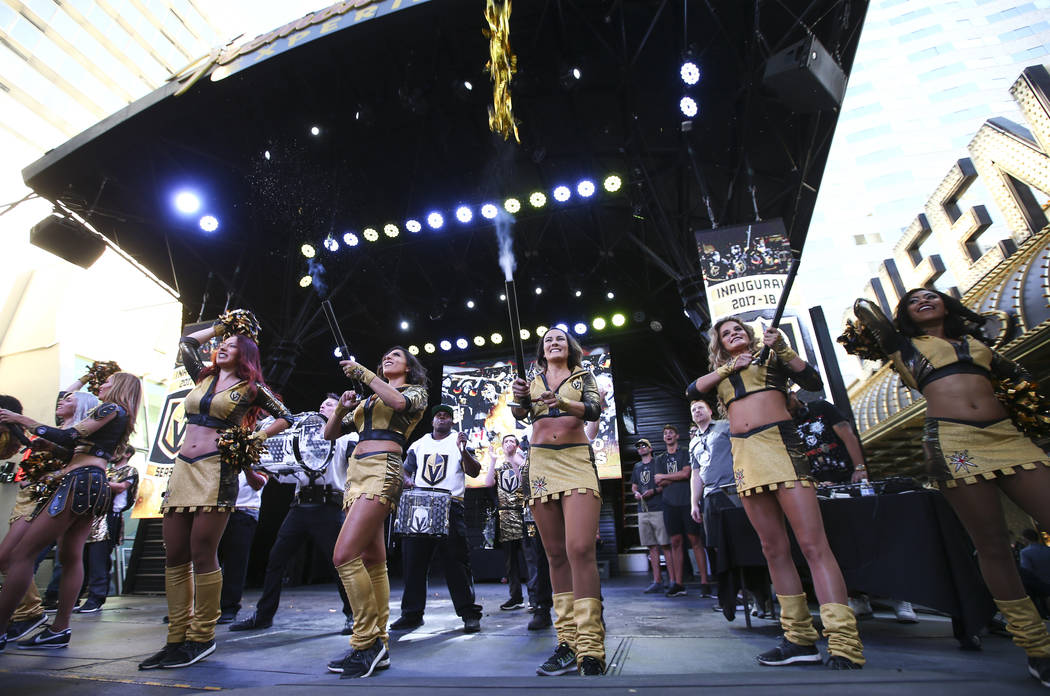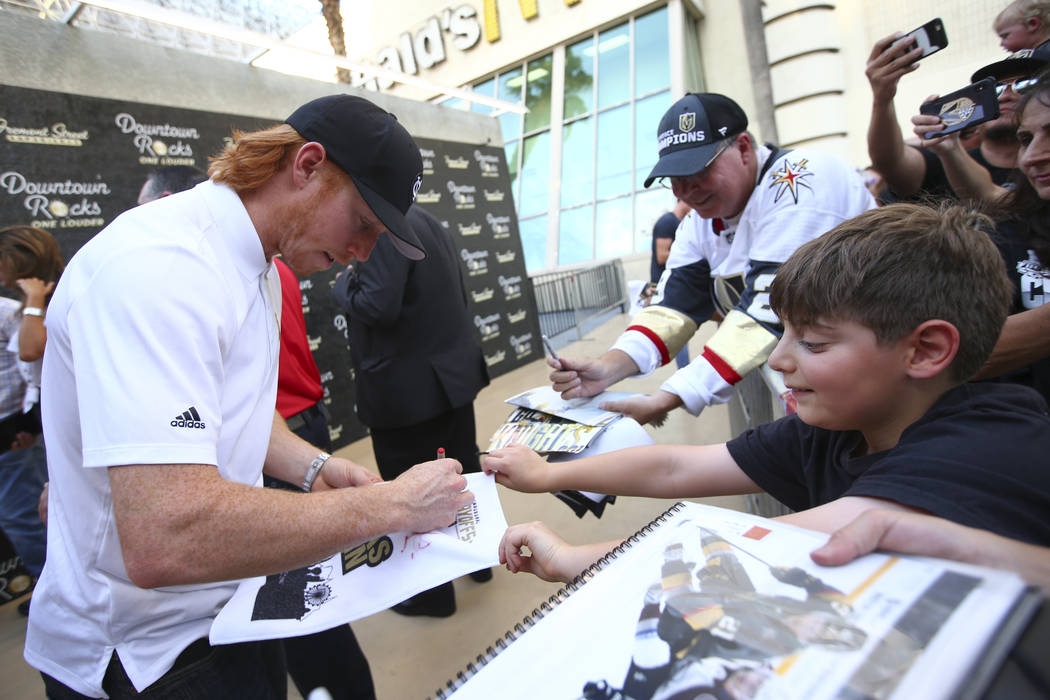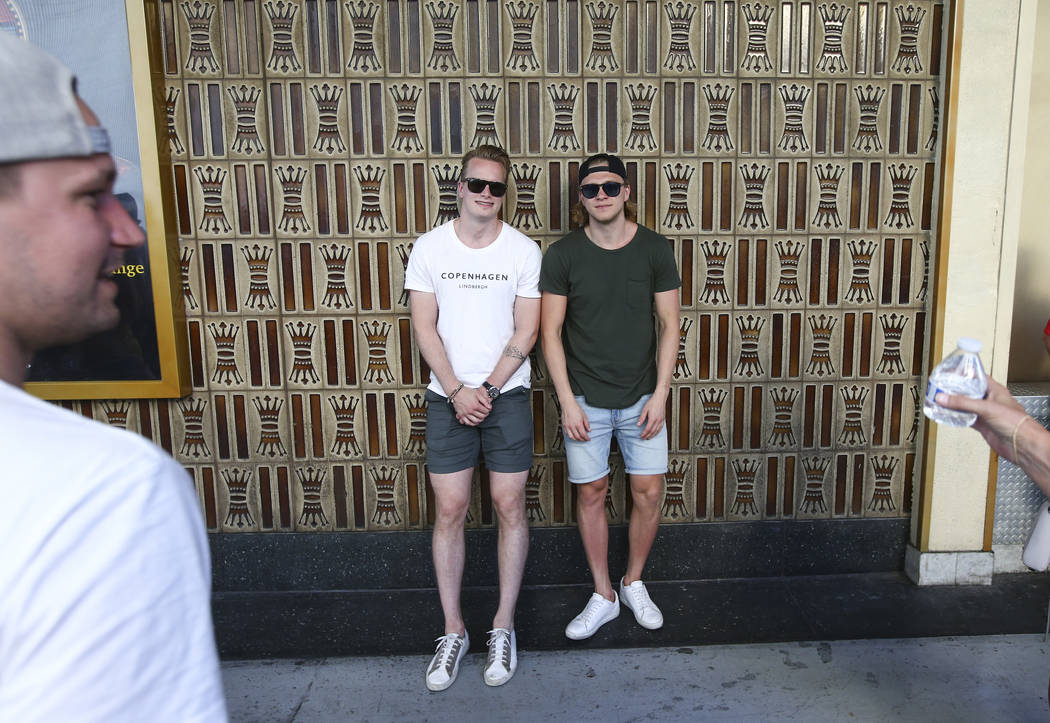 It definitely wasn't a parade. And there weren't any expletive-filled speeches from players that turned into social media gold, unlike the Washington Capitals' Stanley Cup celebration.
But make no mistake, the Golden Knights threw a party Wednesday.
The team held a "Stick Salute to Vegas" event in appreciation of their fans at Fremont Street Experience that was part day club and part pep rally.
"Once we had a chance to step back and really think about how this community supported our franchise every single day, it felt like, 'You know what? We've got to do something,' " team president Kerry Bubolz said. "We just put our heads together and started thinking through what that would look like … and we're going to do an official stick salute to our fans."
The Knights set a record for an expansion team with 51 victories and 109 points in the regular season and captured the Pacific Division title.
Their run ended in the Stanley Cup Final last week against Washington, which won the best-of-seven series 4-1 for its first championship in franchise history.
The city of Las Vegas and Clark County were planning a parade for the team prior to the Knights' series-ending 4-3 loss on June 7 before the team declined to participate.
An estimated crowd of 7,500 stood under the canopy covering Fremont Street as the Las Vegas Valley baked under a heat advisory Wednesday.
The event featured 18 players, along with coach Gerard Gallant and general manager George McPhee.
Chance, the team's mascot, also appeared, along with broadcasters Dave Goucher and Shane Hnidy, the Drumbots and the Golden Aces cheerleaders.
Fans cheered as highlights of the team's record-breaking season played on a video board.
They buzzed at the sound of the introduction music used before players took the ice at home games.
They roared when players appeared on stage to toss T-shirts into the crowd and thank the city for their first year.
"It's the best place to be, by far, in front of these fans," defenseman Shea Theodore told the crowd.
"I tell you guys, this is the most fun time I've ever had in my life. All of you all are a part of it," defenseman Nate Schmidt said. "These guys behind me. I just wanted to say thank you so much."
Hundreds of fans wore the jerseys of the players they watched on the ice all year. At least two wore cardboard beer cases on their heads, with the cases cut out to mimic the Golden Knights' helmet logo.
A few children sat on their parents' shoulders to get a better view of their favorite players.
In the case of 5-year-old Braxten Cinquegrani, perched atop his dad, his favorite "player" is probably Chance.
"He's always rooting at the pregame," said his dad, 34-year-old Branden Cinquegrani.
The expansion team's improbable run to the Stanley Cup Final was amazing for the born-and-raised Las Vegan father and his son.
"I get to bring my son down here, and he gets to experience it, and remember that," Cinquegrani said.
Las Vegas resident Mandy Swanson and her 14-year-old daughter Alex arrived at Wednesday's event early to get a spot near the front. It was an opportunity to show their gratitude to the organization after the events of Oct. 1.
"It doesn't matter what they did," Mandy Swanson said. "The fact they brought this city together, we just had to come support them. Everyone's had a great time and wanted to be together and let off some steam about the Cup."
Lifelong hockey fan Kealy Bush, 34, screamed each player's name as they were introduced. The team's chemistry was unlike anything she had seen.
"It's unexplainable how awesome it was to just watch them come together and be like they've been playing together for years," Bush said.
The team brings a sense of community to a transient city, she said. She called herself a devoted sports fan before the Knights came to town. Yet the connection she feels to the team is deeper than any other team she's followed, Bush said.
Before the Knights, she didn't understand the use of "we" by fans when speaking of their favorite team.
Now she gets it.
"I speak about them as if I'm part of their team," Bush said.
The team holds a special place in her heart and her family. Her 12-year-old daughter, a cancer survivor, was going to skip a summer camp for other pediatric cancer survivors if the Knights played a Game 7 or hosted a Stanley Cup celebratory parade.
"I'm like, 'Honey, you have to go.' And she's like, 'No. I can't miss my boys playing,'" Bush said.
As Bush spoke, her 5-year-old son Brady walked up to her and hugged her.
"He's so upset that there's no more games to watch," she said.
They're counting down the days until their favorite team returns.
More Golden Knights: Follow all of our Golden Knights coverage online at reviewjournal.com/GoldenKnights and @HockeyinVegas on Twitter.
Contact David Schoen at dschoen@reviewjournal.com or 702-387-5203. Follow @DavidSchoenLVRJ on Twitter. Contact Mike Shoro at mshoro@reviewjournal.com or 702-387-5290. Follow @mike_shoro on Twitter.