Golden Knights win inaugural NHL game, 2-1
October 6, 2017 - 8:34 pm
Updated October 6, 2017 - 10:23 pm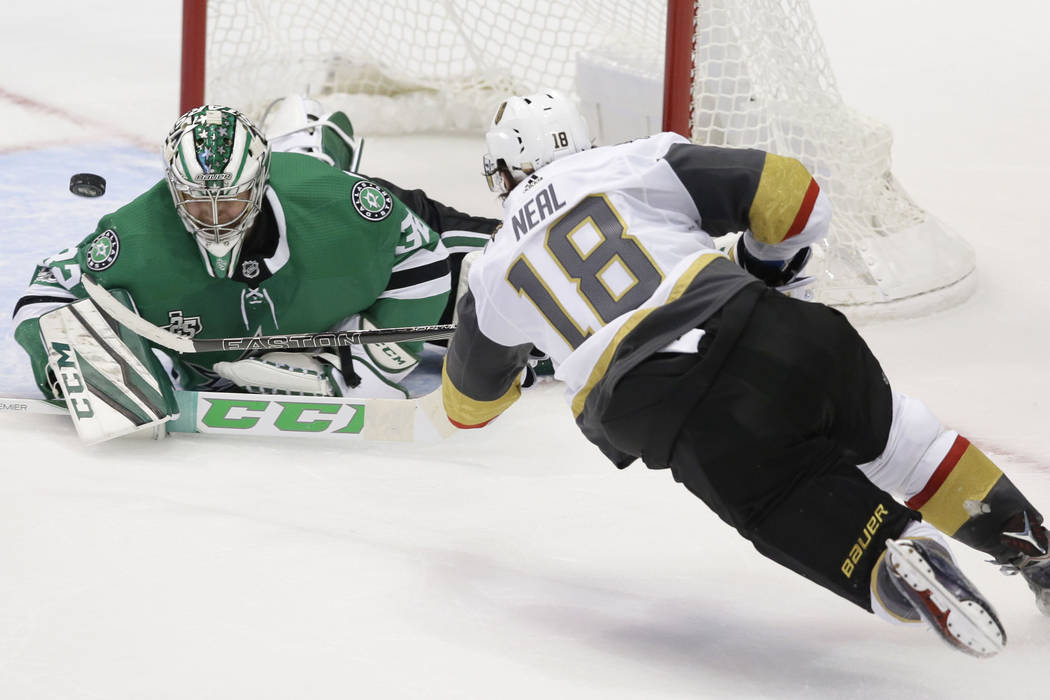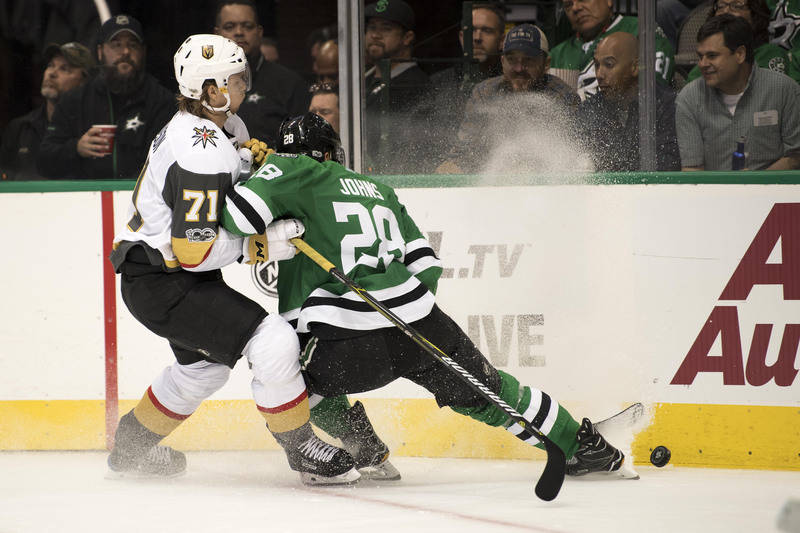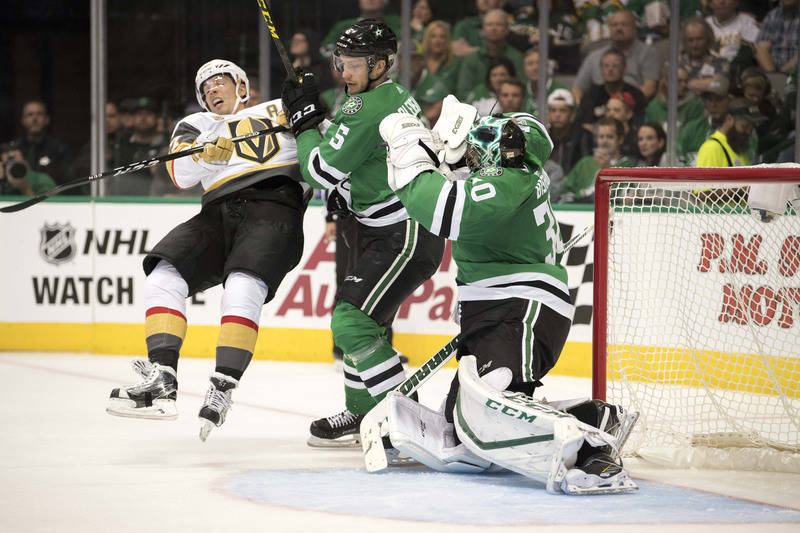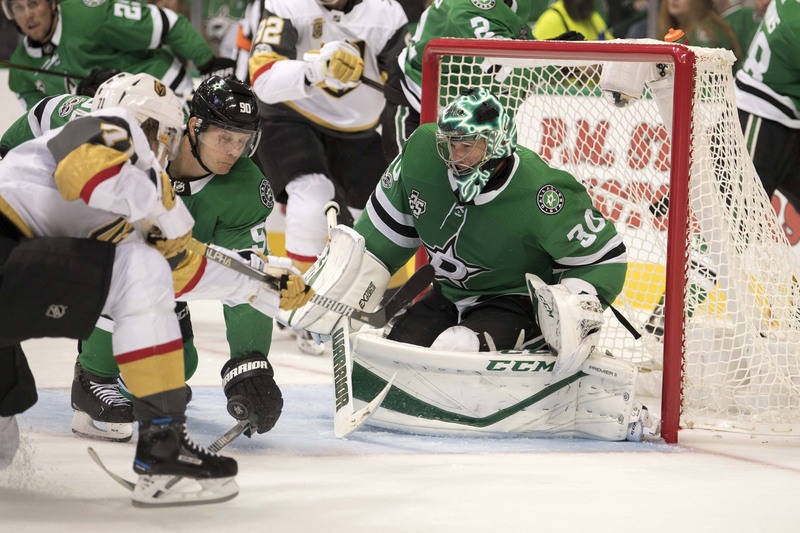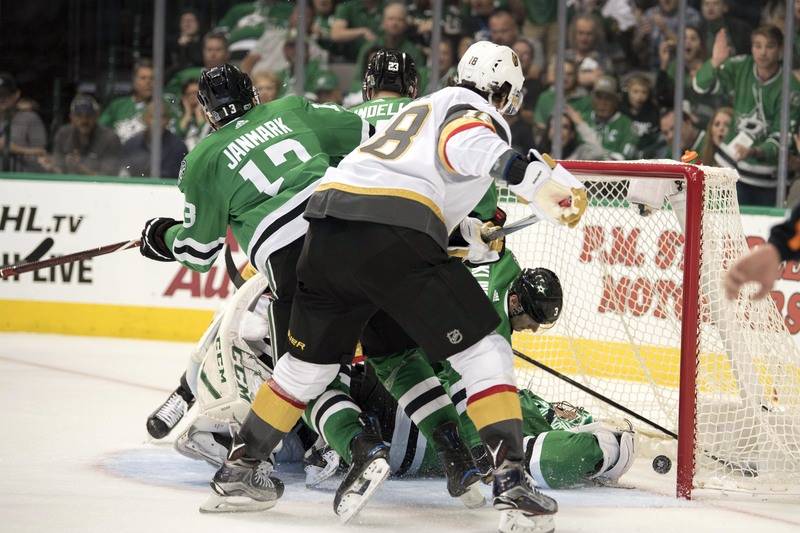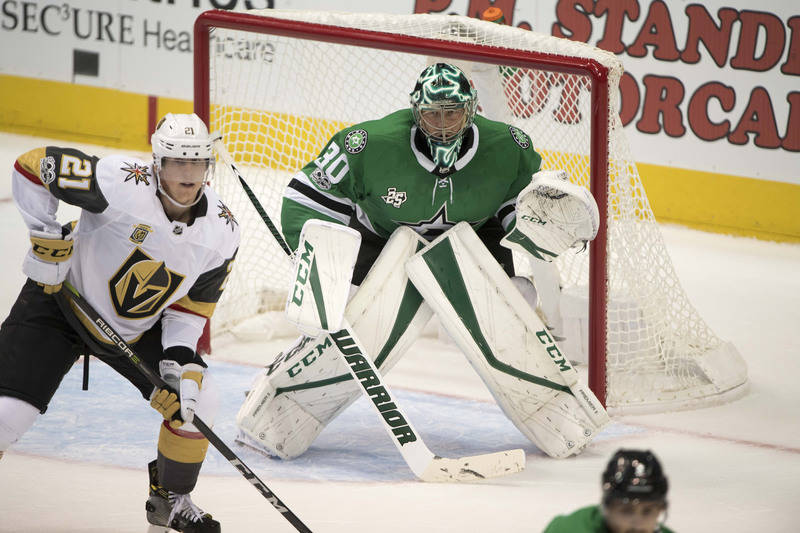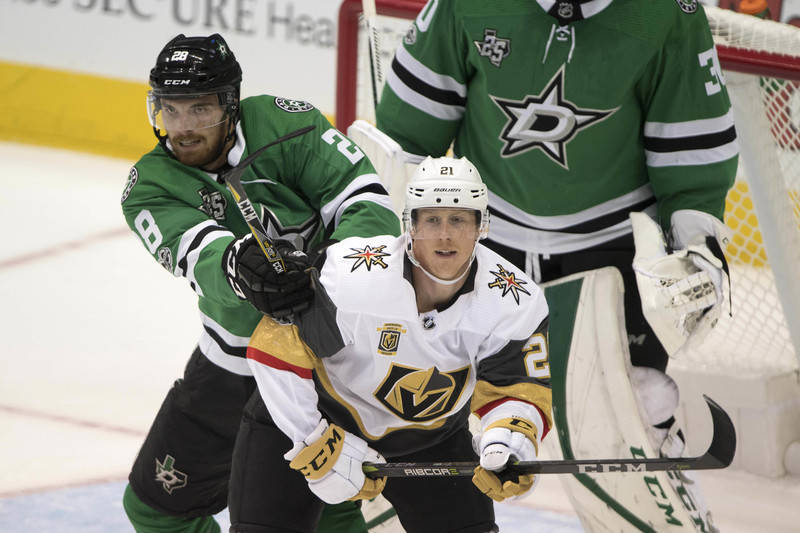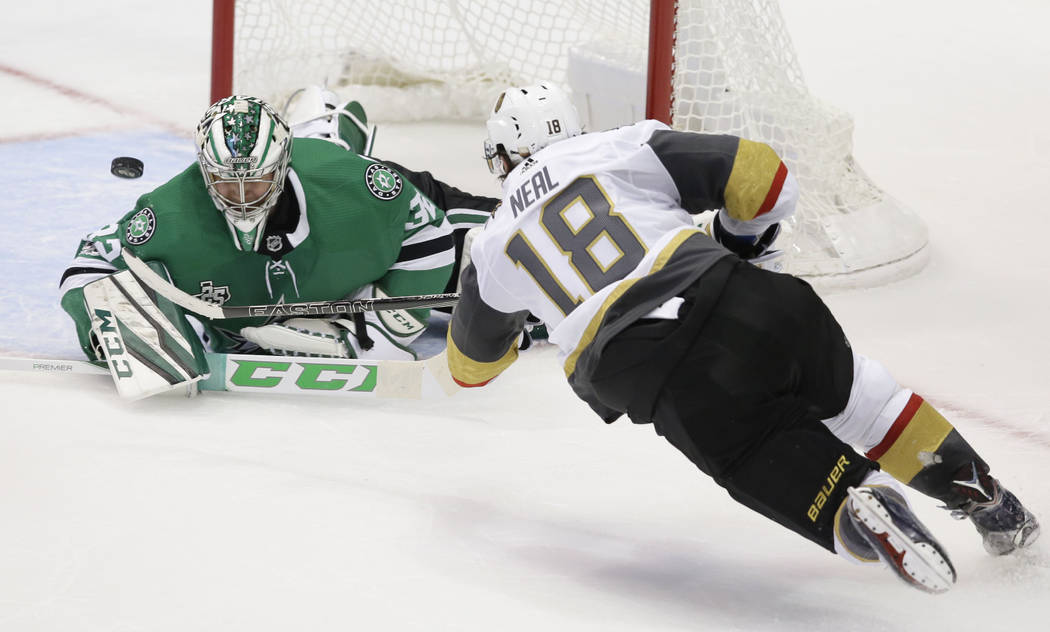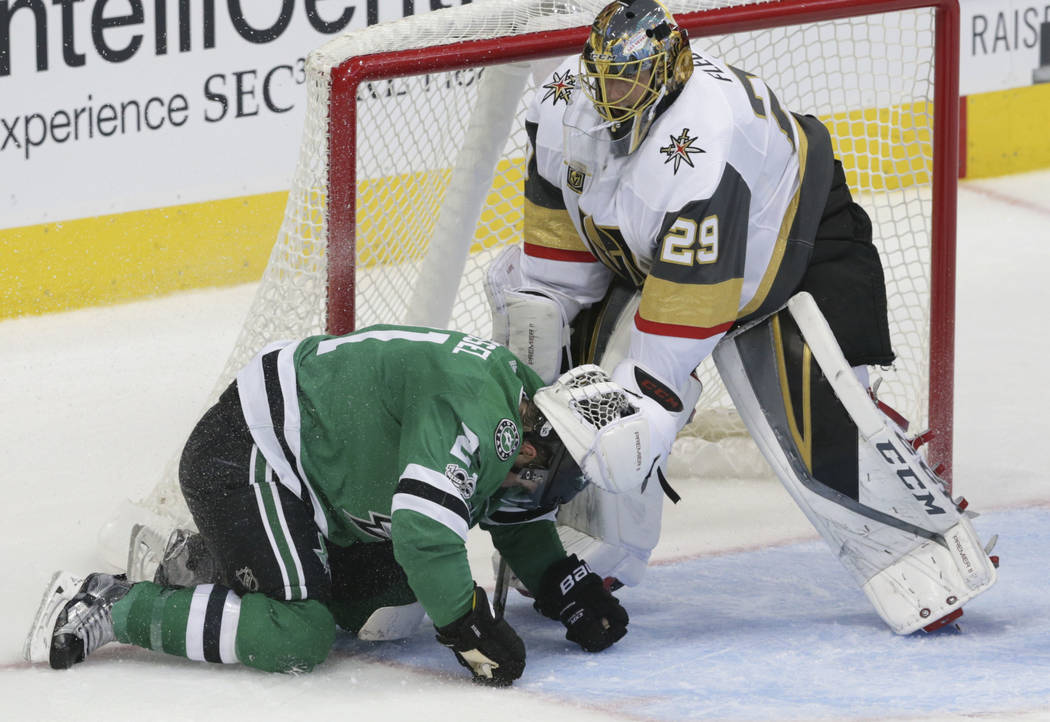 DALLAS — They were Vegas Tough, all right.
Vegas Resilient too. And Vegas Lucky at times as well.
The Golden Knights, skating for the first time as an NHL franchise and playing for a city still on the mend following Sunday's mass shootings on the Las Vegas Strip, exemplified everything general manager George McPhee had in mind when he built this team over the past three-plus months.
They scrapped. They sacrificed. They battled. They didn't panic when trailing 1-0 midway through the third period. And with veterans James Neal and Marc-Andre Fleury leading the way, the Knights made their historic debut as Las Vegas' first major league professional sports team a successful one, defeating the Dallas Stars, 2-1 in front of a sellout crowd of 18,532 at American Airlines Center.
With majority owner Bill Foley joining fans at a team watch party at Topgolf Las Vegas, the Knights saw Neal score twice, in a seven-minute, 11-second span, becoming a trivia answer and a hero. His first was the first for the franchise, a wrist shot from the top of the right faceoff circle, sailed past backup goaltender Kari Lehtonen with 9:33 remaining, tying the game at 1-1.
Lehtonen had replaced Ben Bishop four minutes into the third period after Bishop took a puck to the face on a shot by Reilly Smith.
The winner saw Neal work a 2-on-1 with Cody Eakin who passed him the puck as he skated down the right side. He was sliding on his right knee but managed to flick the puck over Lehtonen with 2:44 to play.
"He's a goal-scorer and he made a great play," Smith said. "It was good to have him on the ice."
Fleury then took care of the rest, He had kept his team in the game as the Stars unleashed a barrage of shots throughout the contest. But other than Tyler Seguin's redirect of Devin Shore's shot from the point during a second-period Dallas power play, Fleury was seamless. He stopped 45 shots and was selected as the game's No. 1 star.
"I expect to stop them all," Fleury said afterward. "But it's a great win for us. We're a new team and everyone kept working hard. It's exciting to win the first game."
The Stars had several golden opportunities to retake the lead, the best coming off the stick of Alexander Radulov, who was six feet away with nothing but an empty net to shoot at and Fleury down and out with 3:42 to go. But Radulov missed the net, air-mailing the puck into the protective netting over the glass.
Coach Gerard Gallant said he doesn't expect Fleury to have to stop 45 shots every night. But he's glad his goalie is capable of doing so when called upon.
"We worked hard all game," Gallant said. "We stuck around, we got a couple of good opportunities and we capitalized on them."
Gallant said Neal, a 23-goal scorer with Nashville last season who missed the entire preseason as he recovered from hand surgery, came through just hours after being activated from the injured reserve list.
"It was his first game of the year, and he's probably going to be pretty tired (Saturday morning)," Gallant said. "But he played well and he capitalized on his chances, which is what a goal-scorer does."
As his triumphant players headed for the bus for the flight to Phoenix and Saturday's game against the Arizona Coyotes, McPhee was smiling in the near-empty locker room. On the opening night for the franchise, his team had delivered.
"They battled," McPhee said. "They never gave up. They never gave in.
"They deserve it. They came back and won it. And I'm happy for (owner) Bill Foley."
Contact Steve Carp at scarp@reviewjournal.com or 702-387-2913. Follow @stevecarprj on Twitter.
Golden Knights 2, Stars 1
Three takeaways from Friday's game:
1. This is a resilient bunch. The Knights were being pressured most of the game, as the Stars unleashed their firepower on Marc-Andre Fleury. But the defense stood up for the most part, and Deryk Engelland, Luca Sbisa and Jason Garrison acquitted themselves nicely on the blueline. Sure, there were occasional hiccups, which is why Dallas took 45 shots. But when Fleury plays the way he did Friday, you can afford some miscues.
2. The power play remains pathetic. Maybe pathetic is too strong a word given it was the first game. But remember how the team struggled during the preseason? They were 0-for-21 to finish preseason when a man up. On Friday, the Knights were 0-for-7. Coach Gerard Gallant even tried his fourth line on the power play. They need to figure this out before it costs them points in the standings.
3. Cody Eakin's return. The former Dallas centerman received a warm welcome back. Then the Stars tried to turn him into a human pinata, hammering him every time he was on the ice. But Eakin proved he was no pushover, and he had the last laugh as he set up James Neal's winning goal late in the third period.
A 'Knight' of firsts
It was an historic night for the Golden Knights franchise, as they played their first NHL game. Here is the list of firsts for the expansion team:
First shot: David Perron, wrist shot from 60 feet, 38 seconds, first period.
First goal: James Neal, wrist shot from top of faceoff circle, 10:27, third period.
First save: Marc-Andre Fleury, shot from Dallas neutral zone, six seconds, first period.
First opponent goal: Tyler Seguin, deflection of shot from point, 17:01, second period.
First penalty: Jonathan Marchessault, roughing, 9:10, first period.
First opponent penalty: Alexander Radulov, interference, 3:21, first period.
First icing: 14 seconds, first period.
First offsides: 2:03, first period.
First win: Oct. 6, Golden Knights 2, Dallas Stars 1.
Knights vs. Coyotes
When: 6 p.m. Saturday
Where: Gila River Arena, Glendale, Ariz.
Records: Golden Knights 1-0; Coyotes 0-1
TV:AT&T SportsNet (Cox 313/1313, DirecTV 684, CenturyLink 760/1760, U-verse 757/1757)
Radio:KRLV (98.9 FM, 1340 AM)
Line: None
Steve Carp/Review-Journal