Jesus Lopez, Knights' Spanish voice, makes game fun for Latinos
Updated April 22, 2018 - 10:10 am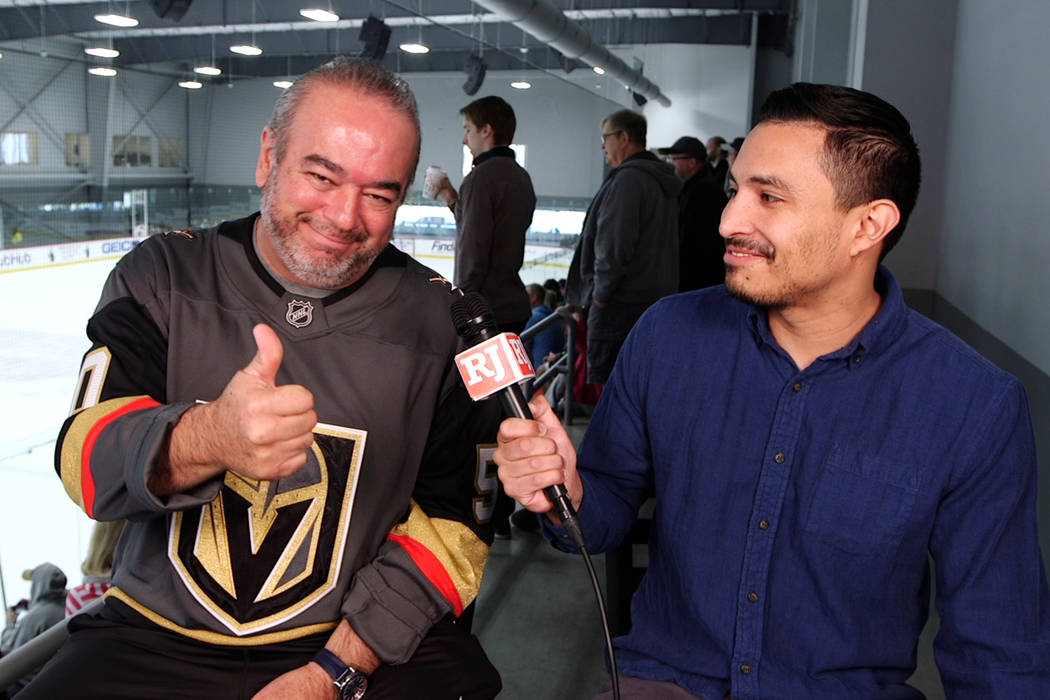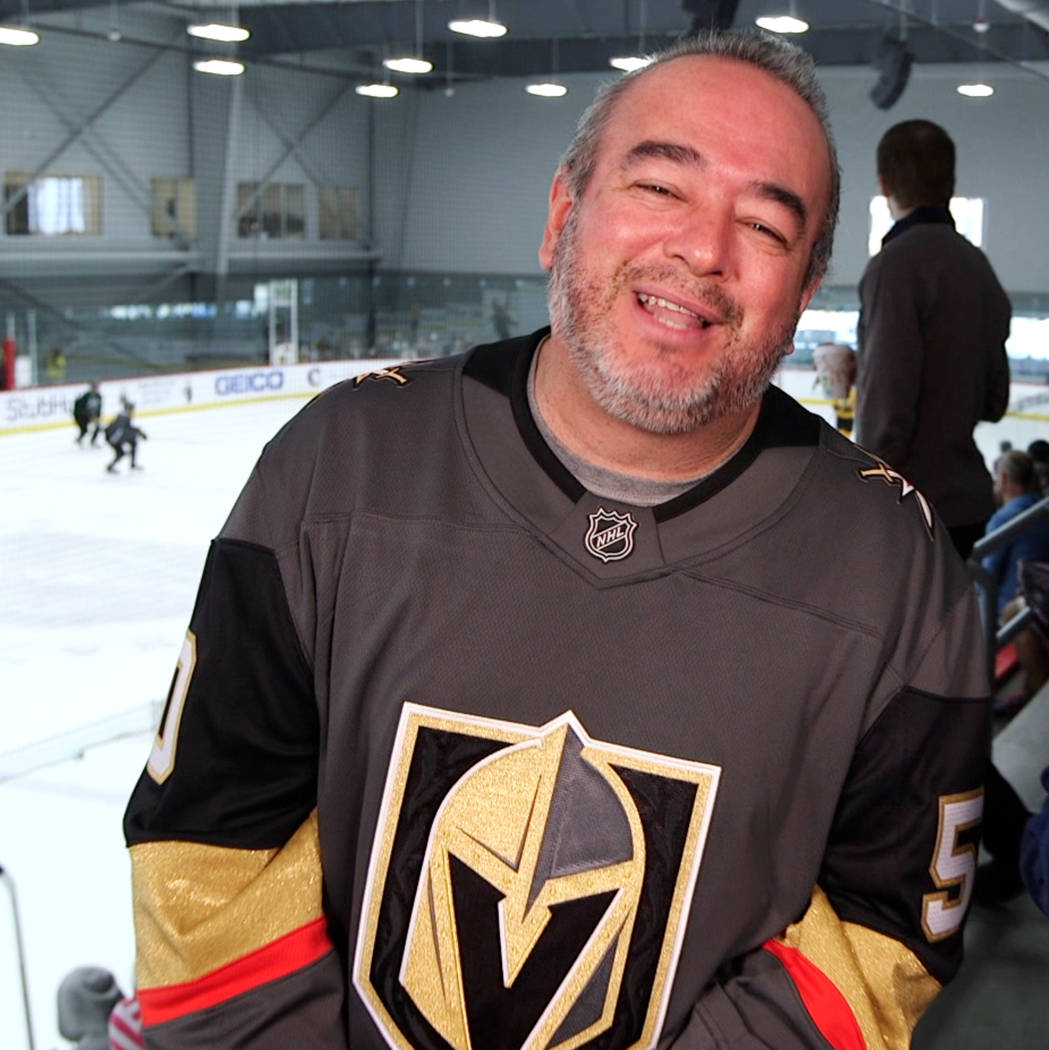 Fans filled the stands at City National Arena on Friday morning to welcome back the Golden Knights for their first practice since sweeping the Kings in the first round of the Stanley Cup playoffs.
Vegas fans were glued to the 30-minute workout on the ice and occasionally broke out the "Go Knights Go" chant.
But for a few seconds their attention shifted to the shouting man in the top left corner.
"I recognize that call," said a fan holding a white terrier. "Wish I knew Spanish so I could listen to more."
Jesus Lopez, the Knights' Spanish radio voice, was re-enacting his call for Erik Haula's winning goal in double overtime versus Los Angeles in Game 2 at T-Mobile Arena.
Lopez's memorable call that featured a 10-second soccer-like goal scream was a big hit on the Knights' social media feeds.
"I love the way the Spanish language channel calls it," Melanie Robinson commented on the Knights' Facebook page, which had 35 likes.
Jeff Everakes commented that he wanted Lopez to call every Knights' score on the English broadcast.
The Golden Knights fan holding the dog asked Lopez if he could take a picture with "Bark-Andre Furry," the canine named after goaltender Marc-Andre Fleury.
Lopez turned 50 on Friday and was celebrating his birthday sporting a personalized gray Knights jersey with his last name on the back.
"No way did I imagine this," said Lopez, who had no experience calling hockey before joining the Knights.
Lopez and his radio partner, Herbert Castro, can be found on ESPN Deportes 1460 AM for Knights home games throughout the playoffs.
The Golden Knights joined the Chicago Blackhawks and Florida Panthers as the only NHL franchises to ever offer a Spanish radio broadcast.
Initially, it started with Lopez and Castro calling one game per homestand in the regular season. That expanded to all home games in the playoffs.
There are now talks between the team and Lotus Broadcasting to have Lopez and Castro call every home game in the 2018-19 season.
Untapped market
Lopez was repeatedly asked the same question when he interviewed for the radio position.
"Are you sure you can do this?" Lopez recalled his bosses at Lotus Broadcasting asking. "They made it clear that this was a big deal."
Lopez, who was born in Guadalajara, Mexico, had plenty of experience as a soccer and boxing announcer, and considered himself a casual hockey fan.
At first, Lopez didn't use the soccer scream for goals and wanted to stick to the traditional hockey terms. But the Knights' front office, including owner Bill Foley, pushed Lopez to be himself and creative.
"I remember Billy Foley telling me, 'A third of our population in Las Vegas is Hispanic and I don't want to lose that,' " Lopez said. "He wanted the Hispanic population to get involved with this, and at that very moment, I felt like it was (my mission) to create that fascination among the society."
For years, the NBA and MLB have had success with reaching a Latino audience, and that is now starting to happen in the NFL as the league continues to play regular-season games in Mexico City.
However, in the NHL, the effort to include Latinos has been almost absent. The Panthers were the first to offer Spanish radio games, but didn't do it for the 2017-18 season.
The Golden Knights are all in with getting the attention of Latinos, but not just with Spanish radio games. They're also getting involved with Latino organizations and teaching the sport at schools.
"One of the first statistics that I looked at when I first came to Las Vegas was the market demographic, and I saw this incredibly vast and growing population based on the Hispanic population," said Kerry Bubolz, president and chief operating officer for the Golden Knights. "Close to 30 percent of the market, and not only was it growing in terms of people, it was growing economically.
"We have a huge opportunity with an audience that is a significant part of our market, so what are ways in a small and authentic way we can start engaging that community."
The Knights don't have the luxury of having more than 8 million people like the three NHL teams in California. They need and want the Latino fan base to root for Vegas' first major professional franchise.
"They're more mature organizations and have deep enough fan bases," Bubolz said, guessing why the Kings, Ducks and Sharks don't have a Spanish radio broadcast. "In our situation, our market is only 2.2 million people, and if a third of the market is of Hispanic origin or heritage, then we have to find ways to get them involved."
Bubolz said he hopes to have a Latino night or month at T-Mobile Arena like most NBA teams do in March.
Winning helps
Harry Ruiz, the sports anchor for Telemundo Las Vegas, has noticed a high interest on the Knights since the playoffs started.
"Every A-block has started with the Knights lately," Ruiz said. "My bosses want me at every game now. They want us at practices once a week. The interest among Latinos has definitely spiked."
Ruiz said the Knights have a long way to go before matching the popularity that the Lights FC has had with Latinos.
"The Lights give us better numbers if you're matching season versus season," Ruiz said about the United Soccer League team. "Right now, the Golden Knights are definitely the magnet. Everyone wants Knights information. Where can they get tickets? The Knights are giving us a lot to talk about."
On El Tiempo's website, the Review-Journal's Spanish-language newspaper, the numbers have drastically increased for time spent on Knights stories since February.
"Latinos aren't that into hockey, but if they keep winning, it becomes, 'Hey, they are our team. Let's go see them,' " Ruiz said.
More Golden Knights: Follow all of our Golden Knights coverage online at reviewjournal.com/GoldenKnights and @HockeyinVegas on Twitter.
Contact Gilbert Manzano at gmanzano@reviewjournal.com. Follow @GManzano24 on Twitter.
Get to know the Spanish voice of the Knights
— Jesus Lopez calls Knights home games for ESPN Deportes 1460.
— Didn't call his first hockey game until this season.
— Longtime play-by-play soccer and boxing announcer.
— Born in Guadalajara, Mexico. Moved to Las Vegas in 2011.
— When the puck is stuck in the corner, Lopez likes to use this line: Empienzan a picar cilantor y cebolla (They begin to chop cilantor and onion).
— When a fight breaks out on the ice: Le suelta el ponche derecho (Releases the right punch).