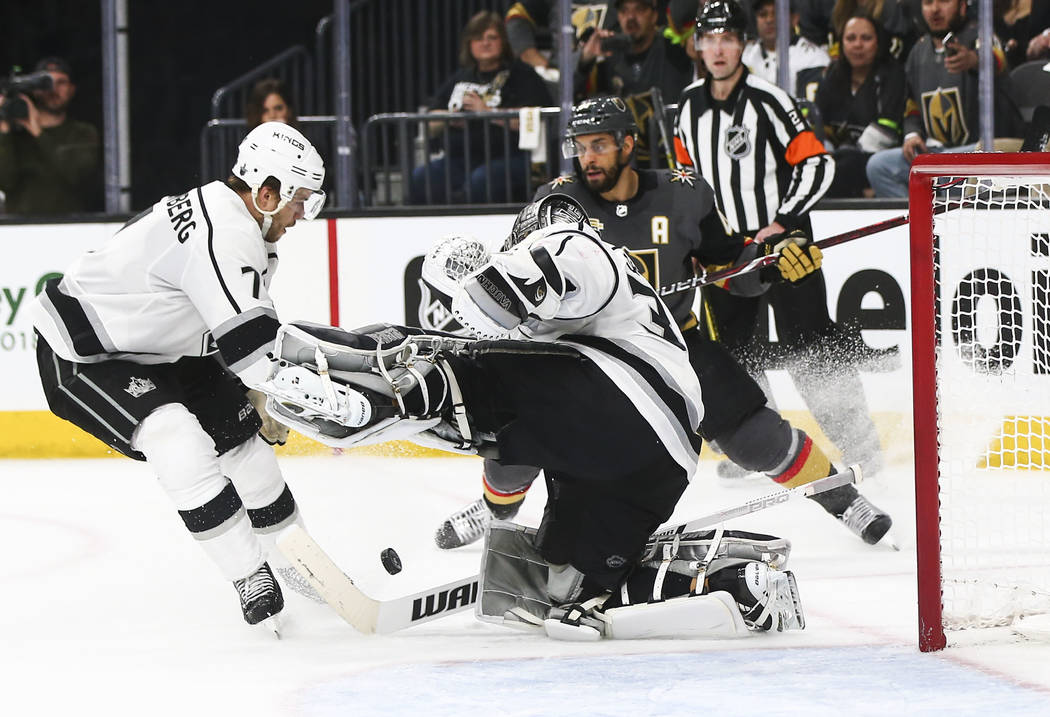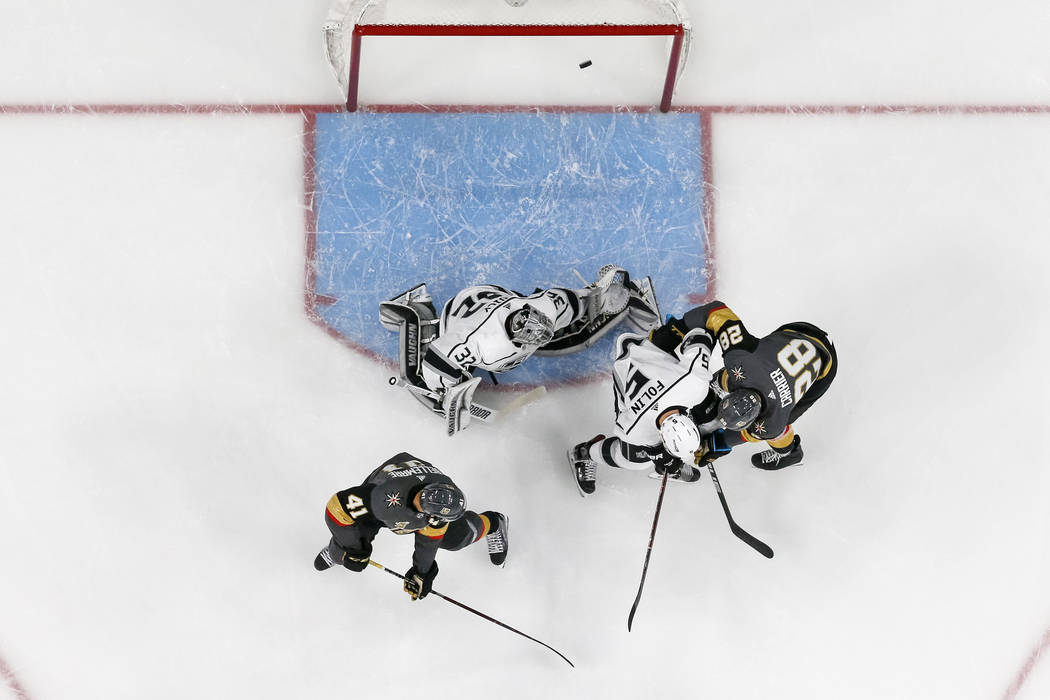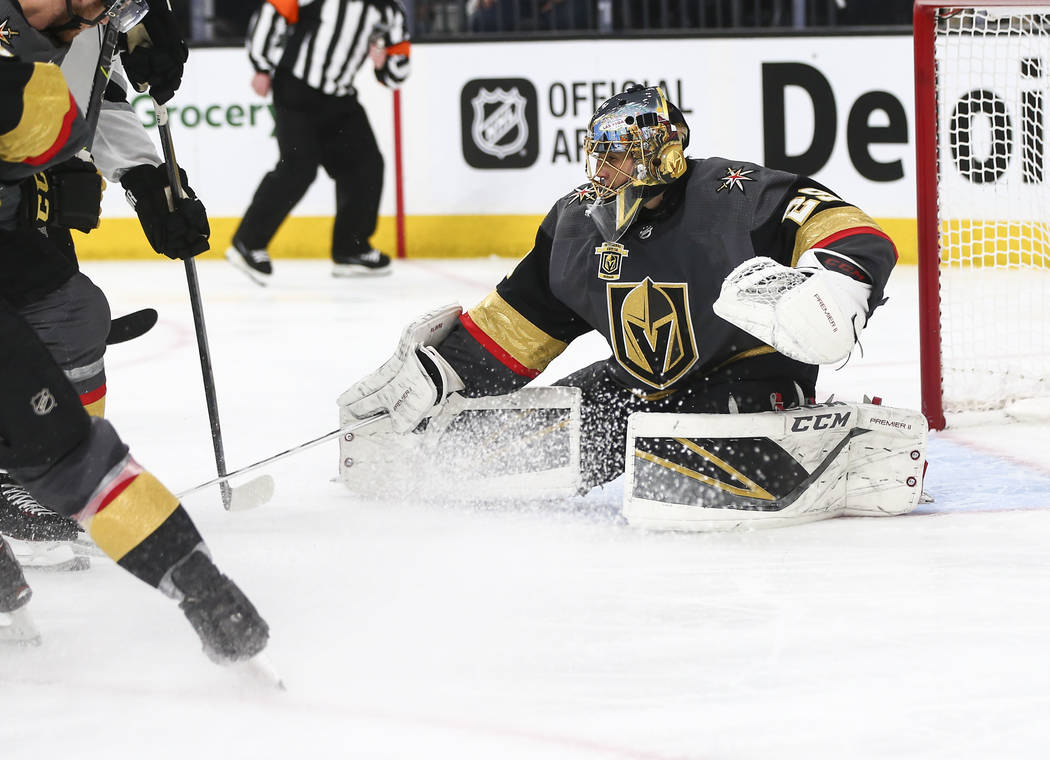 Defenseman Drew Doughty understandably backed his guy as the Los Angeles Kings began pursuit of a third Stanley Cup.
"Marc-Andre Fleury is a great goalie and an amazing person," Doughty said of the Golden Knights goaltender hours before Game 1 of their Western Conference quarterfinals at T-Mobile Arena on Wednesday. "I know him pretty well. He's going to be key to their success, and a key to us to win the series is to get to him right away.
"But we've got Jonathan Quick in our room here, and no disrespect to Marc-Andre, but I would take Quickie every time."
Fleury was the better goaltender as he blanked the Kings 1-0 in a dominating performance. Fleury, who has been a part of three Stanley Cup winners himself, stopped all 30 shots he faced.
Quick was nearly as good. The 2012 Conn Smythe Trophy winner and most recent goaltender to win the award for playoff MVP, stopped 27 shots.
It was the one that got past him off the stick of Shea Theodore that was the difference.
Fleury "played really well for them and Quickie played unbelievably for us," Kings forward Tobias Rieder said. "There just wasn't a lot there, and one shot wins the game tonight."
The Kings defense mostly held up despite the absence of Jake Muzzin and Derek Forbort.
Los Angeles coach John Stevens said his team needs to stay focused on that end of the ice.
"I think we're going to have to be good defensively regardless of who's in our lineup," he said. "It doesn't change the identity of our hockey team. They're a good offensive team. They create on the rush, they create in the zone and on the power play. We're going to have to be good defensively to win this series."
Quick was more than good enough for most of the night.
So was Doughty, who played a game-high 27:52 and led all players with six blocked shots.
Still, the Kings find themselves down 1-0 after failing to score on Wednesday.
It wasn't all because of Fleury.
Dustin Brown somehow sent the puck sailing over a wide open net from point blank range on a rebound with just more than 14:00 to play in the second period to add to the Kings' frustration.
"The confidence we have in (Quick) is unbelievable," defenseman Paul LaDue said. "We know we can take chances and he's going to pick us up back there. We've just got to do a better job in front of him."
The Kings also believe in their experience. Doughty said before the game the previous journeys to the Stanley Cup Final taught them to be prepared for many different scenarios over the course of the playoffs.
"We know that no matter what, our team will have the confidence of trying to get back in the game or the series because we've been here before," he said. "If we give up two goals early or fall behind or face some adversity, we won't get down on ourselves or shut it down.
"We will just do everything we can to try to get it back, whereas maybe a young guy might look and say, 'We're down 2-0, it's over. We can't come back.' We don't have that mentality. We've come back in games and in series many, many times. We know what it takes. I think definitely we can use that."
More Golden Knights: Follow all of our Golden Knights coverage online at reviewjournal.com/GoldenKnights and @HockeyinVegas on Twitter.
Contact Adam Hill at ahill@reviewjournal.com or 702-277-8028. Follow @AdamHillLVRJ on Twitter.