Las Vegas awarded NHL expansion team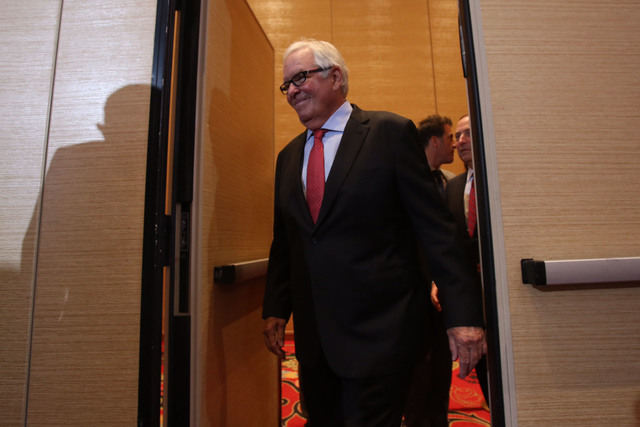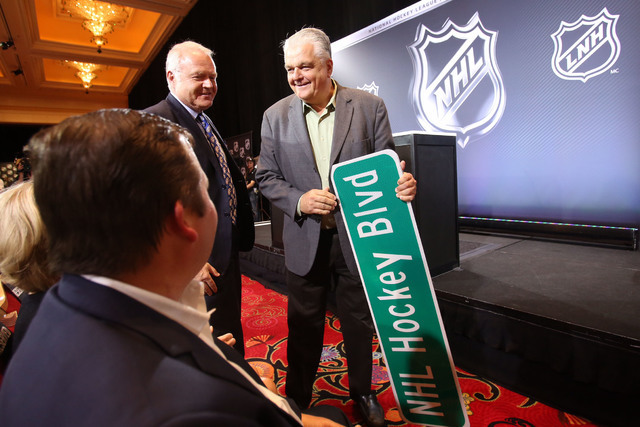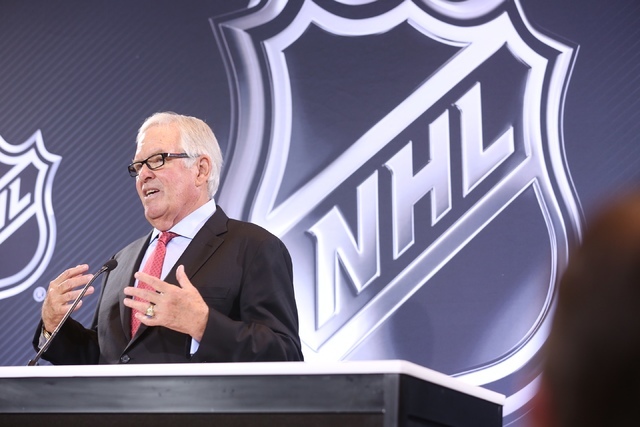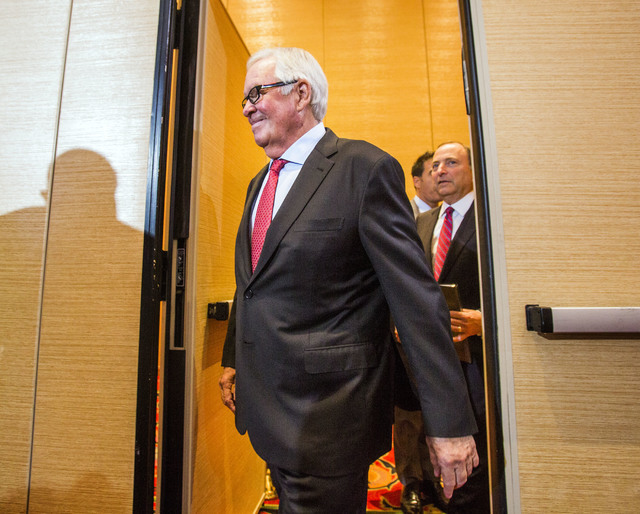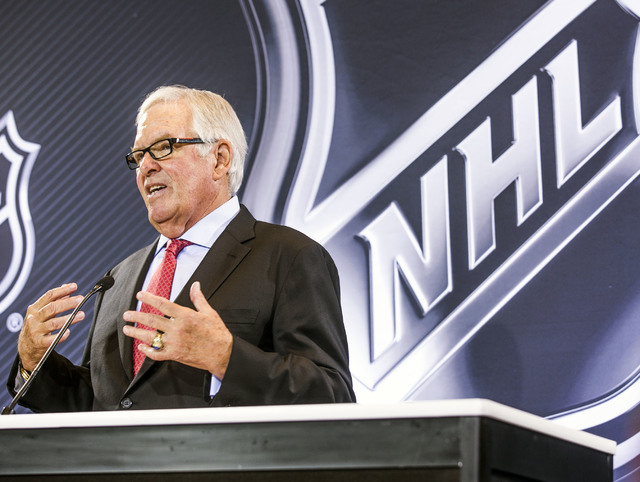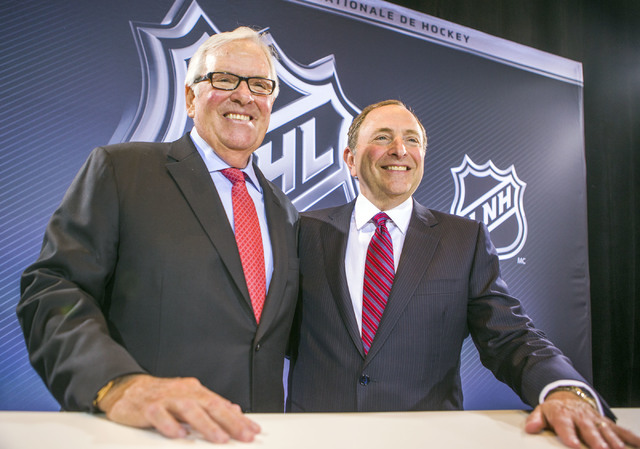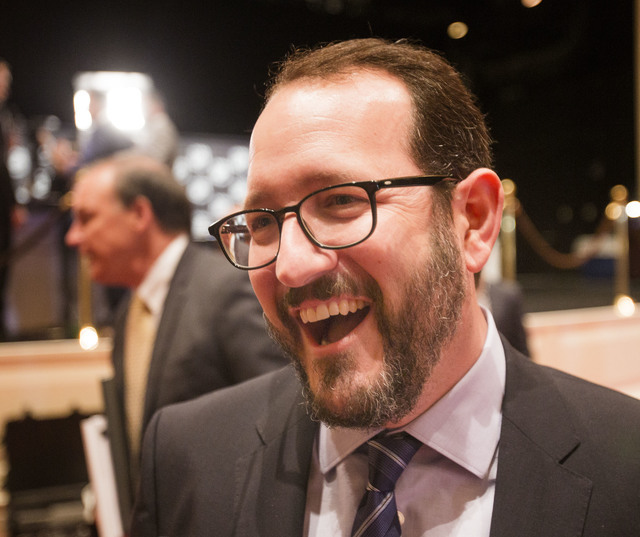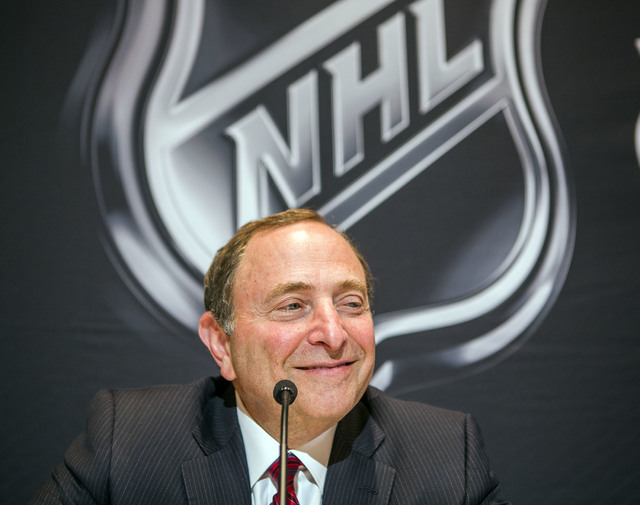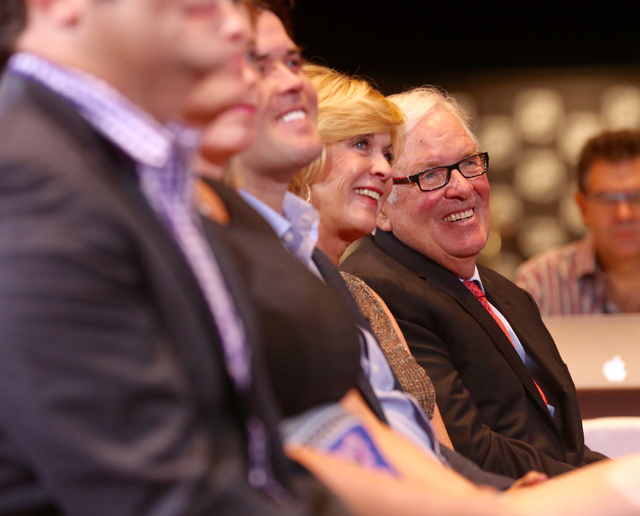 Vegas got hockey.
After decades of trying, Las Vegas skated into the major leagues Wednesday with the National Hockey League's decision to award billionaire businessman Bill Foley an expansion franchise beginning with the 2017-18 season.
Foley will pay $500 million to join the league as its 31st team. The yet-to-be-named team, which collected more than 15,000 season-ticket deposits as part of its "Vegas Wants Hockey" campaign beginning Feb. 10, 2015, through May 2016, will play its home games at the 17,500-seat T-Mobile Arena.
"Well, Las Vegas, we did it!" Foley said at Encore. "We want everyone to be a fan and we're dedicated to it.
"My obligation is to hold the trust of this team for the community."
Gavin Maloof, whose family owns 15 percent of the Las Vegas NHL team, said: "We're so excited. This community deserves it. They're going to enjoy what this team brings to the city, to the fans and especially the kids."
With Foley at his side, NHL commissioner Gary Bettman announced the decision by the league's Board of Governors to expand at a news conference at Encore. The vote, which was 30-0 in favor, followed the recommendation of the nine-member Executive Committee, which met June 7 in New York and advised expansion to Las Vegas.
It's official! We made it! #Vegasgothockey pic.twitter.com/9WFpWlGAdE

— Clark County Nevada (@ClarkCountyNV) June 22, 2016
Quebec City, which also had bid to join the NHL, had its expansion plans placed on hold.
Bettman said the addition of Las Vegas was based in part on the substance of Foley's strong bid along with a first-rate facility and the season-ticket drive that by Wednesday afternoon had surpassed 15,000 deposits as a rush of sales poured in after the official announcement.
"The Las Vegas market was intriguing," Bettman said. "The worldwide reputation it has was appealing and it's a city that was ready for major league sports.
"But I can't overstate the importance of the season-ticket drive which got everyone's attention. It demonstrated there's a community that is ready and willing to support the NHL."
Dan Beckerman, president and CEO of Anschutz Entertainment Group, which owns the Los Angeles Kings and partnered with the MGM Grand on T-Mobile Arena, said he pushed hard for Foley to be voted in.
"Obviously we believe in Bill and what he's doing," Beckerman said. "We were all impressed with him, both as a person and as a potential owner. It's a great opportunity for the league to be bigger and better and having a destination city like Las Vegas does that.
"I think it took some time to prove what Bill Foley and his group were able to do in terms of demonstrating the interest level of the market and it took some time for some of the owners to get their heads around the market and to really understand the opportunity that a team could be successful (in Las Vegas)."
Clark County Commissioners Steve Sisolak and Susan Brager, who attended the news conference, said Las Vegas joining the big leagues was a permanent game-changer.
"People will look at us differently forever," Sisolak said. "We will be known for more than just gambling and entertainment. We're a major league city now."
Barger, whose grandsons play hockey, said: "What a wonderful opportunity for the children throughout the valley to have their own team to root for and to learn to play a great game. It's a tremendous day for everyone."
Foley began his quest 2½ years ago when he contacted Bettman and expressed interest in getting an NHL team. On Feb. 10, 2015, with Bettman in attendance at a news conference at the MGM Grand, Foley launched a season-ticket drive to test the market and see if the city would support a hockey team. He created a website — VegasWantsHockey.com — and on the first day, accepted 5,000 deposits of $100 each. By March 23, the goal of 10,000 deposits had been met.
Las Vegas has had hockey in the past, but at the minor league level. The Thunder played from 1993 to 1999 at the Thomas & Mack Center while competing in the International Hockey League. The Wranglers played in the ECHL from 2003 to 2014. The city also has been home to NHL preseason games since the early '90s.
Other sports franchises have attempted to make it in Las Vegas — indoor soccer, arena football, various outdoor football leagues, several minor pro basketball leagues and even roller hockey — only to move or fold.
The NHL's decision might pave the way for other major pro sports leagues to consider Las Vegas. The NFL's Raiders already are in discussions to relocate from Oakland, pending approval of a 65,000-seat domed stadium. The NBA, which holds its annual Summer League here, has no plans to expand, but commissioner Adam Silver recently said the league is watching the city's growth. And Major League Baseball commissioner Rob Manfred said this week that Las Vegas could be a viable option for a franchise.
Foley's team will participate in an expansion draft a year from now. Each NHL team will lose a maximum of one player after protecting 11 (one goaltender, three defensemen and seven forwards). In addition, Las Vegas will pick no lower than sixth in the 2017 Entry Draft and could have a shot at obtaining the No. 1 pick because it will participate in the draft lottery.
The team, which will have a salary cap estimated to be between $74 million and $75 million in 2017-18, will have the opportunity to pursue free agents starting July 1, 2017. Deputy commissioner Bill Daly said Las Vegas will be required to spend 60 percent of its cap space, roughly $48.3 million, on players in the expansion draft. It will ultimately need to get to the mid-level of the cap, which will be roughly $63 million. The exact amount won't be determined until the 2017-18 salary cap numbers are established next June.
But that's a worry for another day. Wednesday was for celebrating, and Foley thanked the other owners, Bettman and the NHL for letting him become the league's 31st member. He also promised to field a competitive team and give the city and its fans a team they can rally around.
"We're going to establish a culture of winning," Foley said. "This is a team that will be built to win. And from that, we'll have a team Las Vegas can be proud of."
Contact Steve Carp at scarp@reviewjournal.com or 702-387-2913. Follow on Twitter: @stevecarprj

NHL in Vegas
Complete coverage of hockey in Las Vegas