Las Vegas NHL expansion team holds staff meeting — in Montana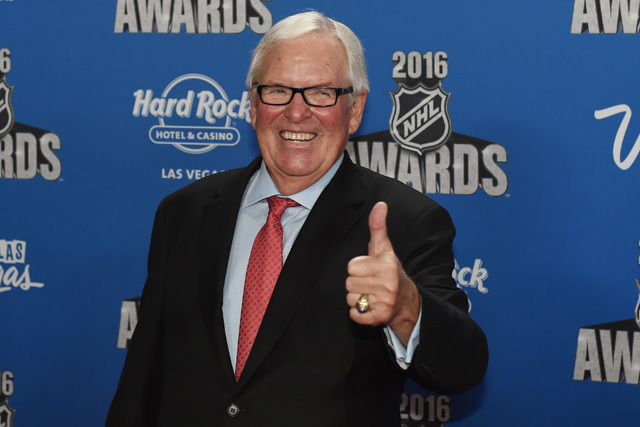 For the next few days, the future of the Las Vegas NHL expansion team will be decided on a ranch in Montana.
Owner Bill Foley has gathered his staff to begin identifying and contacting potential candidates for the general manager's position. The franchise also is working with NHL properties on team names and logos along with color schemes as it tries to finalize the nickname.
Meetings also are planned with the team's sales staff, as contracts are being lined up with potential corporate sponsors. With the season-ticket base nearing 16,000, a decision might be made about capping sales.
"It's going to be a busy few days," Foley said Thursday afternoon before boarding his plane to Montana. "We've got a lot of work to do."
Foley said he hopes to identify three to five GM candidates and schedule interviews.
"We talked to the NHL last week, and we were explained how the protocol works when it comes to contacting other teams," Foley said. "We want to play by the rules and not make any mistakes. The NHL told us what we have to do, and we're good with that."
Foley is overseeing the search. Former NHL player Murray Craven, Foley's adviser on hockey matters since he began his quest to acquire a franchise 2½ years ago, will have input. But Foley will make the final call.
"My hope is we'll have our general manager on board no later than Aug. 1," Foley said. "We've had a lot of people reach out to us, and we've got some people we're interested in who we've yet to speak to. We hope to identify who we want to speak to from these meetings."
As for the team's nickname and logo, Foley wants something that reflects the way he hopes his team will play. Something that suggests toughness, energy and a will to never give up. He won't have a public name-the-team contest because, as he has found out, selecting a nickname isn't as simple as saying "We are X."
"It's a very long process," he said, alluding to things such as trademarks and copyrights. "You really can't rush it. The NHL has to approve everything."
Foley's goal is to have the name, logo and colors revealed at a public party at T-Mobile Arena in late September or early October. Around that time, season-ticket deposit-holders will get to select their seats. Foley said a waiting list probably will be formed.
"We have to have individual game tickets available," Foley said. "But the response has been overwhelming, and we're going to have to look at capping sales once we clear 16,000."
Contact Steve Carp at scarp@reviewjournal.com or 702-387-2913. Follow @stevecarprj on Twitter.
RELATED
If stars align, Victor Hedman makes sense on Las Vegas blue line
Bill Foley nears deal to build hockey practice facility next to Downtown Summerlin
10 subtle decisions Bill Foley must make for his Las Vegas NHL team