Las Vegas NHL franchise now faces many tough hockey decisions — VIDEO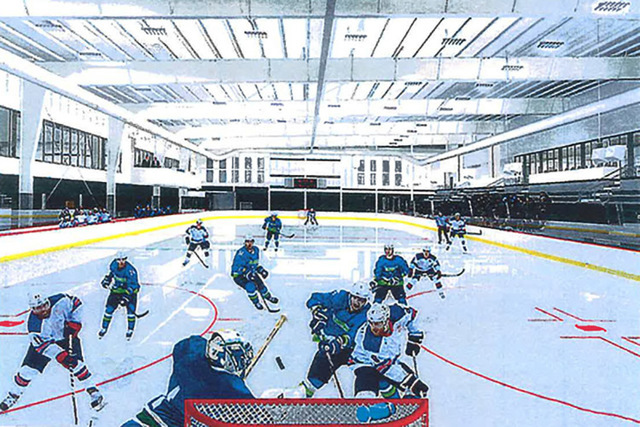 Now the hard part begins for Bill Foley.
But Foley will be the first to say it's also the fun part.
With his $500 million paid and his NHL franchise for Las Vegas secured, the billionaire businessman now builds his organization that will begin play in the 2017-18 season.
He has hockey people to hire. He has to bring sales people on board. He has to finalize plans and begin construction on his team's practice facility in Downtown Summerlin.
Oh, and he needs to find a name for his team.
"We have a lot of work to do," Foley said after the NHL officially welcomed him and Las Vegas to the league as its 31st franchise Wednesday afternoon at Encore. "We'll move quickly, and you'll see a lot of action in the next 30 to 45 days."
Foley said work has been ongoing on a team nickname and a logo. And while it is assumed the team eventually will be called the "Black Knights" or the "Knights," in tribute to Foley's days at West Point, he said that may not be what the team is ultimately called.
"We've submitted several names and logo designs to the NHL, and we will work with them," he said. "It may not be until September that we have our name and logo. But when we do, that's when we'll have our big public celebration. We want to sell a lot of jerseys that day."
Sales people are in the process of being hired, as the team found itself receiving hundreds of deposits for tickets within minutes of the official announcement. It changed its website name from VegasWantsHockey.com to VegasIsHockey.com.
Foley also has been looking at names of people to consider interviewing for his hockey operations. The team needs to hire a president, general manager, scouting staff, analytics person, capologist and, yes, a coaching staff.
Murray Craven, a former NHL player, has been advising Foley on hockey people, and now that the team exists, they will look to identify the individuals to interview and eventually hire.
"We want to be careful on how we do it," Foley said. ""We don't want to tamper. We want to work with the league and get a lot of advice."
There will be no shortage of names tossed Foley's way for all of the positions. He's been receiving a steady stream of resumes for months.
The big advantage Foley will have over previous expansion teams is that there will be a larger pool of players from which to select a year from now when the NHL holds its first expansion draft since 2000. Teams will be allowed to protect one goaltender, three defensemen and seven forwards, or they can protect one goalie and eight skaters, four of whom can be defensemen.
"The team coming into the most competitive league in sports will have a roster that will be competitive more quickly than prior expansions," NHL commissioner Gary Bettman said.
Las Vegas also will have a full salary cap to spend, one that could be from $74 million to $75 million when the 2017-18 cap numbers are determined a year from now. According to NHL deputy commissioner Bill Daly, 60 percent of the cap money — or roughly $48.3 million — must be spent in the expansion draft. That would leave Las Vegas about $18 million to get to the midlevel threshold of $66 million. But it will not be allowed to exceed the full cap, whatever that number ultimately is.
That is why Foley's general manager will want to hire a capologist to work the numbers. He'll also want to get his scouting staff together quickly, as teams go to training camp in September at the U.S. college, Canadian junior hockey and international professional levels.
In addition, the World Cup of Hockey begins Sept. 17 in Toronto, and Las Vegas will want people there to watch the tournament. There will be 131 unrestricted NHL free agents July 1, 2017, and several will be participating in the World Cup.
On the business side, Foley will be signing numerous companies as corporate partners. That revenue, which will be in the millions, will be important in making Foley's team profitable.
He has had discussions with possible TV networks to show the team's games. Ideally, he would like to establish his own regional network.
"We've been patiently waiting," Foley said. "We did everything the league asked, and we cooperated fully and let the process play out. Now we can finally get going and get to work."
Contact Steve Carp at scarp@reviewjournal.com or 702-387-2913. Follow on Twitter: @stevecarprj
NHL in Vegas
Complete coverage of hockey in Las Vegas